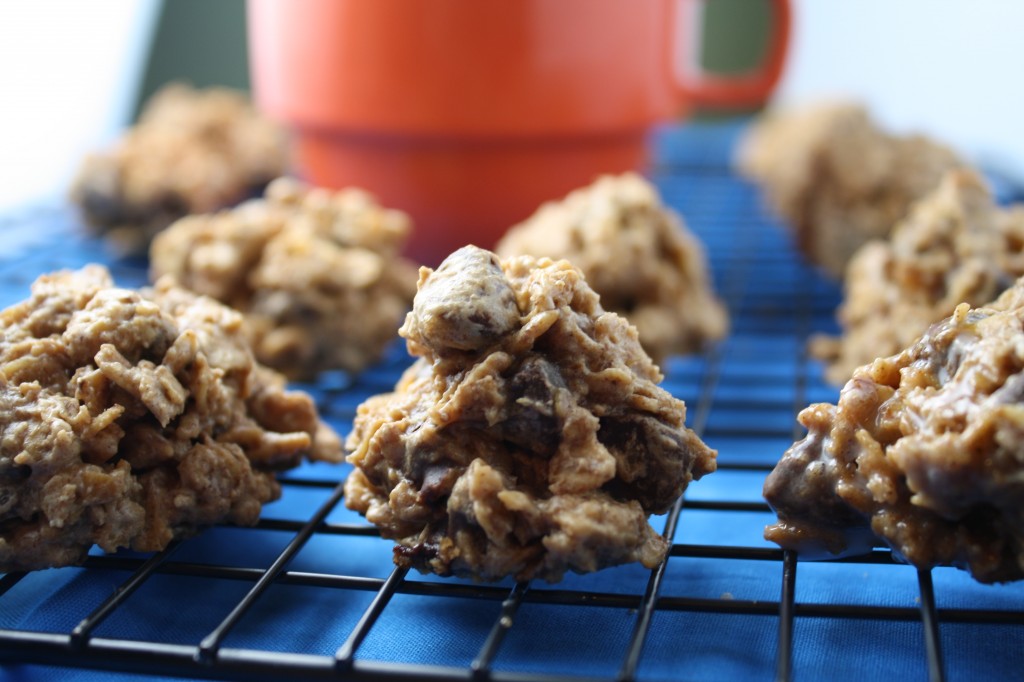 In cele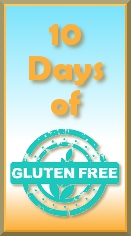 bration of Celiac Awareness Month, Linda @ Gluten Free Homemaker  has put together a great event full of resources!  Linda has pooled together 10 experts who each have chosen an area to focus on for daily, brief tips relating to starting and/or maintaining a gluten free lifestyle. You will need to visit each individual blog to see their daily tips and advise.
My goal for this series is to help people realize gluten-free lunches and snacks can still be great!  I hope to provide you with ideas that will help spice up YOUR daily fare with something you may not have thought of before.  Going gluten free is not a jail sentence: it's an opportunity to take care of yourself and feed yourself real, nourishing, and new foods.  Come along these next two weeks as we explore: Gluten Free Lunchboxes and Snacks!
Here are the topics I've covered in this series of lunchboxes: Reusable Lunchbox Wares, Sweet GF Wrap Ideas, Packing a Balanced Lunchbox,  Stocking Up w/ an Oatmeal Snack Cookie, Lunch on a Stick, GF DF Dips & Spreads for a Lunchbox, 10 GF Wrap Ideas, Making Use of Leftovers, Muffins & Waffles for a Lunchbox?!, Top Foods for a Healthy Lunchbox,
Making snack and lunchbox fillers on the weekends has really saved me during busy school weekdays.  We pick a few recipes, new, or tried and true and cook them up.  Sometimes my daughters pick them, sometimes I do.  We wrap individual portions, or just freeze the lot and wrap them up come lunchbox time.  My daughters love to check the freezer for which items they will put into their boxes each day!
As always, make every ingredient count to help ensure you are feeding your body, and your family's well.  In this recipe, we have healthy fats (seeds), wholegrains (oats), and fiber (chia).  By using a low-glycemic sugar, I feel even better about serving these 'cookies' to my kids.
On this particular day, I needed a healthy after-school snack, so I was looking though my 'to try' recipes for inspiration.  Last year sometime I received a free e-book, and this was one the recipes that caught my eye, a recipe from Heather Eats Almond Butter  (sadly, she just stopped blogging).  I made several changes to make it work for our family, but the end result was a cookie worth every little bite!!  The add-in options for this recipe are endless, as are the adaptations.  Can't do nuts?  Sunflower seed butter it is!  No chocolate?  Then how about some dried fruit?!  Or maybe both is more up your alley.  Have fun playing around with it!
What is your favorite add-in?  Are you a fruit or chocolate kind of person?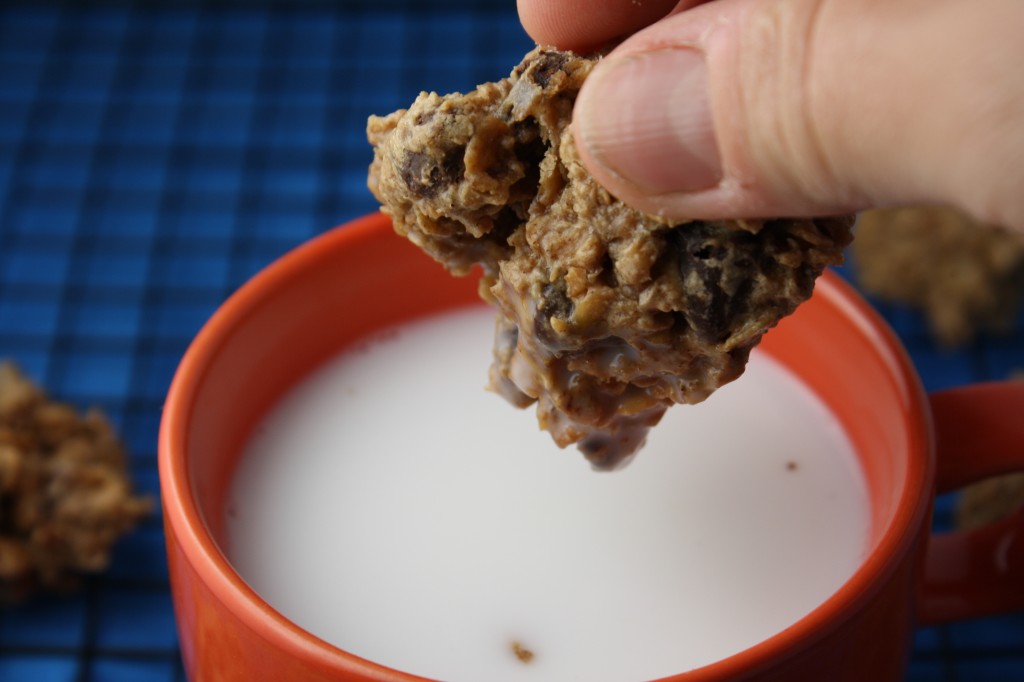 10 Days of Gluten Free: Stocking Up & Healthy Oatmeal Snack Cookies
Author:
Tessa the Domestic Diva
Prep time:
Cook time:
Total time:
Ingredients
Dry:
1 cup rolled oats
¼ cup chia meal or flax meal (optional, but adds good omegas, fiber, and healthy fats)
Wet:
½ cup favorite seed or nut butter
⅓-1/2 cup liquid sweetener (I used maple syrup, but honey, agave, coconut nectar are all options)
½ cup chocolate chips
1 teaspoon vanilla
½ teaspoon salt
Instructions
In a medium bowl, mix the dry ingredients together.
In a liquid measuring cup, thoroughly blend the wet ingredients.
Mix the two together.
Preheat your oven to 325 degrees.
Let rest in the fridge for about 10 minutes while the oven heats.
Drop small rounded tablespoonfuls on a greased cookie sheet.
Bake for 10-12 minutes until just golden.
Here are some other healthy foods that masquerade as cookies: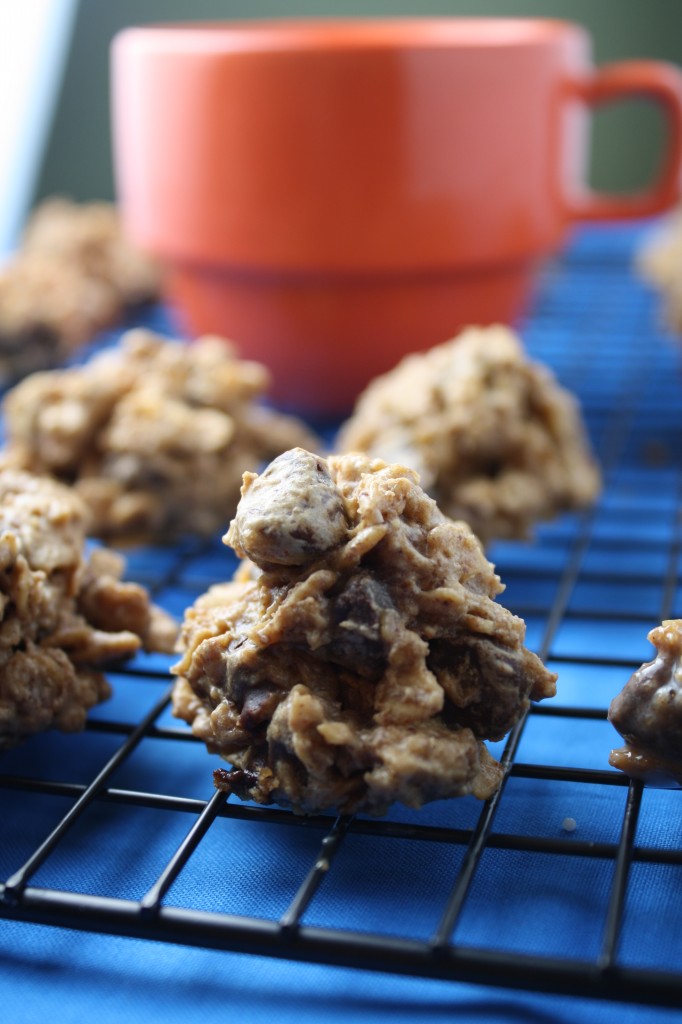 Don't forget to visit each blog to see other helpful advise and hints!
Getting Started – Linda @ The Gluten-Free Homemaker
Resources – Wendy @ Celiacs in the House
Traveling – Karen @ Gluten-Free Travel Blog
Eating Out – Heather @ Gluten-Free Cat
Frugal Tips – Janelle @ Gluten Freely Frugal
Cooking – Carrie @ Ginger Lemon Girl
Baking – Jules @ Jules Gluten Free
Kids – Lynn @ Lynn's Recipe Adventures
Shopping – Laura @ Gluten Free Pantry
"10 Days of Gluten Free" Bob's Red Mill Giveaway!
For this series, I will be offering one lucky reader a $25 Bob's Red Mill gift card!  Here are the rules:
This giveaway is limited to U.S. residents 18 and older.
You are allowed one entry per "10 Days of Gluten Free" blog post for a total of 10 entries on this blog.
Enter by leaving a comment (WITH an email address to contact you) on this post (and other 10 Days of GF posts).
The giveaway begins May 7, 2012 and ends at 11:59 pm eastern time on May 18, 2012.
No purchase is necessary.
Odds of winning are based on the number of entries.
The winner will be randomly chosen and will be contacted by email.
The winner will have 48 hours to respond. If the winner does not respond, a new winner will be randomly chosen
This recipe has been shared at Mostly Homemade Mondays, Hearth & Soul, Fat Tuesdays, Waste Not Want Not, GF Wednesday, Homestead Blog Hop,  Foodie Fridays, Real Food Fridays, GF Fridays, Let's Get Real Fridays,
Any of the links in my posts may be affiliate links. If you click on them and make a purchase, I might make a commission. Your support is much appreciated and pays for the cost of running this free resource!