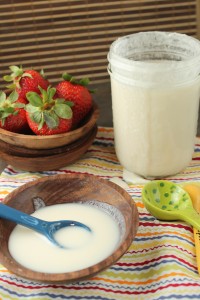 Love.  I love this creamy, rich spread.  Loaded with MCFAs  (medium chain fatty acids), this once shunned superfood has been reborn with new research and understanding of it's healthy profile.  Simply, medium chain fatty acids are easily assimilated into energy within the body, fats your body NEEDS!
I remember when I first discovered coconut butter.  My sister and I had purchased a jar of this not even knowing the difference between coconut oil and coconut butter.  (We figured they were same!).  Coconut oil is just the oil,and coconut butter is all the coconut flesh INCLUDING the oil!!  We simply wanted to make a recipe of Samoas, and the recipe called for it.  But at one taste…we were hooked.  And you will be too.  Trust me.
NUTRITIONAL HIGHLIGHTS:
From NaturalNews.com: Coconut oil/butter is high in medium chain  triglycerides (MCTs). This saturated fat is considered a rare and important building block of every cell in the human body, and can actually reduce cholesterol and heart disease.  It boosts immunity, kills bacteria and viruses, protects against cancer and other degenerative diseases, and prevents osteoporosis by promoting calcium absorption. It also slows down aging and is good for skin radiance.
This is one of those posts that I even hesitated to write.  I figured most people already knew how to do it.  But I also know there are some who do not, and that for some of you, coconut butter might be something new and unfamiliar.  And really, this creamy spread is so easy, anyone can do it, it just takes a tiny bit of patience, and 5 minutes of your time.  And time is valuable in our busy lives, I know I would rather be playing yet another rousing game "Busytown" with my kids than always being in the kitchen.  Let's also consider it costs upwards of $8 for a jar in the grocery store!  This is a much more frugal option, and a very attainable luxury.
STORAGE: With its high antioxidant properties, coconut butter lasts for awhile (months) in the pantry!!
Here are some recipes to try using coconut butter:
Smoothies (many of which use coconut butter or could!)
Here are some other ideas:
as a replacement for nut-butter
as a replacement for fat in baked goods
a frosting
mixed with some cocoa powder for decadent sweet fix
in smoothies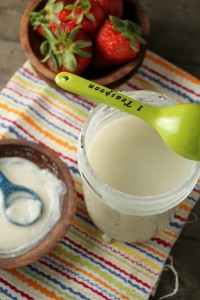 In what ways do you like to use coconut butter?  Do you have recipes you could share with us in the comments?
Yield: About 2 cups
Ingredients:
2 bags, or a minimum of 4 cups unsweetened, dried, grated coconut..AND THAT IS IT!
It is important not to use less than 4 cups, you need the volume to get the whole mixture moving.
Directions:
Option 1 in a Blend Tec or other high-powered blender:  Place coconut in and turn the machine on to level 1 or 2.  The mixture will quickly climb the sides and leave a empty space around the blade (image at right).  Turn off, scrape the sides down, and repeat this process, many times!  OR, if you feel confident enough, just leave the lid off, and using a spatula or other long handled instrument, just keep pushing the climbing coconut back into the vortex, careful not to get your instrument in the blade!  Eventually, the heat from the machine starts releasing the oil, and the mixture will start to move freely without any scraping.  Once liquified and running smoothly (below), puree for about a minute or two until silky smooth!  Store in an airtight container in the pantry.  Once cooled, the butter will harden.
Option 2 w/ a Food Processor:  This is the same process as above, however, it will take longer to get to the liquified state, so you will need to use a bit more patience and few more repeats of the steps!
If you add some coconut oil to the mixture, it will be slightly more spreadable at room temp.  But through the winter, the butter is hard! For smoothies, I just chisel some out for use.   For other uses, I prefer to just heat the butter slightly for 20 seconds in the microwave, or leave it a warm place on my stove.   When it is actually warm outside here in the NW, this takes care of itself. and the butter remains more soft.
This post was shared with Make Your Own Monday, Mostly Homemade Monday, Natural Living Monday, Fat Tuesday, Tasteful Tuesday, Slightly Indulgent Tuesday, Tuesday Greens, Hearth & SOul, Traditional Tuesday, Well Fed Wednesday, GF Wednesday, Frugal Days Sustainable Ways, Real Food Wednesday, Seasonal Celebration, Whole Foods Wednesday, Wildcrafting Wednesday, Healthy2Day Wednesday, Full Plate Thursday, Thank Your Body Thursday, Raw Foods Thursday, Tasty Traditions,Pennywise Platter, Simple Lives Thursday, GF Fridays, Fight Back Fridays, Lunchbox Love, From the Famr Hop., Healthy Vegan Friday, Simple Meals Friday, Whole Foods Friday,