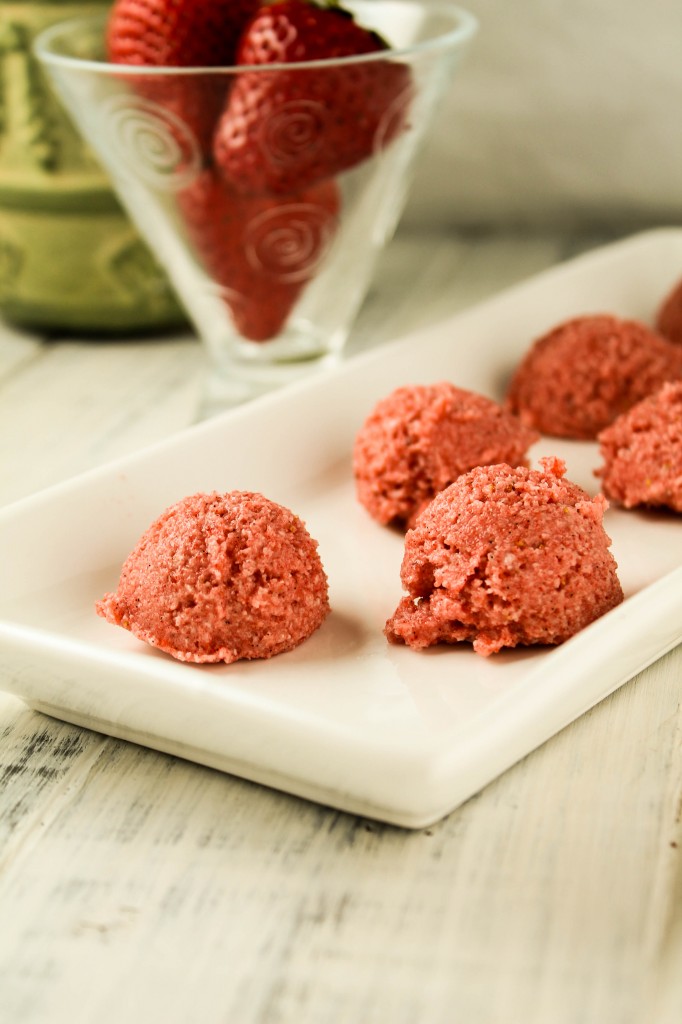 This post is part of May 2013 Go Ahead Honey It's Gluten Free over at Shirley's GFE!  Come visit to see all the recipes under the theme" "When You're Grain Free and Feeling Like a Nut, But Don't Eat Tree Nuts or Peanuts"
Many months ago, I was given the opportunity to sample two of Hail Merry's newest additions to the family.  One of the flavors was strawberry and it really knocked my socks off.    Problem is, I have yet to see them in our stores!!
Like any self respecting food blogger…I set about making my own version.  Since I already created the chocolate macaroon version, I knew this would be an easy adaptation.
What I did different this time  was NOT using all the ingredients included in Hail Merry's.  Theirs included almond flour and almond butter…both of which are not OK for my son.  It was an experiment, and it worked, REALLY WELL!
With healthy fats and minimal sweeteners, these are a treat you can feel good about.  A magical sweet/tart flavor combo that will have your taste buds singing!  And lets not miss that these take under 10 minutes to make….a perfect treat for a busy person!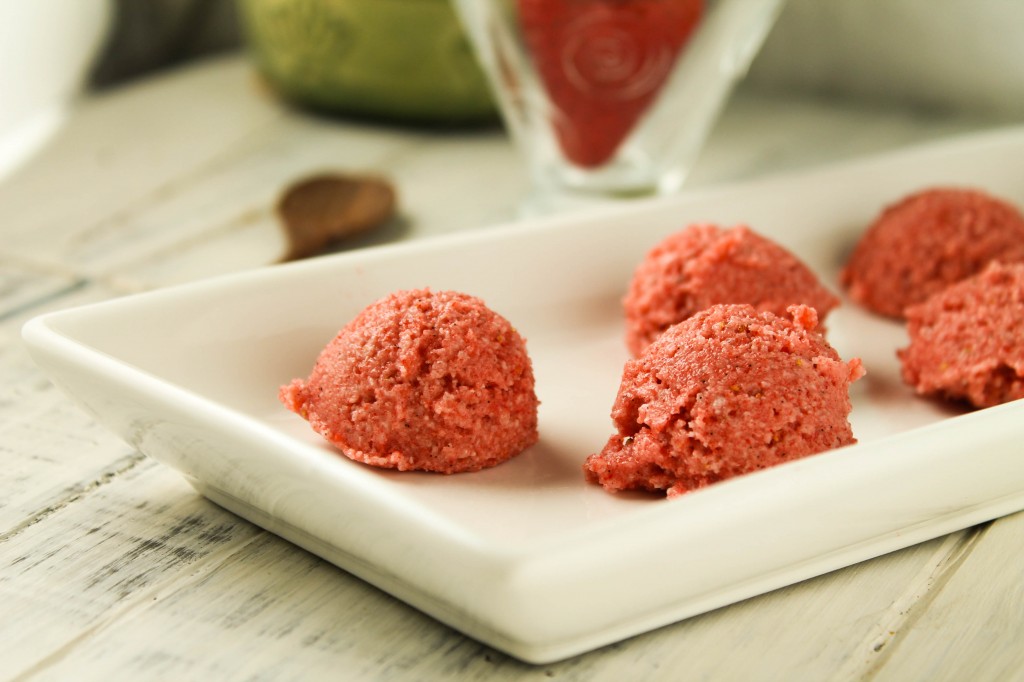 Raw Paleo Strawberry Macaroons - Hail Merry Knock-Off
Ingredients
2 cups unsweetened grate coconut
½ cup coconut oil
1 bag freeze dried strawberries or raspberries (1.2 ounces), I use Trader Joes brand
3-4 tablespoons of maple syrup, honey, or coconut nectar, to taste
½ teaspoon vanilla extract, plus an added vanilla bean scraped (optional)
⅛ teaspoon sea salt
Instructions
Place all ingredients into the bowl of a food processor. I used my 12 cup Cuisinart.
Process the ingredients for 2-3 minutes until the shredded coconut beings to break down. Depending on how textured you like it, as long as the ingredients are well incorporated, the will hold together well.
Drop the batter, about 2-3 teaspoons worth onto a lined cookie sheet. I used my small cookie scoop.
Place in the fridge or freezer to harden for 10-20 minutes.
Store in an airtight container in the fridge or freezer.
This post was shared with Healthy Living Link Up, The Wednesday Showcase, Tasty Tuesday, Hearth & Soul, Recipe of the Week,  GF Fridays, Real Food Fridays, Lets Get Real Fridays, Foodie Fridays,
Any of the links in my posts may be affiliate links. If you click on them and make a purchase, I might make a commission. Your support is much appreciated and pays for the cost of running this free resource!