The first time I tasted the Thai Carrot soup from Whole Foods Market…it was love at first spoonful.  How had I missed this amazing soup before??!!  The only reason I grabbed it all is because my neighbor had mentioned it and how much she had loved it.  I wouldn't normally be drawn to something with carrot.  I mean…it's not like carrots aren't great…but they are not my go-to vegetable.
But this soup.  It is seriously amazing, and before I had moved onto my second spoonful….I was brainstorming ways to recreate it…after all , at $6.99 for a pint…this was not cheap.  And I knew I could do it and leave out canola oil and other weird ingredients (hydrolyzed yeast extract?) I didn't really want.
I first tried to see if a a recipe was already online…but I couldn't find ANYTHING…it was all totally different.  So armed with an ingredient list…I set to work.
Enter the Instant Pot (cue angels singing!).  When my trusty stove-top pressure cooker started causing me grief with the pressure gauge….I knew the time might soon be upon me to replace this well-loved and well-used kitchen pot.  Not having one was not an option….it is one of my most used pots…dinner in a FRACTION of the time..(think pot roast in under an hour)!!  This busy mom would never be without the convenience!!  I had been seeing posts for ages about others and their Instant Pots…so I started looking there first.  It didn't take long to see that this was definitely the pot for me:
plug in, run an automated program for whatever your cooking,  and then forget about it (you have to watch stove top ones carefully since they are on a continuous heat source)
large capacity
rice cooker
slow cooker
yogurt maker
very quiet operation (unlike my stove top cooker)
Since receiving my new toy, I have been using it incessantly.  So of course I used it to make this soup…although no biggy if don't have one…stove top is easy enough too, just more cooking time.
Come enjoy a warming, flavorful soup that even my husband goes nuts over (not much of a soup guy)!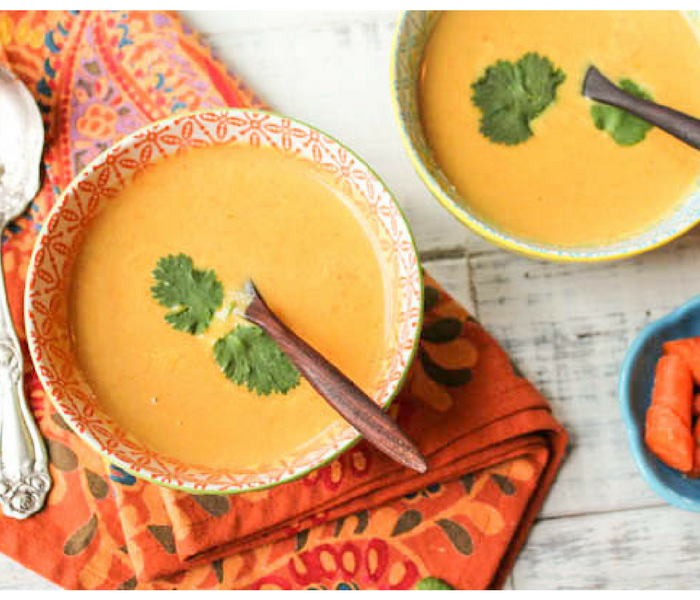 Like soup?  Here are a couple of other recipes you could try!!
Instant Pot Paleo Thai Carrot Soup - A Whole Foods Knock-Off
Author:
Tessa the Domestic Diva
Prep time:
Cook time:
Total time:
Ingredients
1 tablespoon avocado oil or other fat
1 medium yellow onion, rough chop
1¼ pound carrot, rough chop
1 jalapeño or serrano pepper, with seeds, rough chop (optional...the seeds provide the heat so remove if you like to temper it)
2 teaspoons grated ginger,use a Microplane and you will thank me!!
4 cups broth, veggie or chicken
1 teaspoon sea salt OR 1 tablespoon fish sauce (to taste for saltiness)
1 teaspoon garlic powder
½ teaspoon curry powder
¼ teaspoongaram masala
¼ teaspoon tumeric
¼ teaspoon cayenne pepper (optional)
Cilantro, chopped (added in after cooking, before pureeing)
½ cup cream or full fat coconut milk
20 drops stevia or 3 tablespoons honey, optional
Instructions
Instant Pot Directions
Using the saute feature, heat the oil and add the onion. Sauté for 3-5 minutes to soften but not brown.
Add in the chopped carrot and pepper, sauteing for a couple of minutes.
Add in the broth and all the spices, stirring.
Lock the lid and set manual pressure for 12 minutes.
When time is up, do a quick release, unlock the lid, add the cilantro, and puree the soup in a blender, food processor, or try using your immersion blender.
Add back to pot and stir in the cream and stevia (if using).
Enjoy!
STOVE TOP DIRECTIONS
The same as above, but at step 4, you will cover and simmer about 30 minutes until carrots are tender.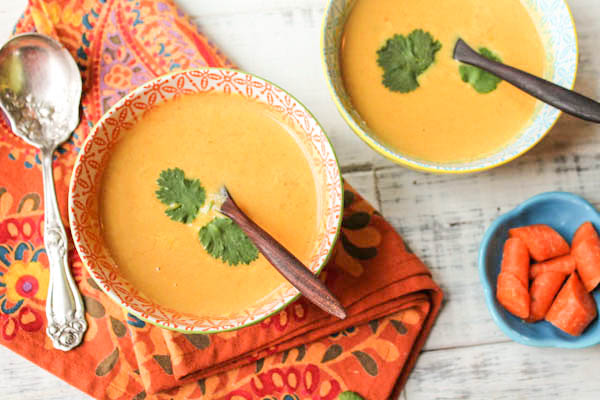 This recipe was shared with Savouring Saturdays,  GF Recipe Fix,
Any of the links in my posts may be affiliate links. If you click on them and make a purchase, I might make a commission. Your support is much appreciated and pays for the cost of running this free resource!