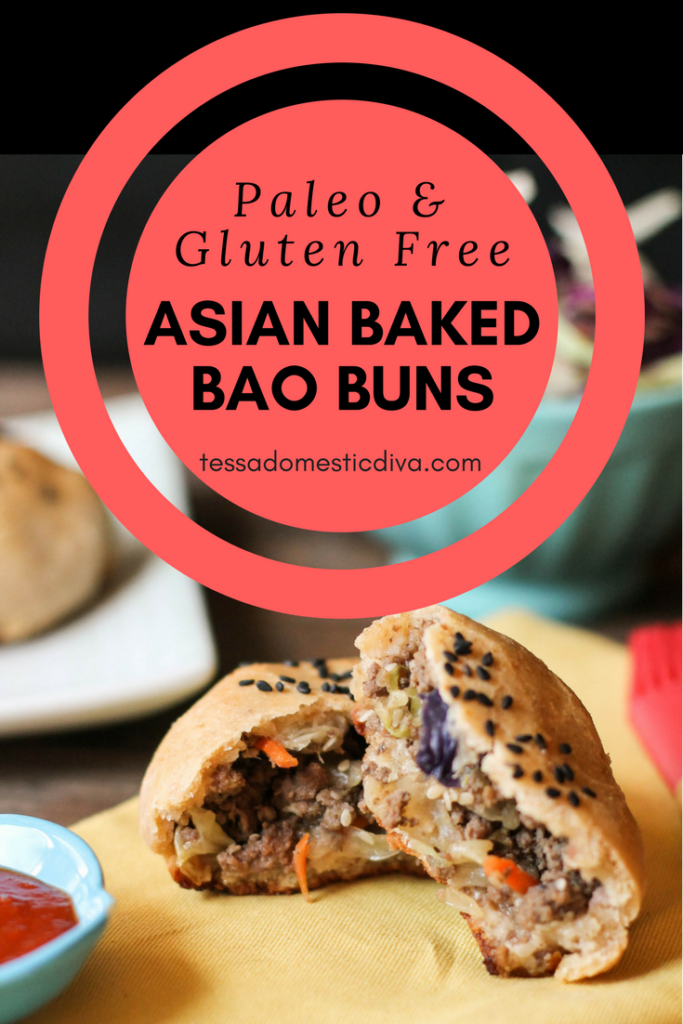 I never dreamed a gluten free, let alone a PALEO version of my beloved Asian bao buns from my gluten days would ever be possible.  But after countless trials and errors, I finally have nailed it!
My love affair of  Asian buns of all varieties began long ago when gluten free was not even something in my conscience.
One of my favorite cookbooks before losing the gluten was Asian Dumplings.    It is a fantastic book by Andrea Nguyen with all variety of bun and dumpling recipes.
And try as I might, I never found a dough recipe that ever gave me the satisfaction of the buns from my past….the texture was all wrong.
Over the years, I have tried.  Trust me, I have tried.
There was not a single attempt that was worth sharing…until now!
Special Ingredients:
Cassava Flour:  an AIP friendly flour, it lends a great chewy texture to final products, and it has a totally neutral flavor!  It is one of the easiest Paleo flours to use!
Psyllium powder: This finely ground powder (not the flaky husks) is a key to binding the dough and providing much needed elasticity.  It will add some extra fiber into your diet too!  Xanthum gum works well too.
And now….not only have I created an easy to work with dough for my gluten free peeps…I have made it GRAIN free too, making these Paleo and Whole 30 friendly!!
The ways I want to use this dough are endless…this is just the first way I prepared it, and it is  DOOZY!!
I CAN'T WAIT FOR YOU GUYS TO TRY IT!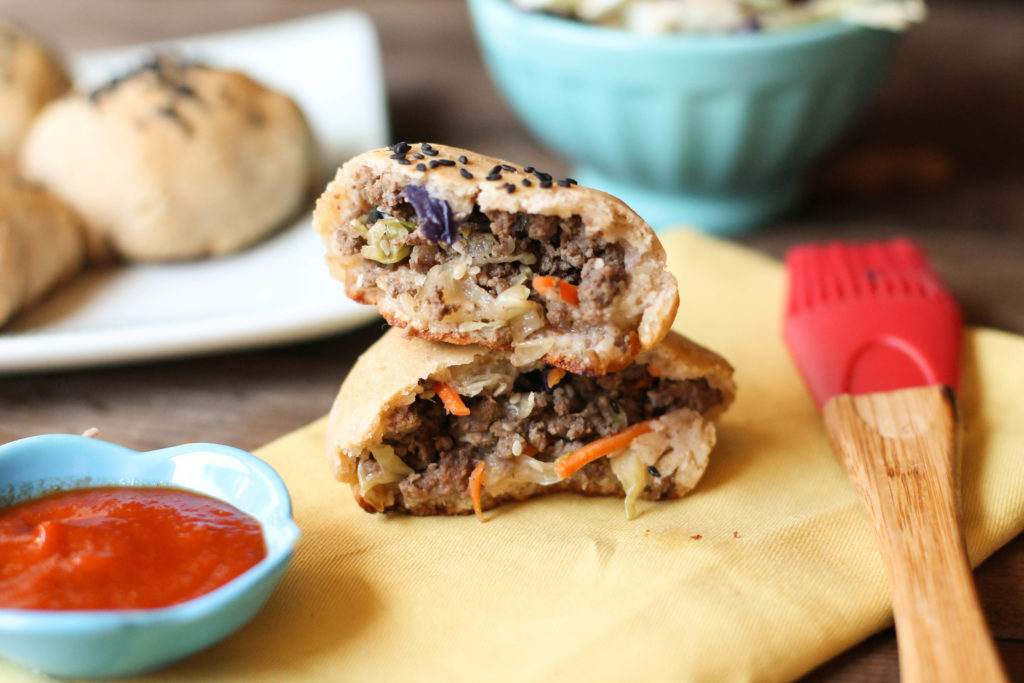 I know some people enjoy seeing step by step how to photos!
And here is a little short video of me molding the buns:  (COMING SOON WHEN I CAN FIGURE OUT HOW TO ADD IT HERE, OF COURSE IT COULDN'T BE STRAIGHT FORWARD!)
Like Asian inspired dishes?  Here a re a few you could try that are mostly Paleo and all gluten free!
Paleo Baked Chinese Buns - Siopao
Author:
Tessa the Domestic Diva
Prep time:
Cook time:
Total time:
Ingredients
Dough:
2 cups almond flour
1 cup cassava flour
1 cup tapioca flour
¼ cup golden flax meal
2 tablespoons baking powder
1 tablespoon psyllium husk POWDER, or 1 tablespoon xanthum gum
½ teaspoon sea salt
Wet:
1¼ cup warm water
¼ cup avocado oil
¼ cup honey (could use less if you prefer)
1 tablespoon yeast
Meat filling:
1 pound ground beef
½ cup green onions, chopped
⅓ cup coconut aminos(or gluten free tamari)
1 tablespoons sesame seeds
1 tablespoon toasted sesame oil
1 tablespoon rice wine or dry white wine
2 teaspoons minced/finely grated ginger
2-4 cloves garlic, minced
Sea salt to taste, start with ½ teaspoon.
1 12oz package shredded cabbage or slaw mix
For Topping:
1 egg white plus 1 tablespoon water whipped OR for egg free, mix 2 tablespoons EACH avocado oil and milk of choice.
Sesame seeds
Instructions
Prepare the filling.
Preheat a pan over medium heat, and crumble in the hamburger and the remaining ingredients except the cabbage to brown,
Mix in the cabbage, and cook until just wilted, and set aside to cool a bit.
Prepare the dough. Preheat the oven to 350 degrees.
In a liquid measuring cup, mix the wet ingredients, and set aside to proof the yeast (should become frothy within a couple of minutes)
Meanwhile, in a bowl, mix the flours, flax meal, baking powder, psyllium or xanthum gum and sea salt.
Once the yeast is frothy, mix wet ingredients into the dry mixture.
Stir until mixed....the dough will be a bit stiff, but continue to mix until incorporated. I like to do this with my mixer to keep it easy. Set aside for 5 minutes to let the flours and psyllium work their magic and firm up nicely.
Sprinkle a work surface with a bit of tapioca flour, and roll the dough out to a cookie sheet sized rectangle. Sprinkle additional tapioca to avoid sticking if necessary.
Cut into 12 equal squares (ish)
Working piece by piece, roll the square out enough to have apx a 5" or 6" square.
Holding the dough in your hand, scoop about ⅓ cup of meat filling into the center.
Close you palm around the filling and use you other fingers to seal and mold the bun.
Place the bun, seam side down on a greased cookie sheet.
Complete the remaining buns.
Brush the bun tops with some whipped egg white, or a milk/oil emulsion and then sprinkle with additional sesame seeds.
Bake in a preheated oven for about 18-22 minutes until golden.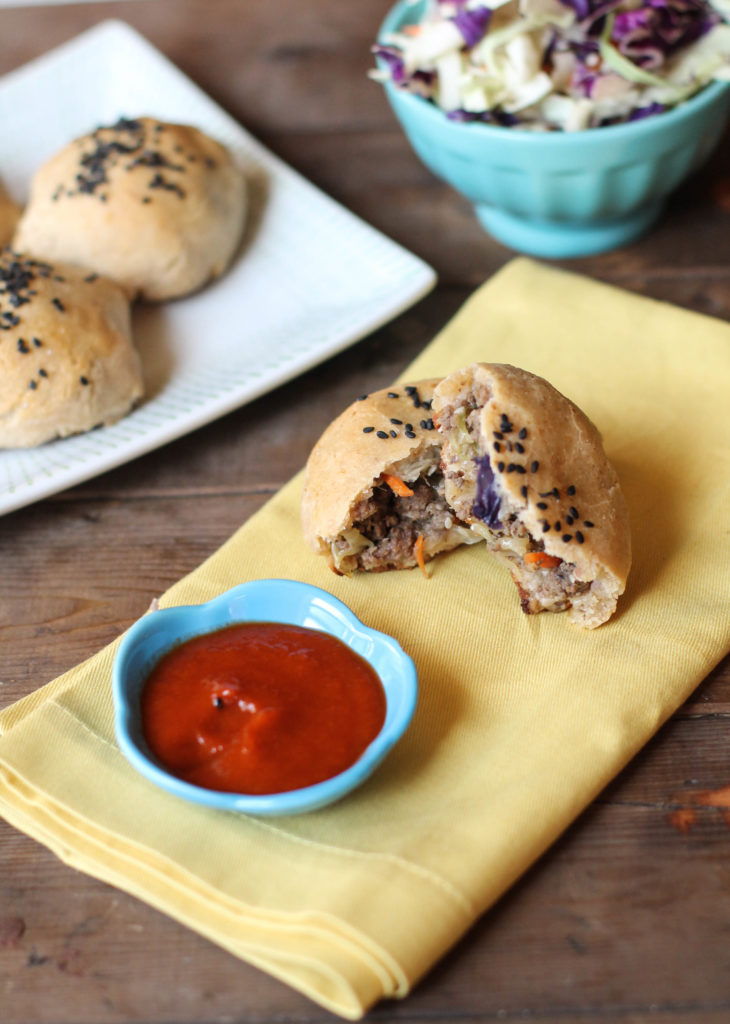 Any of the links in my posts may be affiliate links. If you click on them and make a purchase, I might make a commission. Your support is much appreciated and pays for the cost of running this free resource!