Maybe because I grew up eating it…but I have always loved my mom's lasagna the best. We are creatures of habit, but anyone who eats her recipe always enjoys it, so it must be good by itself too!
I have also noticed that a lot of people avoid making lasagna, making the wrong assumption that it is time consuming…not at all!!
Best of all, you can easily make a double batch, freeze one pan for later or share it with a lucky friend.  This a favorite meal to send to friends in need!
Of course, I have been CRAVING this, in fact I had a pan in the freezer I had made before my son was born waiting for us. Then of course food intolerances galore set in, and the gluten and dairy in it were out. So for those of you still able to, use regular lasagna noodles, and the cheese mix to follow…OR try something new and just as delicious!
VEGAN?  Simply replace the ground beef with roughly 3-5 cups chopped veggies – onion, bell peppers, zucchini, mushrooms, spinach…whatever sounds good.  You will saute the veggies in olive oil until tender, adding the spices and tomato sauce at the end.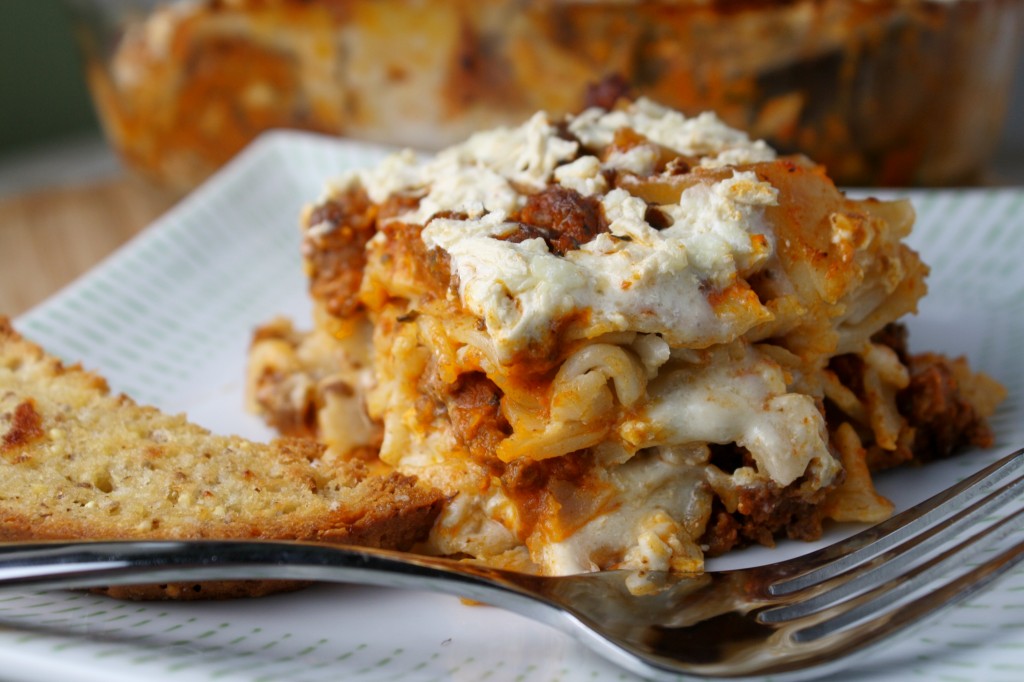 Mom's Lasagna - Gluten & Dairy Free
Prep time:
Cook time:
Total time:
Ingredients
1 box lasagna noodles (there is no real science here, if you like yours really noodly, then add more!! If you get a box with mostly broken noodles, break them all up and layer pieces instead, lasagna is just a casserole after all! I used Tinkyada Lasagna Noodles to make it gluten-free.
Red sauce:
1 pound ground meat or sauteed veggies for a vegan option
1 large jar favorite spaghetti sauce (or 24oz crushed tomatoes and a can of paste) Tonight used my homemade roasted vegetable blender pasta sauce!
2t herbs of choice (I added basil, oregano)
Garlic salt to taste, start w/ 1 teaspoon
CHEESE SAUCE I
8oz shredded mozzarella
8 oz cottage cheese
8 oz grated parmesan or pecorino romano
CHEESE MIX II - DAIRY FREE VERSION
1 cup pine nuts soaked in cold water at least 2 hours, or raw cashews
1 T lemon juice
1 T nutritional yeast
8oz mozzarella style vegan cheese, such as Daiya cheese
Instructions
Boil lasagna noodles following the directions (I used Tinkyada Brown Rice noodles- yum!), rinse with cool water, toss with a bit of oil to keep them from sticking, set aside. I have noticed I do not cook Tinkiyada noodles as long as they suggest, about HALF the time, so be safe and test a noodle!
Brown the ground meat with some garlic salt.
Add in the tomato sauce of your choice, along with the herbs.
Let it simmer for 5-10 minutes, taste and adjust seasoning to your personal taste. Choose your cheese sauce and prepare:
Cheese Sauce I - Mix all the cheeses together in bowl.
Cheese Sauce II - Puree all ingredients except the cheese in a food processor until they are silky smooth (and if you are feeling creative, add some herbs in here too for added pizazz. Oregano, basil, thyme, Italian Seasoning are all good options). When smooth, add the Daiya cheese, and pulse a couple of times to mix.
Assembling: Put a ladleful of red sauce to coat the bottom of the pan...this is a little trick so the noodles don't stick to the bottom.
Then layer the noodles, cheese sauce, red sauce, and repeat until ingredients are used up. NOTE: the layers don't need to be completely covered, it will all melt and blend together in the oven, promise, DOLLOPS WORK GREAT!!)
I like to end with the red sauce and a sprinkling of cheese. Cover and freeze at this point if you are saving for later.
Bake in a 350 degree oven for apx 30 minutes until heated through.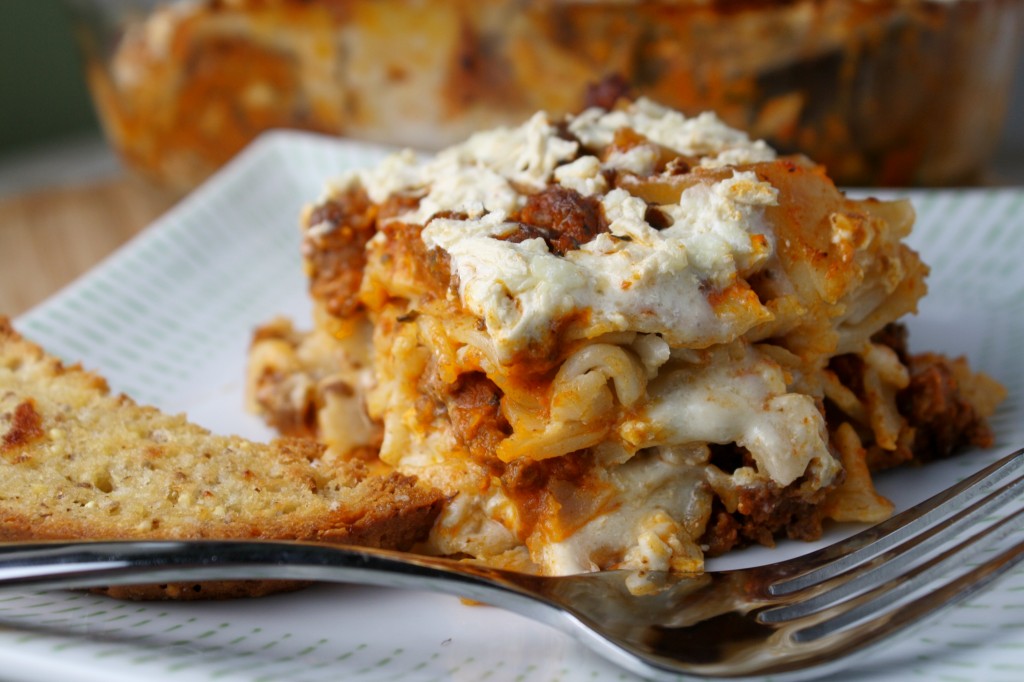 This recipe was shared on Natural Living Monday, Mostly Homemade Monday,  Fat Tuesday, Hearth & Soul, Tuesday Talent Show, Totally Tasty Tuesdays, Tasty Tuesdays, Tuesday Greens, Gluten Free Tuesday, Gluten Free Wednesdays, Waste Not Want Not, Wildcrafting Wednesday, Real Food Wednesday, Fresh Foods Wednesday,Frugal Days Sustainable Ways,  Wellness Wednesdays,  Full Plate Thursday, Thriving on Thursday, Simple Lives Thursday,   Pennywise Platter, Whole Foods Friday, GF Friday, Wellness Weekend,  Fight Back Friday, Simple Meal Friday, Savouring Saturday,

Any of the links in my posts may be affiliate links. If you click on them and make a purchase, I might make a commission. Your support is much appreciated and pays for the cost of running this free resource!