This is one thing that is so ridiculously easy to make, and so delicious, you'll wonder why you've never attempted it before!
Even better, there are so few ingredients in homemade mayo, it is easy to control the allergens, and no weird unpronounceable mystery ingredients are lurking within.  Plus, no GMO oils!
Trust me, try it just once and see!  It takes under 5 minutes, promise!
Here are some recipes you could use this in:
TOOLS:  I use my beloved Cuisenart 14 Cup Food Processor for this…an absolutely invaluable tool in a real foodies kitchen!
TECHNIQUE TIP:  Here is a picture so you know how slowly to pour the oil…it gives the eggs time to 'grab' the oil and emulsify the mixture.  Most people lament how tricky mayo is…but if you pour the oil slowly, you should have success!  It is also worth noting that using ROOM TEMPERATURE ingredients allows you emulsify quickly!  I sometimes hasten this process my heating my vinegar and mustard a tad to compensate for the cold egg yolks.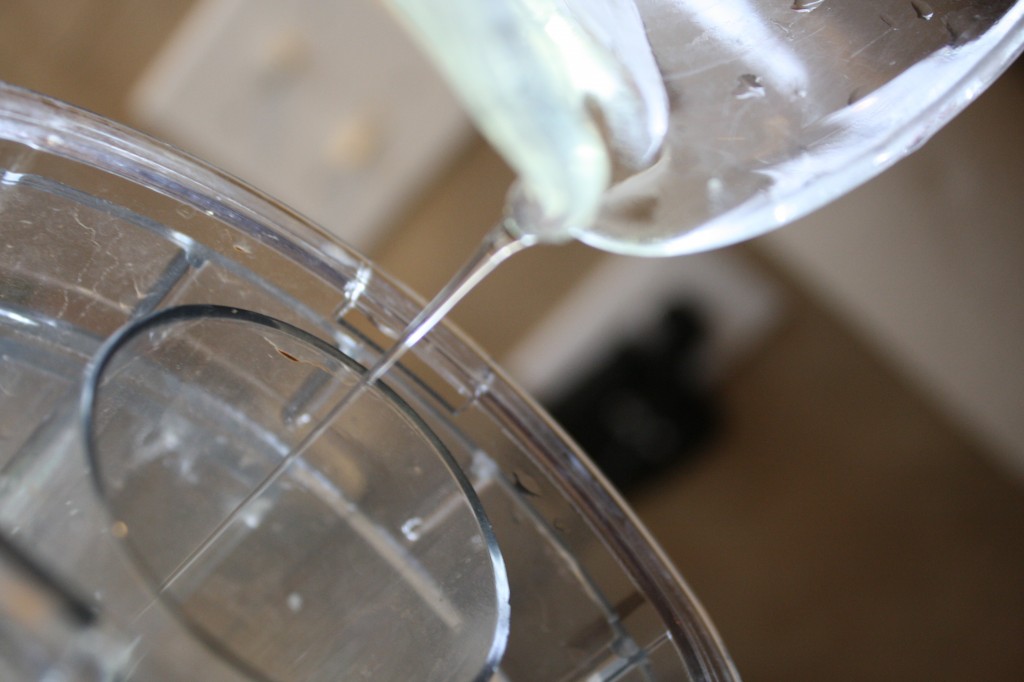 This recipe is shared on Mix It Up Monday, Melt In Your Mouth Monday, My Meatless Monday, Just Another Meatless Monday,  Monday Mania, Tasty Tuesday, Fat Tuesday, Slightly Indulgent Tuesday, Traditional Tuesdays, Things That Make You Say MMM, These Chicks Cook, Gluten Free Wednesdays, What's Cooking Wednesdays,  Real Food Wednesdays, Whole Food Wednesdays, Pennywise Platter, Fight Back Fridays