Homemade mayonnaise that tastes gourmet, takes under 5 minutes, and has no added fillers or additives like store bought??!!
Mayo is one thing that is so ridiculously easy to make, and so delicious, you'll wonder why you've never attempted it before!
Even better, there are so few ingredients in homemade mayo, it is easy to control the allergens, and no weird unpronounceable mystery ingredients are lurking within.  Plus, no GMO oils!
Trust me, try it just once and see!  It takes
under 5 minutes

, promise!

Here are some recipes you could use this in:

TOOLS:  I use my beloved Cuisenart 14 Cup Food Processor for this…an absolutely invaluable tool in a real foodies kitchen!

IMMERSION BLENDER?  You can also do this with an immersion blender.  Place all ingredients, in order listed in a cup or mason jar.  Start the immersion blender, holding it at the bottom until you see the emulsion happening, then slowly lift up until all oil is incorporated.  I use this method most frequently now…easier clean up.

TECHNIQUE TIP:  Here is a picture so you know how slowly to pour the oil…it gives the eggs time to 'grab' the oil and emulsify the mixture.  Most people lament how tricky mayo is…but if you pour the oil slowly, you should have success!  It is also worth noting that using ROOM TEMPERATURE ingredients allows you emulsify quickly!  I sometimes hasten this process my heating my vinegar and mustard a tad to compensate for the cold egg yolks.  Or I will put my eggs (before cracking them) in a bowl of very warm water for a couple of minutes.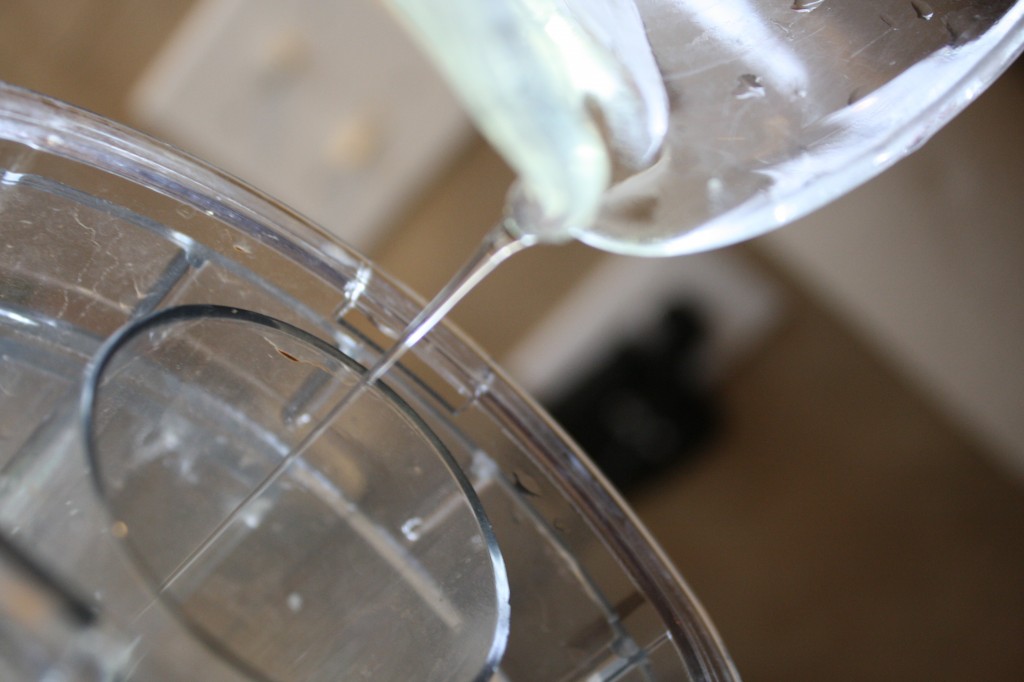 Paleo Homemade Mayonnaise
Ingredients
2 egg yolks, fresh, and organic if possible, and room temperature (you can do this quickly by submerging the eggs in a bowl of hot water for a couple of minutes....this helps the emulsion happen quicker!)
2 teaspoons Dijon or yellow mustard
2 tablespoons lemon juice
1 tablespoon vinegar
1½ cups oil of choice, I like LIGHT olive oil (NOT extra virgin!), or avocado oil
salt to taste
Instructions
Place all ingredients except for oil into food processor bowl.
Turn the machine on, and get ready to drizzle your oil.
Here's the key, you MUST ADD THE OIL VERY SLOWLY!! Notice the thin stream in the picture, it took me about ⅔ minutes to pour the whole amount. Do it too fast and you will have a gross, thin, yellow mixture that has not emulsified.
Add salt to taste (about 1 teaspoon or less).
Store in an airtight container.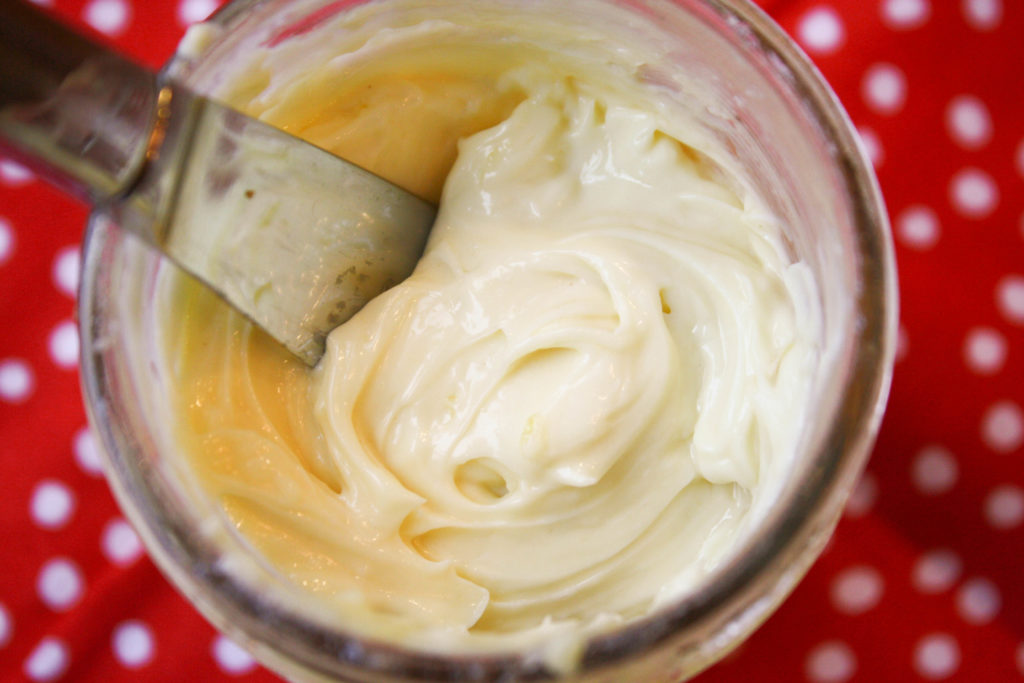 Any of the links in my posts may be affiliate links. If you click on them and make a purchase, I might make a commission. Your support is much appreciated and pays for the cost of running this free resource!