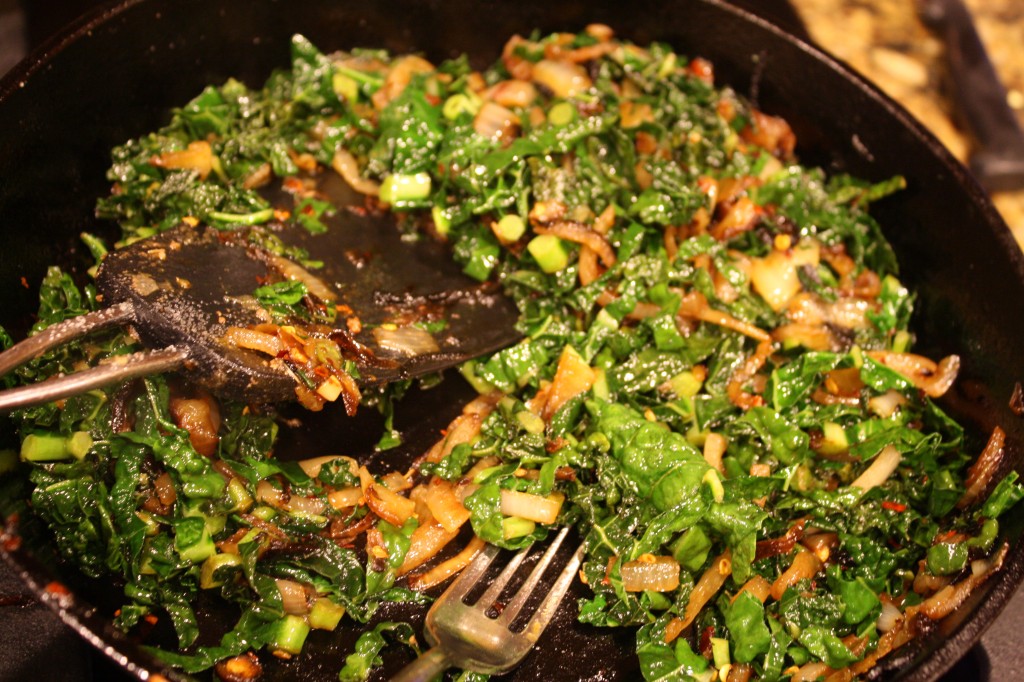 I think I am in love.  It seems so hard to believe I once hated dark greens.  I still am averse to chard, and spinach has a weird texture for me…but kale?  I just can't seem to get enough of it when it is prepared well!
Kale chips are amazing, and this recipe?  Totally different, but equally so.  My mom and I had picked up some kale salad with caramelized onions at my local natural foods deli.  We adored it, so it was only natural to try and recreate it…and I did, but even better (in my humble opinion!)
Even people who are averse to dark greens will likely enjoy this: so simple, but OH SO GOOD!  And as far as nutrients go, you can't get a more nutrient dense leafy green than kale, so go ahead…INDULGE!
Sauteed Kale w/ Caramelized Onions
Author:
Tessa the Domestic Diva
Prep time:
Cook time:
Total time:
Ingredients
2-3 tablespoonsavocado oil
1 onion, halved and sliced thinly
1 head kale (I used lacinato or dinosaur), washed, and thinly sliced
salt to taste
1 tablespoon apple cider vinegar (optional)
1 teaspoon red pepper flakes (optional)
Instructions
Preheat a skillet over low heat.
Add the oil and heat gently.
Add the onion, stir to coat with oil, then saute for 10-15 minutes, stirring occasionally. This slow cooking over low heat sweetens the onions. You know they're ready when you taste one.....no pungent onion flavor, just luscious sweetness! This can take longer if your onions are thicker.
Add the kale on top along w/ 1-2 tablespoons water.
Increase the heat to medium and cover.
Steam the kale for about 5-10 minutes until the kale is wilted and tender. Remove the lid and stir to incorporate the onions.
Add some salt to taste. Sprinkle in the vinegar and pepper flakes and saute another minute or two to evaporate any leftover moisture.
Taste and adjust seasonings. Try not to eat the whole batch all to yourself!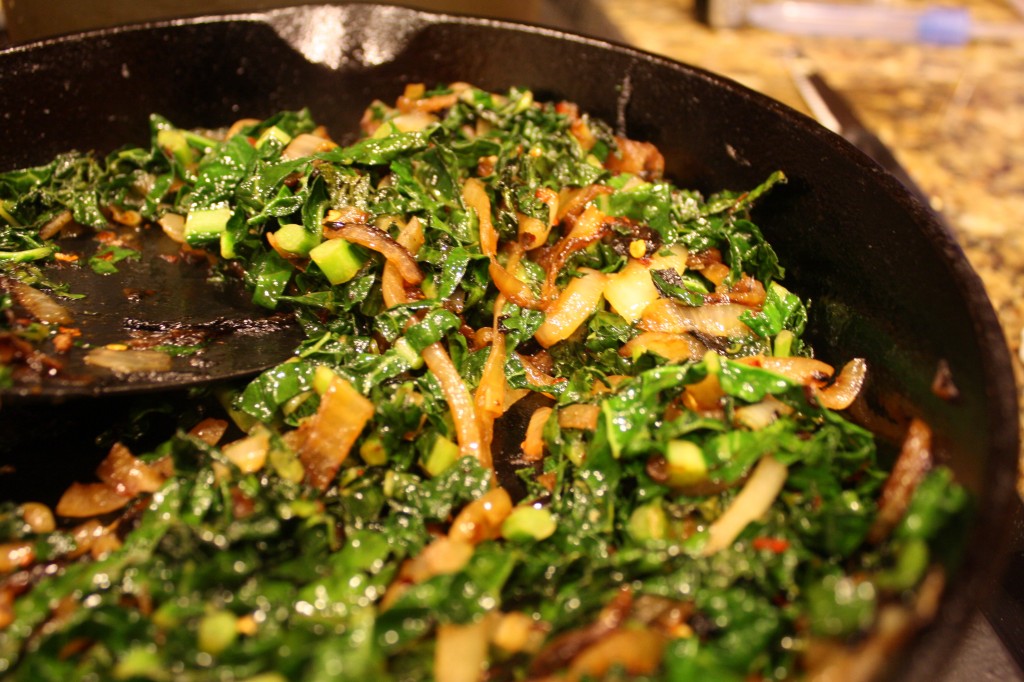 This recipe was shared on Ingredient Challenge Monday, Mostly Homemade Mondays, Fat Tuesday, Hearth & Soul, GF Wednesday, Waste Not Want Not, 

Any of the links in my posts may be affiliate links. If you click on them and make a purchase, I might make a commission. Your support is much appreciated and pays for the cost of running this free resource!