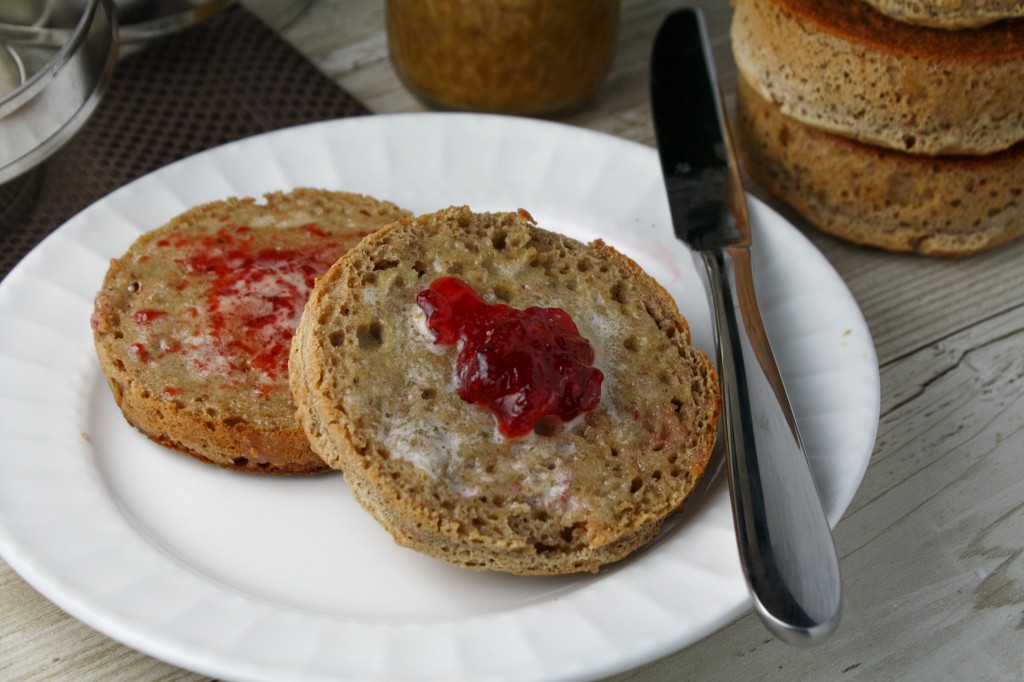 I am so excited to share this recipe with you guys!  I pinned this one ages ago, and finally got around to making it, and they are a HOME RUN!!  Thank you Brittany @Real Sustenance for inspiring me to make my own!
We really loved our English muffins in this house before cutting out gluten.  I have purchased every brand I could find (which isn't many mind you), and they ALL STUNK!  Not just kind of…..like REALLY, REALLY stunk.  Everyone in the house was grossed out by them….and of course they were all loaded with starch and quite expensive!
Would you ever guess that making your own couldn't be any easier?  No fussiness, no dr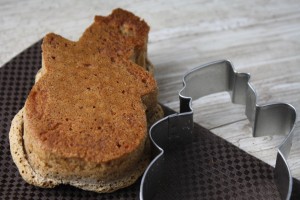 ama: just mix, plop, rise, and bake.  They only thing you need is a really cheap set of english muffin rings.  For $5, you will have them!    But as I also discovered, using larger metal cookie cutters worked too (4″ apx)….and you can bet the kids fought over who got the snowman (we shared it of course!)  I bet I could use raisins to make some buttons and a face for Mr Snowman next time…how cute would that be?!
I started with Brittany's recipe, but made a lot of changes for personal preference and dietary needs in our family.
Yield: About 5 English Muffins (depending on exact flour mixture you choose)@265 calories, 9.4 g fat, 38.8 g carbs, 5.2 g fiber, 3.4 g sugar, 5.5 g protein
Wet:
1 1/3 cups preferred milk, or split with half water for economy
1 tablespoon honey (or other liquid sweetener…this is in part to give the yeast sugar to grow!)
2 tablespoons preferred oil ( I use melted coconut oil)
2 1/4 teaspoons yeast (or 1 envelope)
2 tablespoons chia meal (I imagine flax meal would work to, just haven't tested it, increase to 3 or 4 tablespoons)
1 teaspoon apple cider vinegar (or other vinegar)
Dry:
1 cup any mix of sorghum flour, millet, brown rice, or oat flour (I have made multiple variations and enjoyed them all.  Do not use all one flour, I mix three usually.  I have even used sunflower seed flour I made, and almond could be used too!)
1/2 cup teff flour
1/2 cup tapioca flour
1 1/2 teaspoons baking powder
1/2 teaspoon salt
1/2 teaspoon guar gum or xanthum gum
Method
First, heat your milk/water to warm, about 110 degrees, or easily place your finger in it.  Too hot and you will kill the yeast!
Mix in the honey and sprinkle the yeast over the top.  Set aside for about 10 minutes to proof the yeast.  It should have a creamy, puffy head on top of the liquid.  If not, your yeast is dead and will not work.
While your yeast proofs, whisk together your dry ingredient in a large bowl, and set aside.  Prepare your rings by greasing them well and setting them on a greased cookie sheet.
Once your yeast is proofed, stir in the oil, chia meal, and vinegar.
Pour wet into the dry and mix until you have a soft, muffin-like batter.
Pour the batter into the prepared muffin rings.  Only fill your rings/cookie cutters about 2/3 full.
Set aside to rise in a warm place until they just start reaching the top edge.  This only takes about 10-20 minutes for me.  Do not let the batter rise too high, or the muffin will be hard to remove as there will be overflow baked onto the ring.
Bake in a 375 degree oven for about 18-20 minutes until just golden.
This recipe was shared on Full Plate Thursday, Thank Your Body Thursday, Tasty Traditions, Simple Lives Thursday, Pennywise Platter,Wellness Weekend, Fight Back Friday, Fresh Bites Friday, Whole Foods Friday. GF Friday,  Simple Meals Friday,