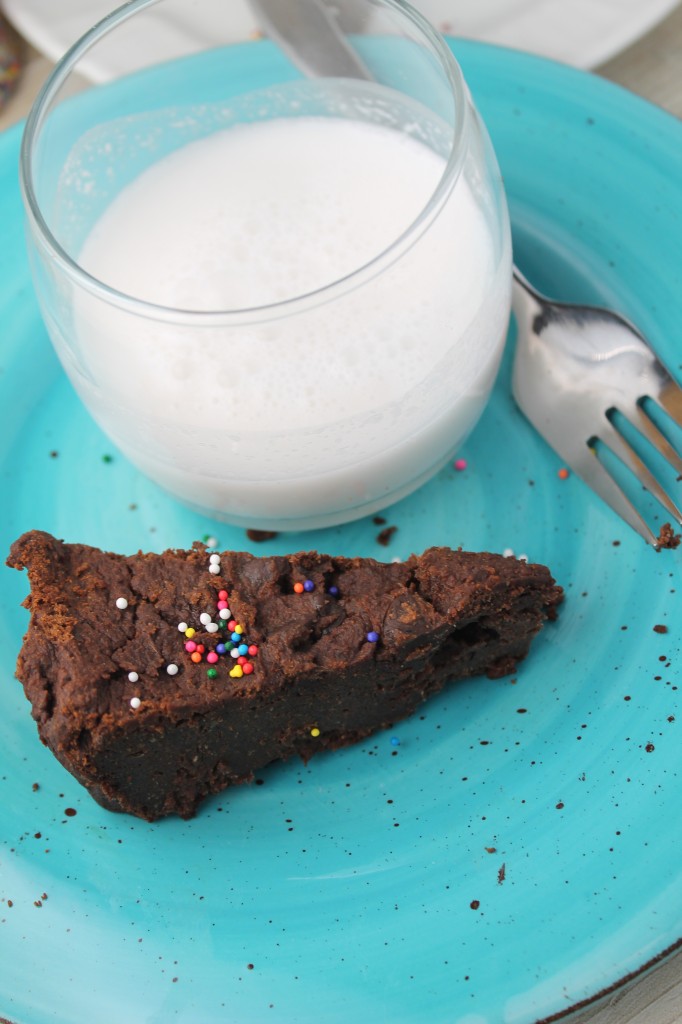 Moist, fudgey and decadent brownies to fill any chocoholics most sinful craving.  Yet these beauties are deceptive: sweetened only with fruit,  a serving of veg, and they contain some protein, fiber, and healthy fats.
Sigh.  I absolutely love these fudgey gems and so does my family.  They don't know they are being deceived….and neither will anyone else.  So go ahead…make these and make some new friends.  Convince people healthy food CAN be delicious.
I was originally inspired by one of my very favorite blogs: Hope For Healing's Zucchini Cake.  I love that recipe and it inspired me to create something with my winter supply of squash puree.
And I would be remiss not to mention some of the topping ideas swirling though my head with these bad boys as a perfect base: pureed raspberry, Paleo caramel, crushed candy canes, my Easy Vegan Buttercream Frosting…..what would YOU top yours with??!!
INGREDIENT NOTE:  I have used TOASTED quinoa flour here.  I personally cannot stand the flavor of regular quinoa flour.  If you feel the same way, just toast the whole bag of flour in a 300 degree oven for about 30 minutes, stirring occasionally until toasty smelling and evenly golden.  This process removes the bitter tannins that give regular ole quinoa flour it's nasty (in my opinion) bitter/dirty flavor.
You are welcome to sub other flours here…my baking tips page divides gluten free flours into their protein weights…so use that as reference to sub one or more flours.  This will change the end product inevitably!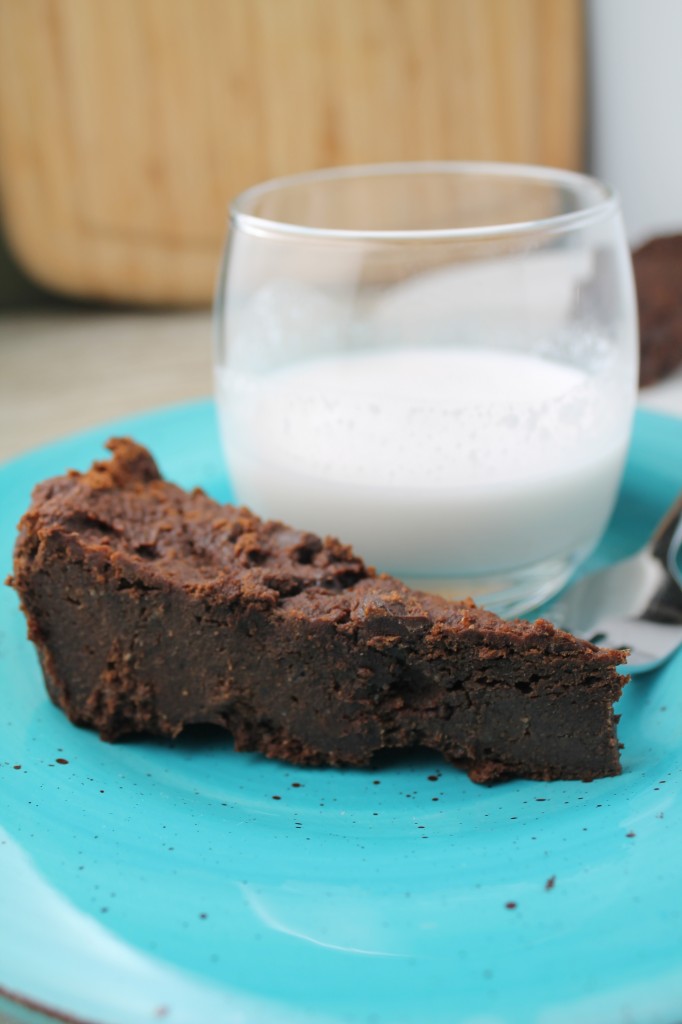 Fudgey & Decadent Date Sweetened Brownies - Gluten Free & Vegan
Author:
Teesa the Domestic Diva
Prep time:
Cook time:
Total time:
Ingredients
20-25 Medjool Dates (about 1 cup), pitted
1 cup extra hot water
3 ounces unsweetened chocolate (or extra dark)
1 cup fresh pumpkin puree
¼ cup melted coconut oil (or other)
2 teaspoons vanilla extract
Additional sweetener to taste if necessary (I use stevia if needed, but almost never need it, taste and see!)
¼ cup tapioca flour
¼ cup unsweetened cocoa powder
¼ cup coconut flour
¼ cup teff flour
1 teaspoon baking powder
1 teaspoon baking soda
½ teaspoon sea salt
Instructions
Preheat oven to 350 degrees.
In a large liquid measuring cup, place the dates, hot water and unsweetened chocolate. Set aside for a minimum of 10-20 minutes to get soft.
In the bowl of a 14 cup food processor, place all the date mixture, and the next 4 ingredients through the vanilla. Puree until smooth.
Sprinkle in the remaining dry ingredients. Pulse several times to mix thoroughly,
Pour batter into a greased 9" pan (round or square as preferred.)
Bake in a 350 degree oven for 40-50 minutes until the middle is just set and a knife inserted comes out clean.
Let the brownies cool completely, cut and store in an airtight container.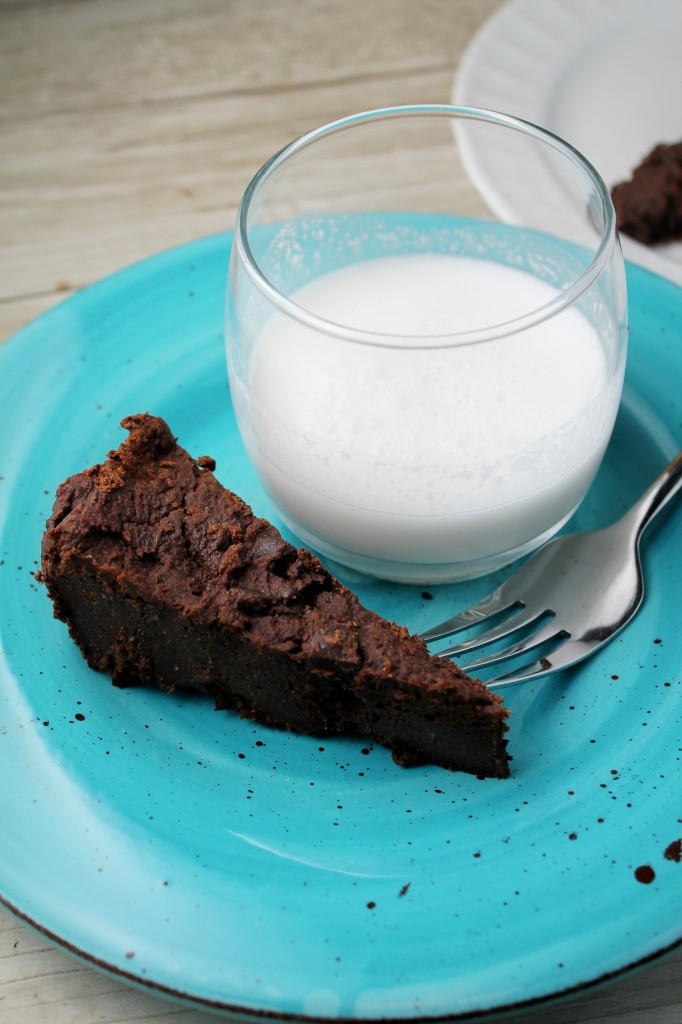 This post was shared on Sugar-Free Sunday, My Meatless Monday, Natural Living Mondays, Monday Mania, GF Mondays, Make Your Own Mondays, Slightly Indulgent Tuesdays, Tasty Tuesdays, Fat Tuesday, Hearth & Soul, Traditional Tuesdays, Wheat-Free Wednesday, Real Food Wednesday, Frugal Days Sustainable Ways, GF Wednesday ,Healthy 2Day Wednesday, Kids in the Kitchen, Seasonal Celebration Wednesday, Whole Foods Wednesday, Thank Your Body Thursday, Simple Lives Thursday, Made From Scratch, 12 Days of Christmas Goodies, Wildcrafting Wednesday, Keep It Real Thursday, Pennywise Platter, Wellness Weekend, GF Friday, Whole Foods Friday, Simple Meals Friday, Healthy Vegan Fridays,
Any of the links in my posts may be affiliate links. If you click on them and make a purchase, I might make a commission. Your support is much appreciated and pays for the cost of running this free resource!