These gluten free blueberry crumb bars take advantage of one of summer's very best offerings: blueberries!  Made with oats and lower in sugar, these wholesome vegan bars a real treat for the family to enjoy!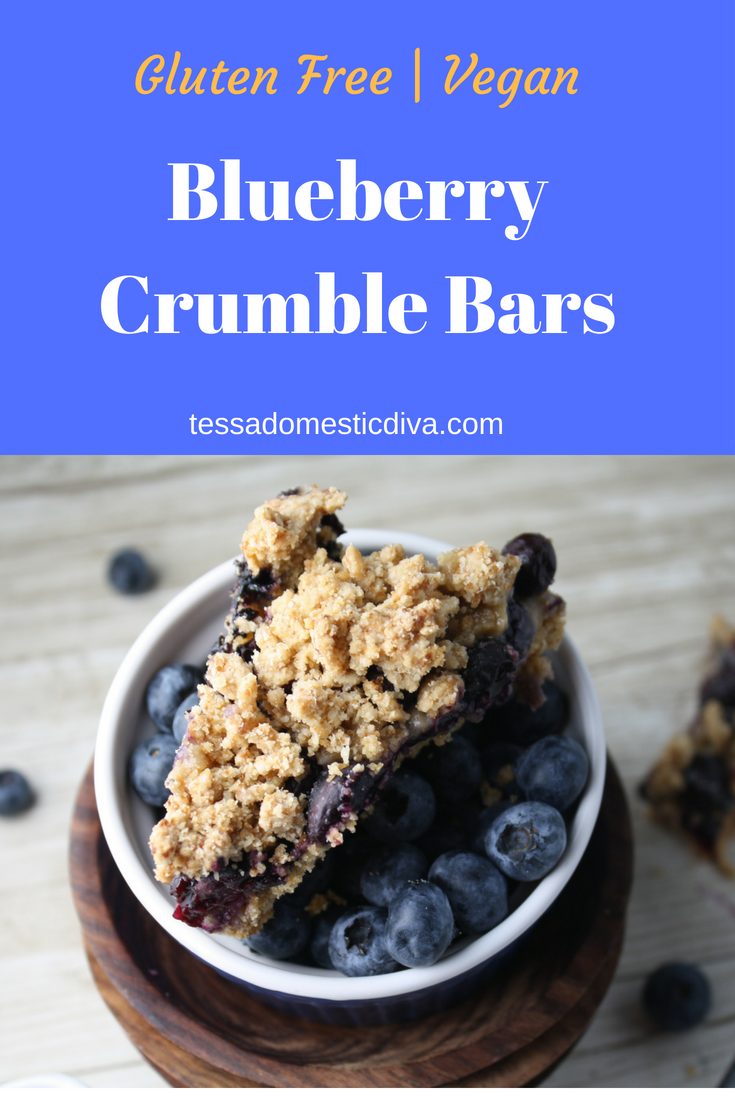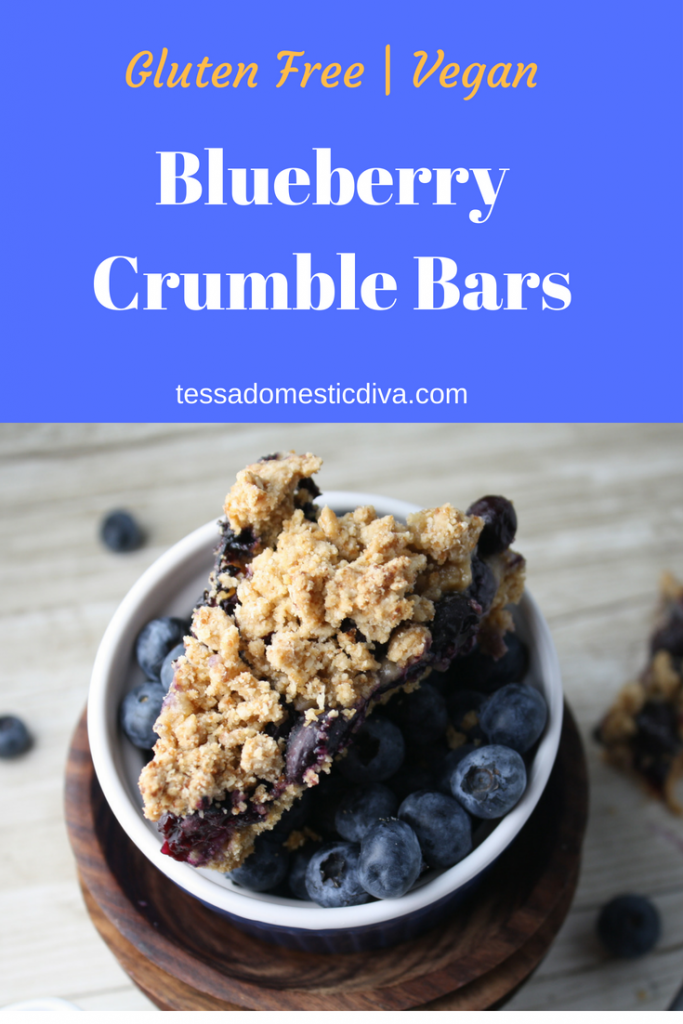 It is definitely a bit later than normal, but blueberries are finally here!!
I promised the kids that we'd go to a blueberry patch, but we had to keep putting it off as none of the berries were ready yet!  Most places around here opened last weekend, so I was eager to get out and get our share.
Any true lover of blueberries knows…they are quite amazing fresh off the bush…a taste almost never found in store-bought berries.  We found a u-pick that didn't use any sprays and were on our way!
After only an hour, we were able to harvest 12 pounds of fresh berries…and I swear I only hit up 5-6 bushes to fill my gallon bucket!  It was so gratifying, me and my friend were giddy with our blueberry bounty.
The kids had so much fun, and managed to pick a couple of berries…but most of them made their way into their bellies instead of their buckets!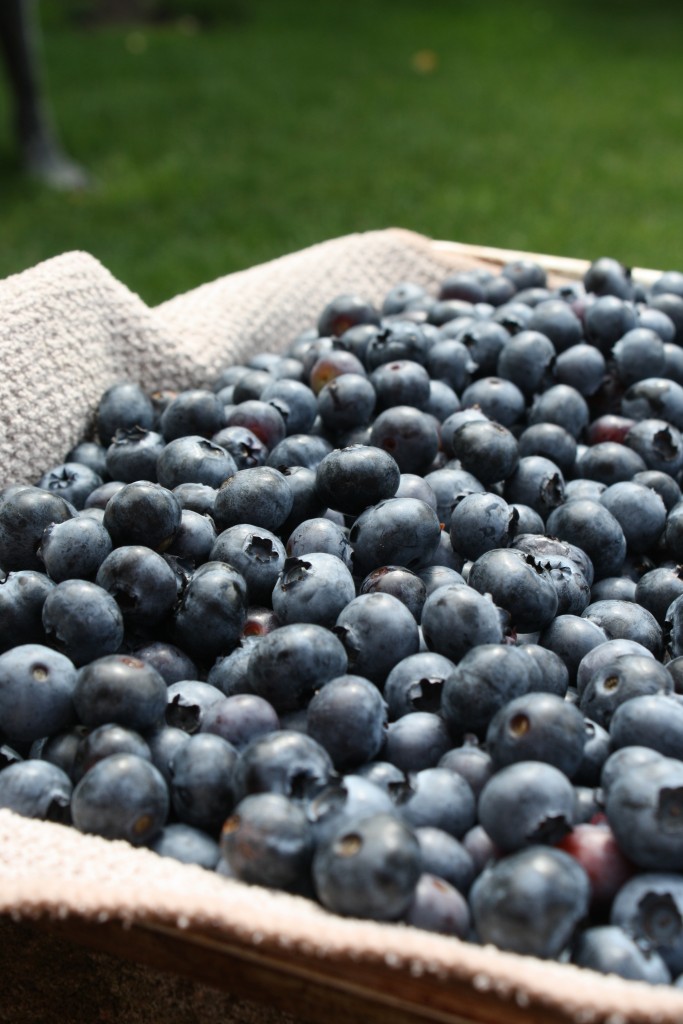 Yesterday I made a blueberry buckle for all the pickers (which was great, but I neglected to take a picture or make careful measurements so it could be recreated!) and today I made these for the preschool kids. Buttery and gooey with a lovely tartness from the berries.
Can I Use Any Berries For These Crumble Bars?
Yes!  Fresh is best!  If they are large berries like strawberries, they would need to be roughly chopped to make the pieces smaller.
Can Frozen Berries Be Used In These Oatmeal Crumble Bars?
Yes!  The season is short, so using thawed, drained frozen berries is totally acceptable!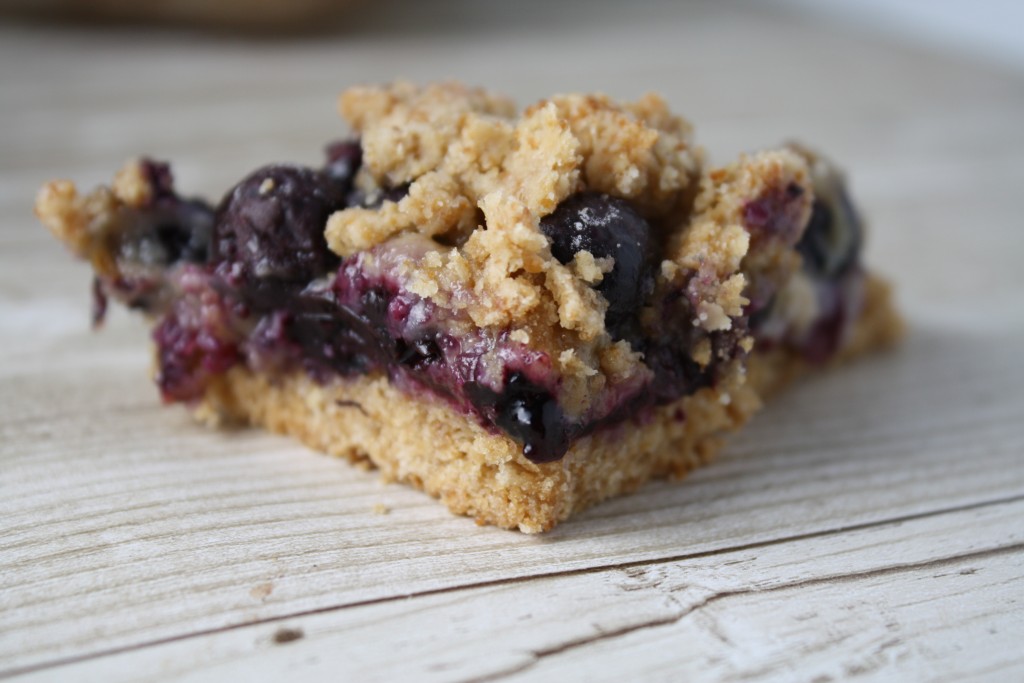 Wholesome Blueberry Oatmeal Bars
Per my usual style, I try and make food with benefits!  In this recipe, I used palm sugar, but you could also sub any favorite granulated sweetener of choice, low carb or not!  The palm sugar lends some caramel over tones, so that would be lost if you used a 'white' sugar replacement.
Making The Blueberry Crumb Bars Vegan?
Since they are already egg free, you just need to decide which solid fat you would like to use.  The buttery flavor is traditional in crumb bars, but coconut oil also works!  Rainforest friendly palm shortening would do the trick too, or a favorite vegan butter.

Gluten Free Blueberry Oatmeal Bars Recipe:
Blueberry Crumble Bars - Gluten Free & Vegan
Ingredients
FILLING:
3

cups

fresh blueberries

or thawed frozen

1/4

cup

granulated sweetener

I used xylitol, I will be experimenting with less or no sugar soon!

2

tablespoons

tapioca flour

or any starch
Instructions
In a food processor fitted with the "S" blade, pulse the crust ingredients through the margarine. Alternately, you could use a pastry cutter or your fingers to work the the fat into the dry ingredients until it is well dispersed and no bigger than small peas.

When well combined, with the machine running (or by hand with a spoon), add the vanilla and the milk, 1 tablespoon at a time. Stop adding milk when the dough can be pressed together with your fingers. HINT: If you like a softer dough, add a bit more milk, if you prefer more crunch, don't!

Press 1/2 of the dough into the bottom of a 9 x 13 pan (I used my Silpat so it did not stick to my hands).

Mix the blueberries, sugar, and arrowroot starch together.

Spread this over the crust, and crumble the remaining cookie crust over the top.

Bake in a 350 degree oven for about 45 minutes until the crust is golden and the center is set. Let cool before cutting.
Nutrition Facts
Blueberry Crumble Bars - Gluten Free & Vegan
Amount Per Serving
Calories 183
Calories from Fat 54
% Daily Value*
Fat 6g9%
Cholesterol 15mg5%
Sodium 149mg6%
Potassium 115mg3%
Carbohydrates 29g10%
Protein 2g4%
Vitamin A 190IU4%
Vitamin C 2.7mg3%
Calcium 28mg3%
Iron 0.7mg4%
* Percent Daily Values are based on a 2000 calorie diet.
Any of the links in my posts may be affiliate links. If you click on them and make a purchase, I might make a commission. Your support is much appreciated and pays for the cost of running this free resource!