Does gluten have anything to do with the symptoms of ADD/ADHD?  I share our experience with our daughter: gluten and ADD / ADHD.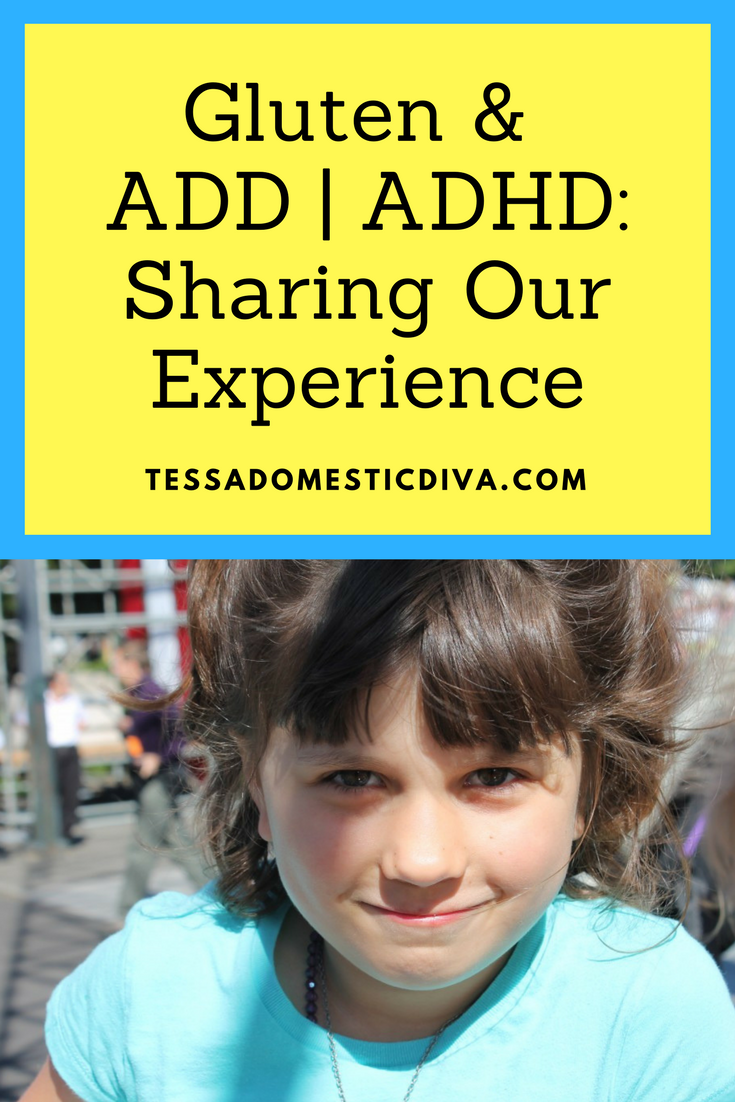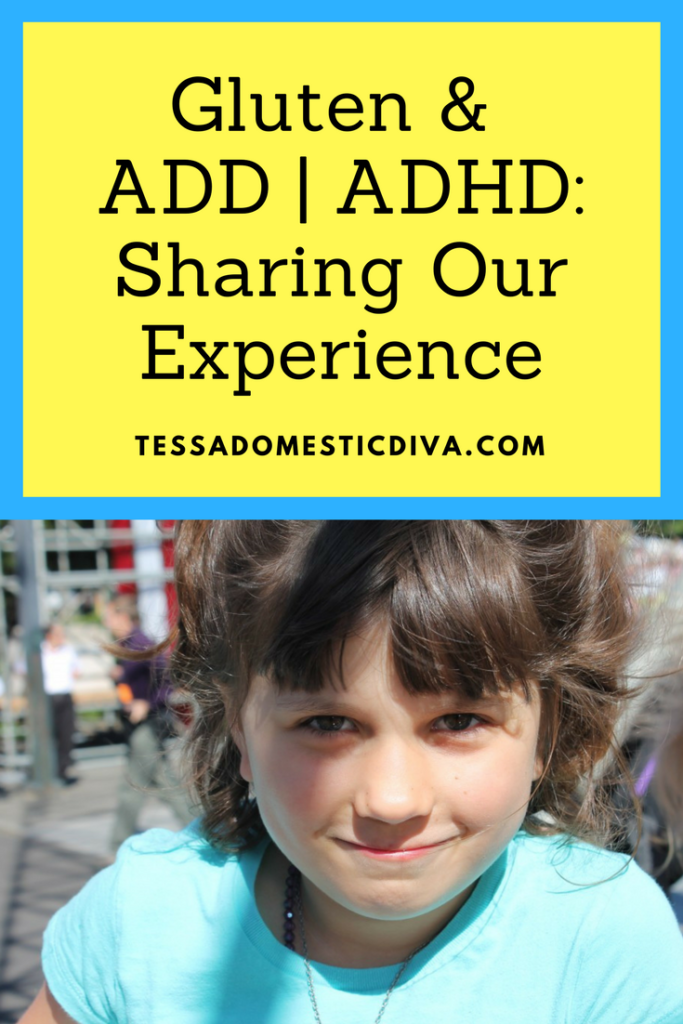 ADD.  ADHD.  Whatever you would like to call it, those of us who live with it know: it is no walk in the park.
Living with someone so full of energy and ideas can be truly exhausting and require enormous amounts of patience and consistency.
Our oldest daughter has shown signs of ADD since she was a wee baby.  It runs in the family, and it was no real surprise.  The hard part as parents is knowing exactly what to do about it.  There are lots of  different opinions.  Medicate, leave it alone?  And of course, as toddlers and preschoolers, so much of the ADD behavior can ALSO be consistent with typical developmental behavior of those young ages.  It becomes more clear as the child enters school-age and their immature behavior starts to stand out, and their lack of focus starts to put them behind in their studies and make school a frustrating endeavor.
When my daughter was 3 or 4, I had wanted to try diet changes to see if it helped her .  We already ate real food and mostly healthy offerings.  We didn't buy a lot of processed foods, and things with food dyes.  But it seemed like an ENORMOUS leap to cut out gluten at the time.  I talked myself out it more times than I can count.  But when my third child was born with a host of food allergies and gluten went out the door in a hurry, the whole family went gluten free, and I could really test this whole idea out and how it effected my daughter (and by unintentional default, the rest of us!)
Before I share our personal experience, let me first say that I am no doctor. I am not a health professional.  I am not an ADHD expert.  I am just a mom (who used to be teacher) who is determined to do the very best by my child in the best way I can!  Here is a our story: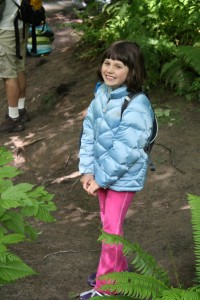 Background:
From a young age, my eldest daughter has always had plenty of energy.  She used to literally shake with excitement at the sight of another baby.  Once she started walking, it was all about walks in our house.  Multiple times a day.  She wanted to be going and doing things all the time.  Nap-time was a playtime..how many ways could she destroy her room and explore new and exciting things in a 10 x 10 foot space?  We even had curtains set on fire at one point, she was not even two!
As she progressed into preschool, she was successful academically.  She's got a great little brain that remembers things quickly, and an UN-ending curiosity.  Preschool fit well into the constant stimulus she was always most happy with.  The only area that continued to pop up was social and behavioral issues. She was always socially immature for her age, not handling things like most kids her age.  She was a bit more volatile, and less-able to handle the social ups and downs.  There was never a real best friend because most kids could only take her in small doses…her energy and inflexibility was exhausting for THEM too!
At home, her tantrums were remarkable.  She had had a difficult time assessing personal boundaries (still does) and quickly escalated into 'crazy girl' when anything exciting or physical started.  And once crazy girl hits there is no hearing…she is in her own super-hyped up world with those eardrums turned off.  I learned quickly that routine was our friend and ally.  Deviate, and our toddler/young girl would meltdown or cause major problems.  I learned to talk about changes or plans before they happened…and then repeat that same conversation lots of times.  I learned to avoid crazy, over-stimulating environments whenever possible.
Moving into Kindergarten, she did pretty well too.  She has a very likable personality, and Kinders never sit still for more than 10 minutes at a time anyways.  She also had a handle on the vast majority of content covered in the Kinder curriculum before she even started, making  the content a mental breeze for her.  She still struggled socially finding best friends.  Kids all seemed to like her, but in small doses.
First Taking the GF Plunge:
Not long after starting Kinder, we made our diet changes and took all gluten and dairy out (among other things).  I noticed an improvement in her behavior at home.  She would meltdown less often, listen a little better, control her emotions a bit more.  Homework was more doable.
The problem over the next year and half was not what to feed her, I had that nailed down.  The issue was  my own self-doubt.  I knew many people doubted the path we had chosen, thinking me neurotic and extreme.  I wondered if maybe they were right.  What if it WAS all in my head?  Afterall, all blood, stool, body system tests came back normal.  There was no Celiac.  There was no obvious medical signs or tests that told us gluten was an issue for her.
So I decided it was time to test this out once and for all.  I was tired of doubting myself.  And if I didn't HAVE to worry about food at play dates and school functions, that would be great!  My idea was simple.  Let gluten back into her diet on a consistent basis., and don't tell anyone at school what we were doing.  We committed to 4 weeks.
The Gluten Challenge:
By the start of the second week, I noticed a change.  My daughter would come home from school and meltdown.  Homework was a joke:  she would roll around screaming and yelling,"mommy, mommy. mommy, mommy!  I can't do it, I can't do IT!"  The homework hadn't changed, and I knew the content was easy for her.  I knew I was probably in for a wild and exhausting ride at this point.  Her behavior deteriorated too.  Less flexible, more tears, more tantrums, more of everything BAD!
By the third week, for the first time ever, we started getting school papers back exclaiming, "PLEASE FINISH!" scrolled across the top .  This hadn't happened ALL YEAR, and now it was happening almost daily.  In addition, we started getting daily calls home from the counselor about recurrent negative behaviors.  My child is not defiant and never has been.  She is a people pleaser.  So when many teachers talked with her about the problem, and mommy too with no change….I knew where the REAL problem lie.
I sent an email to her teachers this third week asking about focus and behavior recently.  Both teachers (remember, they have no idea we changed anything) reported that she was harder to redirect, harder to manage, and was annoying her peers even more.  They also both noticed she was having a much harder time getting her work done.
What Happened When We Removed Gluten Again?
FOUR WHOLE WEEKS of daily gluten intake, and finally, we could take her back off and see what happened.
We started on a Saturday.  That following THURSDAY we had a conference with the teacher.
"Hey, how has she been this week?"  Both teachers said my daughter was back to normal and having a great week! Then I let them in on our little secret.  They couldn't believe what a difference it made in her.  And you know what…that negative behavior I was receiving almost daily calls home about for two weeks?  GONE.  Abruptly stopped!

At home, my daughter still has ADD and some of the  annoying traits that go along with it, but instead of things happening every 10 minutes, we were looking a couple of times a day.  Instead of getting wild and crazy multiple times a day, it was a few times a week.  Better control of her body.  Homework was a breeze again, she would complete all work of her own accord with little or no assistance.
Interestingly, when we got the year end report card with all the year's reading assessments..it was no surprise to see there was mostly 90% and  the month we challenged gluten it dropped to the 70's.
Our Conclusion:
To say that gluten affected my daughter's ADD poorly would be an understatement.  And now, the whole family knows for SURE, this is the right path for us to be on!!
I still have a hard time wrapping my brain around the idea that something that so many medical tests do not point to could have such a dramatic effect on our child's life.  Kelly over at The Spunky Coconut finally put it in a way that made sense for me in one of her cookbooks:
"in individuals with leaky guts, when wheat proteins are passed undigested and whole into the blood stream, they go straight to the same part of the brain and have a similar effect as heroine."
So that wild and crazy-eyed girl that sometimes visited our house suddenly made sense: she was  'high' on gluten!
I feel grateful that we we really know now that gluten is a major detriment to our daughter at this point and time.
We will continue to evolve and change our diets as needed to give her the best base to spring from.  It was a hard leap to take, but only in the beginning, and has opened so many new doors for our family.  Maybe it will for YOU too.
What is your experience with ADD/ADHD?
Any of the links in my posts may be affiliate links. If you click on them and make a purchase, I might make a commission. Your support is much appreciated and pays for the cost of running this free resource!