This paleo chocolate raspberry tart is dairy free and grain free. A real show stopper with minimal effort!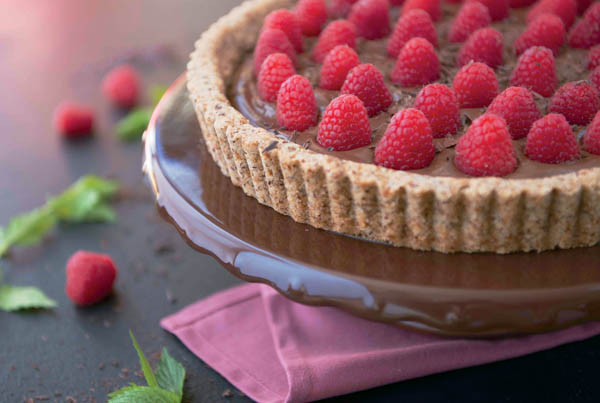 We have another home run folks!!
The Whole Life Nutrition Cookbook, 3rd Edition is out and better than ever! (To win your own copy, go the bottom!)
It is THE bible of anyone trying to use food to feel well. If you want to understand our bodies and the effect of food on them, and then back it all up with amazing recipes to keep you fed well: this is your book!
Alissa and Tom have been writing cookbooks for some time, and I own all of their books and always recommend them. With this cookbook, I definitely see a shift towards more grain-free cooking. Some old favorites are sprinkled in, and a stunning array of new recipes as well.
Why this healthy cookbook rocks
There is so much variety in this cookbook. Beyond the typical cookbook fare, there are whole chapters of cultured foods and beverages that I found SUPER creative and intriguing. Over 13 different recipe categories to peruse: Get Cultured, Smoothies, Breakfast, Fresh Breads & Muffins, Soup, Fresh Salads & Vegetables, Whole Grains, Vegetarian Main Dishes, Fish/Poultry/Meat, Dressings/Dips/Sauces, Healthy Snacks, Nutritious Desserts, and finally Beverages. All healthy. All real. I am telling you, this book is a BIBLE!!
The first FIVE chapters give you a crash course in gut health and how it pertains to your overall well-being. Very easy to read, super informative, and well researched. I would have given anything to have this resource 4 years ago!!
The second FIVE chapters hold your hand through all the new ingredients and how to stock and prepare whole foods. There is also a great section talking about the benefits and limitations of all the latest food lifestyles (raw, Paleo, vegan, etc).
I have made 9 recipes in this book since receiving it, and have been impressed every time: Blueberry Almond Muffins (paleo), gluten free sourdough starter, Tom's Fruity Medicine Chest Smoothie (my afternoon pick-me up now!), Buckwheat Pancakes (using fresh ground raw buckwheat groats), Gluten Free Sourdough Bread, Arugula Salad w/ Lime Vinaigrette, Roasted Chicken w/ Garlic & Herbs, Chewy Chocolate Chip Cookies, Cashew Milk.
There are countless others to try!
There lots of beautiful pictures too! If I could change only one thing about this book, I would have all the stunning photography right along with the recipe…they are a feast for the eyes!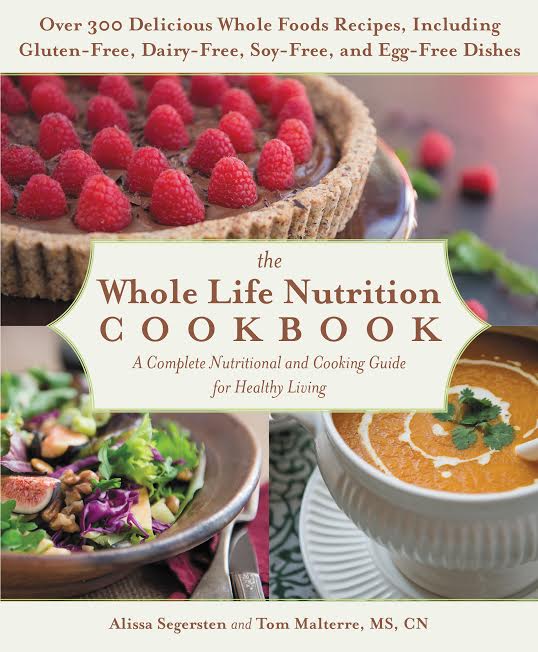 Paleo Chocolate Raspberry Tart Recipe: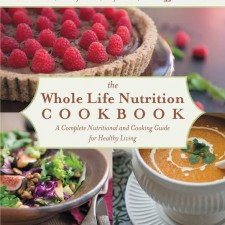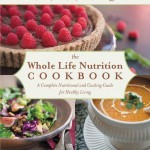 Paleo Choclate Raspberry Tart & The Whole Life Nutrition Cookbook #Giveaway
Ingredients
CRUST

3

cups

hazelnut meal

¾

cup

arrowroot powder

¼

cup

coconut sugar

¾

teaspoon

sea salt

6

tablespoons

cold virgin coconut oil

plus more for greasing the pan

2 to 3

tablespoons

cold water

FILLING

2

cups

raw cashews

soaked for 3 hours

½

cup

raw cacao powder

½

cup

pure maple syrup

½

cup

full-​fat coconut milk

1 to 2

teaspoons

nonalcoholic vanilla extract

1

pint

fresh raspberries
Instructions
Preheat the oven to 350°F. Grease an 11‑inch round tart pan with coconut oil.

To make the crust, place the hazelnut meal, arrowroot powder, coconut sugar, and sea salt into a bowl and mix together.

Add the coconut oil and mix it in, using your fingers or a pastry cutter, until fine crumbs form.

Add the water and stir together with a wooden spoon until the mixture forms a ball. Press the dough into the bottom and up the sides of the tart pan.

Bake the tart for about 25 minutes, then remove from the oven and cool completely. I like to put it into the refrigerator to speed up the cooling process.

To make the filling, place the cashews into a bowl of water and let soak for about 3 hours; then drain and rinse.

Place soaked cashews into a high-​powered blender, add the cacao powder, maple syrup, coconut milk, and vanilla and blend until super smooth, adding more coconut milk by the tablespoonful if needed.

To assemble the tart, pour the chocolate filling into the cooled crust and chill for 2 hours.

Pop the tart out of the pan by pushing it up from the bottom.

Transfer to a serving platter. Decorate the top with the raspberries and serve.
Excerpted from the book THE WHOLE LIFE NUTRITION COOKBOOK by Alissa Segersten and Tom Malterre, MS, CN. © 2014 by Alissa Segersten and Tom Malterre, MS, CN. Reprinted by permission of Grand Central Life & Style. All rights reserved.
Any of the links in my posts may be affiliate links. If you click on them and make a purchase, I might make a commission. Your support is much appreciated and pays for the cost of running this free resource!