A delicious refined sugar free paleo toffee, that also happens to be be vegan too!!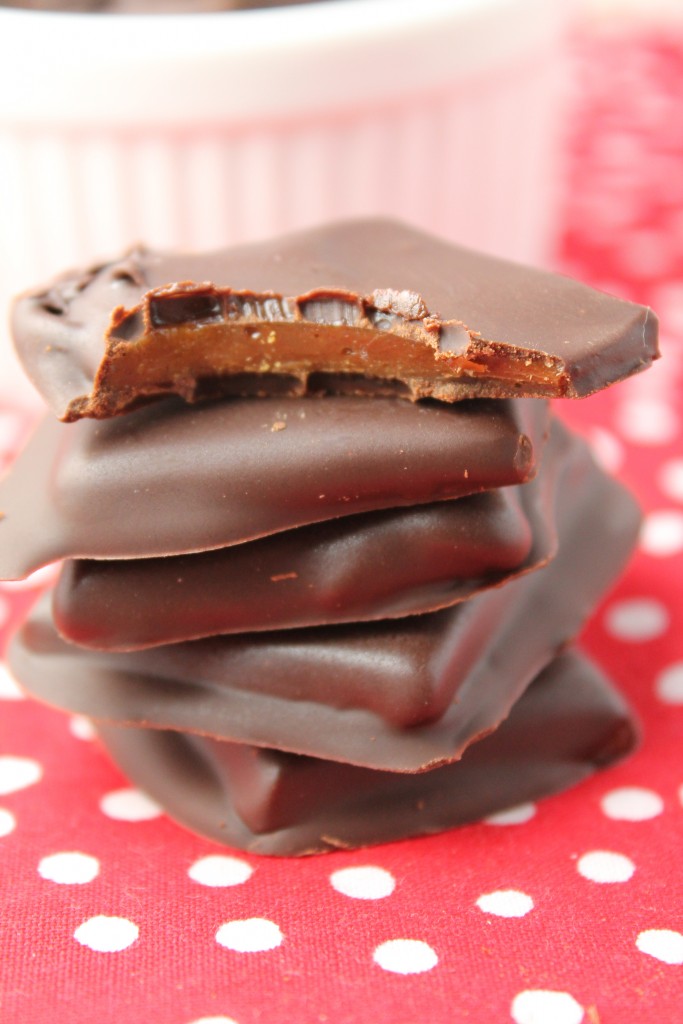 Paleo AND vegan toffee? Yes!!
I was more than a little excited to receive my new copy of Paleo Indulgences in the mail. I was ecstatic, giddy, and positively antsy to get cooking!
Tammy Credicott is author to one of my very favorite allergy cookbooks: The Healthy Gluten Free Life. So when I discovered she was writing a Paleo cookbook, I was excited to get a copy to support my grain-free trial.

Just like her previous cookbook, Tammy has filled this cookbook with beautiful photos, an amazing pictured index, and loads of crave-worthy recipes. I was hard-pressed with where to begin!
Every recipe I have made thus far will be a repeat in this house. A quick 'bread' whipped up in a mug (delicious!), cinnamon swirl rolls, orange chicken…..we have loved them all. I can guarantee that I will be making my way through this book, one page at a time, with great pleasure. Next on my list: No-Bake Pumpkin Tarts, Hazelnut Chocolate Chunk Cookies, Breakfast Biscuit Bowls, and Sweet Potato Fried w/ Garlic Oil.
If you are looking for some super creative, Paleo-legal treats to indulge in once in awhile, or you're trying to find foods that your kids will eat along side with you, or maybe you just love good food that happens to me made with healthy ingredients: this is a perfect cookbook for you!
Mine is already taken on a well-worn and loved look, and I couldn't be happier! Thank you Tammy for another winner!
And in case you needed any convincing, I leave you with a a little teaser recipe of Tammy's: Paleo Toffee Caramels!

Paleo toffee ingredient note:
Coconut nectar may be new to some of you.
It is a thick syrup with a lovely caramel flavor and is a lower glycemic sweetener.
Almost a cross between honey and maple syrup. I have a hunch this recipe would work with any variety of liquid sweetener: honey, maple syrup, etc.
Is chocolate paleo?
Commercially prepared chocolate almost always has sugar and soy in it which is technically not allowed in paleo diets.
BUT….it is generally accepted. You'll have to make your own choice!
I use Enjoy Life Dark Chocolate Chips which are soy free….but you could easily make your own using a sweetener of choice: here is a recipe using cocoa powder.
Additionally, you can also melt unsweetened chocolate squares (almost always soy free) and sweeten to taste!!
Lily's is a popular low carb brand sweetened with stevia and erythritol, so it is another tasty option.
It is definitely a gray area, so do what feels right you!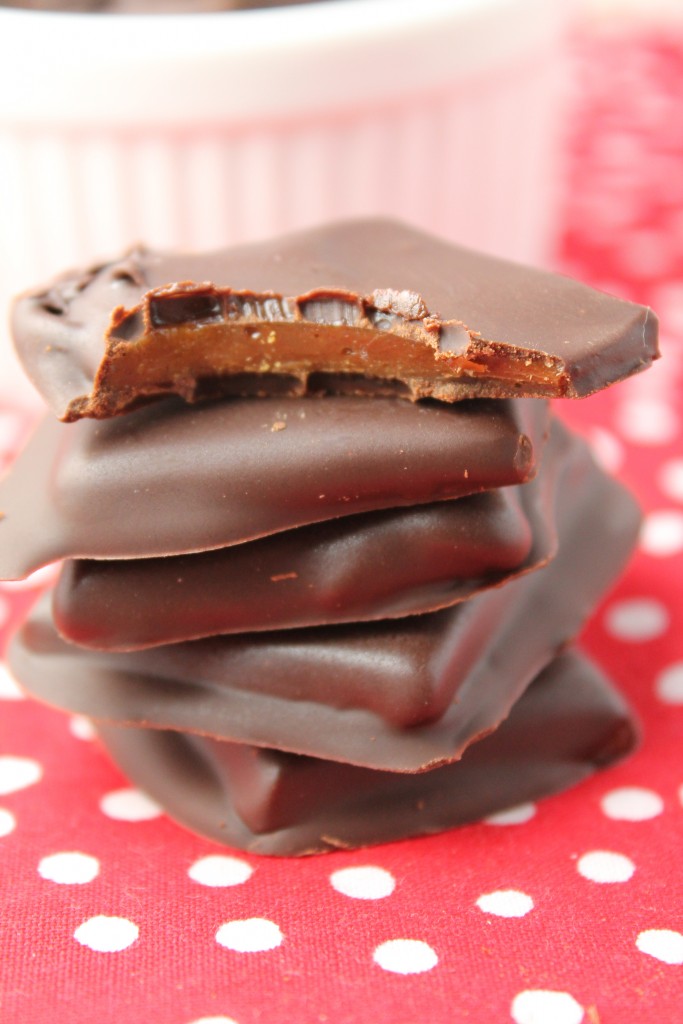 Additional paleo and vegan treats:
Paleo Vegan Toffee Recipe:
If you try this vegan toffee, be sure to come back and leave a comment below!
Paleo Toffee & A Review of Paleo Indulgences Cookbook
Instructions
Measure your vanilla and almond butter and have ready to go.

Line a baking sheet with parchment paper (I used a 9 x 12 size and my Silpat)

Make the toffee: Place the coconut sugar, coconut nectar, and water in a medium saucepan over medium/medium high heat, stirring occasionally until it comes to a boil and the sugar has dissolved.

Insert a candy thermometer (don't let it touch the bottom of the pan) and boil until it reaches 285 degrees.

Remove from heat and quickly stir in almond butter and vanilla.

Quickly pour the mixture into the awaiting pan, spreading evenly to about 1/2" thick. The mixture thickens quickly and you get to spread it to your desired thickness: it does not spread on it's own.

Use a greased knife to score the candy while it is still warm, into bite-size squares. Continue scoring until you have cut through the mixture.

Cool completely for 2-3 hours.

Prepare you chocolate coating by melting the remaining ingredients together.

Use two forks to dip each piece of toffee into the chocolate and cool on the same parchment lined cookie sheet until firm and set.

Store in an airtight container in the fridge to keep it crisp.
Nutrition Facts
Paleo Toffee & A Review of Paleo Indulgences Cookbook
Amount Per Serving
Calories 66
Calories from Fat 27
% Daily Value*
Fat 3g5%
Sodium 7mg0%
Potassium 66mg2%
Carbohydrates 8g3%
Protein 1g2%
Calcium 28mg3%
Iron 0.4mg2%
* Percent Daily Values are based on a 2000 calorie diet.
Any of the links in my posts may be affiliate links. If you click on them and make a purchase, I might make a commission. Your support is much appreciated and pays for the cost of running this free resource!