When the temperatures soar, smart moms gather a lot of healthy Paleo ice cream recipes to have on hand when cravings strike! Cool and refreshing, coconut milk ice creams are incredibly delicious and these recipes are healthy to boot!!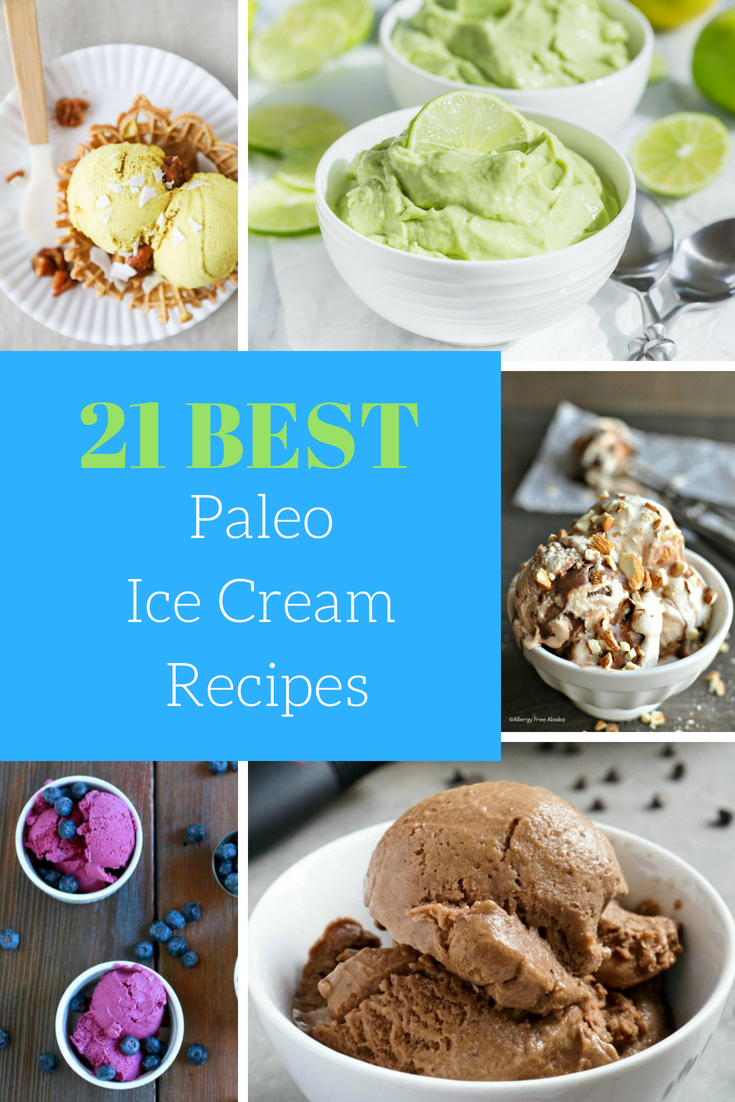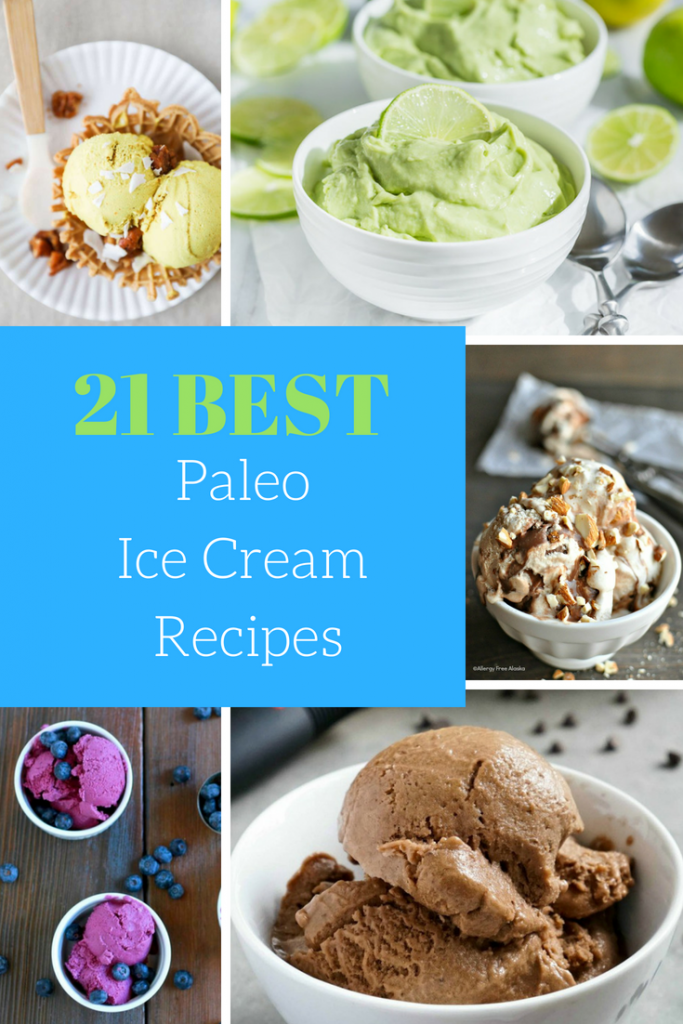 How To Make Dairy Free Ice Cream:
The vast majority of these recipes are already dairy free. Depending on your dietary needs of preferences, you may have a hankering for changing things up. As a rule, ultra creamy milks with plenty of fat should be used for the creamiest texture. Here are a few options you should be able to use in place of any cream or milk in an ice cream recipe.
Cashew (or macadamia for lower carb) milk: Whir 1 cup raw cashews with 2 cups purified water in a high powered blender. LOVE my BlendTec!
Pastured cream, raw or otherwise
Sheep or goat cream if you can find it
Full fat coconut milk. My favorite brand HANDS DOWN is Savoy. No fillers, no thickeners, amazing flavor, and the whole can is creamy and thick, so no need to separate the fat from the water like in some brands.
Hemp milk – 1 cup hemp hearts blended with 2 cups water until smooth.
How To Make Low Carb or Keto Ice Cream
Generally, in order to make a low carb ice cream….you will need to sub out the sweetener. Luckily there are some excellent low carb sweeteners out there for you to consider!
Lankanto Monkfruit is a great granular sweetener. I powder my own in my Blend Tec if needed! Depending on how much is called for, I usually replace part with stevia glycerite. Lot of people love Swerve, it's just more expensive.
If maple syrup or brown sugar are called for (rarely) then using a teaspoon or 2 of molasses can provide that caramel flavor along with a regular granular sweetener without adding a ton of carbs (5g/teaspoon)
Replace any chocolate with Lily's, or a unsweetened variety in conjunction with one of the above mentioned low carb sweeteners.
My Favorite Ice Cream Maker
While there are lots of options out there, I love my Cuisenart electric ice cream maker! Gone are the days of hand churning! I keep my insert in the freezer throughout the summer and can have fresh ice cream ready in 30 minutes! So awesome! My kids use it themselves too!
How to Use Essential Oils To Flavor Homemade Ice Cream
It's important to note that if you ever decide to ingest essential oils, only use super high quality, therapeutic grade essential oils for safety. With just a few drops, you can add flavors to your ice creams! Some of my favorites are:

Paleo Fruit Ice Creams
Cantaloupe Sea Salt Ice Cream @ Eat Beautiful
Honey Kiwi Soft Serve @ Raia's Recipes
Strawberry Sorbet @ Eye Candy Popper
Coconut Lime Ice Cream @ Get Inspired Everyday
Orange & Cream Ice Cream @ Holistically Engineered
Paleo Blueberry Ice Cream @ Savory Lotus
Turmeric Mango Coconut Ice Cream @ Unbound Wellness
Paleo Lemon Meringue Pie Ice Cream @ Ditch the Wheat
Lemon Poppyseed Ice Cream @ Whole New Mom

Paleo Chocolate Ice Creams
Keto Fat Bomb Chocolate Ice Cream @ Healthful Pursuit
Chocolate & Cashew Aloe Ice Cream @ Eye Candy Popper
Brownie Cheesecake Ice Cream @ Recipes to Nourish
Chocolate Banana Ice Cream @ Real Food Real Deals
Fudge Tracks Ice Cream @ Allergy Free Alaska
I've been eyeing this vegan chocolate tahini ice cream too!!

Other Paleo Coconut Milk Ice Creams
Paleo Pumpkin Ice Cream @ Tessa the Domestic Diva
Avocado Mint Ice Cream @ Pure & Simple Nourishment
Matcha Ice Cream @ What Great Grandma Ate
Mandarin Ice Cream w/ Shortbread @ All the Nourishing Things
Salted Caramel Ice Cream @ All The Nourishing Things
Avocado Vanilla Sorbet w/ 7 Flavor Variations @ Eat Beautiful
Turmeric Ginger Ice Cream @ Jessi's Kitchen
3 Ingredient Vanilla Ice Cream @ Prepare & Nourish
Any of the links in my posts may be affiliate links. If you click on them and make a purchase, I might make a commission. Your support is much appreciated and pays for the cost of running this free resource!