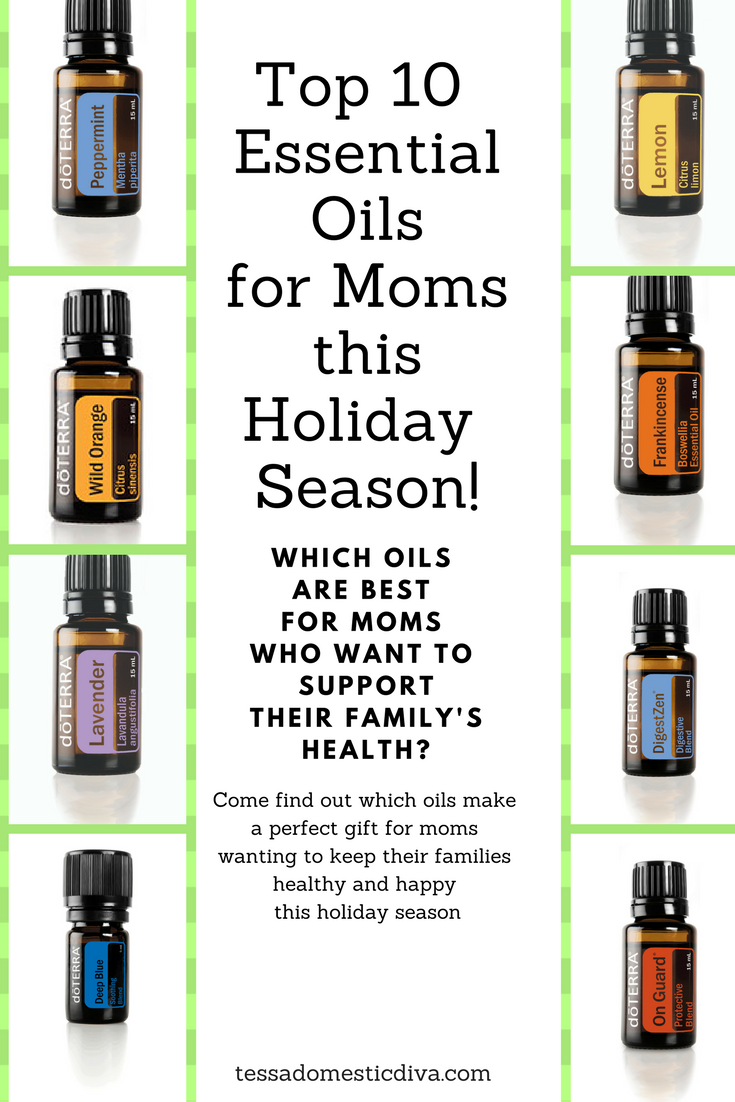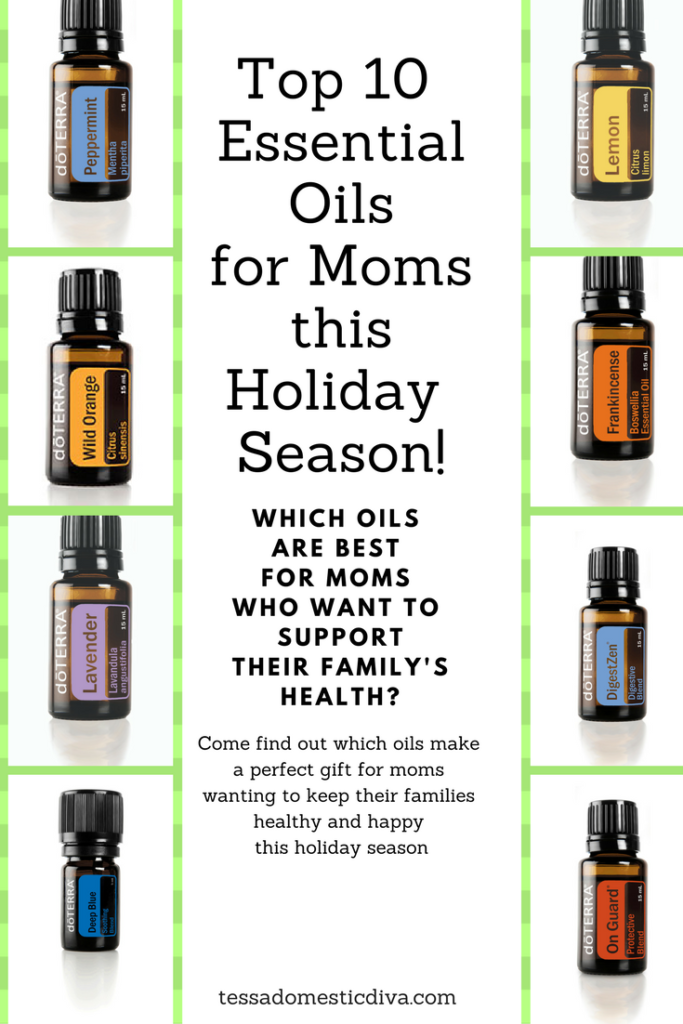 Wondering what to get the busy mom in your life for Christmas this holiday season?
How about some of THE best essential oils that will help her keep herself and her family well this holiday season and beyond?!
How about some of THE best oils oil a mom can have on hand for the everyday crazy life with kids?  And maybe a little thrown in for HER too?
Essential oils are a perfect gift for someone interested in naturally promoting their family's health and wellness!  In my experience, these essential oils have been absolute LIFESAVERS!  I do NOT leave home without these oils when we head out for our family trips, and have been grateful for their regular use here at home!  If I was just starting, these are the oils I would get!!
Here are the best ones to start with (in my opinion)and how we use them (here is a great article from doTerra on how to use essential oils safely with kids, and here is another one, always dilute as recommended and check with your health care practitioner beforehand):
Lavender Oil.  Not only does it smell heavenly, it has some crazy effective juju!  It's excellent for promoting calm feelings, sleeping, itchy mosquito bites, and itchy skin.  It is also great for first aid uses.  It is one of THE most versatile oils and very safe to use on kids AND pets!!
DigestZen: A digestive blend that has helped more times than I can shake a stick at.  We use it for motion sensitive bellies, upset bellies of all kinds, anything that requires additional digestive support, awesome stuff!
Melaluca: We use melaluca to help support our immune system when seasonal sicknesses are high.  We also put it to use when someone has come home feeling under the weather, and we also use it in our "critter free" hair spray.  It supports healthy skin, and we use it to keep our door knobs and home surfaces clean from unfriendly organisms.
Lemon:  Lemon is a great pre-digestive…just one drop in your water helps support digestion AND detox!  I also use it all the time around the house to de-grease and purify surfaces (not to mention it smells so darn good!)
Peppermint: We love this especially for head discomfort.  One drop at the temple is usually enough to melt away the discomfort (for adults).  We also love it in water to freshen breath and settle upset tummies.  I even use this in our minty hot chocolate!!  It is a wonderful support in clearing the sinuses and promoting a sense of energy/vigor!
OnGuard: A best friend in any household…this helps keep that nasties away.  And IF someone succumbs, then OnGuard is sure to support their immune system to get over that sickness much quicker!
Frakincense: Here is an oil that can do SO many good things for you, you will wonder why you haven't used it before!!  I first started using it in focus/concentrate blends and noticed great results.  It is also great for skin, stress, supporting immune function, and promoting healthy cellular function.  this is also wildly successful in conjunction with peppermint for people with extreme head discomfort.
DeepBlue: We use this for occasional aches and discomforts.  It could be head tension, or a  bodily discomfort, or overworked muscles….this is the one we go to!
Wild Orange: Immune supporting, mood uplifting, powerful cleansing…this is another oil not be without!!  It can also be really good for promoting reduced feelings of nervousness and anxiousness.  I love it for instantly boosting my mood!
Breathe: A very popular blend for good reason.  This is great for calming, supporting airways and decongestion, and fighting off those winter bugs!!
While you can certainly pick and choose, doTerra DOES have most of these available in a single kit, the Family Essentials Kit  (incidentally…I had my list before there was ever a kit…but it goes to show!!).  For those of you interested. you can save $37 by buying them all together, $150 for everything.  It also contains 2 bottles of beadlets:  OnGuard and Peppermint.  We love the beadlets…kids can swallow them on the go since they are so tiny!
If you prefer the larger 15ml bottles, go for the Home Essentials Kit which also includes a diffuser for administering the oils via aromatherapy, $275,  a savings of $86.  AND, for the month of November ONLY, the kit is an additional 20 % off if you enroll, that means only $220!!
And if you want to learn more about other natural solutions and why I am so passionate about natural living, you can read my about page and my series on healing my family. You can message me to learn which oils you need and how to get wholesale prices on doTerra's high quality oils for your family and save big money.
*Statements have not been evaluated by the FDA. These products not intended to diagnose, treat, cure or prevent any disease.
**Not all essential oils are created equal. More than 2/3rds of the oils on the market are impure, adulterated, synthetic and/or simply unsafe to use, please do not ingest or use any essential oil internally unless you can verify purity and know, without a doubt, that you can trust the source.
***I am NOT a medical professional.  Please consult with your doctor on medical issues.
Any of the links in my posts may be affiliate links. If you click on them and make a purchase, I might make a commission. Your support is much appreciated and pays for the cost of running this free resource!