These gluten free samoas are a simplified remake of a Girl Scout Cookie favorite! Using clean ingredients, you can make a totally vegan, and paleo version as well! Coconut and chocolate shine is this delectable cookie.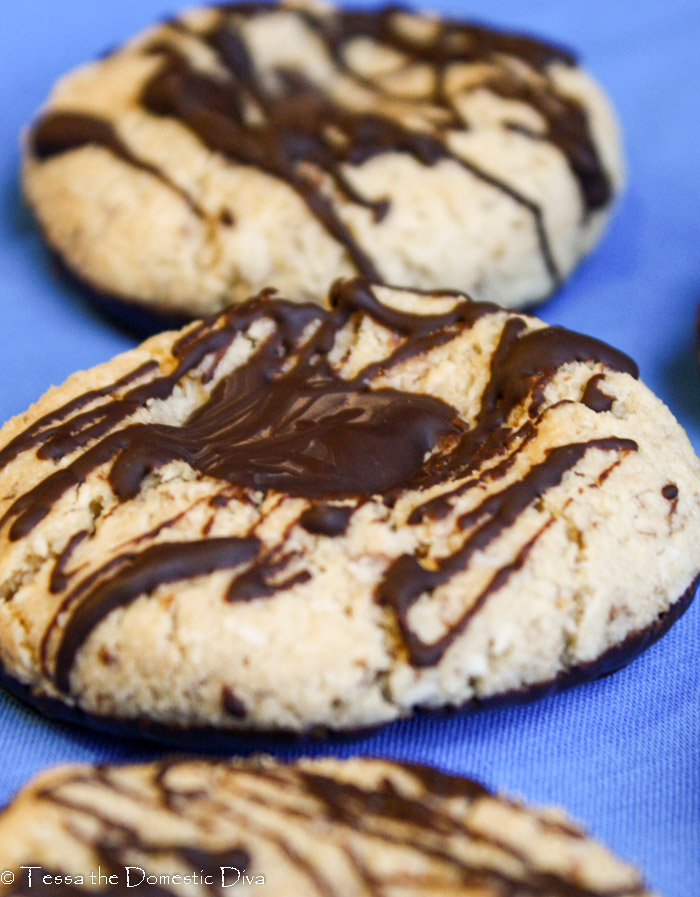 The flavor of a samoa cookie, but gluten free and vegan!
I have been wanting to recreate this recipe for awhile…but just haven't gotten around to it.
Wouldn't you figure I somehow managed it when I don't even have an oven to work with? I have very good friends and neighbors (who of course taste tested for me and gave RAVE reviews!) who willingly let me use their ovens while I wait (and
wait!
) for Jenn Air to find a part for me before February.
Good thing I am not shy and that I have NO issue barging in on their space with my kids in tow!! That MUST make them good friends, right?!
When my sister and I first tried these last year, we thought we had died and gone to heaven.
We would send two word texts to each other that looked like this: SAMOA…NOW!
We did that for at least two months, and I am pretty sure we made each other giggle every time! It's wonderful to have a sister you can giggle with….my sister happens to think I am a stand up comedian (I hate to break it to her that she is the ONLY one who thinks so!).
So here it is…the recreated Girl Scout Cookie favorite of my youth!
There is no caramel in this Girl Scout cookie makeover…but you won't miss it, these are just too darn good!

Can I use different flours in these gluten free samoas?
Yes! If you have an gluten free all purpose flour mix you like to use, it should work in this recipe! If yours includes gum, omit the additional.
When I replace flour in a recipe, I just make sure to keep similar ratio to starchy vs wholegrain flours. I go into great detail in my gluten free flours page!
As always, leave a comment below if you want help making the flours you have on hand work!

How about a paleo samoa cookies version?
This easily made paleo by using palm sugar instead of brown sugar, and use 1 cup cassava flour! Omit the guar gum.
You could even use a paleo all purpose flour that mixes coconut, almond, and tapioca starch. If I was to use this mix in this recipe, I would do 2T coconut flour, 1/2 cup tapioca starch, 1/3 cup almond flour. No gum needed.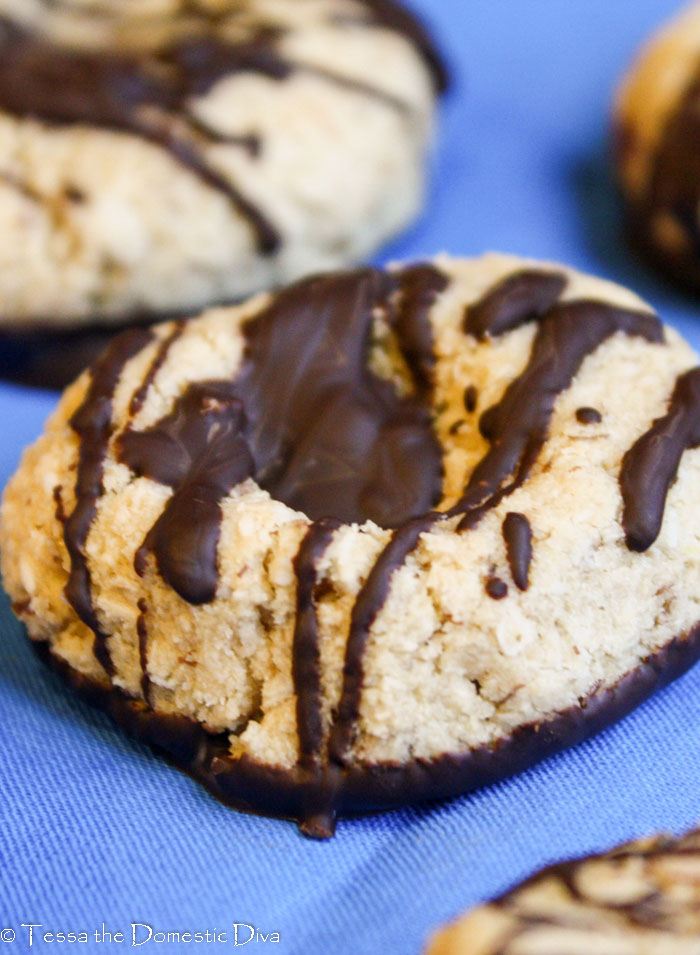 Some more gluten free cookie recipes:
Gluten Free Samoa Cookies Recipe:
If you try these amazing coconut and chocolate cookies, be sure to come back and leave a comment!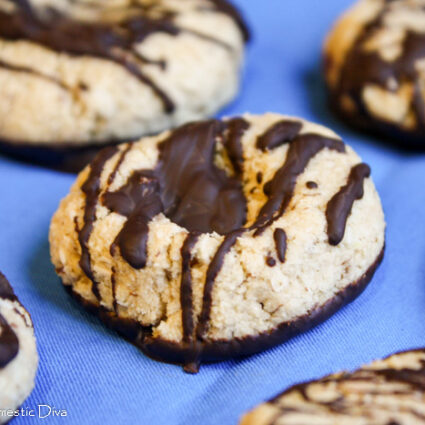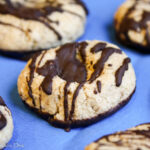 Vegan Samoas
A buttery coconut cookie with a rich chocolate drizzle makes an easy version of a classic Girl Scout cookie: the Samoa!
Ingredients
Melted Chocolate Topping:
Instructions
Preheat the oven to 350 degrees.

Scatter the coconut in a thin layer on a cookie sheet.

Toast in the oven for about 5-10 minutes. Watch it carefully, it should be golden and smell toasted but will burn quickly. Set aside to cool.

In a mixer, beat the coconut butter/oil with the brown sugar until creamy.

Beat in the milk, vanilla, and flax meal.

In a separate bowl, combine the dry ingredients and mix well.

Mix in to the waiting mixer bowl along with the cooled toasted coconut.

The batter should be quite thick. Using about a tablespoon of dough, roll small balls and flatten slightly on a parchment or Silpat lined cookie sheet.

Use your finger to make an indentation in the middle (for filling w/ chocolate at the end!).

Bake in the 350 oven for about 8-10 minutes until the edges are just golden. Do not over bake.

Let cool for 5 minutes before transferring to a cooling rack.

When fully cool (You can speed this process with the help of the freezer!) you can begin the chocolate dipping.

In a microwave safe bowl, melt the chocolate and oil together. Start with about a minute. Stir, if the chips are melting at this point, continue stirring until the chips turn smooth and fully melt. If needed, microwave for additional 20 second increments and repeat stirring.

Dip the bottoms of the cooled cookies in the melted chocolate. Place on a piece of parchment, wax paper, or my favorite, a Silpat. to cool.

When all the bottoms have been coated, use a spoon to fill the indentation and drizzle over the top.

Cool to harden!
Nutrition Facts
Vegan Samoas
Amount Per Serving
Calories 128
Calories from Fat 54
% Daily Value*
Fat 6g9%
Cholesterol 1mg0%
Sodium 77mg3%
Potassium 180mg5%
Carbohydrates 20g7%
Protein 3g6%
Vitamin C 1mg1%
Calcium 43mg4%
Iron 1mg6%
* Percent Daily Values are based on a 2000 calorie diet.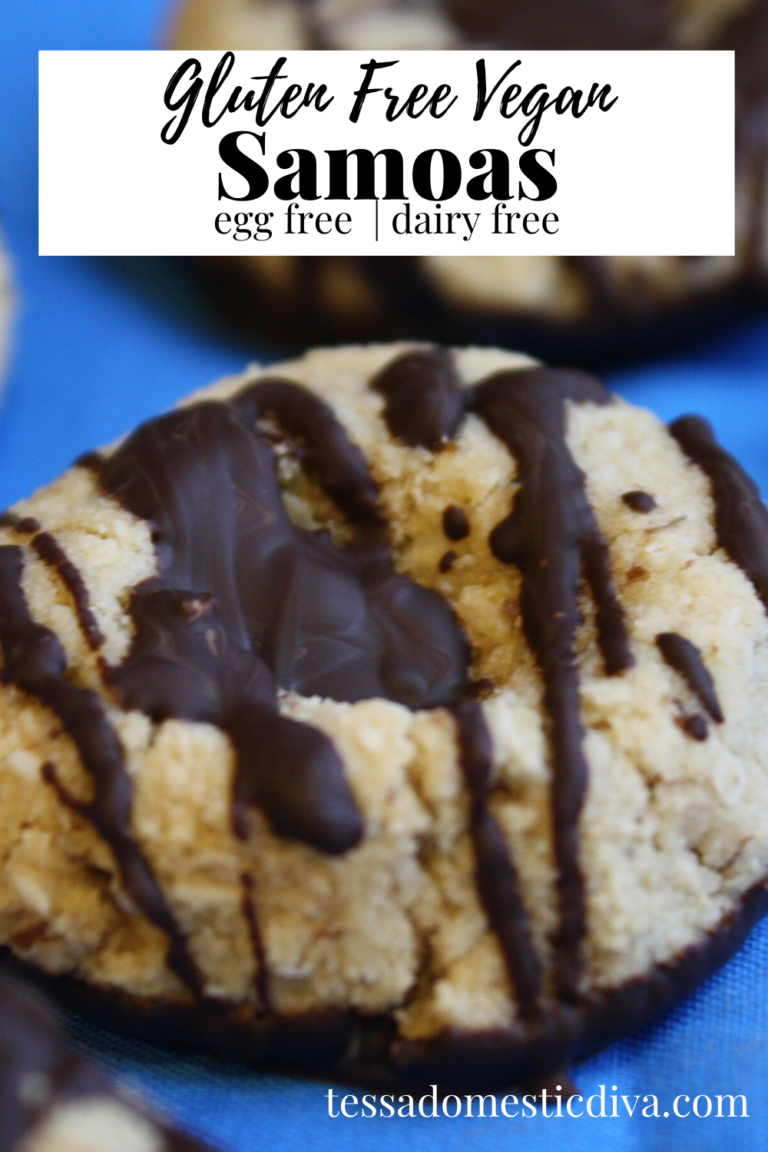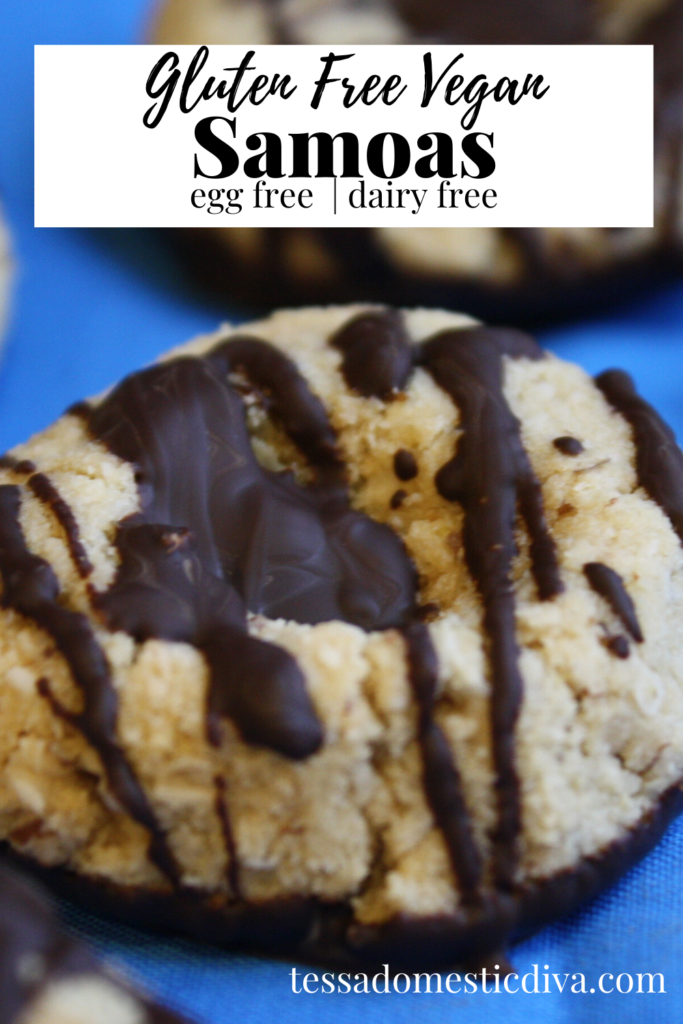 Any of the links in my posts may be affiliate links. If you click on them and make a purchase, I might make a commission. Your support is much appreciated and pays for the cost of running this free resource!