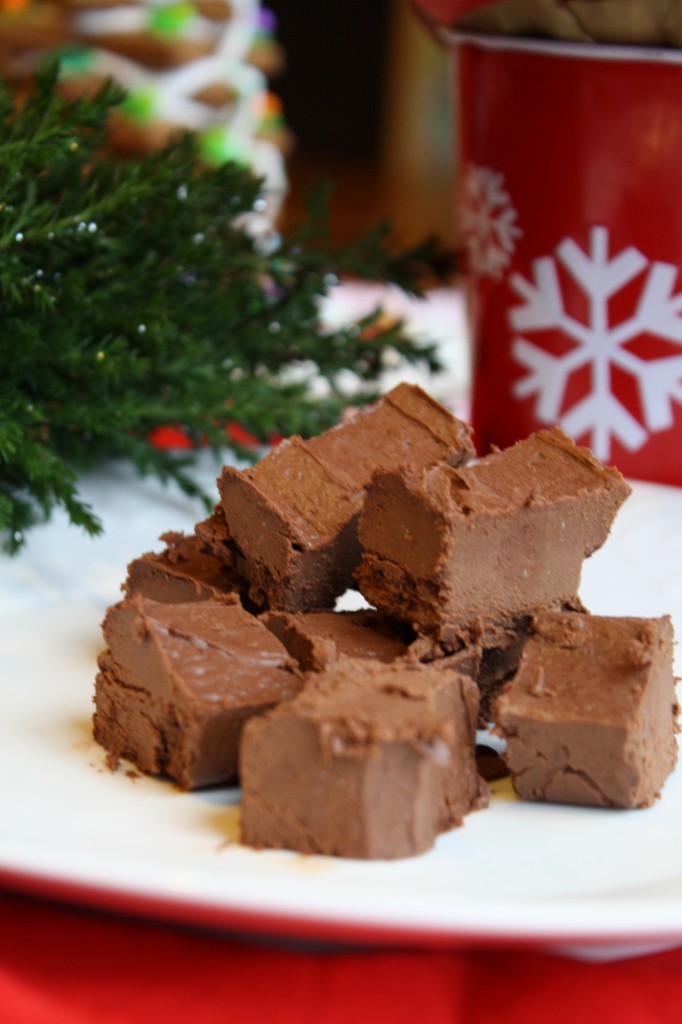 I have never been a fudge lady, even when I was little.  It was always overly sweet…and no wonder since the vast majority that were made in my childhood era included marshmallow creme!
If fudge had been made like THIS.I could have jumped on the bandwagon!
If you need a last minute something to throw together to bring to a party…this would be it..it takes  under 5 minutes!  It will need to set in the freezer for bit before you leave though, so be warned!
While still not necessarily slimming, this fudge is free of refined sugars, and has no nasty processed ingredients…and everyone can enjoy this treat as it is free of all major allergens.  If you want the fudge to stay firmer at room temp, I suggest using all Earth Balance, ghee, or butter, the coconut oil softens the fudge more.  I adapted this recipe from The Nourishing Gourmet, a talented fellow blogger!
TIP:  Want a great vegan buttercream frosting?  This is it!  This fudge is so soft at room temp, it is just like a thick buttercream frosting….SO DELICIOUS!
PALEO/AIP/GAPS NOTE: To make this Paleo compliant, use all coconut oil and/OR ghee.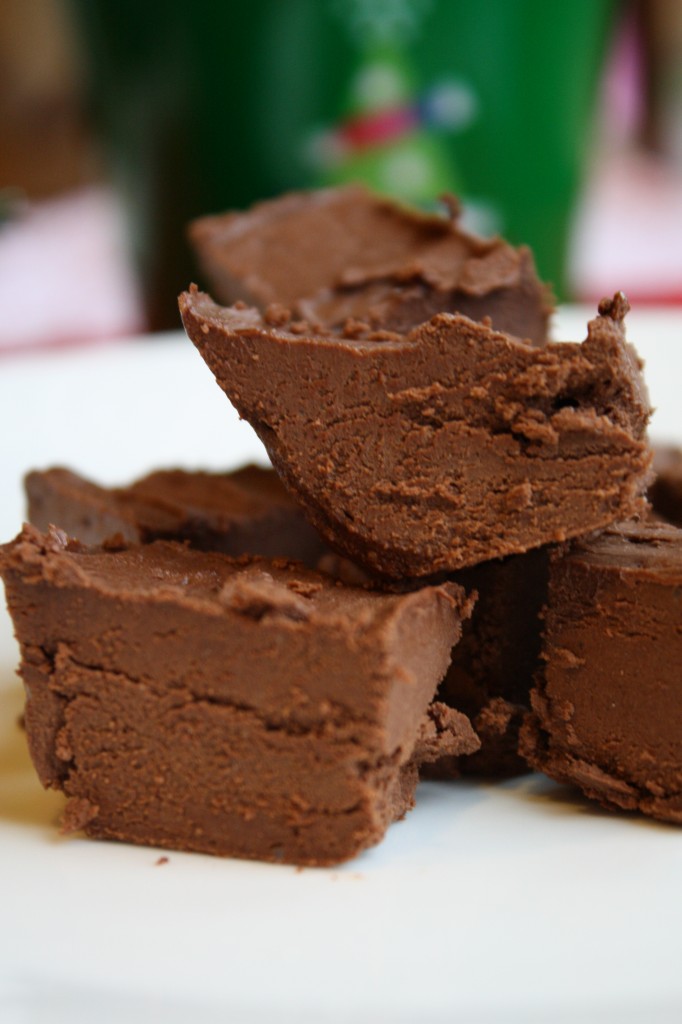 Easy Vegan Fudge/Buttercream Frosting
Ingredients
½ cup fat (choose from coconut oil, Earth Balance, or butter) In this recipe, I used ¼ cup coconut oil, ¼ cup Earth Balance buttery cubes
½ cup high quality cocoa powder (remember, this is a KEY ingredient, so don't use a cheap cocoa powder, it will effect the taste dramatically! I like Dagoba, but there are many tasty one out there)
¼ cup liquid sweetener of choice (maple syrup, honey, or coconut nectar) You could add 1 or two more tablespoons of sweetener here to taste, or a few drops liquid stevia
1 teaspoon vanilla extract (or other if you want to play with the flavors)
¼ teaspoon sea salt
Optional add in's: natural corn-free peppermint candy canes (crushed), chopped toasted nuts, tart dried fruits, cocoa nibs.
Instructions
In a food processor, puree all ingredients until smooth.
Taste and adjust the sweetener if you prefer.
Line a bread pan with piece of parchment or waxed paper. Pour fudge into pan, place in the freezer or fridge to harden.
Remove and cut into desired pieces.
Store under refrigeration.
This recipe was shared on Gluten Free Wednesday, Traditional Tuesdays, Thank Your Body Thursday, Tasty Traditions, Simple Lives Thursday, Pennywise Platter, Wellness Weekend, Fresh Bites Friday, GF Fridays, Healthy Vegan Fridays, Keep It Real Thursdays, Fight Back Friday, Freaky Friday, AIP Recipe Round Up, Gluten Free Holiday Fix,

Any of the links in my posts may be affiliate links. If you click on them and make a purchase, I might make a commission. Your support is much appreciated and pays for the cost of running this free resource!