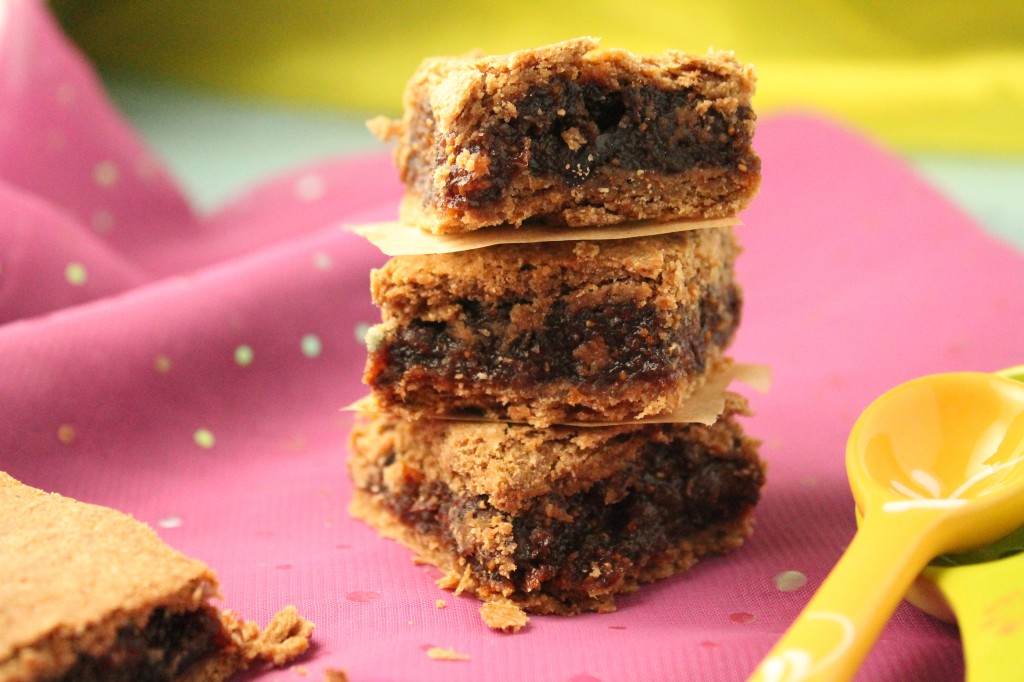 So I did one of those forehead slapping things.  I accidentally, and very permanently deleted this post…3 days after originally posting it.  So now I have to re-write it.  GRRR!!  Of course, this was one of those posts that takes longer to write too.  Double grrr.  Without preamble..here's the recipe..so amazing.  I started with an old favorite.  Vegan Cookies Take Over Your Cookie Jar is a fabulous book, I really love these authors and use their books frequently for inspiration.  I had to make the recipe gluten free and I changed a couple other things up to make it healthier.  Enjoy!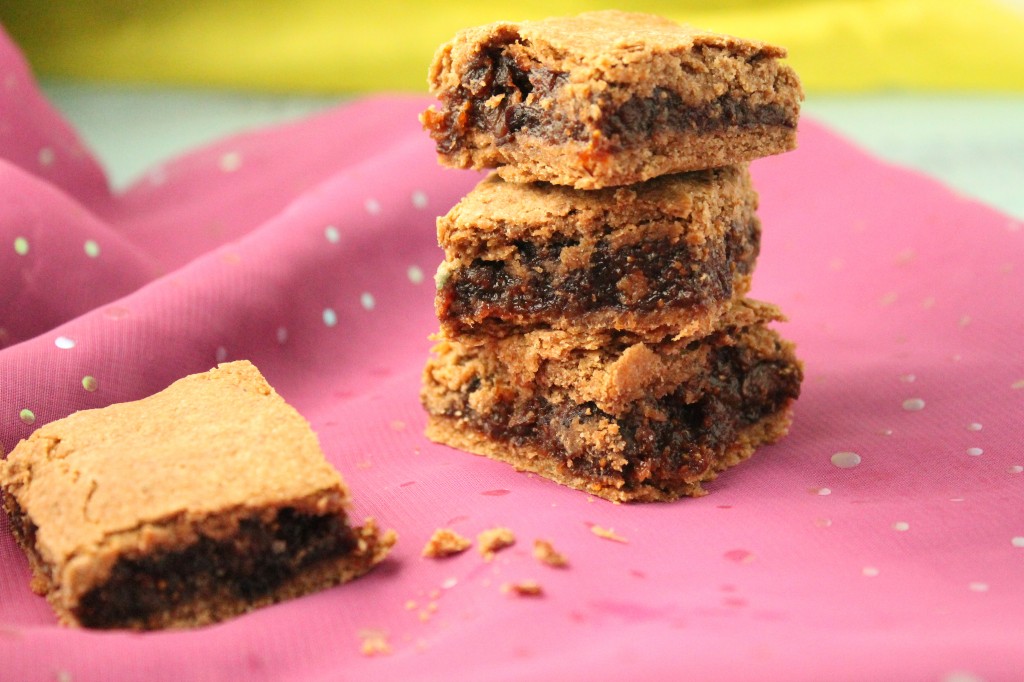 Gluten Free Vegan Wholesome Fig Newtons Bars
Prep time:
Cook time:
Total time:
Ingredients
Filling:
¾ pound dried figs, stems removed and coarsely chopped (about 2 generous cups)
⅔ cup water (or more)
3-4 tablespoons maple syrup (or stevia, honey)
2 teaspoons grated lemon or orange zest
Cookie Crust:
2 tablespoons chia meal or flax meal
¼ cup non-dairy milk
¾ cup coconut palm sugar (or brown sugar, or up to half liquid stevia)
2 teaspoons vanilla
¼ cup plus 1T melted coconut oil (or other favorite oil)
1 cup oat flour (make your own by whirring rolled oats in a coffee grinder)
½ cup teff flour
½ teaspoon guar gum (or replace gum and flours w/ 1¾ cup whole wheat pastry flour)
½ teaspoon each baking powder and baking soda
½ teaspoon salt
Instructions
In a small saucepan, cook the filling ingredients over a low simmer for 10-20 minutes. Mash periodically, adding more water as necessary. I always seem to use a cup or more of water as my figs are very dry. You want the end moisture to be thick and moist like a thick jelly. Just keep mashing around until the pieces are mostly broken down. If you have kiddos averse to texture, you could puree the mixture in a food processor.
In a large mixing bowl, mix the chia meal and room temp milk. Add in the palm sugar and vanilla. While continually whisking, pour in the melted coconut oil.
Sprinkle in the dry ingredients, in order.
Using your whisk,lightly mix the dry ingredients before whisking more thoroughly into the wet. Stir until a wet dough is formed.
Rolling the two cookie crusts/assembly:
Roll out one 8 x 8 square. Use at least one piece of parchment, and another piece of either a greased or floured piece of plastic wrap or waxed paper. Roll the dough out between the two sheets. This keeps the sticky dough away from your rolling pin.
Remove the top piece, leaving the dough directly on the parchment.
Lift the paper with the dough and place into an 8 x 8 baking dish.
Spread the filling evenly over the bottom crust.
The top crust is trickier as you have to remove both pieces that you rolled between. Flouring generously each sheet helps with this. Flour or grease both pieces of plastic wrap or waxed paper thoroughly. Roll the remaining dough out to apx an 8 x 8 square. Gently remove the top piece, and lift the remaining piece: invert on top of the filling. It does not have to look perfect!
Bake in a 350 degree oven for 20-25 minutes until golden. Let cool completely before cutting...if you can wait that long!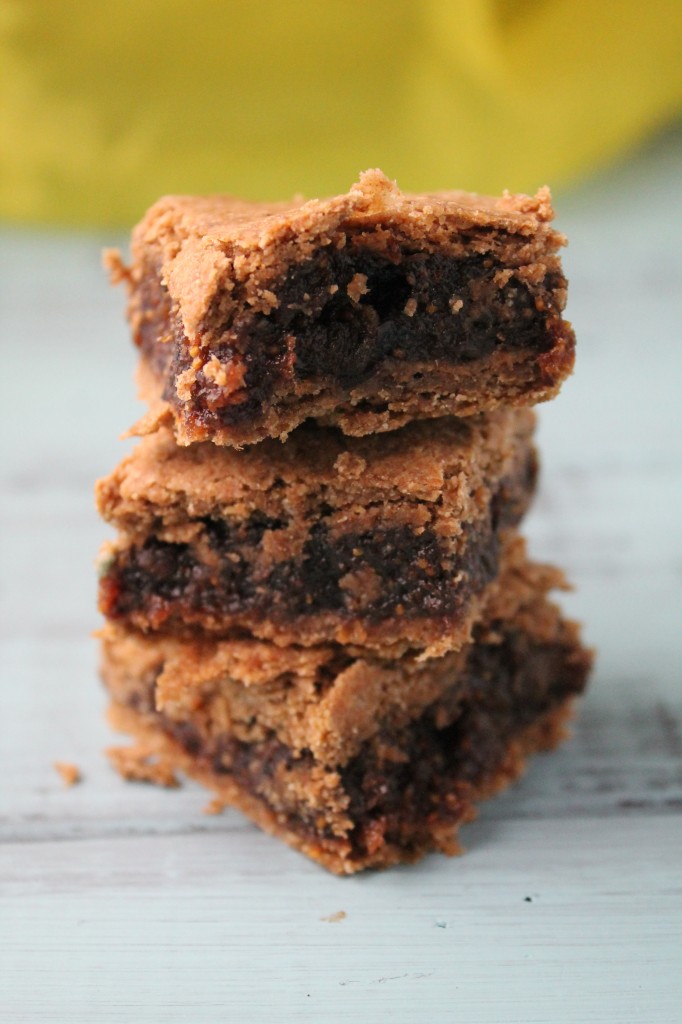 This recipe was shared on  Natural Living Monday, Mostly Homemade Monday,  Fat Tuesday, Totally Talented Tuesdays, Tasty Tuesdays,  Hearth & Soul, Gluten Free Wednesdays, Waste Not Want Not, Wildcrafting Wednesday, Real Food Wednesday, Fresh Foods Wednesday,  Wellness Wednesdays,  Full Plate Thursday,  Simple Lives Thursday,  Pennywise Platter, Whole Foods Friday,  GF Friday,  Real Foods Friday, Fight Back Friday, Simple Meals Friday, Savouring Saturday,

Any of the links in my posts may be affiliate links. If you click on them and make a purchase, I might make a commission. Your support is much appreciated and pays for the cost of running this free resource!