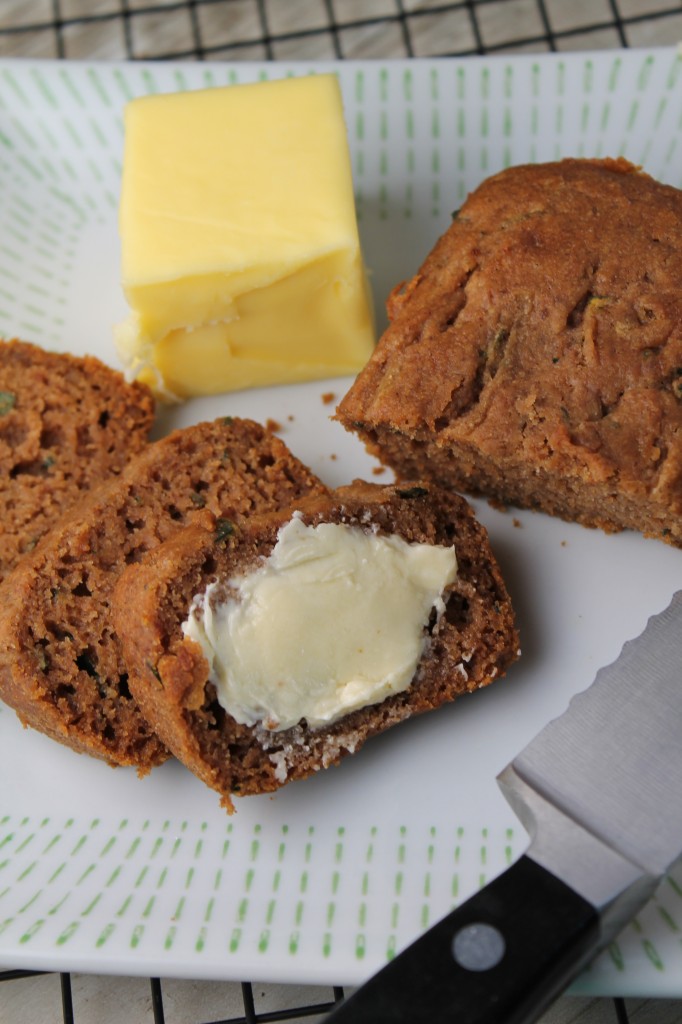 With so many zucchinis spurting forth from my garden, I needed to create zucchini bread recipe, I am long overdo!  Sometimes you get lucky the very first go around, and this time, I did!
Ultra moist and fragrant with a tender crumb, this bread was everything I had hoped it would be!  What better way to use up some of those last zucchinis of summer and get a veggie serving at the same time?!  Any goodie that gets some extra veg into my kids a HUGE plus for me!
ZUCCHINI TIP:  I know I am not the only one who neglects my zucchini plant for a few days and returns to find a 'zukezilla'!  If you find yourself in possession of one such gigantic zucchini, it is important to note that zucchinis at this size are rarely good for anything BUT shredding/grating.  Before using, slice in half, and use a spoon to scoop out the soft and mushy center and large seeds….this pulp contains too much water and is not good for eating or grating!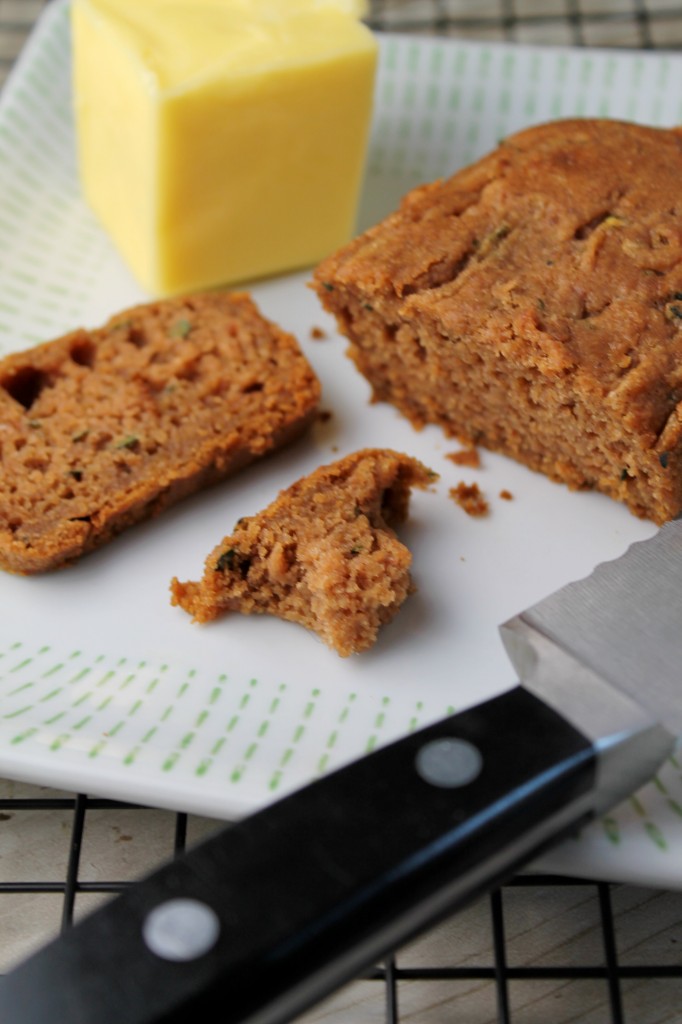 Zucchini Bread - Gluten Free & Vegan
Author:
Teesa the Domestic Diva
Prep time:
Cook time:
Total time:
Ingredients
2 cups grated fresh zucchini
1 cup applesauce (unsweetened)
¾ cup coconut palm sugar or other granulated sugar
½ cup light olive oil, melted coconut oil, or any light tasting oil
1 tablespoon vanilla extract
1 tablespoon apple cider vinegar or lemon juice (this reacts with the soda for rise)
⅛ teaspoon liquid stevia extract (optional, mimics ¼ cup sweetener, depends on your sweet tooth)
¾ cup brown rice flour
¾ cup oat flour (for oat free, use part millet, part sorghum)
½ cup tapioca flour
2 teaspoons baking soda
1 teaspoon salt
1 teaspoon cinnamon
1 teaspoon guar gum
½ cup chocolate chips (optional, but everything is better with chocolate!)
Instructions
Preheat oven to 350 degrees.
In a large mixing bowl, combine the zucchini, applesauce, sugar, oil, vanilla and stevia, mix well.
Sprinkle in the dry ingredients in order over the top,
Carefully whisk the dry ingredients together before incorporating the wet ingredients.
Stir in chocolate chips.
Pour batter into prepared mini loaves or regular loaf pan. (I used 4 mini loaves).
Bake for 30 minutes (for mini loaves), and 50 minutes for a regular loaf. A knife inserted in the middle should come out clean, and you may need to bake longer to achieve this (moisture content of zucchini will vary).
Cool for 10 minutes and invert on a cooling rack to cool he rest of the way.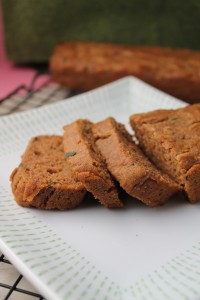 This recipe was shared with
 Mostly Homemade Mondays
, 
Natural Living Mondays
, 
Fat Tuesdays
,
GF Tuesdays
, 
Totally Tasty Tuesdays,
  Hearth & Soul
,  Waste Not Want Not, 
GF Wednesday
,
 Real Food Wednesday
, 
Pennywise Platter
,