Sweet potato fries have always been a favorite of mine.
I have made more versions than I can shake a stick at, and let me tell you…regardless of the ingredients, it is the technique that has proven the key.
I have made this version so many times now, I am very confident sharing it with you.
Crisp on the outside, soft and tender on the inside….these are perfect oven baked sweet potato fries!!  Sweet potatoes have been our perfect Paleo carb for enduring energy on high activity days.  We like to dip our fries in an almost Paleo dip of my homemade mayo and Sriacha ( a spicy Thai chili sauce)!
It hard to believe such simple ingredients can yield such scrumptious goodies, but they do!  Dig in!
Variations:  Once you have mastered a basic sweet potato fry, you get to play with seasonings!  Some ideas: minced garlic, Cajun Seasoning, Chipotle powder, chili powder, Italian seasoning.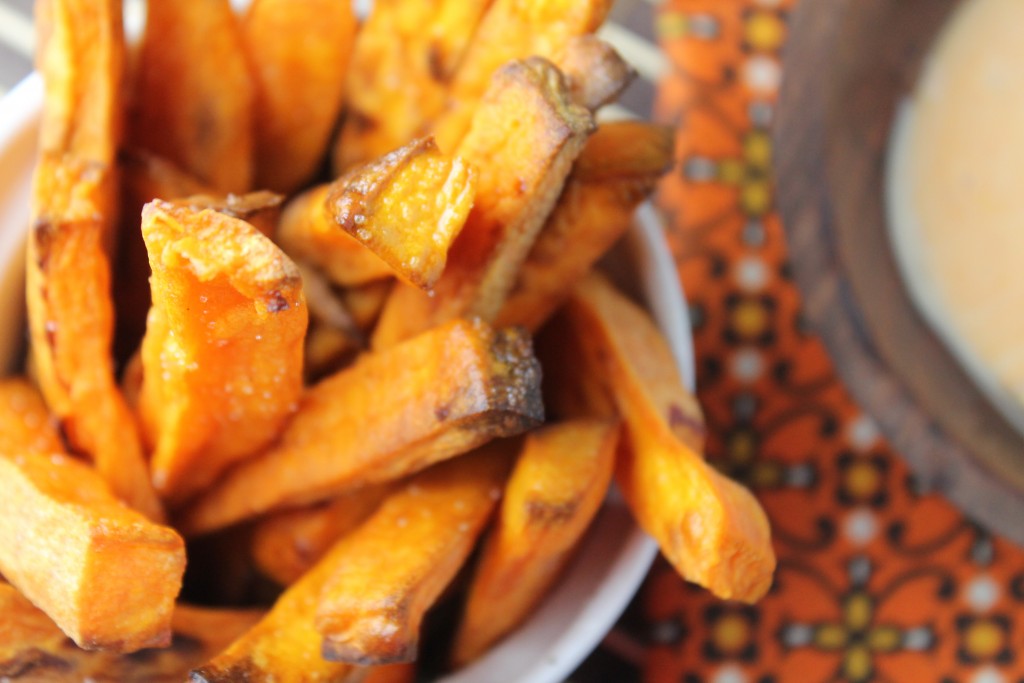 Paleo Oven Baked Sweet Potato Fries
Author:
Tessa the Domestic Diva
Prep time:
Cook time:
Total time:
Ingredients
4 smallish sweet potatoes (we prefer garnet), 6-8", 2-3" in diameter
4 tablespoons light olive oil or avocado oil, ghee (this amount is not an exact science..enough to make sure all your sweet potatoes are coated and glossy but not drowning!!)
Salt to taste
Optional seasonings
Instructions
Preheat oven to 450 degrees and lightly grease 2 cookie sheets, or line with parchment.
Peel your sweet potatoes, but do not rinse them, you need them dry so the oil adheres.
Slice your sweet potatoes into french fries: no perfect way to do this, but keep the pieces equal in size and thickness. Fries should be between ½" and ¾" (go ahead and grab a ruler, I promise, no one will know!).
In a large bowl, toss the fries with the olive oil, and any seasonings if you so choose. I wait to sprinkle salt when the potatoes are on the cookie sheet.
Spread the fries out in a SINGLE LAYER on a cookie sheet (I always use two, and if I need to, three!) Do not crowd your fries unless you want them mooshy! All fries must keep their hands to themselves!
Sprinkle the fries with sea salt.
Place no more than two cookie sheets in the preheated oven and bake for 15 minutes.
Remove cookie sheets and using tongs, flip the fries over, they should be golden on the flipped side. Return the cookie sheets, flip flopping the cookie sheet positions.
Cook for another 10-15 minutes until the fries are golden and crispy.
Like step by step pictures?!
This recipe was shared on This recipe was shared on Mostly Homemade Monday,  Fat Tuesday, Hearth & Soul,  Gluten Free Wednesdays, Waste Not Want Not, Homestead Hop, Wildcrafting Wednesday, Paleo AIP Roundtable, Foodie Fridays, Real Food Fridays, Let's Get Real Fridays,  GF Friday,  Free From Fridays, Savouring Saturday,
Any of the links in my posts may be affiliate links. If you click on them and make a purchase, I might make a commission. Your support is much appreciated and pays for the cost of running this free resource!