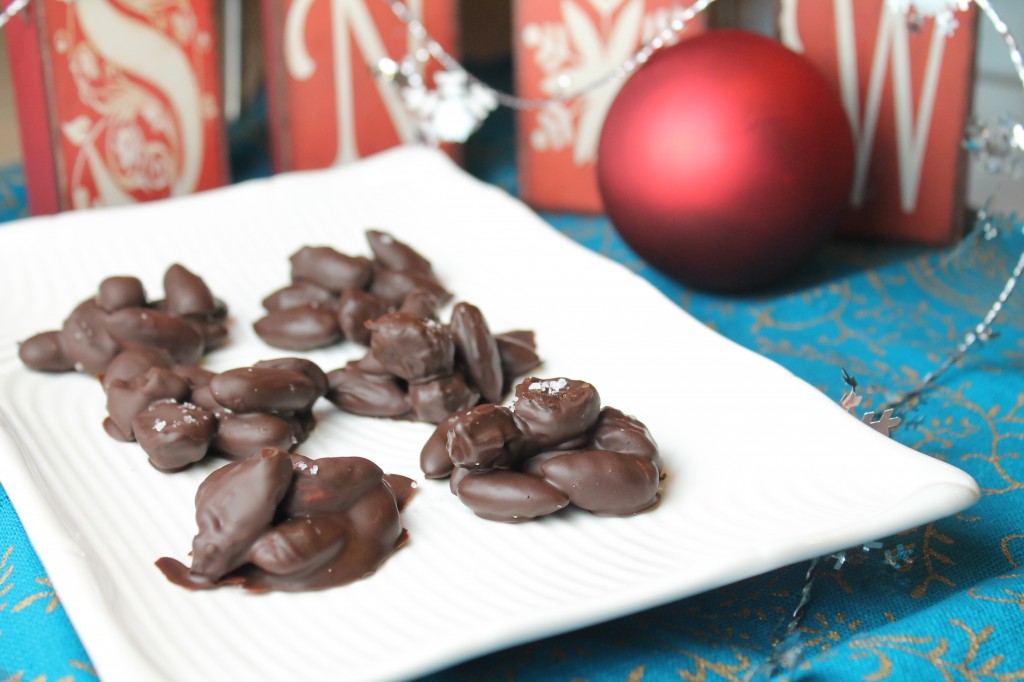 A perfect holiday gift that goes together in 10 minutes, tastes delicious, and lets you personalize to your heart's content!!  I was inspired by Tammy Credicott's Paleo Indulgences recipe…I had made something similar before, and her book reminded me!!  You will love these beautiful candies and have fun coming up with your own variations.
INGREDIENT NOTE:  In this recipe, I have used some unsweetened chocolate to further reduce the sugar and make an exceptionally dark chocolate.  You can use any chocolate you like….milk, semisweet, dark, or homemade!  It will all work…do it to your sweet preference!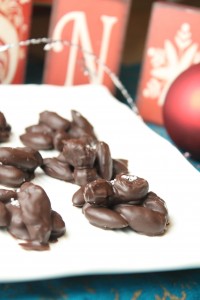 10 Minute Paleo Salted Dark Chocolate Nut & Fruit Clusters
Prep time:
Cook time:
Total time:
Ingredients
9 ounces dark chocolate
3 ounces unsweetened chocolate
1 teaspoon palm shortening or coconut oil
1½ cups toasted nuts of choice (I used whole almonds)
½ cup whole dried cranberries or cherries, to taste
Coarse sea salt
Instructions
Melt your chocolate and palm shortening. I use a microwave or the stove top. It is important when using a microwave not to burn your chocolate and cause it to seize. I heat for 1 minute and 30 seconds, and if necessary, additional 30 second increments. Refer to the picture below to notice how there are still visible chunks of chocolate, but some visible melted chocolate as well. From here, you continue to stir it until smooth and fully melted.
Stir in our nuts and fruit of choice. There should be no additional chocolate pooling in the bottom of the bowl, add more nuts and fruit if necessary.
Drop spoonfuls of the mixture onto a wax paper or parchment lined cookie sheet. Shape as necessary.
Sprinkle with a touch of coarse sea salt.
Place the pan into the freezer to hasten hardening.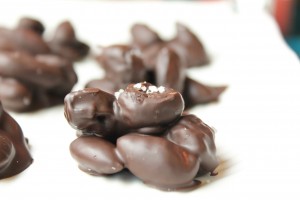 This post was shared on  Make Your Own Monday, Tasty Tuesday, Fat Tuesday, Slightly Indulgent Tuesday, Hearth & Soul, Traditional Tuesdays,  GF Wednesday, Waste Not Want Not, ,Real Food Wednesday, Wildcrafting Wednesday, , Frugal Days Sustainable Ways, Pennywise Platter. Thank Your Body Thursday,, Simple Lives Thursday, GF Friday, Wellness Weekend,Whole Foods  Friday, Healing w/ Foods Friday, Simple Meals Friday, Fight Back Friday, Lunchbox Love, Potluck Party,  Fight Back Friday,