If it is one thing I am sorely lacking on this blog…it would be yeasted breads.  Gluten free AND vegan breads are a very tricky endeavor, and most recipes and experiments that I try are not worth sharing.     There are lots of reasons gluten free egg free breads are problematic.
eggs provide much needed lift to dense-leaning gluten free breads.  Without eggs to lift away, bricks are a very common side-effect!
because we can't use wheat (and the structure gluten provides!), breads are not as willing to lift up …yeast or no yeast.  And this lack of structure can also result in crumbly breads.
I have made more gluten free vegan breads than I can shake a stick at.  Without a doubt, using eggs makes gluten free breads SO much easier!  Problem is…my son can't have them still, and he LOVES bread!  So I also need to make sure the breads are as wholesome as possible, and as simple to digest on his belly as possible.  I ran across this  recipe months and months ago and have been playing with this recipe ever since!
Enter soaking grains.  In layman's terms, soaking the grains in an acidic medium allows for those protective coatings to be broken down so that our bodies can digest them easier, and get all the nutrients more readily too!  You can read more information here.
I have experimented with multiple grain combinations and ratios and have definitely been most happy with the one I share with  now.  I almost always find whole millet in the bulk food section, and buy my teff online.  UPDATE: We stopped using millet for my son recently and make this with half teff and half brown rice now…still great!!
While I prefer the mini loaf and English muffin route, I have done this as a loaf as well.  It is important to use a sturdy bread pan, here is my favorite loaf pan.   But English muffin rings are so darn cheap, and there is no sunken cavity afterwards…the small amount of dough is easy enough to lift!!  I suggest at least 8,rings and at $5/4, they will not break the bank.  Better yet,  you have convenient single servings ready to go.
A perfect, moist gluten free vegan bread that holds for days and does not crumble.  A lovely sourdough tang..I simply cannot get enough of this bread!  Yum!
METHOD NOTES: I tried doing this in my food processor for those who do not have high powered blenders, but the teff grains were just too tiny for my faithful Cuisinart to pulverize.  However, I ALSO tried this with soaking the flours and it worked well.  Reduce the liquid to  1 2/3 cups water and use the same measurements as the grains for the flours.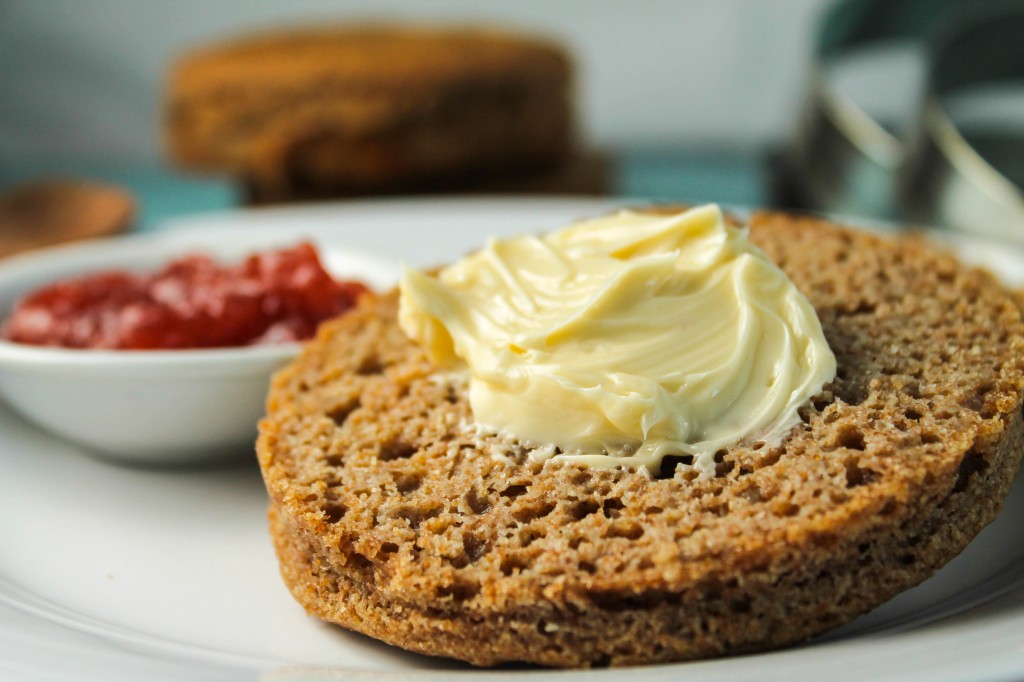 This recipe was shared at Whole Foods Friday, GF Fridays, Wellness Weekend, Healthy Vegan Fridays, Lunchbox Love, Simple Meals Friday, Mostly Homemade Mondays, Natural Living Mondays, Make Your Own Monday, Tasteful Tuesday, Fat Tuesday, Slightly Indulgent Tuesday, Hearth & SOul, Traditional Tuesdays, Tuesday Greens, Eco Kids Tuesday, Well Fed Wednesday, Seasonal Celebration, GF Wednesday, Wheat Free Wednesday, Whole Foods Wednesday, Real Food Wednesday, Frugal Days Sustainable Ways, Healthy 2Day Wednesday, Wildcrafting Wednesday, Pennywise Platter, Full Plate Thursday, Simple Lives Thursday, Thank Your Body Thursday, Tasty Traditions,Lunchbox Love, From the Farm Hop.,
Any of the links in my posts may be affiliate links. If you click on them and make a purchase, I might make a commission. Your support is much appreciated and pays for the cost of running this free resource!