I am very excited to share this recipe with you all!  I have made it more times than I can count, but each time the muffins get scarfed down so quickly, I don't get a picture in!  I plan on re-doing these pictures too…but wanted to get this great recipe in your hot little hands.
One of the best things about this paleo banana bread is that you don't even have to use any sweeteners if you do not want!  The bananas provide a lovely sweetness…which is plenty for me…but of course, a few tablespoons of palm sugar or stevia is a great option too.
Here are some ingredients that are good to have to cook with recipes like this (buying through any of these links supports my time and effort in blogging activities, thanks!):
WHOLE 30?  You can not have sweeteners of any kind if you are doing the Whole 30, so leave out the palm sugar. Although technically any muffins at all are not allowed!
MORE EGG FREE PALEO BAKED GOODS/TREATS?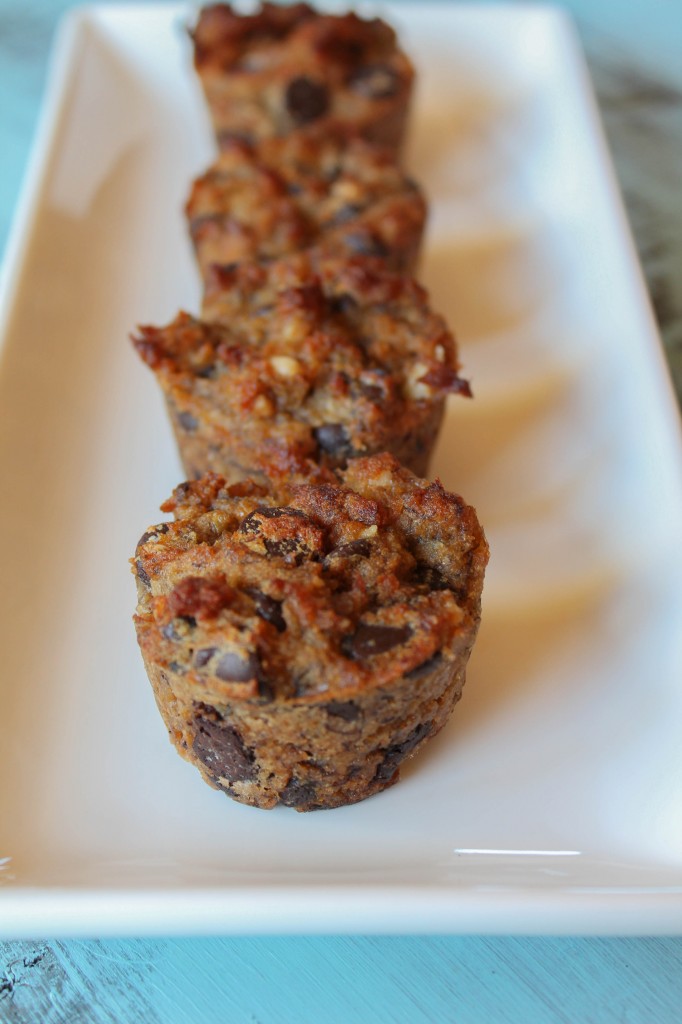 Paleo Banana Bread - Egg & Nut Free
Author:
Tessa the Domestic Diva
Prep time:
Cook time:
Total time:
Ingredients
1 cup mashed, or about 12-14 ounces super ripe bananas (lots of black spots!), this is about 3 average size bananas
¼ cup palm shortening or coconut oil
¼ cup favortie non-dairy milk or water
3 tablespoons palm sugar (optional, depends on sweetness of your bananas!), or more to taste
3 tablespoons coconut butter (I make my own coconut butter: cheap & easy!), any nut butter would work here, but I needed it nut free!
2 tablespoons psyliium husks, (2T chia meal + 1T gelatin works like a charm too!)
2 teaspoons vanilla extract
1 teaspoon baking soda
½ teaspoon sea salt
6 tablespoons coconut flour
Instructions
Preheat oven to 350 degrees.
In the bowl of a food processor, whir all ingredient except the coconut flour until smooth and creamy, about 1-2 minutes.
With the motor running, add the coconut flour. If your dough seems to thin and not loosely handable, it is ok to add another tablespoon to three of coconut flour.
Add in any chopped nuts or chocolate chips and pulse to combine.
Using your hand or a 1.5T cookie dough scoop, roughly roll a generous spoonful of batter in your hands to form a ball. The dough is wet and soft, but if you handle it gingerly, you can loosely form it into a ball.
Place in a greased mini muffin (regular muffin tin will work too, just slightly more dough per cup!)
Bake for 20 25 minutes until just firm to the touch. They will continue to firm up as they cool.
Let cool completely for best texture (the psyllium makes them gooey when they are still warm)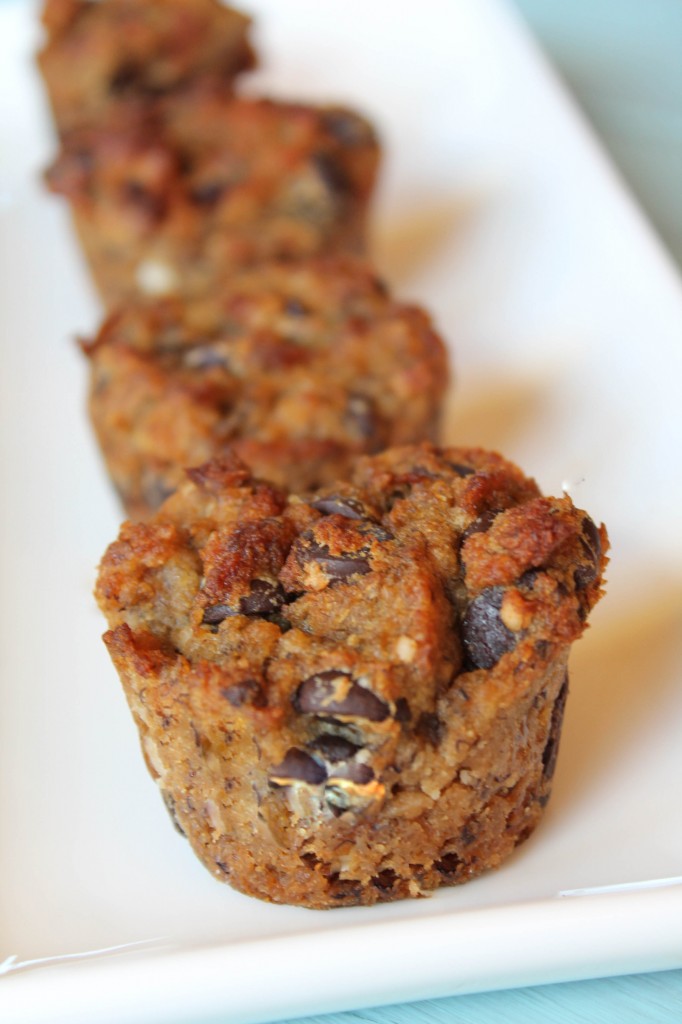 This recipe was shared with Healthy Green Natural, Tasty Tuesday, Hearth & Soul, Recipe of the Week, Wednesday Showcase, 
Any of the links in my posts may be affiliate links. If you click on them and make a purchase, I might make a commission. Your support is much appreciated and pays for the cost of running this free resource!