Paleo vegan banana bread muffins made quickly in your food processor and totally free of all nuts and eggs too!! Seems too good to be true, but it is is not! A moist and flavorful banana bread that does not have to have any additional sweeteners (cooks choice!). A perfect after school snack, make a batch today!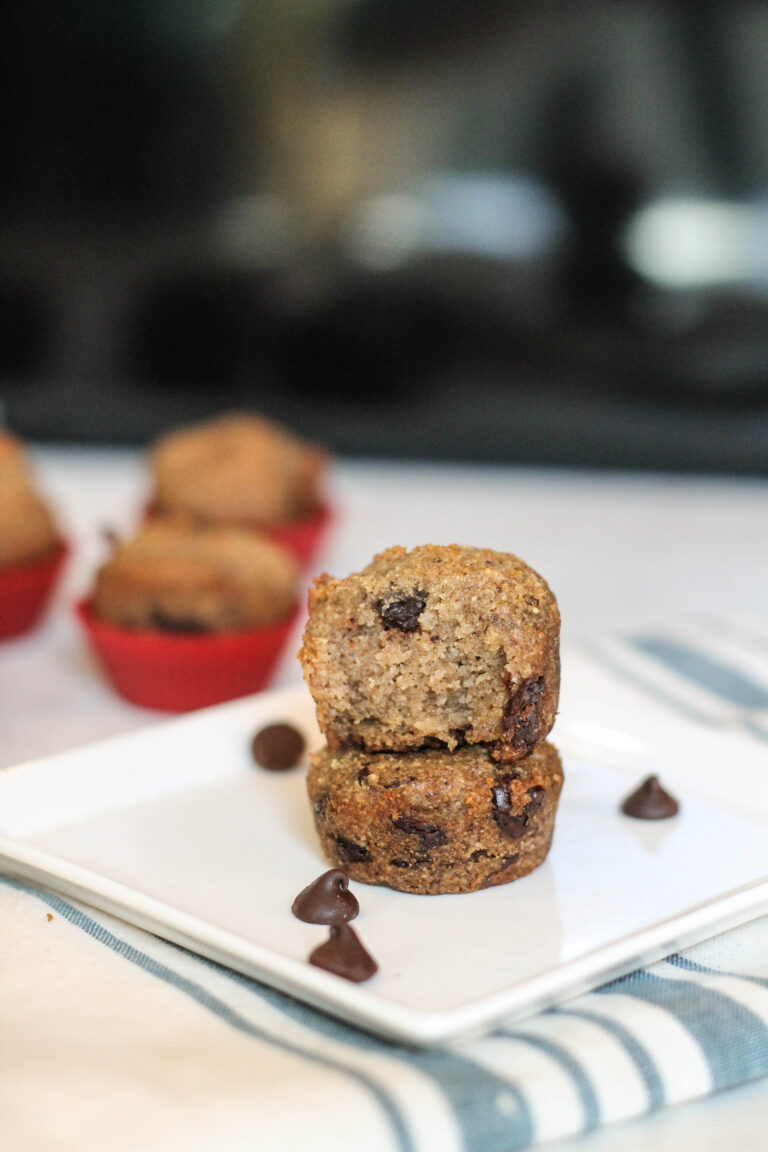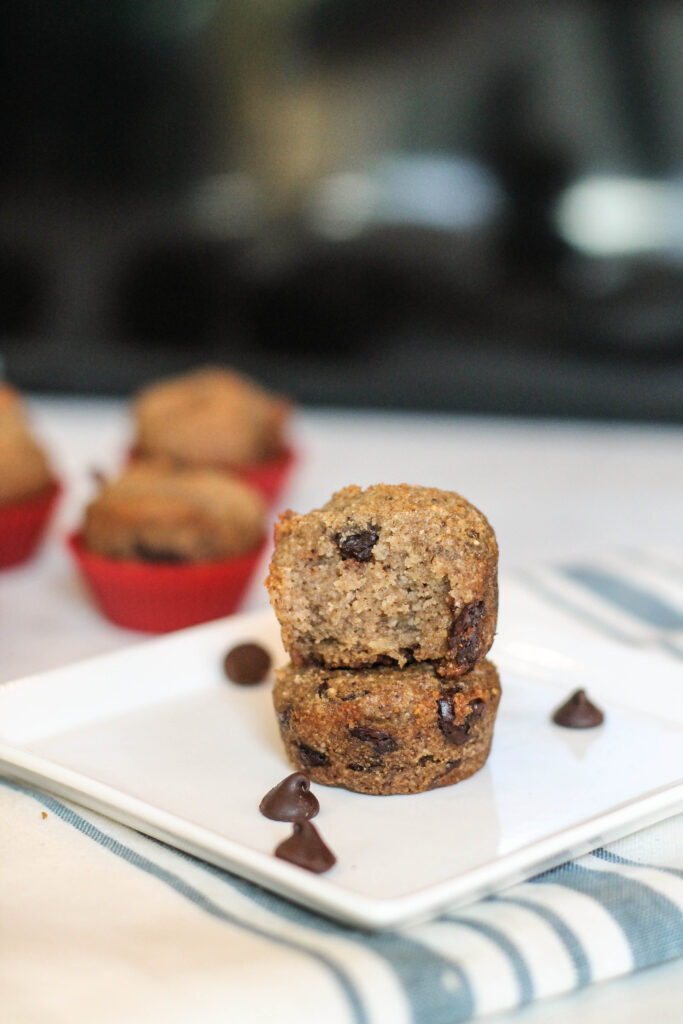 A recipe with no grains, no dairy, no eggs, no nuts….it seems a bit impossible. But if you have tried my nut free egg free sweet potato muffins, or my double chocolate muffins, you know this NOT my first paleo egg free nut free rodeo!
I know I have felt that way before…but necessity is the mother of all inventions!
My son needs to eat, so to the kitchen I go to experiment!
One of the best things about this paleo vegan banana bread is that you don't even have to use any sweeteners if you do not want! The bananas provide a lovely sweetness…which is plenty for me…but of course, a few tablespoons of palm sugar or stevia is a great option too. The key is using the super black ones…loads of natural sugars!!
I am very excited to share this recipe with you all! I have made it more times than I can count, but each time the muffins get scarfed down so quickly, I don't get a picture in!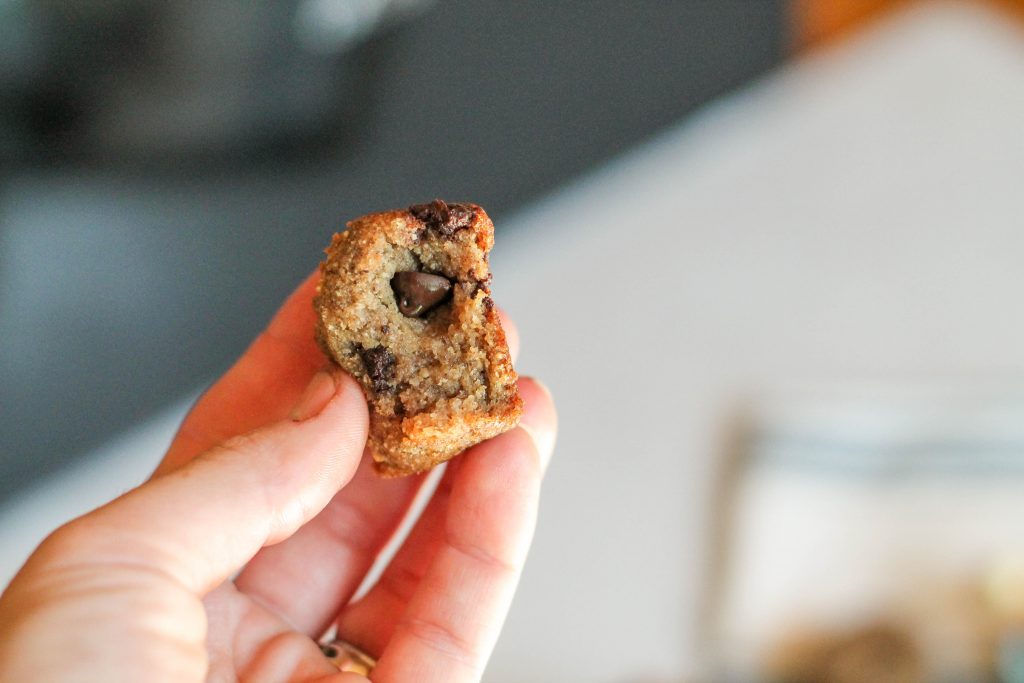 Paleo vegan banana bread notes:
With no eggs, and also using coconut flour, these muffins are not light and lofty. It is dense and delicious. The texture is part of the charm and allure to this recipe…so satisfying with every bite!
This can also be baked in an 8 x 8 pan…..like dense little banana cake bites of heaven!

Why cook with no eggs?
Besides the obvious of not having available in the kitchen at the moment…eggs are one of the top allergens. Read: lots of people of special diets can't tolerate them (my son included).
Sometimes it's because it WHAT they feed the chickens that people react to (processed GMO ingredients), and sometimes it's just protein itself.
If neither of these is you…well then by all means throw the egg in (I made a note in the recipe for y'all)
Special ingredient notes:
Whole psyllium husks – these help with binding in egg free baked goods
Coconut flour: grain free, nut free, a great flour to cook with, and totally unique in its behavior.
More egg free and paleo treats?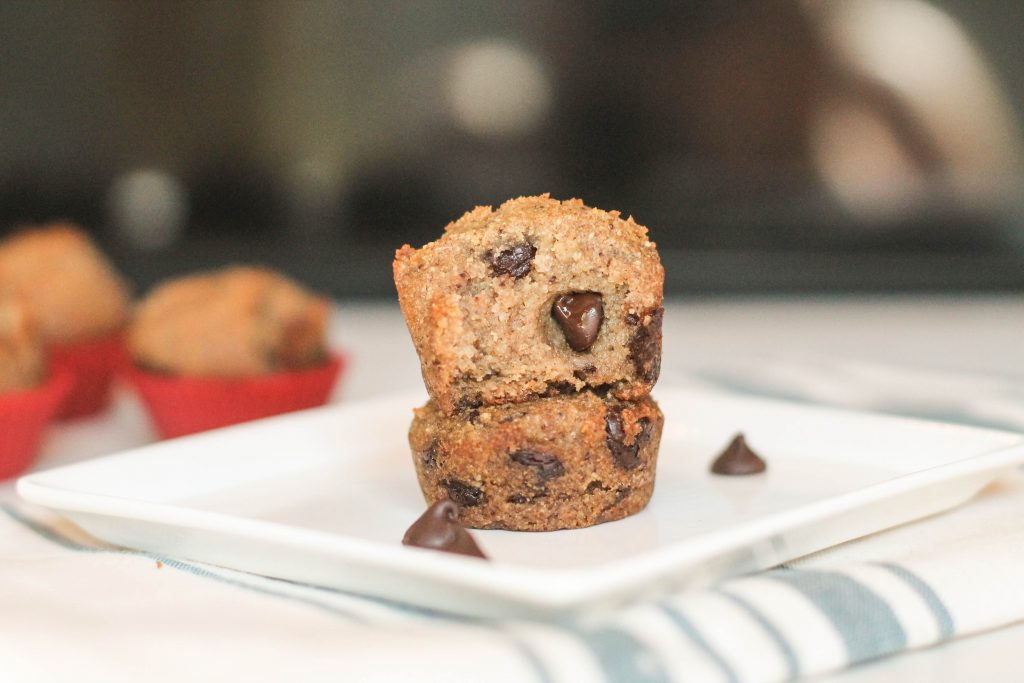 Paleo Vegan Banana Bread – No Eggs | No Nuts:
If you try these allergy free banana muffins, I want to hear about it! Please leave a comment and rating below!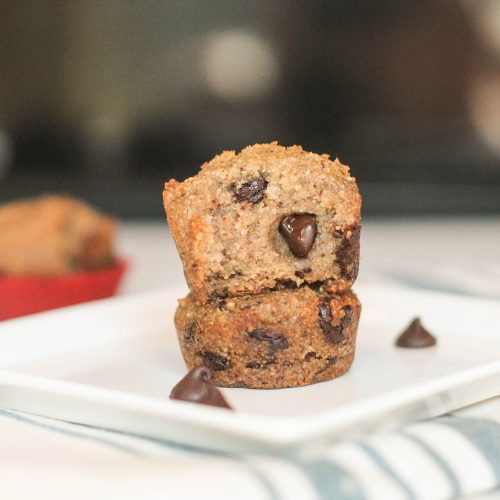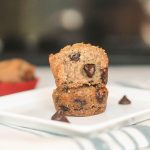 Paleo Banana Bread - Egg & Nut Free
Ingredients
1

cup

banana

mashed, very ripe, or about 12-14 ounces super ripe bananas (lots of black spots!), this is about 3 average size bananas

1/4

cup

coconut oil

palm shortening

1/4

cup

coconut milk beverage

3

tablespoons

palm sugar

optional, depends on sweetness of your bananas!, or more to taste

3

tablespoons

coconut butter

I make my own coconut butter: cheap & easy!, any nut butter would work here, but I needed it nut free!

2

tablespoons

psyllium husks

(2T chia meal + 1T gelatin works like a charm too!)

2

teaspoons

vanilla extract

1

teaspoon

baking soda

1/2

teaspoon

sea salt

6

tablespoons

coconut flour

may also use part cassava flour!
Instructions
Preheat oven to 350 degrees.

In the bowl of a food processor, whir all ingredient except the coconut flour until smooth and creamy, about 1-2 minutes.

With the motor running, add the coconut flour. If your dough seems too thin and not loosely handable, it is ok to add more flour (cassava or coconut). When I use frozen over-ripe bananas, they always have more liquid, so I have to increase the flour a bit.

Add in any chopped nuts or chocolate chips and pulse to combine.

Using your hand or a

1.5T cookie dough scoop

, roughly roll a generous spoonful of batter in your hands to form a ball. The dough is wet and soft, but if you handle it gingerly, you can loosely form it into a ball.

Place in a greased mini muffin (regular muffin tin will work too, just slightly more dough per cup!)

Bake for 20 25 minutes until just firm to the touch. They will continue to firm up as they cool.

Let cool completely for best texture (the psyllium makes them gooey when they are still warm)
Nutrition Facts
Paleo Banana Bread - Egg & Nut Free
Amount Per Serving
Calories 56
Calories from Fat 27
% Daily Value*
Fat 3g5%
Sodium 101mg4%
Potassium 33mg1%
Carbohydrates 5g2%
Vitamin A 5IU0%
Vitamin C 0.8mg1%
Calcium 5mg1%
Iron 0.1mg1%
* Percent Daily Values are based on a 2000 calorie diet.

Any of the links in my posts may be affiliate links. If you click on them and make a purchase, I might make a commission. Your support is much appreciated and pays for the cost of running this free resource!