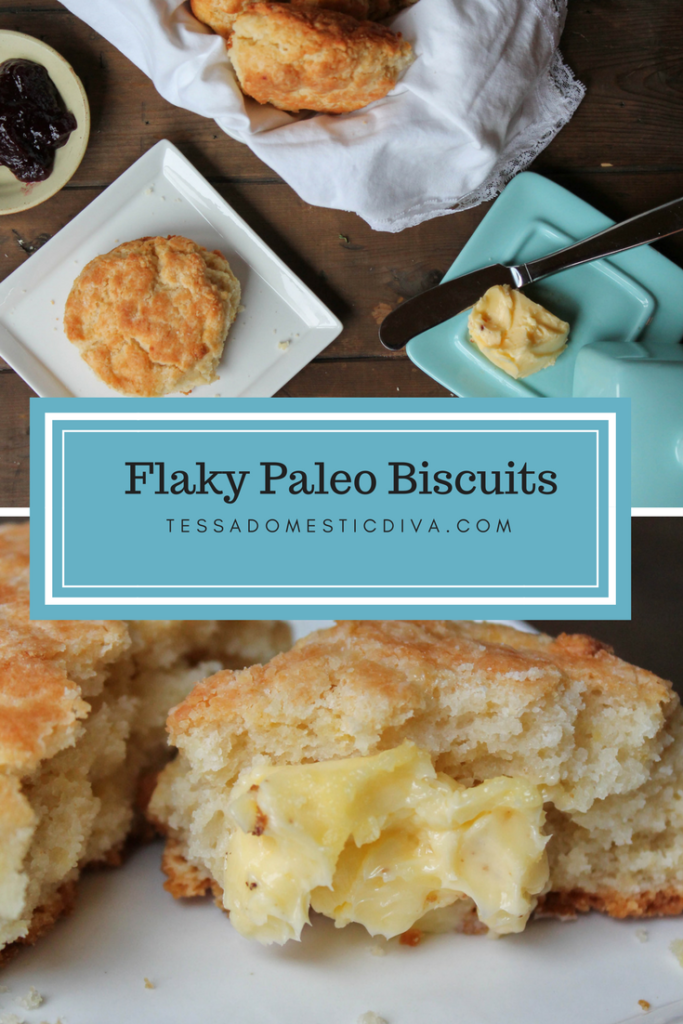 Flaky biscuits with no grains and paleo friendly?  It IS possible!
I tinkered with this recipe for some time.  I now happily make this recipe at least once a week to go with dinner and to have on hand for some biscuit egg sandwiches!
I learned with things that require FLAKY as a description…the technique in handling the dough is equally as important as the recipe.  Super cold ingredients and minimal handling are key!
I also prefer using my food processor to make the dough…it requires less touching of the ingredients (which keeps them colder) and it handles my frozen butter easily!  You can still use the pastry cutter method if you do not have this kitchen tool,  I promise!
Dairy free? I got you covered!!  Be sure to see recipe notes on how to do this!
Want some yummy soups to serve with these?
Flakey Paleo Biscuits
Author:
Tessa the Domestic Diva
Prep time:
Cook time:
Total time:
Ingredients
1½ cup almond flour
½ cupcassava flour
¼ cup potato starch
¼ cup plain, unsweetened whey powder, or replace with hydrolyzed gelatin(NOT the kind that gels and sets thing!)
1 tablespoon baking powder
2 teaspoons gelatin, or ½ teaspoon xanthum gum
½ teaspoon sea salt
8 tablespoons frozen butter, roughly cut up, or cold coconut oil
½ cup- ¾ cup kefir (any plain variety). Can also use preferred plain yogurt.
1 egg
3 tablespoons whole milk ricotta (omit for dairy free)
Instructions
Preheat oven to 450 degrees.
In the bowl of a food processor, place all the dry ingredients.
Pulse a few times to mix.
Add in the the butter chunks and pulse until broken up but still some pea sized pieces of butter remain visible. If using coconut oil, place the whole bowl in the freezer for 10-15 minutes to chill before continuing.
Add in the egg and ricotta, pulse a couple of times to mix.
Add in kefir, and pulse until JUST starting to come together. Start with ½ cup and add more only if necessary. The dough should press together easily.
Dump out onto a floured work surface (I use more of the starch), and knead a couple of times gently to bring the dough together and and make a cohesive ball.
Pat into an 8" circle, about 1.5" thick.
Use a biscuit cutterto cut circles, or shape into a square and cut 9 squares.
Place in an 8 or 9" greased pan, just barely spacing the biscuits apart. A cookie sheet works too, or a cast iron skillet.
Bake in a preheated oven for 15-20 minutes until golden and set.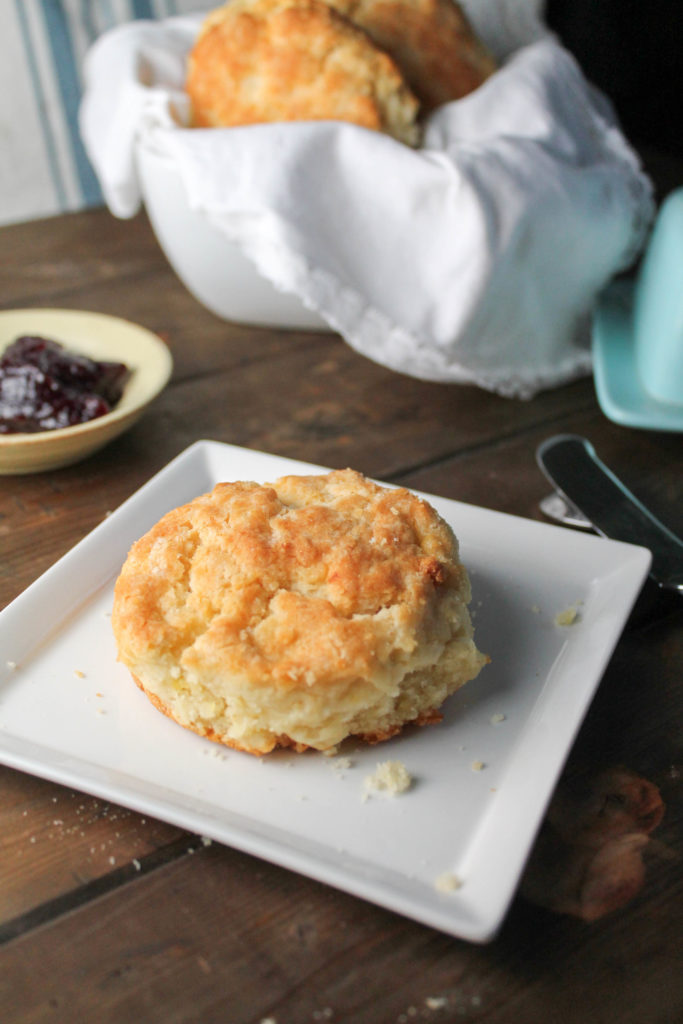 Any of the links in my posts may be affiliate links. If you click on them and make a purchase, I might make a commission. Your support is much appreciated and pays for the cost of running this free resource!