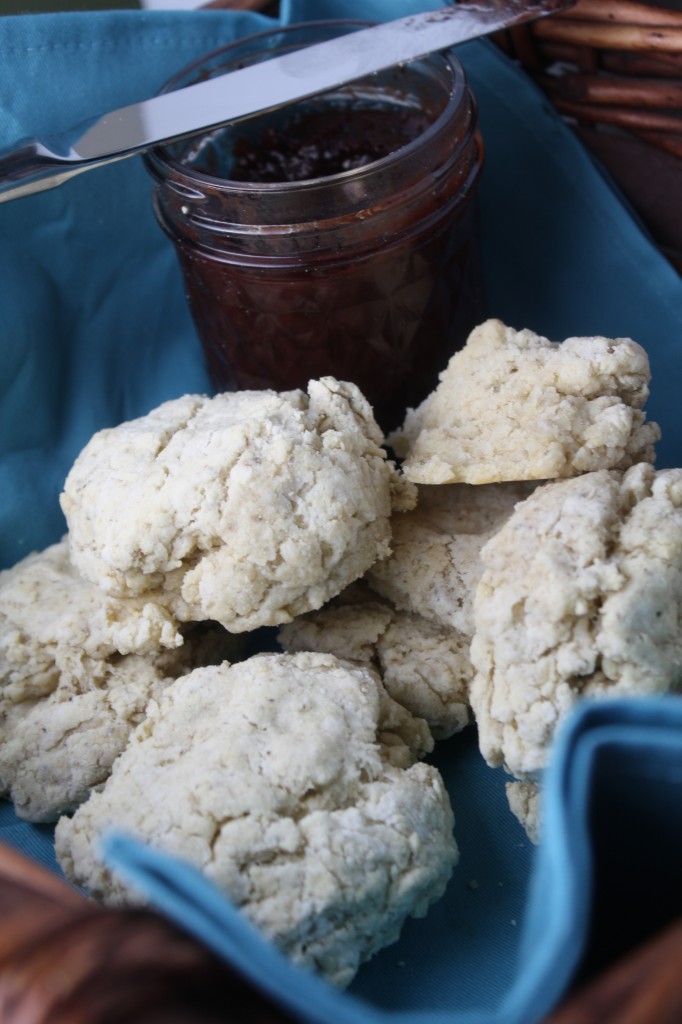 A basic, but oh so delicious biscuit recipe….it fools you into thinking there is nothing different about them!
Successful biscuits are more in the technique than anything. Handle the dough as little as possible to keep a lighter, flakier texture.
Remember you can always get creative and add in chopped ham, cheese, herbs, and green onions for savory biscuit, or use your imagination! Just this morning, I enjoyed a biscuit breakfast sandwich with cheese, ham, and a fried egg….yum!
Gluten Free & Vegan Biscuits
Ingredients
3/4

cup

any milk

however start with less and add more as needed.

1

tablespoon

apple cider vinegar

4

tablespoons

Spectrum Shortening

or replace with more butter or ghee

4

tablespoons

vegan margarine

butter, or ghee

2

egg whites

use the ones in a carton, no yolks wasted this way! OR 2 tablespoons psyllium husks & 2 tablespoons chia meal

2

tablespoons

honey

or equivalent in stevia

Dry:

1/2

cup

any mixture of millet/brown rice

1/2

cup

sweet rice flour

Mochiko Blue Star is a good brand

1/4

cup

tapioca or arrowroot flour

or any starch

1/4

cup

sorghum flour

3

teaspoons

grain free baking powder

1

teaspoon

baking soda

1

teaspoon

guar gum

1/2

teaspoon

salt
Instructions
Preheat oven to 425 degrees.

Grease a cookie sheet.

In a liquid measuring cup, add the vinegar and milk and set aside to curdle (this mimics buttermilk) After a few minutes, this is where you add the chia meal and psyllium husks too.

Mix in the honey or stevia.

In a medium bowl, whisk together all dry ingredients.

Using a pastry cutter, work the shortening and butter in until it is chunky in appearance, and some larger chunks of fat still remain.

Stir in the milk and egg whites (if using). Stirring the least amount possible! With the egg free version, dumping the whole gelatinous mixture in requires some coaxing with your hands...I mix by hand until all the dry and wet are incorporated.

Gather the dough in your hands, forming a ball. Try and handle the dough as little as possible to help keep the flaky texture.

Gather large chunks of dough in your hands, and mold them into 1.5 inch- 1.75 inch high mounds , they will not spread or rise too much. I also pat the dough into a rectangle or square and cut them into cubes.

Bake for 12-15 minutes or until lightly golden brown.(I have noticed the egg free version bakes a bit longer, bake until just firm and set.)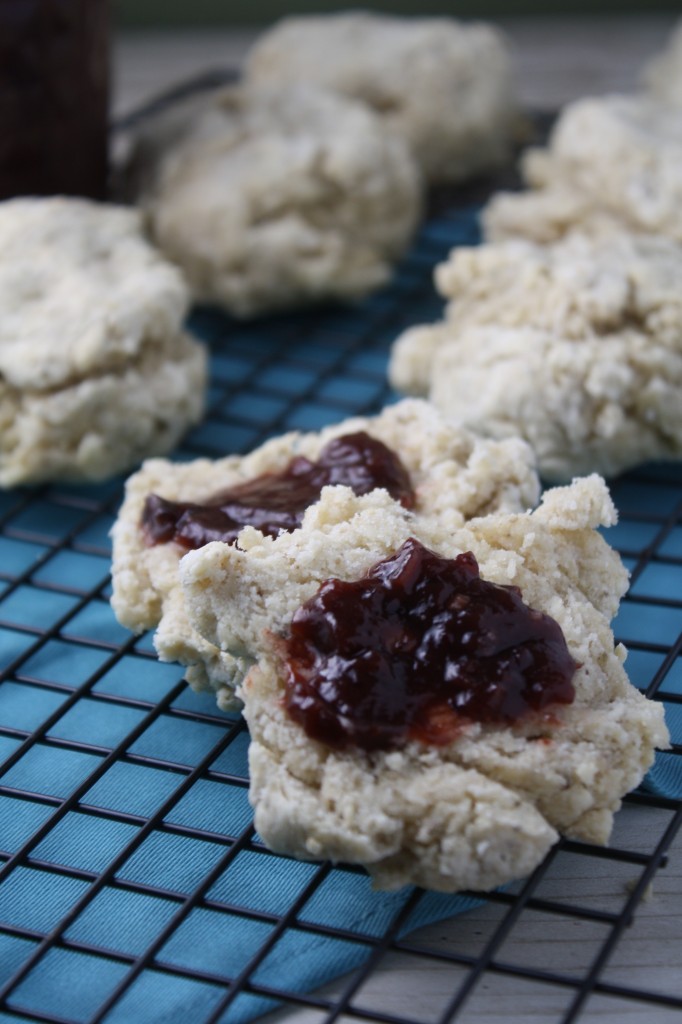 Any of the links in my posts may be affiliate links. If you click on them and make a purchase, I might make a commission. Your support is much appreciated and pays for the cost of running this free resource!