These healthy gluten free banana chocolate chip muffins are loaded with good-for-you ingredients and have a lovely, soft crumb!
Ultra moist, soft crumb, just sweet. No starches, no gums, and low sugar. Could it even taste good? You betcha!
I wanted to make a recipe for friend and had shared La Tartine Gourmande, with her. She had earmarked many a recipes that looked good to her. I picked up a copy of this book after reading stellar reviews: the food photography in this book is stunning and I am trying to glean some ideas and teach myself some new things….food photography classes don't hop by Portland, Oregon all that often (:! On top of that, there are lots of gourmet gluten free foods within the pages. The author writes an award winning blog by the same name.
This recipe was called Banana. Chocolate, and Hazelnut Muffins. They were truly delicious. I made my friend's batch with many a tweaks…but those tweaks included ghee, eggs, and hazelnuts: WAY off-limits to my son. Of course, I wasn't about to let my cutie pie sit on the sidelines while everyone else enjoyed a muffin for snack time! So I continued my tweaking to make a batch for him. Let me share with you my changes to the recipe, and the reasoning behind my choices!
Recipe substitutions:
Butter: Casein is a no in our family, so I used grass fed ghee for my friend's batch. For my son, we used all coconut oil as it is one the healthiest dairy-free fats out there and is solid like butter.
Eggs: We love eggs, but my son keeps reacting to them, even in baked goods. So for his batch, I left these out. I knew the bananas would replace the egg's binding properties well enough, but I needed to provide some additional lift. I increased the leavening (baking powder and/or soda) and use an acid (vinegar) to provide some additional oompf! Isn't chemistry great?
Blonde Cane Sugar: I don't even have any cane sugar in the house anymore. Both batches I used coconut palm sugar, a healthier, lower glycemic sweetener I use often.
Whole Milk Yogurt: Again with the casein: we used coconut milk yogurt.
Quinoa Flour: I

hated

quinoa flour until I learned a little trick this last summer: toast it! This neutralizes the tannins which are bitter. Now quinoa flour is well loved by all in our family, no off-tasting baked goods. I highly recommend it and it is higher in protein than most grains: always nice! Since I buy pre-ground flour, I put a whole 18oz bag of flour on a cookie sheet and place it in a 325 degree oven for abut 30 minutes…stirring a couple of times. It should be turning golden and smell toasted!
Buckwheat Flour: I don't mind buckwheat flour (which is ground from toasted buckwheat groats), but my kids won't go for it: it has a very distinct flavor. I use raw buckwheat groats that I find in the bulk food section of my Whole Foods. These are much more mild in flavor and I can pass it off unnoticed on my kids. It is easy to whir the groats in your blender or a coffee grinder to make a flour.
Hazelnut Flour: This was delicious in my friend's batch, but to make it nut free, I looked to another dense flour: coconut. I had to use less, as coconut flour absorbs a lot more liquid than hazelnut flour!
So there you have it: a little window into my brain as I make recipes work for my family and a bit of the baking science behind it! We all know I LOVE to bake! I blame my mom for that one…we did an awful lot of baking together growing up, it is one of my fondest memories. I hope my kids learn to love it as much as me!
We love these healthy gluten free banana chocolate chip muffins, and hope you do too.
Here are couple more muffin/bread recipes with bananas that you may like to try:
Recipe for Healthy Gluten Free Banana Chocolate Chip Muffins: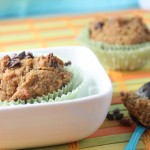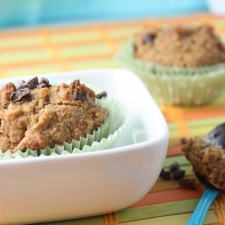 Banana Chocolate Muffins - Gluten Free, Vegan, & Super Nutritious!
Ingredients
3

over-ripe bananas

lots of brown spots

8

tablespoons

coconut oil

solid (ghee or butter would work too)

1/2

cup

palm sugar

1/4

cup

plain yogurt

I used coconut-milk yogurt

2

teaspoons

vanilla extract

2

teaspoons

vinegar or lemon juice

this helps with rise

1

teaspoon

sea salt

1

teaspoon

baking soda

1

teaspoon

baking powder

1

cup

TOASTED quinoa flour

see above notes in post for how-to

1/2

cup

freshly ground buckwheat groats

grind in your blender or coffee grinder to achieve a flour

1/3

cup

coconut flour

1/2

cup

dark chocolate pieces or chips

1/2

cup

chopped

toasted hazelnuts (optional)
Instructions
Preheat your oven to 350 degrees.

In a bowl of a stand mixer, beat the bananas, coconut oil, sugar, yogurt, vinegar, and vanilla on high speed until relatively smooth and creamy, about 2 minutes.

With the mixer still on medium, sprinkle in the baking soda, baking powder, and salt.

Continue with the mixer on medium: add each of the flours. Scrape the sides if necessary, and beat until smooth.

Add in dark chocolate and hazelnuts if using and mix gently to incorporate.

In a prepared muffin tin, evenly distribute the batter amongst all 12 cups.

Bake in the oven for about 20 minutes until the tops are just set/firm.

Any of the links in my posts may be affiliate links. If you click on them and make a purchase, I might make a commission. Your support is much appreciated and pays for the cost of running this free resource!