Never look at a pot of humble Instant Pot pinto beans the same again!! With loads of flavor and melt in your mouth tender beans, this recipe is a MUST for pinto bean lovers! The best pot of beans EVER!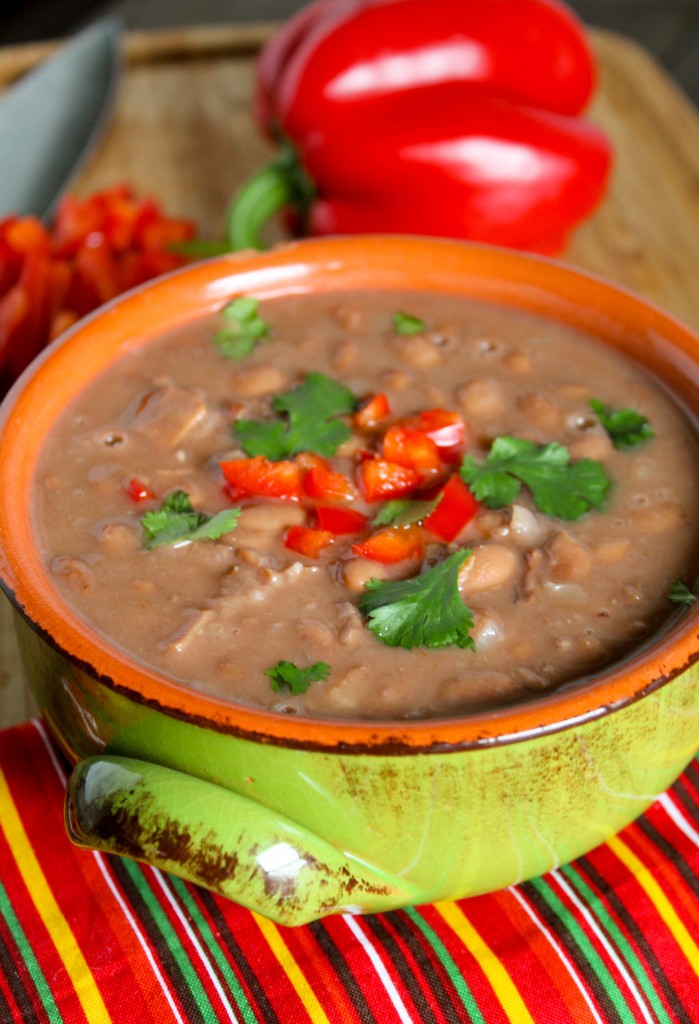 I never thought I could love beans so much. But these homestyle pressure cooker pinto beans changed everything for me!
I mean, it is a pot of beans, how special could it be? You could be wondering this…just maybe.
But every. Single. Time I make these beans (Teacher-Appreciation week, parties, for the family & neighbors) people go nuts over these. They comment how flipping delicious they are. I am telling you…done right…you will never look at a humble pot of pinto beans quite the same again!
And there will be no bank-breaking with this recipe….organic dried beans are very affordable.
I used my old pressure cooker for this recipe originally, and now I use my Instant Pot, which takes minutes to perfectly cook my soaked beans as opposed to hours. I simply ADORE my Instant Pot and think everyone should own one!
Credit for this recipe and technique go to my good friend and neighbor, Glenda. I had her teach me how to make a traditional pot of Puerto Rican beans. And I have never looked back…and consequently I think a can of refried beans would be sacrilege now! Gracias mi amiguita!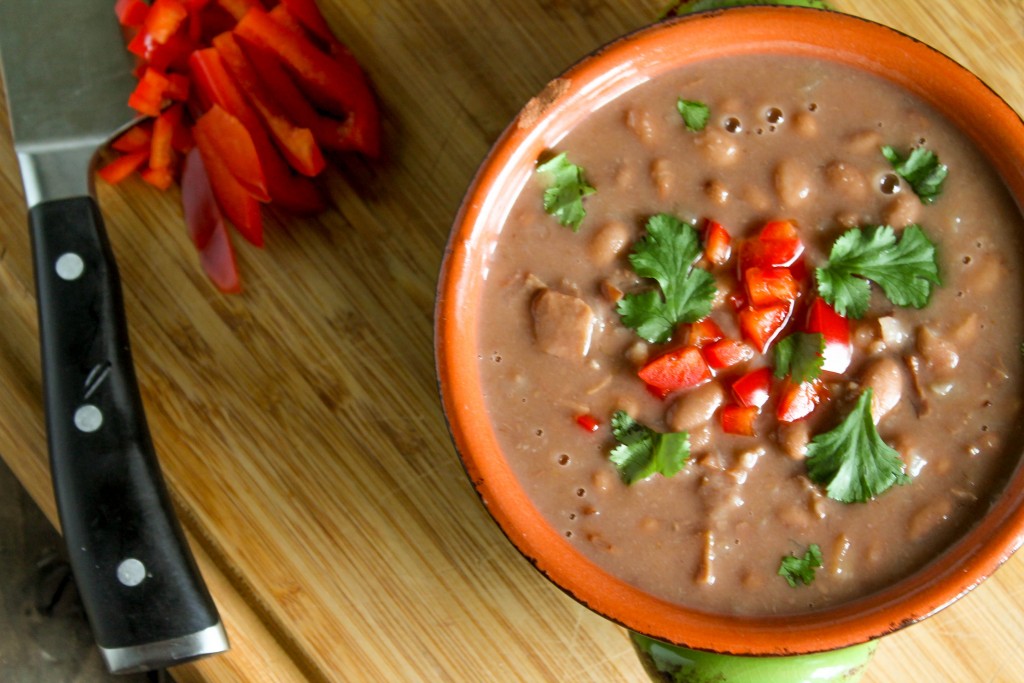 No Instant Pot? No problem!! How to make stove top pinto beans:
You can also do these pressure cooker pinto beans stove top too!!
I have done it many times…it just takes all day on a slow simmer to get those melt-in-your mouth creamy beans.
Can I make these ranchera style pinto beans ahead of time?
I like to make a big batch of these pinto beans and freeze the leftovers in individual mason jars.
Just be sure to leave some room to allow for expansion!

Should I soak my beans before cooking them?
By soaking the beans in an acid medium, you are helping break down some of the sugars that make beans more difficult to digest. So soaking = better digestion, check!
So if you normally get some toots eating beans, this might be your savior!
On top of that, you are unlocking the nutrients and making them more available to your body. Just DO it!
Yes, you can bypass this step and cook your beans longer…or follow Whole New Mom's technique for the quick-soak method!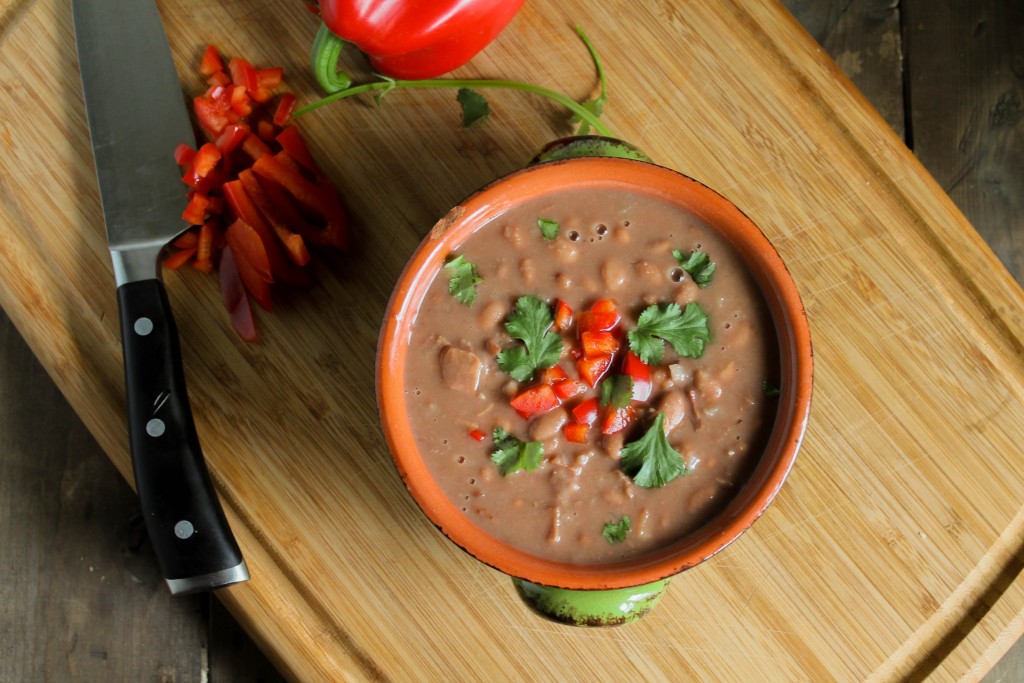 Serving suggestions for Instant Pot pinto beans?

Instant Pot Pinto Beans Recipe:
If you make these amazing beans, please let me know in the comments below!!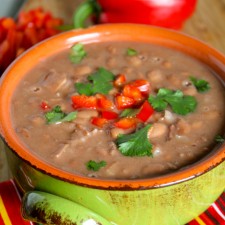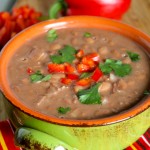 Best Darn Pot of Beans EVER - Homestyle Pinto Beans w/ a Pressure Cooker Option
Total Time
5
hours
15
minutes
Ingredients
2

cup

dried pinto beans

soaked for at least 12 hours in lots of cool water and a couple of tablespoons raw apple cider vinegar. While the soaking is optional, this helps break down some the phytates that give lots of people gas. Be sure to rinse them well after soaking to get rid of all it! Better digestion = better nutrition too!

1

ham hock

optional, BUT SO WORTH IT!!

4-6

ounces

smoked deli ham

or cubed ham roast, finely diced, (not a sweet variety)

1

medium

sweet bell pepper

finely diced

1

small

onion

finely diced

2-4

tablespoons

tomato paste

or one 8 ounce can tomato sauce (optional)

1-3

teaspoons

sea salt

to taste (ADD AT THEY VERY END!)
Optional spices:
1-2

teaspoons

cumin

and/or chili powder can be used.
Instructions
Place your beans in a large bowl, cover with at least 2" of water, 2 tablespoons raw apple cider vinegar, lemon juice, or kefir.

Soak beans overnight or about 12 hours.

Drain and thoroughly rinse the beans.

Place beans in an Instant Pot insert or other pressure cooker along with the ham hock (if using). Cover with at least 2" of water (more is OK).

In an Instant Pot, use the 'Manual' button and select 20 minutes. May be called 'pressure cook" on newer models (any high pressure program for 20ish minutes is fine). *Stovetop directions below in 'notes'*

When the time is up, hit 'cancel'. Wait for the pressure to come down naturally, or do a quick release as preferred. The beans will continue to cook in the next step.

Without draining the bean broth (add more broth or liquid if it doesn't seem soupy, we will be boiling off more liquid now as they cook some more), mix in the pepper, onion, minced ham.

Hit 'sauté" and keep hitting until the the 'low' setting is selected. Simmer, uncovered for 1-3 (or more!) hours, or until most of the water is evaporated and the beans are melt-in-your-mouth tender. I use the 'low' sauté feature so it is not a vigorous bubble which will splatter annoyingly!

Keep careful watch on your water level, and add more liquid if you need to. I like to leave my beans a little bit saucy, but this up to you! You could also choose to mash them up a bit for a refried-style.

Finally, stir in the tomato paste or sauce, sea salt, and the cumin/chili powder as you like.
Recipe Notes
DUTCH OVEN METHOD : In a large Dutch oven style pot large enough to accommodate all the your soaked beans and enough water to have at least 1-2" of water above beans.  Bring the soaked pinto beans to a boil, reduce heat to low and simmer (covered) for 3-4 hours until tender. They should be simmering only (not bubbling vigorously).  Continue with steps 8-10 above.
Nutrition Facts
Best Darn Pot of Beans EVER - Homestyle Pinto Beans w/ a Pressure Cooker Option
Amount Per Serving
Calories 215
Calories from Fat 45
% Daily Value*
Fat 5g8%
Cholesterol 21mg7%
Sodium 430mg19%
Potassium 691mg20%
Carbohydrates 26g9%
Protein 14g28%
Vitamin A 420IU8%
Vitamin C 19.1mg23%
Calcium 50mg5%
Iron 2.4mg13%
* Percent Daily Values are based on a 2000 calorie diet.

Any of the links in my posts may be affiliate links. If you click on them and make a purchase, I might make a commission. Your support is much appreciated and pays for the cost of running this free resource!