Homemade gluten free cereal bars are easier to make than you think, and infinitely tastier than the store bought varieties! As an added bonus, these bars are nutrient dense, gluten free, AND vegan!!

My kids have always loved cereal bars. I never got it…they were too sweet for me.
When we had to go gluten free, the options out there for this breakfast staple were pretty dismal.
Not only were they atrociously expensive, they left more than a little to be desired nutrition AND taste wise.
My kids couldn't even go through one box. First, I couldn't blame them! Secondly….they were not nutrient (or healthy) dense at all!
Can cereal bars be made healthy?
They can!! Many commercial varieties have some major issues:
expensive (at least the allergy friendly ones)
loaded with sugar! A high sugar breakfast is not in the best interest of anyone, including our kids! Sugar is a short lived energy burst followed by an inevitable sugar crash. A balanced meal of slow burn high fiber carbs with some protein and healthy fats is a much better way to go.
problematic ingredients: when conventional corn and wheat products are used, there is a high likelihood of their being GMO's inside. For us, this a is a big problem as glyphosate residue in GMO crops in the US are often bed mates. I don't think anyone could argue the damage that Roundup, in any amount ,can cause our guts!! My son is super sensitive to it.
But now I have something better to give them, and YOU do too! Meet the quintessential cereal bars with no weird ingredients.
Wholesome nutrients and allergen free goodness are first and foremost here! Healthy fats, fiber, and some protein!!
Think Nutrigrain Bars…but healthier and tastier! Seems to me, that is a mom win!
These cereal bars took a lot tries to get right, therefore, I hope you think they're worth it! Woot woot!!

Gluten free cereal bars ingredient notes:
Make your own oat flour by whirring rolled oats in a coffee grinder or blender, it's easy and works great! A blender also works well!
Trader Joe's make some great lower sugar jams. St Dalfours brand has no added sugars and is sweetened with fruit juice only.
What if I have some extra dough leftover?
I use this same dough to make my gluten free and vegan emapañadas!! They are simple, wholesome, and totally delicious!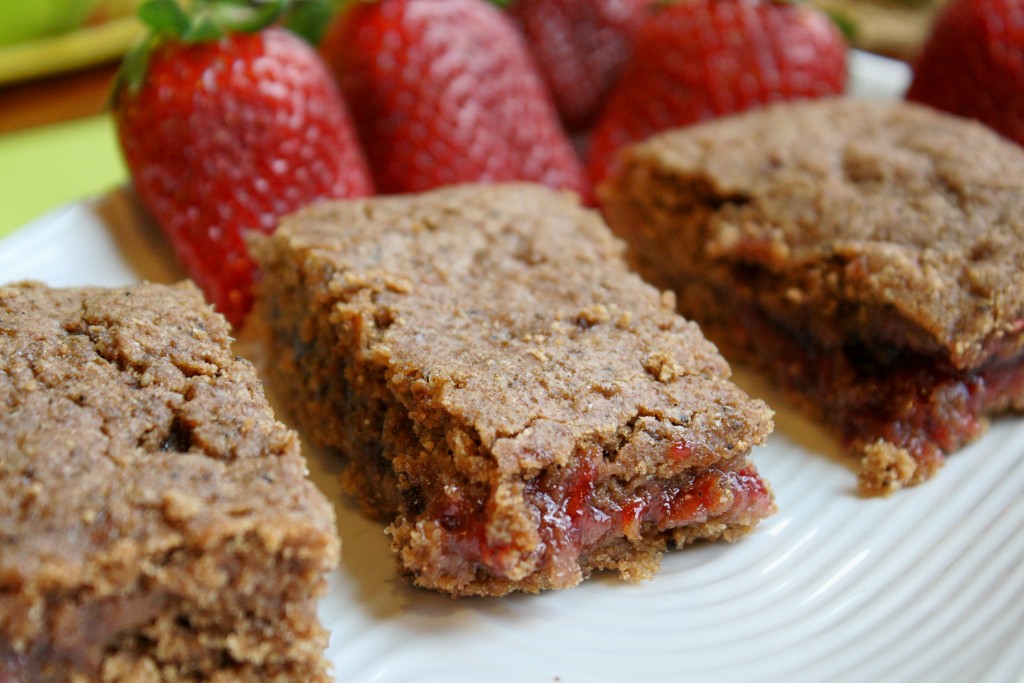 Want some more kid-friendly breakfast ideas with wholesome ingredients?
Homemade Gluten Free Cereal Bars Recipe:
If you try these these homemade cereal bars, be sure to come back and leave a comment!
Healthy Homemade Fruit Cereal Bars - Gluten Free & Vegan
Ingredients
Instructions
Preheat oven to 350 degrees.

Whisk the dry ingredients together in a medium bowl.

In a liquid measuring cup, whisk the wet ingredients. Pour into the dry mix and blend until a soft dough is formed. You may add a couple tablespoons milk if it is necessary. Divide the dough in half.

Grease an 8 x 8 pan or line with parchment paper.

Place half the dough on a piece of parchment, place another piece of parchment over the top, and roll it out into a rough 8 x 8 square (the dough should be too wet to roll without the parchment on top. I have used plastic wrap, waxed paper, and a Silpat for this job too with success, just be sure you don't try and bake the plastic wrap or waxed paper!)

Invert the rolled dough into the pan, pressing and smooshing until the bottom crust is dispersed. Gently remove the parchment.

Spread your filling evenly over the bottom crust.

Roll out the top crust in the same manner, and flip over onto the top of the filling. Press and smoosh with the parchment in place and then remove when you are happy! I have also just moved pieces of the dough and overlapped pieces as a top crust...works great too!

Bake for 20-25 minutes until the center is set.
Alternative Fruit Filling Directions
Place all ingredients in a small sauce pan over medium low heat and simmer for multiple minutes.

Once cooked through and thick, puree with an immersion blender for texture-averse kiddos!
Nutrition Facts
Healthy Homemade Fruit Cereal Bars - Gluten Free & Vegan
Amount Per Serving
Calories 125
Calories from Fat 36
% Daily Value*
Fat 4g6%
Sodium 85mg4%
Potassium 72mg2%
Carbohydrates 20g7%
Protein 2g4%
Vitamin C 0.1mg0%
Calcium 30mg3%
Iron 1mg6%
* Percent Daily Values are based on a 2000 calorie diet.

Any of the links in my posts may be affiliate links. If you click on them and make a purchase, I might make a commission. Your support is much appreciated and pays for the cost of running this free resource!