How do you cook a spaghetti squash in the best way? Let me show you how, step by step! These crisp tender favorite low carb noodles will have you celebrating this versatile and healthy ingredient!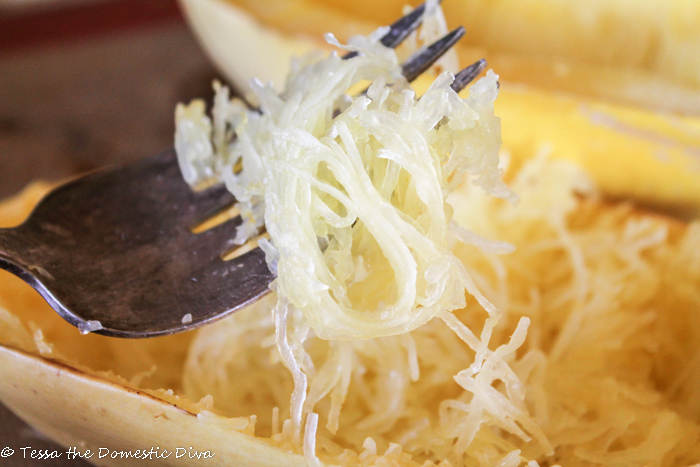 I am here to teach you the best way to roast a spaghetti squash.
It wasn't until three years ago I discovered this little gem of a produce selection…and I was super eager to try it as a healthy replacement to noodles.
What I found was that spaghetti squash done RIGHT…meaning just tender and al dente…is super yummy in its own right, even if it is not a noodle.
Because it is not.
BUT, it IS delicious, and satisfying, and a great healthy alternative to heavy pasta dishes. It's mild flavor pairs well with any flavors you desire, so have fun!
The trick is simply NOT to overcook it and turn the shreds into mush. Let me teach you!
The best way to cook a spaghetti squash
I have tried ALLLLL the methods. Here is my experience.
Instant pot? Too easy to over cook the noodles.
Cook it whole first? Also, inconsistent results: sometimes the pulp and seeds made everything too watery. I even cooked one that had some rot that was not visible from the outside…another possible issue when you go in blind.
Step 1
Preheat oven to 350 degrees. Cut the spaghetti squash in half. Use a strong sturdy knife to do this. I usually score the outside skin with the tip of my knife first so it cooperates more for me. This can take some oompf, be warned!
Step 2
Scoop out all the seeds and pulp with the edge of a sturdy metal spoon.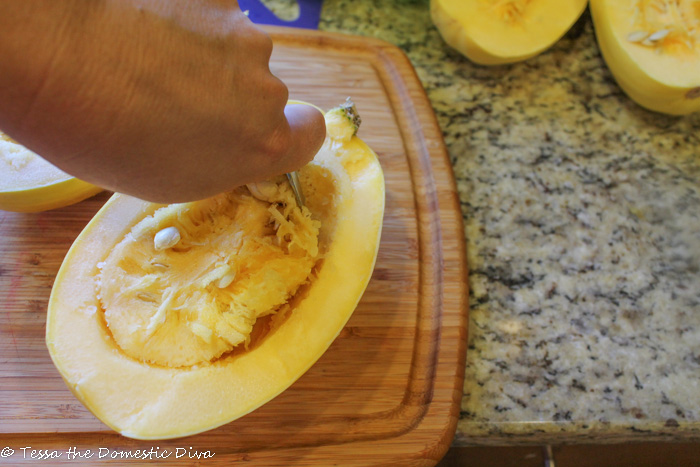 Step 3
Place squash, cut side down onto a parchment or baking mat lined cookie sheet.
Drizzle about 1-3 tablespoons of water over the top of the squash (about 1 tablespoon per half).
Place in the oven and bake for about 30 minutes. The squash should just be starting to give when you touch it, a fork should be able to pierce the flesh. You can also sample a little noodle and decided if it is cooked enough for your tastes. Cook too long and it will turn to mush, keep the threads with a bit of bite!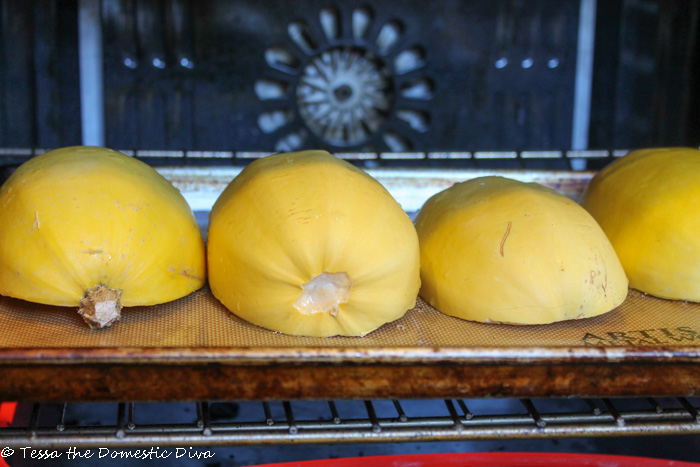 Step 4
Remove the squash and flip the squash over to cool for shredding.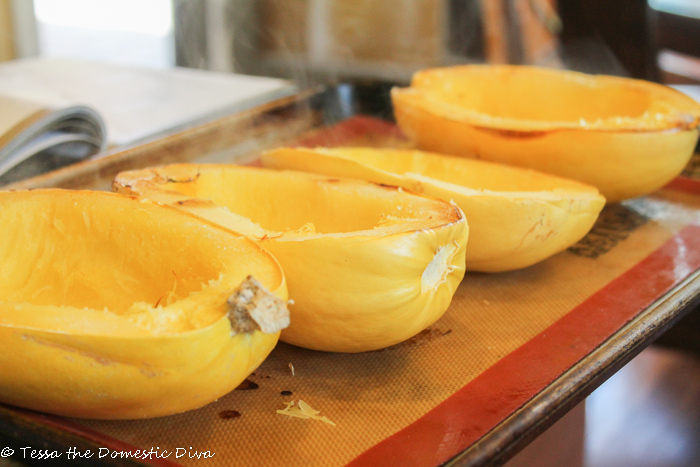 Step 5
Once cool enough to touch, take a large fork and start shredding, the 'noodles' should pull away easily.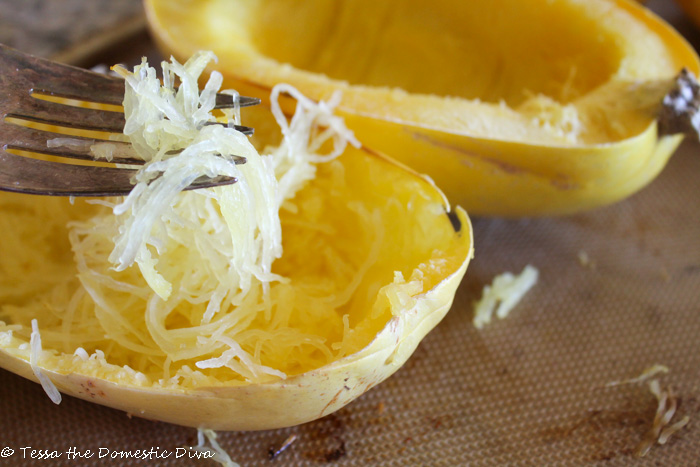 Your squash is now ready to use in anyway you see fit! I provide some ideas below!
My favorite spaghetti squash recipes:
Additional recipes to try:
How to cook a spaghetti squash in the oven:
If you try this method, be sure to come back and report below in the comments!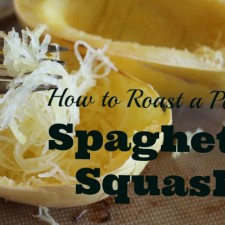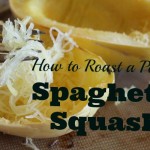 How to Cook a Spaghetti Squash
Use this technique for perfect al dente spaghetti squash noodles for all your low carb recipes!
Ingredients
1

medium

spaghetti squash

scored and halved, seeds removed.

1

tablespoon

water

per squash half

1

teaspoon

avocado oil

optional, per squash half
Instructions
Preheat oven to 400 degrees, and line a cookie sheet with parchment or a baking mat

First score the skin of a spaghetti squash from stem to stem, creating a line in the middle.

Now assertively work a strong knife into the score line, moving around and prying as needed to divide squash into two halves.

Use a sturdy metal spoon to scrape all the pulp and seeds out.

If you'd like to rub a bit of avocado oil on the flesh side to prevent sticking, go ahead.

Place squash, flesh side down on the cookie sheet.

Add apx a tablespoon or less of water near the edge of each half.

Place in the oven and bake 30-40 minutes until tender and shreddable, but NOT super soft and mushy. Small squash = less time, large squash = more!
Nutrition Facts
How to Cook a Spaghetti Squash
Amount Per Serving
Calories 85
Calories from Fat 27
% Daily Value*
Fat 3g5%
Sodium 41mg2%
Potassium 261mg7%
Carbohydrates 17g6%
Protein 2g4%
Vitamin A 290IU6%
Vitamin C 5mg6%
Calcium 56mg6%
Iron 1mg6%
* Percent Daily Values are based on a 2000 calorie diet.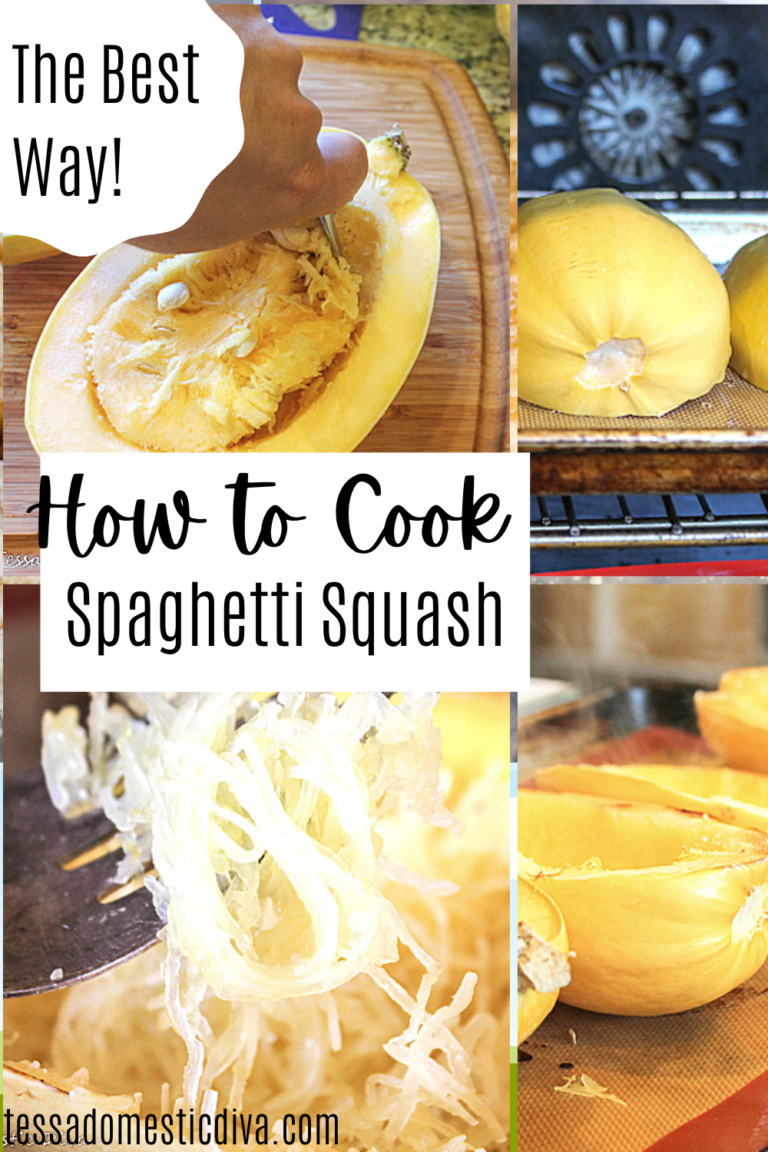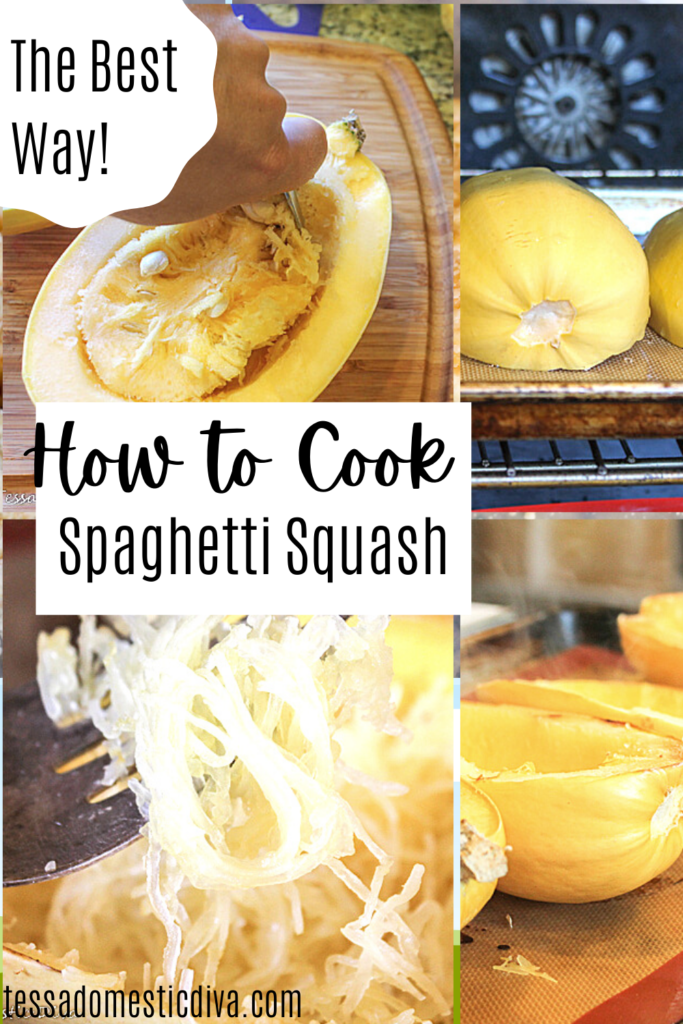 Any of the links in my posts may be affiliate links. If you click on them and make a purchase, I might make a commission. Your support is much appreciated and pays for the cost of running this free resource!