This Instant Pot Rice-a-Roni chicken is a kid friendly meal you do not want to miss! A family friendly meal that goes together in a snap and cooks in five minutes!!
Tender bite sized pieces of chicken are nestled in a classically savory and delicious homemade version of Rice-a-Roni.
And no worries, this version is all real food…no scary processed ingredients here! Just basic pantry staples will make this one pot wonder!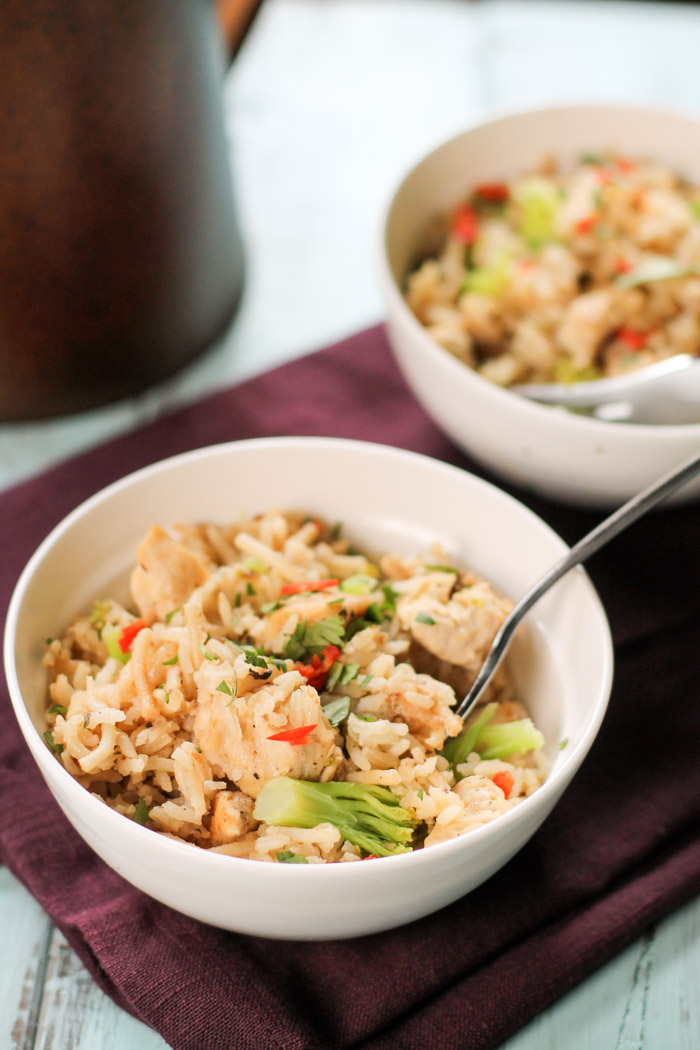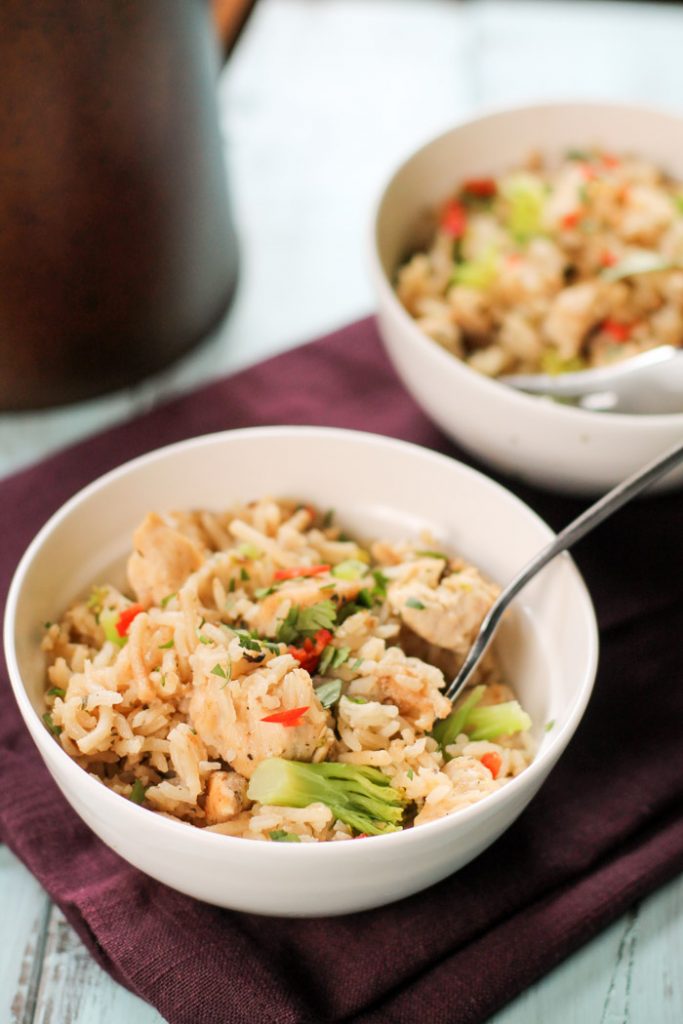 Remember Rice-a-Roni when you were growing up!!?
While it certainly still exists….I no longer am willing to purchase it. It contains some less than stellar ingredients I prefer not to feed my family.
And really, there is no need!
With a few simple ingredients and spices, you can have that classic flavor you fondly remember…and totally gluten free to boot!
Meet the Instant Pot Rice-a-Roni Chicken, a perfect quick recipe to throw into that mom arsenal! (If you just want to make the side dish, try my Instant Pot rice a roni with no added meat)

How To Up Your Nutrition In This Quick Dinner!
I always like to get the most bang for my buck when it comes to the food I feed my family. Using bone broths are a great way to add loads of flavor to your foods, as well as essential amino acids and collagen: essential components in our bodies! Bone broth even contains some protein from the collagen!!
While I love to make my own bone broth in the Instant Pot, in a pinch, I love to have my Perfect Supplements Bone Broth Powder to throw in!
True to their rigorous quality standards, this bone broth contains ONE ingredient: organic chicken bones!! Well of course, they slow cooked them in water too! The broth is then dehydrated to give you a convenient but totally nutritious add in to all sorts of meals!
Here are some nutritional highlights of this top quality bone broth:
contains all 9 amino acids
contains the collagen (types 1, 2, AND 3) , chondroitin, and glucosomine: all amazing for joint health!!
Non GMO, and glyphosphate free…..and tested to be so!!
And they will back their product with a 60 day money back guarantee!! Don't love it? Return it for all your money back! But I know you will love it as much as I do…they have become my go-to for collagen, gelatin, dessicated liver, and other high quality supplements! Use TESSA10 for 10% off any order.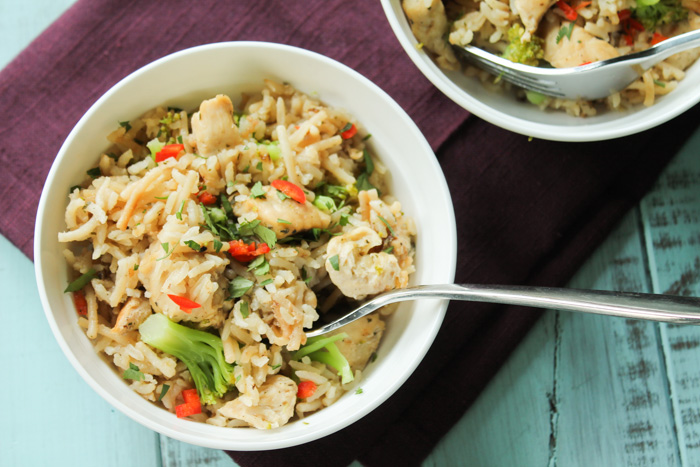 Stove Top Rice-a-Roni Chicken?
I haven't tested it yet, but I plan to!
The liquid would need to be increased for simmering on the stove. I would start with 2 3/4 cup broth, added in after you have followed all the 'Saute' instructions.
Pour in the broth, bring to a simmer, then cover and let gently simmer for about 15-20 minutes. Turn off the heat and let rest another 5-10 minutes.

More Quick & Easy Instant Pot Meals:
Having lots of quick and easy recipes on hand is key to feeding your family well, even when time is crunched!! These recipes are all straight forward and call for simple ingredients. As an added bonus, they are kid-friendly!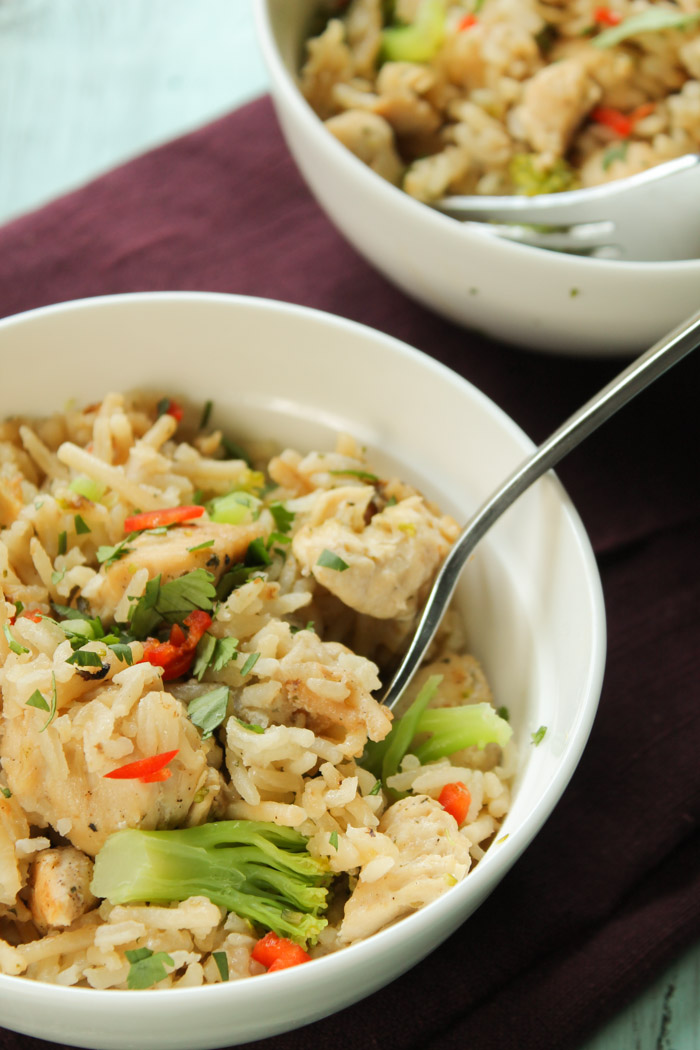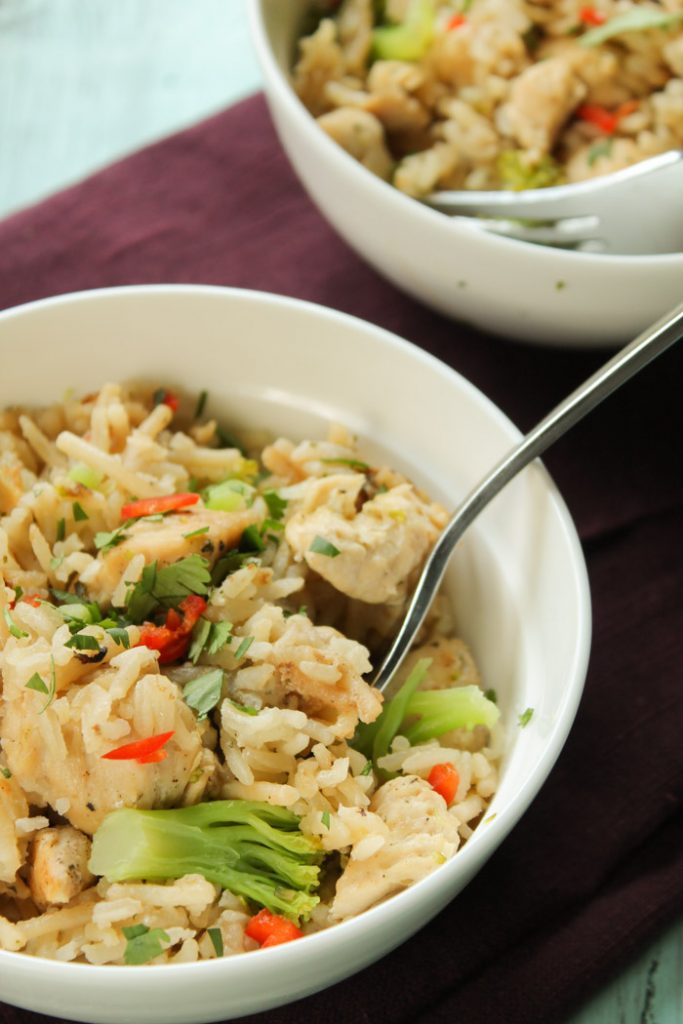 Instant Pot Rice-a-Roni Chicken Recipe:
Did you try this? I want to hear about it! Leave a comment and a star rating below!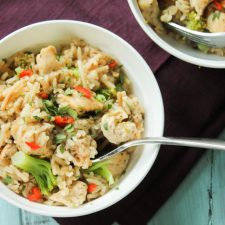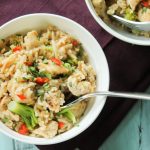 Instant Pot Rice-a-Roni Chicken
A real food version of chicken Rice-a-Roni with tender bits of chicken breast meat cooked along side for a perfect family dinner!
Ingredients
2

tablespoons

butter

or avocado oil

1/2

small

onion

finely chopped, OR 2t onion powder added to spice mix below

1/2

cup

gluten free spaghetti

broken into 1" pieces, OR gluten free orzo

1 1/4

cup

long grain rice

I prefer California basmati
Seasoning Mix
2

teaspoons

parsley flakes

11/2

teaspoons

sea salt

to taste, will depend on the broth you use.

1

teaspoon

garlic powder

1/2

teaspoon

thyme
Remaining Ingredients
2

cups

bone broth

homemade or your favorite chicken broth

1

pound

chicken tenders, chopped

or bite size pieces of chicken breast or thighs.
Instructions
Saute:
Press "sauté' on your Instant Pot.  Add in the oil or butter, and when hot, toss in the onion.

Meanwhile, mix your spices and broth together to be ready for step 5.

Stir the onion for a few minutes to soften, then add the broken spaghetti pieces to brown slightly, several minutes. You will notice the noodles getting darker in color. Hit 'cancel.'

Add all the rice, the seasoning mix, and chicken, stirring to combine.
Cook:
Pour in the bone broth or chicken broth, stirring gently.  Ensure no bits stick to the bottom...newer Instant Pots have a sensitive 'burn' notice sensor. If any rice kernels are on the side of the insert, shove them back into the broth.

Lock on the lid and set 'manual' high pressure time for 5 minutes. Called 'pressure cook' on newer models. It generally takes 5-8 minutes for the pressure cooker to come to full pressure and start its backward 5 minute timer, FYI! If you want to decrease this time, preheat your broth before adding it.

When the Instant Pot beeps, hit 'cancel', and let it sit (natural release) for at least 10 minutes before releasing pressure (pull pressure valve forward towards you). It is worth noting that this natural release time is essential for the rice to cook fully and the chicken pieces to tenderize. I often make the meal a couple hours in advance and just let it sit after it finishes cooking and I have canceled or turned the Instant Pot off. Stays nice and warm and ready for eating!
Recipe Notes
Vegetable addition note:  In these pictures, I added some steamed broccoli to the end product...cooking broccoli WITH the rice would = mush broccoli - yuck.
Nutrition Facts
Instant Pot Rice-a-Roni Chicken
Amount Per Serving
Calories 411
Calories from Fat 63
% Daily Value*
Fat 7g11%
Cholesterol 48mg16%
Sodium 528mg23%
Potassium 338mg10%
Carbohydrates 59g20%
Protein 25g50%
Vitamin A 25IU1%
Vitamin C 1.6mg2%
Calcium 15mg2%
Iron 1.1mg6%
* Percent Daily Values are based on a 2000 calorie diet.

Any of the links in my posts may be affiliate links. If you click on them and make a purchase, I might make a commission. Your support is much appreciated and pays for the cost of running this free resource!