This paleo meatloaf sneaks in some veggies for a complete meal!! I have also modified this recipe to be keto, and Whole30 friendly….the options are endless!!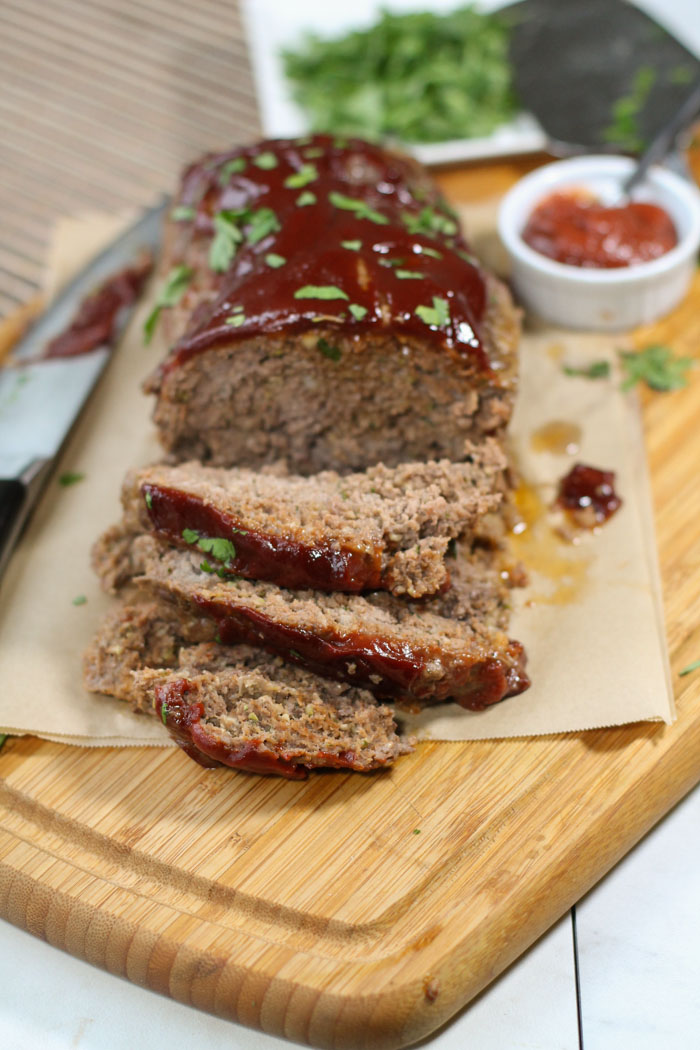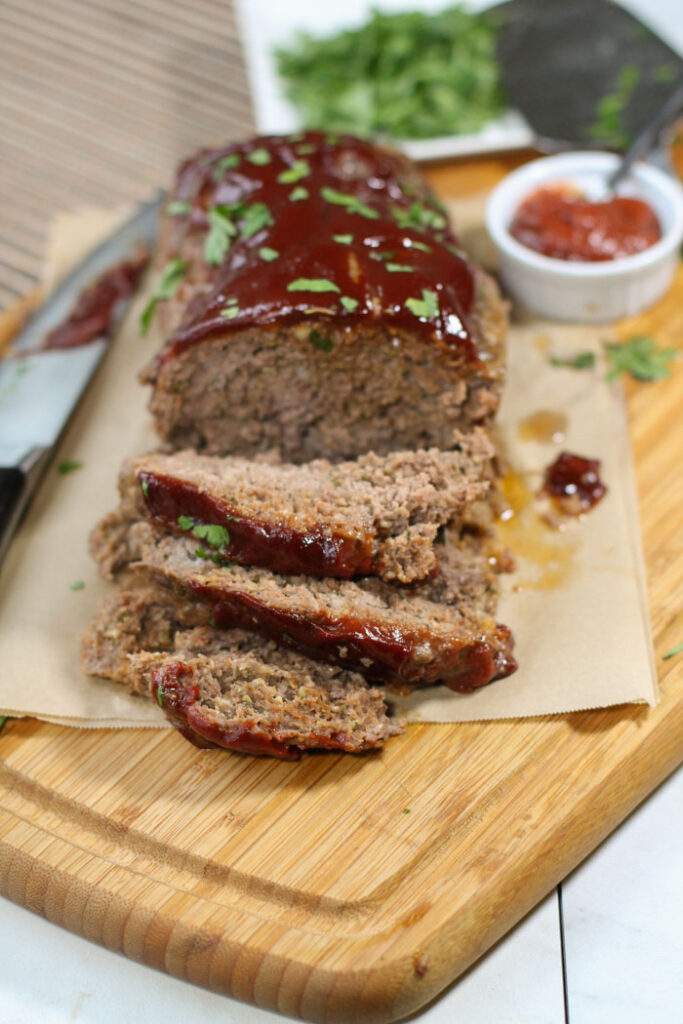 Meatloaf is a favorite comfort food for my husband. When I first learned this when we were young and dating….I didn't get it. I certainly didn't have any fond memories of the loaves of meat to hit our dinner table growing up! They were just too…well….meaty. Of course, it IS a meatloaf!!
Today my pallet is greatly changed (thank goodness for that!)
But it took many years to finally get the hang of making a meatloaf that I can enjoy right along with my dear hubby. Of course my version contains whole grains (or not!), fiber, and lots of veggies. I frequently add a bit of whatever needs to be used up if I think it will taste good. So consider this recipe a springboard. A great basic paleo meatloaf to let your creative juices go crazy!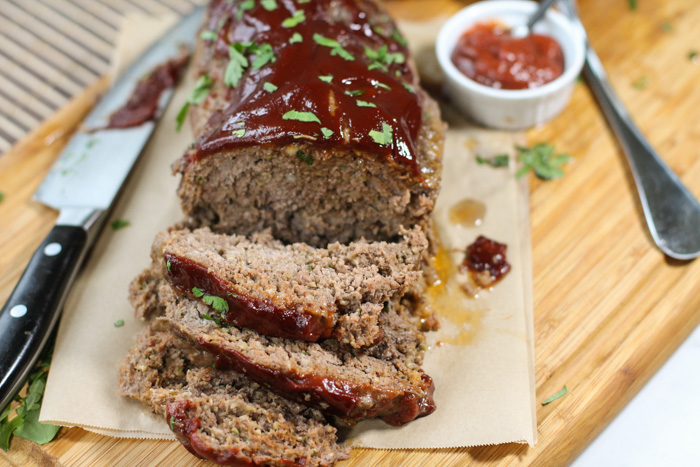 Adaptations and tips to make this the right paleo meatloaf for you:
I really like adding the brown rice or quinoa as it makes a pound of meat go really far, and I usually have a sufficient amount left over to freeze into little mini loaves for another dinner. I frequently make a double batch to be sure of this.
My preference is making little mini loaves as opposed to one giant loaf. I prefer more crunchy edges and less cook time, but you could of course modify the cooking time for a large loaf (about 45-60 minutes).
If the mashed potatoes sound good to you, make your favorite basic mashed potatoes or cauliflower mash (mine had 1/4 sweet potato, 3/4 yellow potato), and add in some chipotle puree and Daiya cheese or cheddar for some added zang!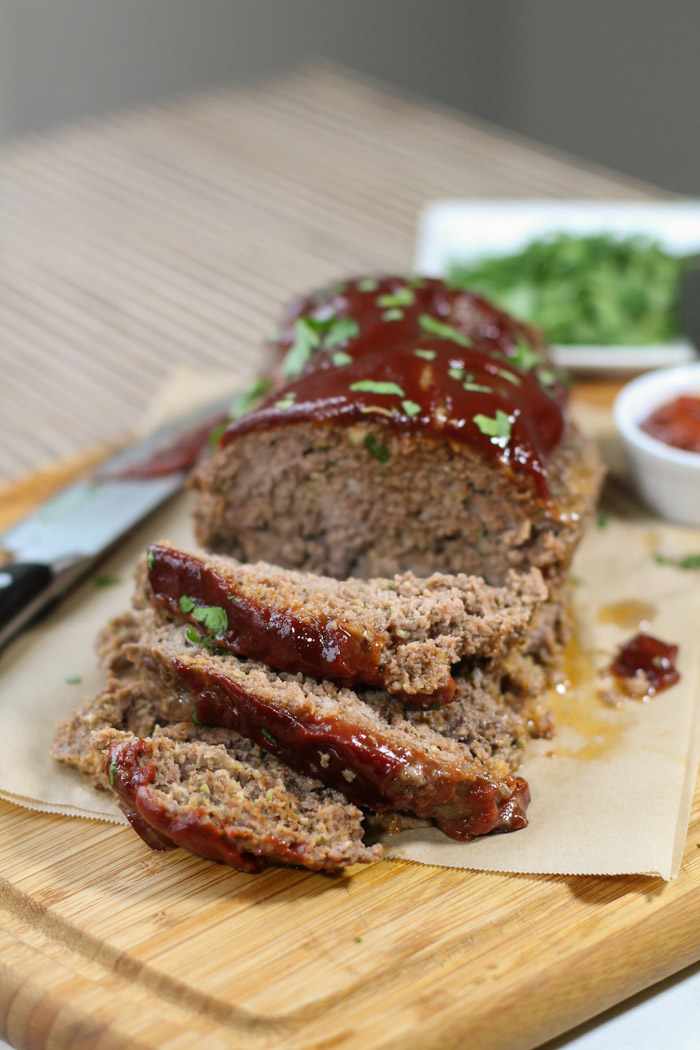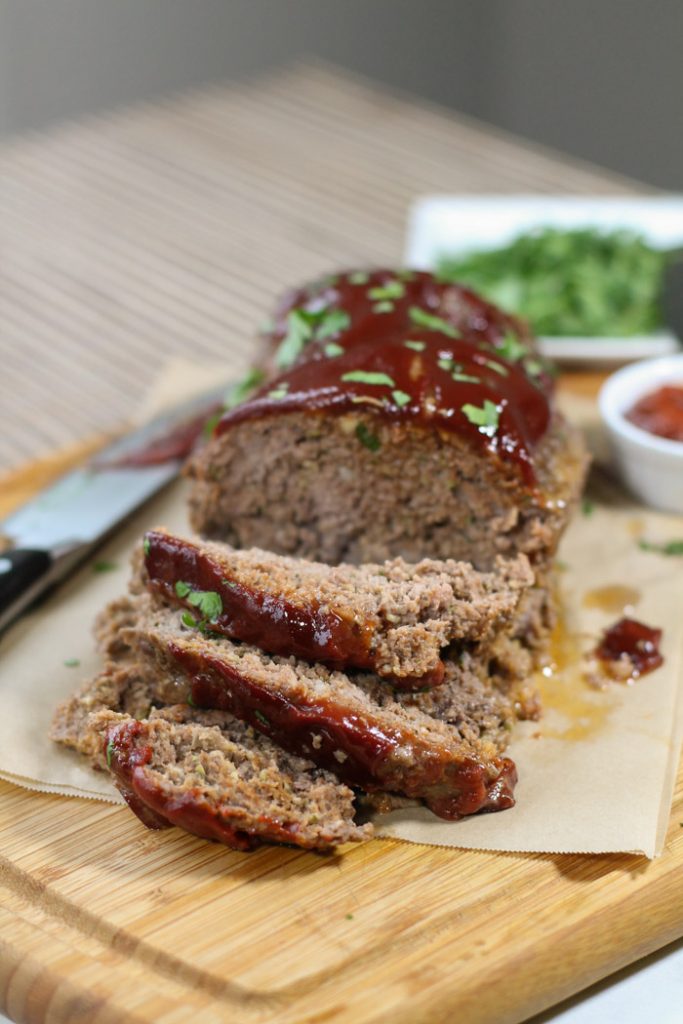 How do I make a Whole30 or keto meatloaf?
Replace the brown rice/quinoa with another pound of a ground meat (turkey, pork, or beef),
Instead of gluten free breadcrumbs, you can use a 1/2 cup almond flour or pork rind crumbs.
Lastly, use your own favorite sugar free ketchup, this is one you could try!
And for those of you with picky eaters, mine always enjoy this dinner!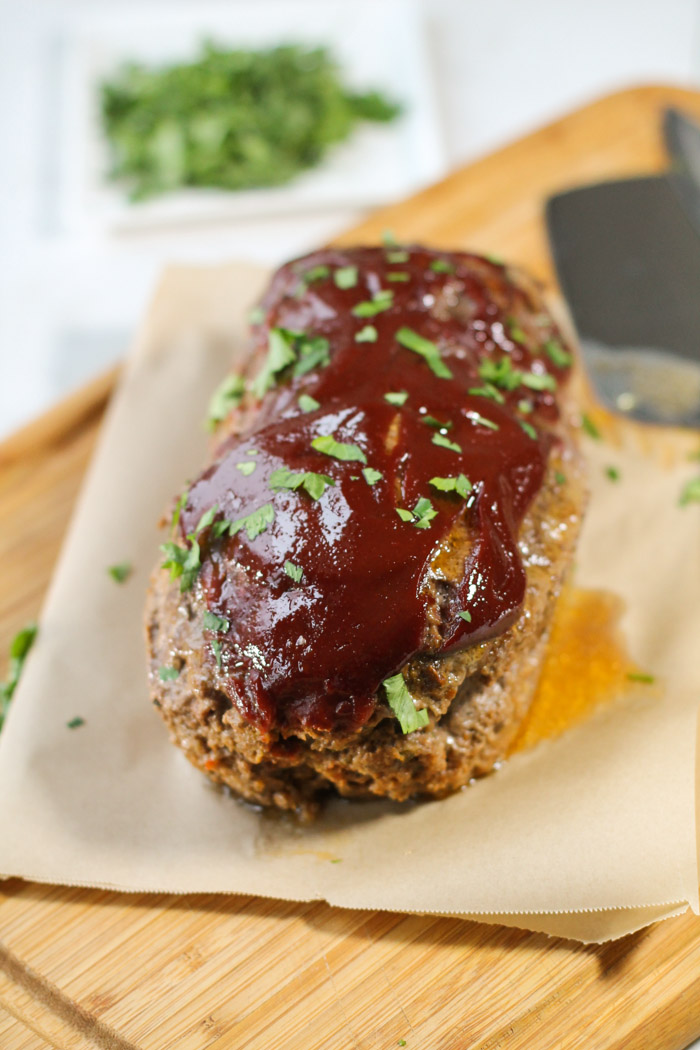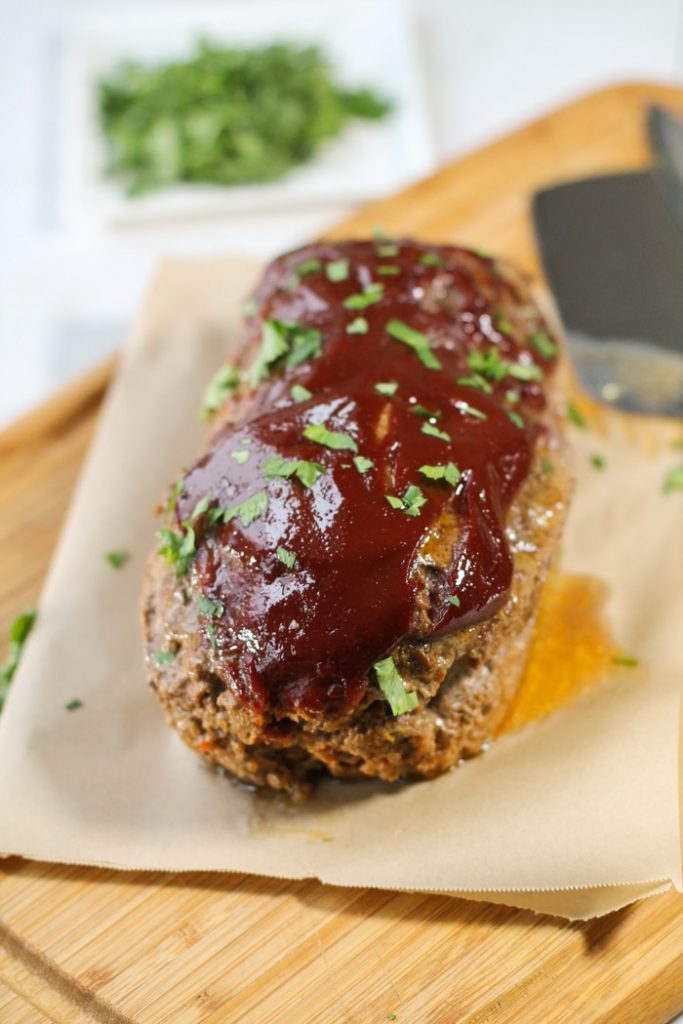 More gluten free family dinners using ground beef to try:
Some roasted potato slices or red skinned mashed potatoes would make a great side to whichever meatloaf version YOU create!
Kid friendly meatloaf cupcakes?
Anyone has young kids knows, they LOVE novelty! I used this to my advantage when I used my meatloaf recipe to create meatloaf cupcakes! I piped some mashed garlic cheddar sweet potatoes on to the top to look like frosting!
Please refer to my shepard's pie recipe for how to make a pipeable mashed potato or sweet potato frosting. The techniques are different.
Bake the meatloaf as directed and pipe the mashed potato through a large tip when you are ready to serve!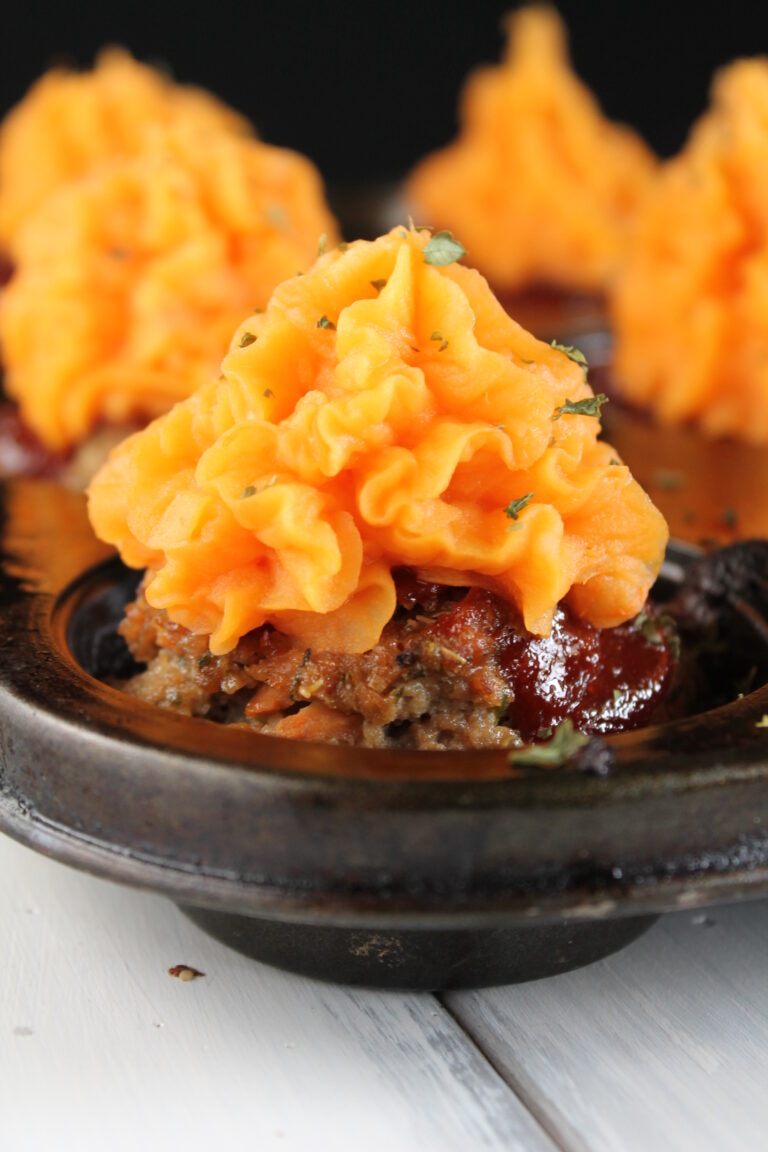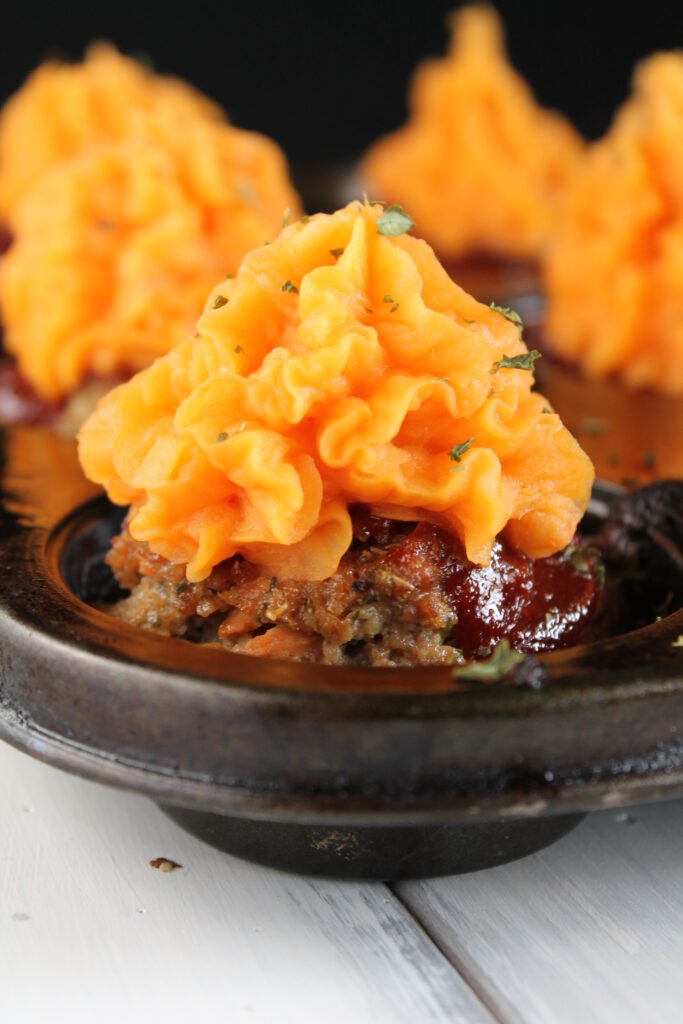 Paleo Meatloaf Recipe:
If you make this meatloaf, I want to hear about it! Please leave a comment below!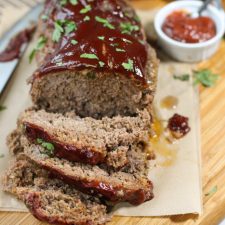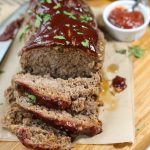 Paleo Sneaky Veggies Meatloaf
Ingredients
1

pound

ground beef

I prefer to use some that includes some fat, like an 85/15....it is still good with lean, but not much crispiness!

1 1/2

cups

cooked brown rice

or quinoa. Replace with another 1lb ground meat for Whole30, paleo, and keto version

1/2

cup

almond flour

OR pork rind crumbs OR gluten free bread crumbs

1

small

sweet potato

peeled, chunked. Omit for keto

1

small

zucchini

chunked

1

small

onion

chunked

3

cloves

garlic

1/4

cup

any milk

I use So Delicious Unsweetened Coconut Milk

4

tablespoons

ketchup

may use any homemade or store bought unsweetened or keto versions

1

egg

optional, I have made this without eggs with no issues!

1

teaspoon

thyme

1

teaspoon

salt

increase to 1 1/2t if using additional ground meat
Topping
1/3

cup

ketchup

can use more if you like

2

teaspoons

mustard

1

tablespoon

Sriracha or other hot sauce

optional

1

tablespoon

palm sugar

optional, omit for Whole30, replace with erythritol for a keto version.
Instructions
Preheat your oven to 400 degrees.

In a food processor, make your bread crumbs with 2-3 slices gluten free bread or pork rinds if necessary, and then pour into a large bowl, set aside.

In the same food processor bowl, add the sweet potato, zucchini, onion, and garlic and pulse until everything is finely minced (kids won't detect the vegetables this way!).

Mix the minced vegetables with the crumbs, along with all the remaining meatloaf ingredients (through the 3 tablespoons ketchup).

Mix well with your hands. But careful not to over-handle the meat as it will toughen it.

Stir together glaze ingredients.: 1/3 cup ketchup, mustard, and the optional Sriacha and palm sugar if using.

Form 8 mini loaves on a greased cookie sheet. Alternately, place into a loaf pan.

Spread the glaze evenly over the tops of each loaf.

Bake in a 400 degree oven for 30-45 minutes, until the desired crunchy edges (or lack thereof) suit your fancy and the meat is cooked through. If cooking one large loaf, increase cook time to apx 60 minutes, until internal temperature reaches 160 degrees.
Recipe Notes
**Nutrition info in calculated for the first listed ingredients.  If you make the keto version, approximate carbohydrate count is 4 grams per serving.
Nutrition Facts
Paleo Sneaky Veggies Meatloaf
Amount Per Serving
Calories 375
Calories from Fat 189
% Daily Value*
Fat 21g32%
Cholesterol 81mg27%
Sodium 769mg33%
Potassium 474mg14%
Carbohydrates 28g9%
Protein 18g36%
Vitamin A 3288IU66%
Vitamin C 8mg10%
Calcium 72mg7%
Iron 3mg17%
* Percent Daily Values are based on a 2000 calorie diet.

Any of the links in my posts may be affiliate links. If you click on them and make a purchase, I might make a commission. Your support is much appreciated and pays for the cost of running this free resource!