Simple oven roasted potato slices cooked in the oven with just a few ingredients! So delicious, you'll have a hard time keeping your family's hands out of em!
Oven roasted potato slices are just like a homemade potato chip! They require no special skill, and are easy to execute. An awesome side dish with just about any main dish!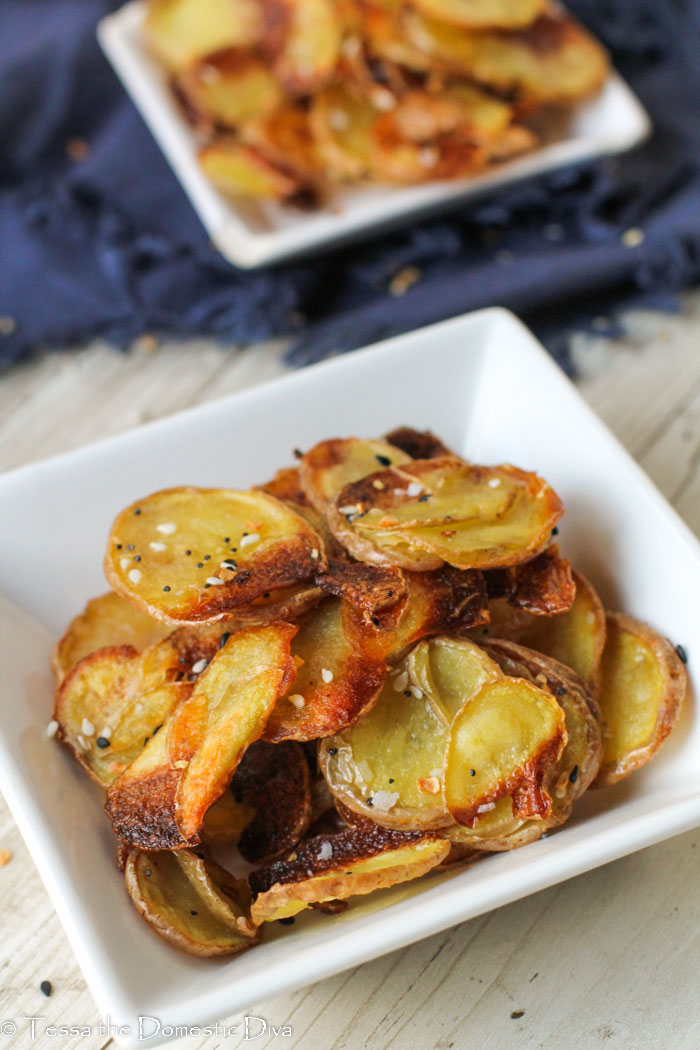 Sweet simplicity!!
This is an easy side that is quite delicious and wins rave reviews from the kiddos.
Of course, no surprise there since they resemble potato chips (but only I have to know they are healthier for them)!
We served these along with the gluten free fried chicken the other night, and of course the grilled asparagus.
I used the potatoes I had on hand (sweet potato and yellow potatoes), and they only had a few sprouts spouting from the eyes….my signal to think of a way to use them up (side note: did you know that you could plant these in the ground to grow your own potatoes?)
Use whatever YOU have on hand, I have had success with every type I have tried.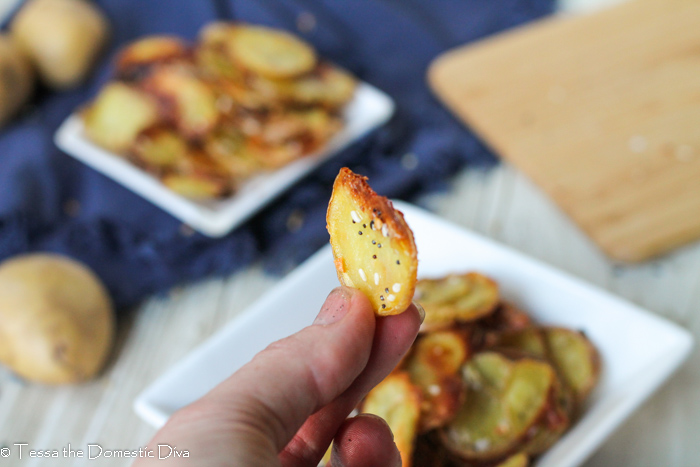 What types of potatoes are best for roasted potatoes?
Since I use a food processor to slice the potatoes for me, it takes a lot of the effort out of the process! Just be sure you potatoes are around fist size or larger!
red potatoes
russets
yellow potatoes
sweet potatoes
Fingerlings and baby potatoes are best prepared another way, no for these slices!

Additional potato recipes

Different seasoning ideas for your sliced roasted potatoes
You get to play with the seasonings of your homemade potato chips if YOU want! Here are some ideas to get your creative juices flowing:
any variety of dried herbs: rosemary, thyme, oregano, parsley.
chili powder, garlic powder, sea salt
smoked paprika, garlic powder, onion powder, sea salt
curry seasoning
chili lime seasoning from Trader Joes
In these pictures, I sprinkled Trader Joe's Everything Seasoning….YUM!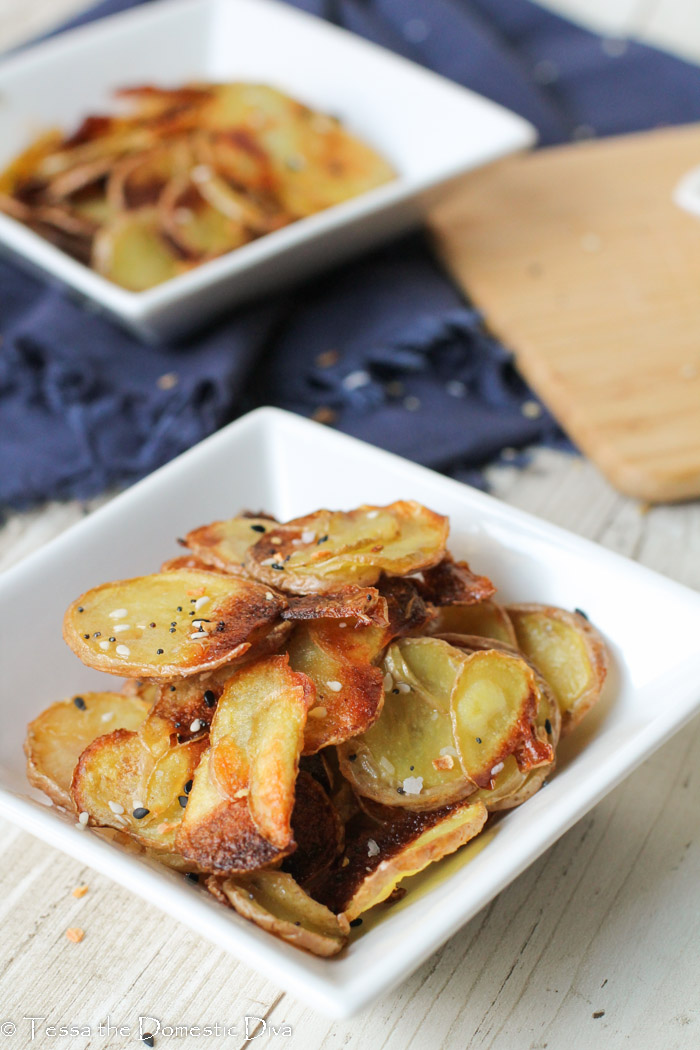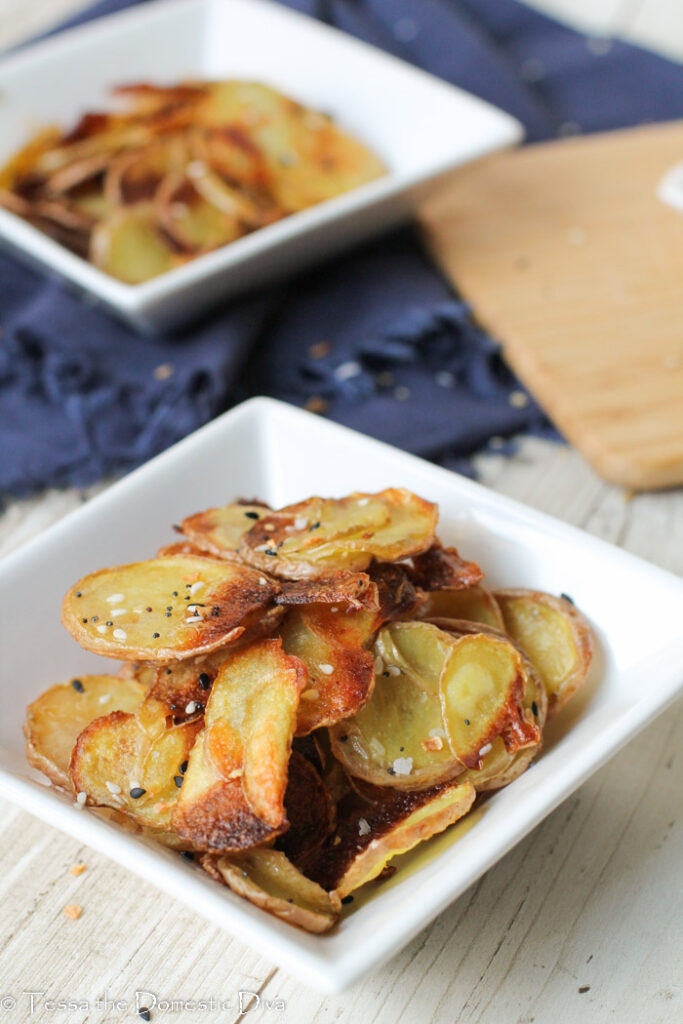 Oven Roasted Potato Slices Recipe: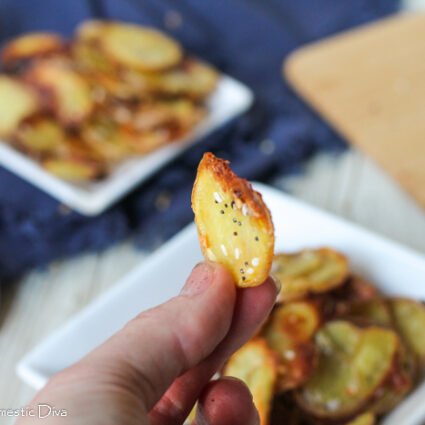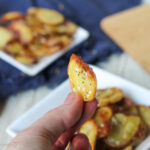 Oven Roasted Potato Slices
Crispy oven roasted potato slices are easy to make and taste like potato chips!
Ingredients
1.5

pounds

yellow potato

thinly sliced

3

tablespoons

avocado oil

1/2

teaspoon

sea salt

to taste

1/2

teaspoon

garlic powder

optional

1/4

cup

pecorino romano

optional, omit for Whole30 or dairy free
Instructions
Preheat the oven to 400°, and prepare 2 cookies sheet with parchment (may place directly on sheet too)

Finley slice the potatoes in a food processor with the slicing blade, or alternately use a mandolin slicer.  It's important the slices are all roughly the same thickness so they cook evenly.  A tip: use gentle, consistent pressure to plunge the potato through the slicing blade for consistent thickness. If you push aggressively, your slices will be much thicker. If you don't push at all, they will be paper thin. Neither of these is wrong, but it will change the total roasting time.

Toss the slices with the avocado oil and garlic powder, and sea salt, being sure to coat all the pieces...add more oil if necessary. 

Spread the slices on a greased cookie sheet, making sure not to overcrowd them, roughly one layer.

Sprinkle the cheese if you are using it.

Roast the potatoes in a 400° oven for 20-40 minutes, depending on the level of crispness you desire and the thickness of your slices. We like ours crunchy!! I use one of my favorite kitchen tools to scrape the slices up and off the cookie sheet: a pastry scraper. If you don't own one of these, I highly recommend them for multiple uses around the kitchen, I got mine years ago for a few dollars at Ross!
Nutrition Facts
Oven Roasted Potato Slices
Amount Per Serving
Calories 163
Calories from Fat 72
% Daily Value*
Fat 8g12%
Cholesterol 4mg1%
Sodium 449mg20%
Potassium 468mg13%
Carbohydrates 14g5%
Protein 4g8%
Vitamin A 15IU0%
Vitamin C 13mg16%
Calcium 78mg8%
Iron 3.7mg21%
* Percent Daily Values are based on a 2000 calorie diet.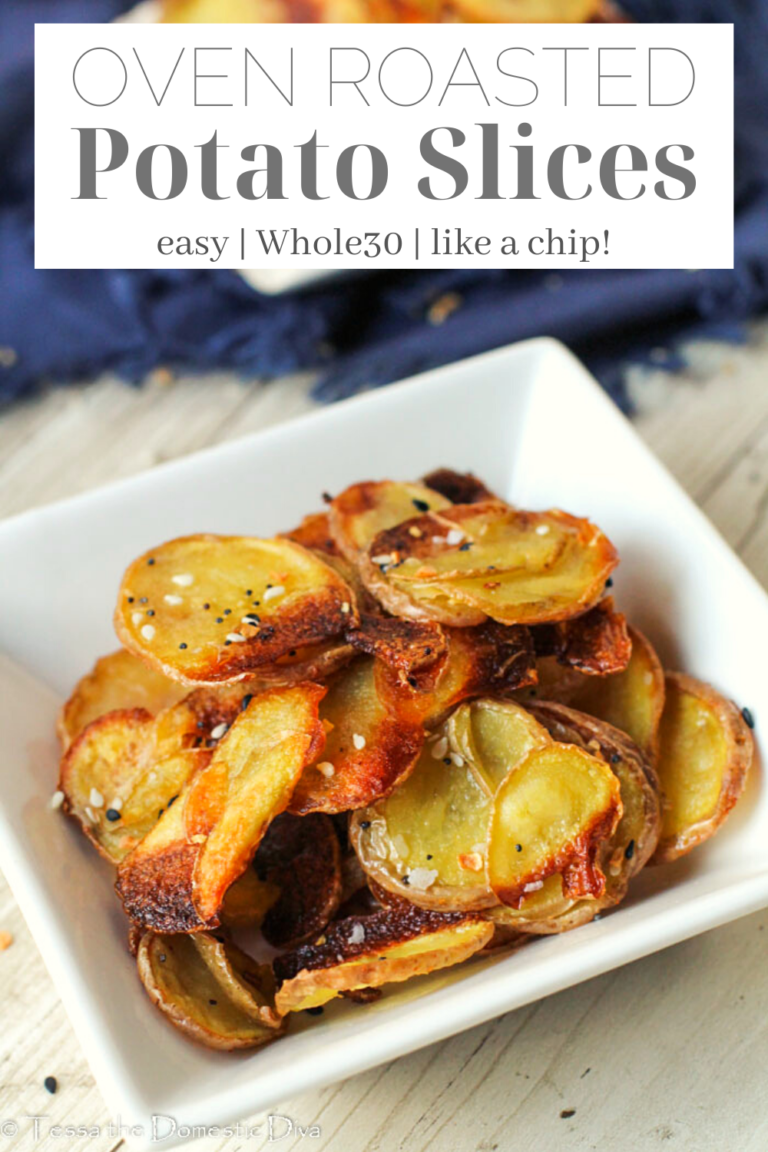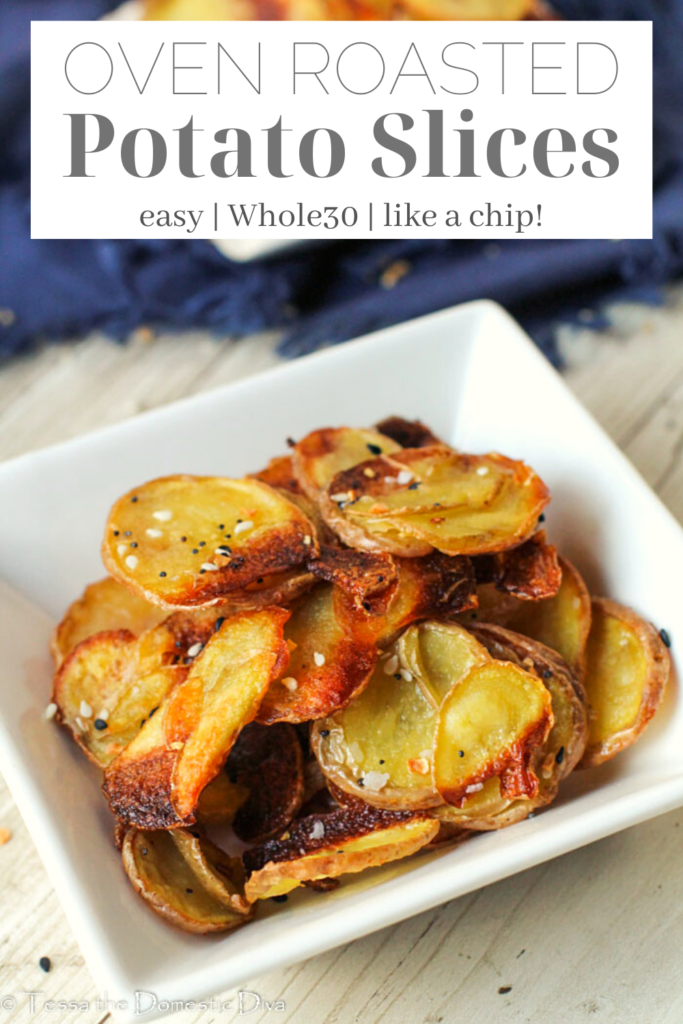 Any of the links in my posts may be affiliate links. If you click on them and make a purchase, I might make a commission. Your support is much appreciated and pays for the cost of running this free resource!