This paleo chocolate granola is nutritious while tasting like a decadent dessert! No one has to know this is a healthy alternative to granola with healthy fats, no grains, and no refined sugars.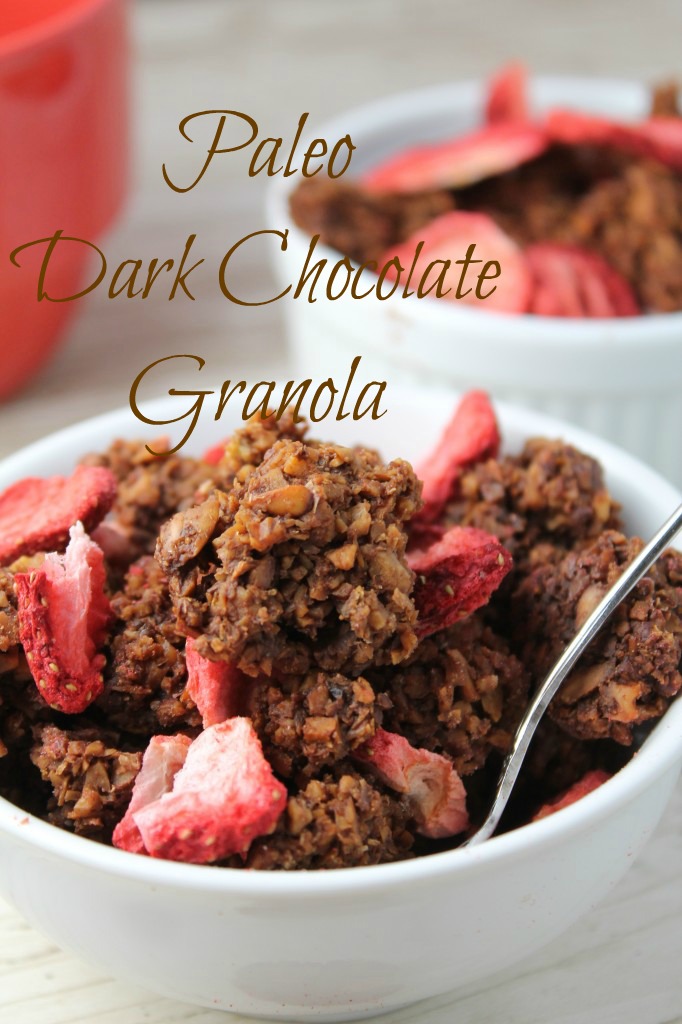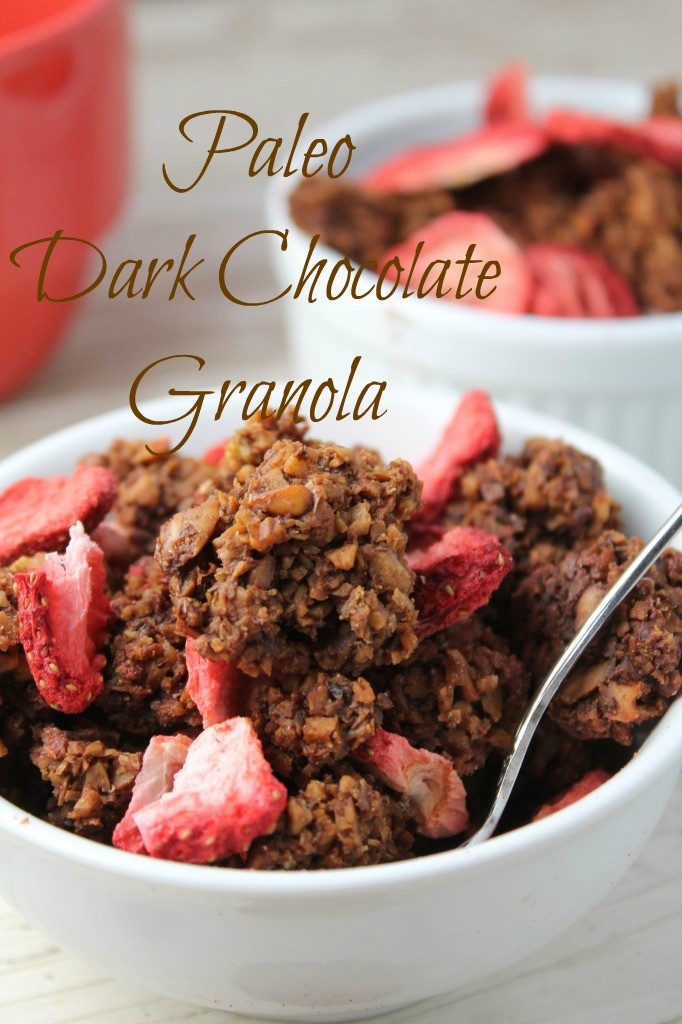 I have made this recipe SO many times, I knew that I was long overdue in sharing it with you.
It is so incredibly delicious, the perfect marriage of dark chocolate and tart berries, all in a healthy paleo friendly food!
Do not be intimidated by the cook time here. While there is no instant gratification with this recipe, the actual time required of you is very minimal. Trust me, you must make this.
This granola is a high protein breakfast , or a healthy treat. I have shared this with many a friend and everyone loves it. I have to keep my kids at bay too, I am just a little bit possessive of the end product. "No, Mommy's!!! Mine! All mine!!"
In my personal opinion, the freeze dried berries are not at all optional. I get mine at Trader Joes, and use either raspberries or strawberries.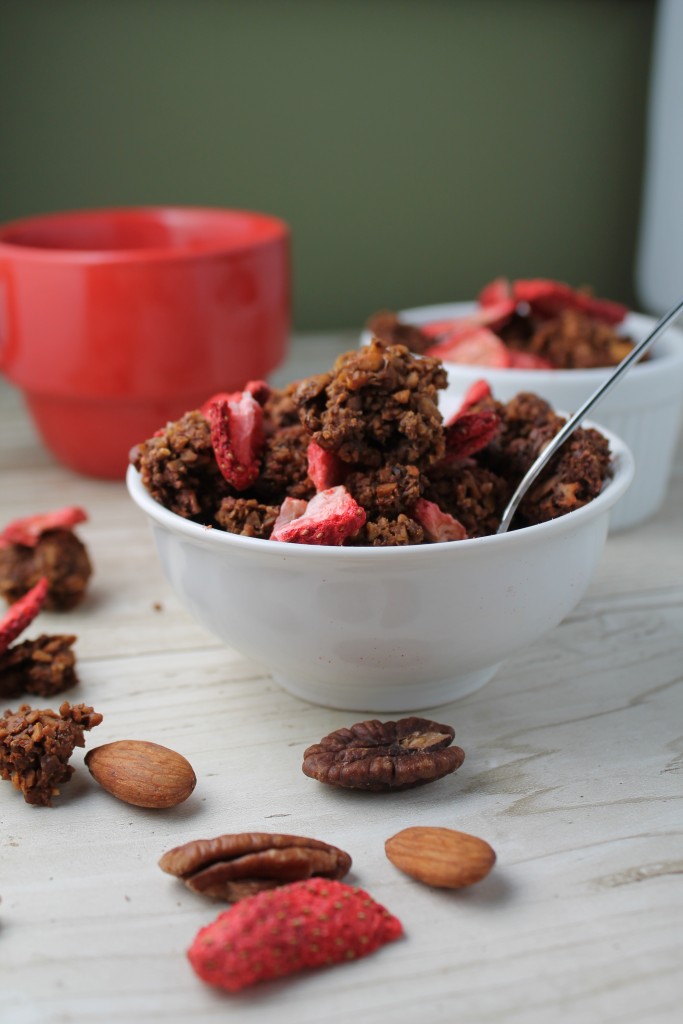 This recipe comes to you from Danielle at Against All Grain. Danielle has one of my very favorite blogs, I have made countless recipes from her site, and her pictures are always drool worthy.
Head on over to her post for the recipe details. Here are the adjustments I made to this paleo chocolate granola:
I have used a variety of nut mixes, all good, use what you have on hand!
I used 1/4 cup chia meal in place of the flax
I reduced the sweetener to 1/3 of cup of honey and added a 1/4 teaspoon of liquid stevia
I increased the cocoa powder to 3 generous tablespoons
I left the chocolate pieces out to keep it 100% Paleo
I have also replaced the egg with chia egg with success for a vegan goodie!
I do not own a dehydrator. I used my oven at 170 degrees, and it took all day to dehydrate. I have since increased the temp to 250 degrees and it takes around 4 hours, give or take.
Enjoy people. this is CRACK in a healthy suit!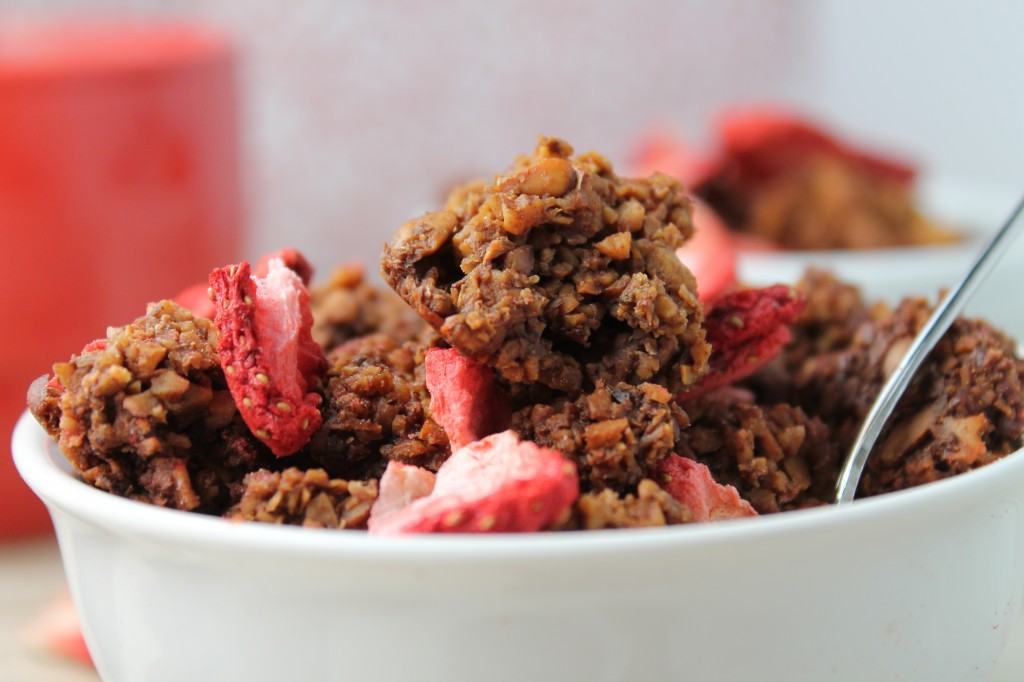 Any of the links in my posts may be affiliate links. If you click on them and make a purchase, I might make a commission. Your support is much appreciated and pays for the cost of running this free resource!