These soft gluten free pumpkin cookies are a real treat any time of year! I made this recipe healthier by using less sugar and more whole-grains! And as an added bonus, they are vegan too, meeting many allergy needs in one fell swoop!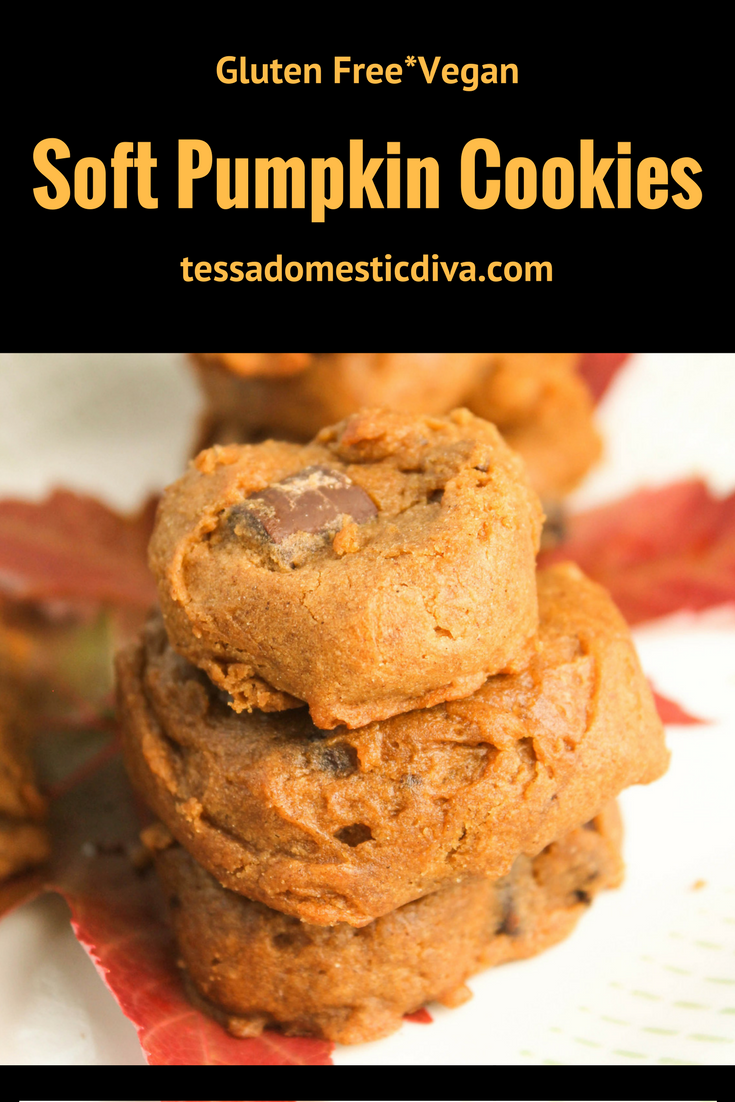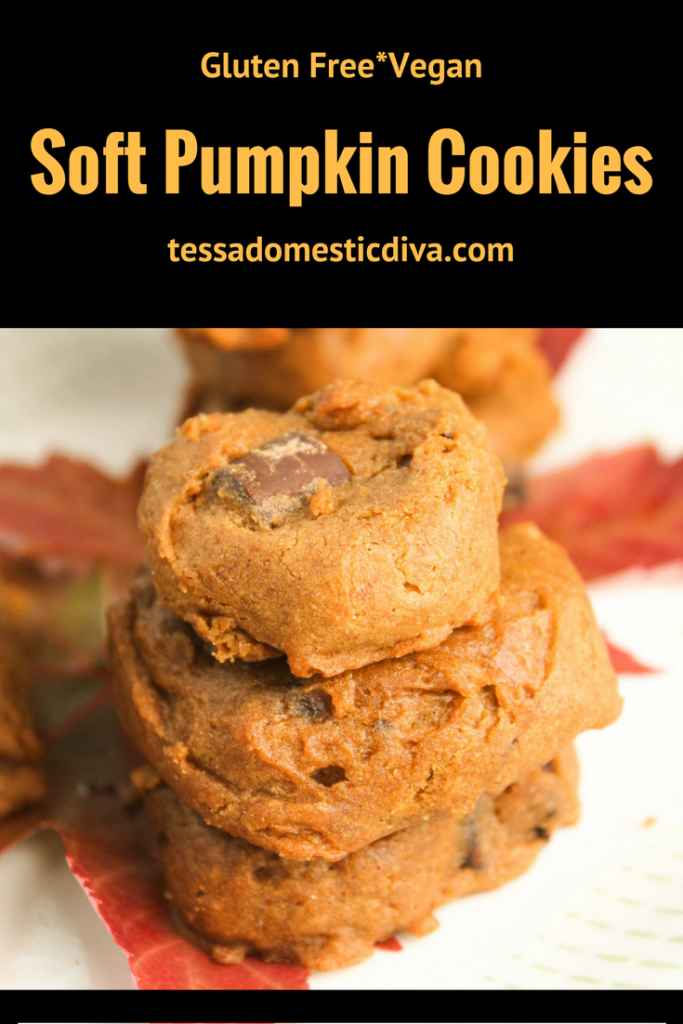 Anyone who has followed me for any length of time knows how much we adore pumpkin in all of it forms.
When the fall rolls around, we have a veritable pumpkin frenzy! I madly bake up all our garden's winter squash and pumpkin bounty for our version of liquid "gold:" squash puree.
With our first batch made, I am quickly transported into heaven and remember how MUCH better this goodness is versus the canned variety we have to rely on half of the year.
This is when ALL my kids goo goo ga ga over all pumpkin treats…even my pumpkin averse eldest.
A little secret about fresh puree: it is much milder and sweeter than the canned varieties and so even pumpkin averse people can take a liking to it…the flavor is soft and delicate and not at all over powering. I will be darned if I can figure out why the canned tastes so vastly different! Not all squashes are worth baking up however, please read my post on how to bake your own pumpkin or winter squash to learn all about selecting a delicious one!
Here is a cookie perfect for wholesome snack. Add any goodies of your choice: we prefer chocolate and cranberries! If you like a spicier cookies, add some pumpkin pie spice in! Sweet, moist and perfect.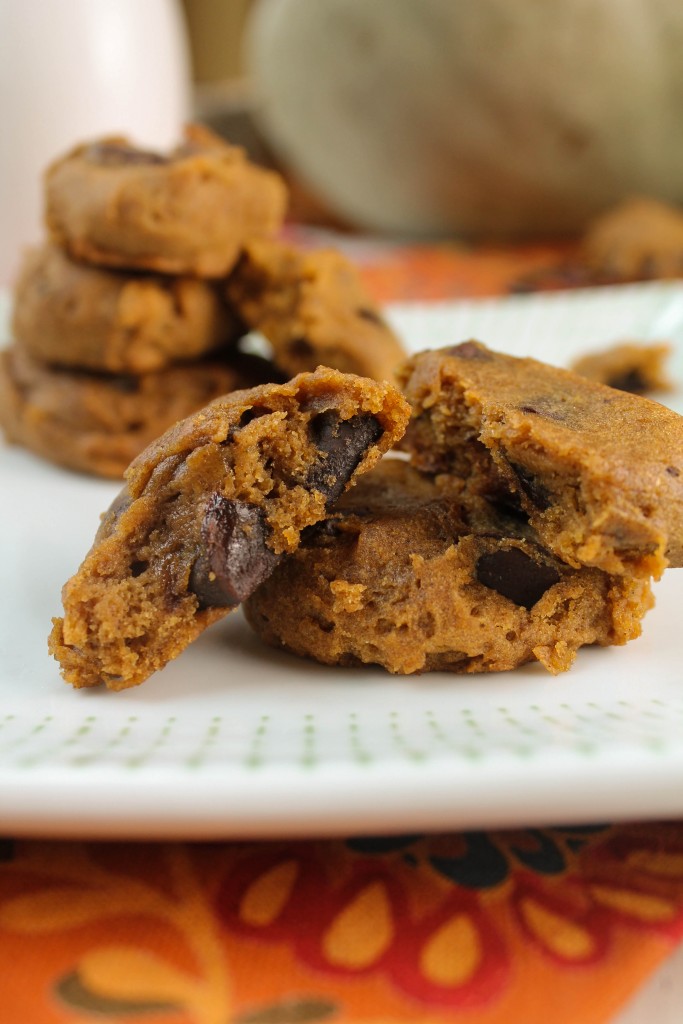 Tools for making the best gluten free pumpkin cookies:
I use a cookie scoop for consistency and to keep my cookies from getting mammothly huge…I guess I tend towards giant cookies by nature. However, I know my one cookie is really 3 or four appropriate sized cookies, so the cookie scoop helps with consistency AND the batch goes further!
Also, I love using my baking mats. I just received these two new ones, only $16 for two! They rock, and nothing sticks to them!
Want more gluten free fall recipes? Here are a few you can check out:
Frosted pumpkin cookies?
This would be amazing with the maple frosting found in my gluten free dense and chewy pumpkin cookies, or the caramel frosting on my pumpkin cake !
Using fresh pumpkin puree in this recipe:
The only huge variable in this recipe is the pumpkin puree…and there is no way around this!
Every can I open can be different, and every pumpkin I puree has it's own flavor and water content.
So, don't be afraid to start with just ONE cookie in the oven as a test. A crumby dry cookie means too much flour or you cooked it too long, and a cookie falling flat is not enough flour.
Adjust flour as needed, or add more pumpkin if you need some more moisture.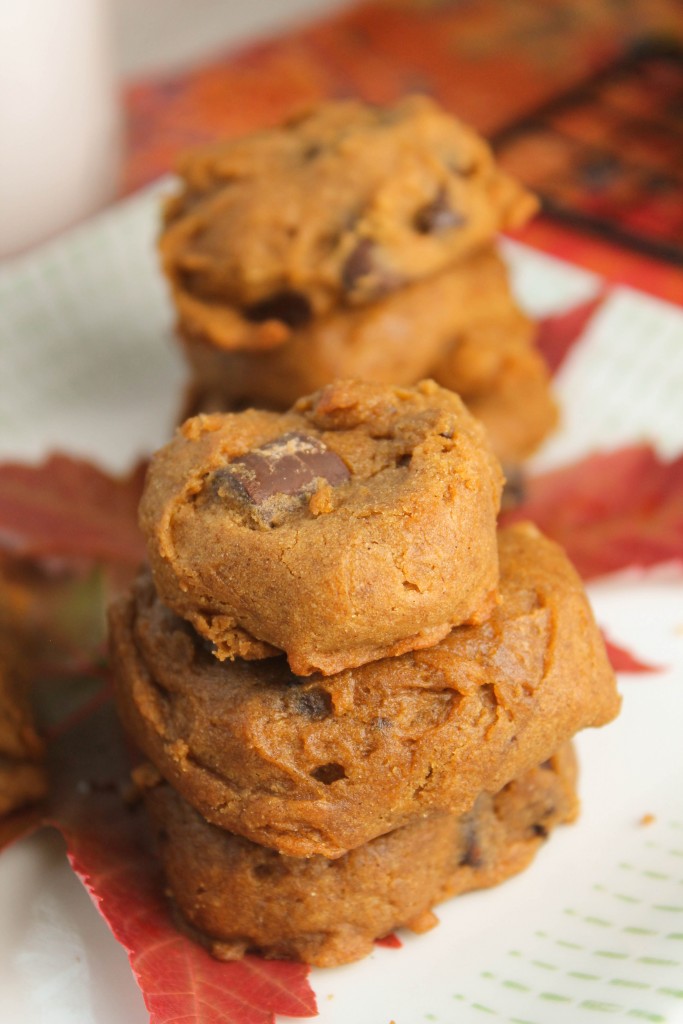 Gluten Free Pumpkin Cookies Recipe:
If you try these tender gluten free pumpkin cookies, be sure to come back and leave a comment!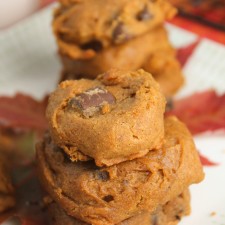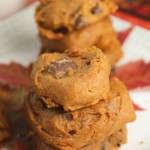 Soft Pumpkin Cookies - Gluten Free & Vegan
Ingredients
1/2

cup

palm shortening,

coconut oil, or vegan butter, or any mix of these

3/4

cup

palm sugar

or brown sugar

1/2

cup

fresh pumpkin puree

see link above for how to make: MINE ALMOST POURS, if you are using a variety that is super stiff and dry, it contains less water

2

teaspoons

vanilla extract

1

teaspoon

cinnamon

1/2

teaspoon

baking soda

1/2

teaspoon

baking powder

1/2

teaspoon

sea salt

1/2

teaspoon

guar gum

1/3

cup

tapioca flour

if your pumpkin puree is very soft and pourable, you made need to add an additional 1/4-1/3 cup here, do a test cookie to be sure!)

1/3

cup

sorghum flour

1/3

cup

brown rice flour

1/2

cup

chocolate chips,

raisins, or cranberries (or more to taste)
Instructions
Preheat your oven to 350 degrees.

In a bowl of mixer, beat the fat and sugar until creamy.

Add in the pumpkin and vanilla.

With the mixture still running, sprinkle in the cinnamon, baking soda, powder, salt, and guar gum.

Continue with the flours.

Beat well, and then reduce the speed and mix in the chocolate chips as preferred.

Using a scant tablespoon, drop the stiff and sticky dough onto a cookie sheet. These cookies do not spread or move much, so they can be quite cozy together on the sheet.

With damp fingers, slightly press the cookies down to flatten to a uniform depth.

Bake for about 8 minutes, remove and let cool for a few minutes before transferring to a cooling rack. They will look barely done...that is ok, you don't want to over-bake these little morsels!
Nutrition Facts
Soft Pumpkin Cookies - Gluten Free & Vegan
Amount Per Serving
Calories 96
Calories from Fat 45
% Daily Value*
Fat 5g8%
Sodium 85mg4%
Potassium 45mg1%
Carbohydrates 11g4%
Vitamin A 310IU6%
Vitamin C 0.6mg1%
Calcium 14mg1%
Iron 0.2mg1%
* Percent Daily Values are based on a 2000 calorie diet.
Any of the links in my posts may be affiliate links. If you click on them and make a purchase, I might make a commission. Your support is much appreciated and pays for the cost of running this free resource!