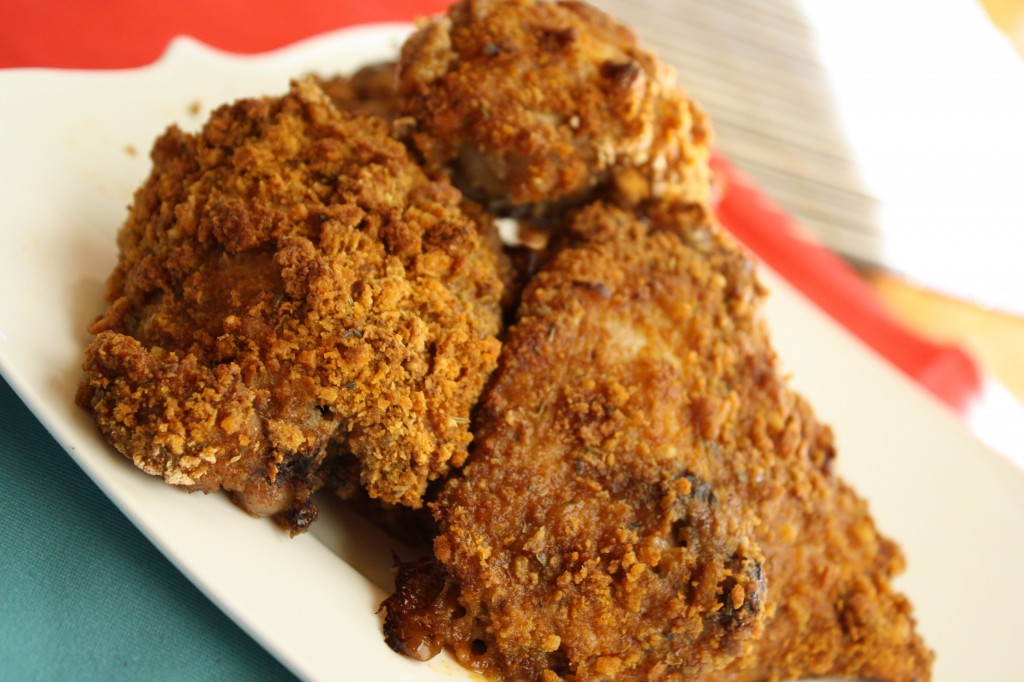 So this is fried chicken, without actually being fried.
How do you make a healthier dairy and gluten free version?
I had a favorite recipe that I turned on it's head for this one, and I could not tell the difference!  It was still just as good….and my kids went back for seconds…always a good sign!
Here's a tip on bread crumbs, whether they be gluten free or not:  I save all the stale and end pieces of loaves and put them in a bag in the freezer.  When it gets full, I whir the whole bit in the food processor: this way you are using the whole loaf, because I KNOW I do not have the only family who steers clear of the dreaded heel end pieces!  The price of a bag of gluten free crumbs is high, so this works better for my family.  This recipe also lends itself to creativity with the spices.  I never measure my spices, and change it  depending on the mood I am in, and you could do the same!  We served this with some roasted asparagus and brown rice pilaf.

Oven Fried Chicken - Gluten & Egg Free
Prep time:
Cook time:
Total time:
Ingredients
8 chicken pieces, skins removed (I buy whole legs because they are cheaper and have them rip off the skins and cut the leg and thigh apart for me at the store)
1½ cup Pseudo Buttermilk (any unsweetened milk of choice set side for a few minutes with 2 teaspoons apple cider vinegar to sour it. I used So Delicious Unsweetened Coconut Milk, only 50 calories a cup!)
1 tablespoon gluten free Worcestershire (French's is gluten free too!)
Tabasco (optional)
2 cups breadcrumbs
½ cup tapioca flour
2 tablespoons Salt-Free Cajun seasoning (I use a salt-free version in the bulk food section. If you have something else, please be sure and check if there is salt, if so, omit the extra salt below, and ½ the amount of Cajun seasoning. If you have some chili powder to compensate for removing the additional Cajun seasoning, that should balance the flavor)
2 teaspoons garlic powder
1 teaspoon salt
2 teaspoons oregano or thyme
Instructions
Brine the chicken for at least 2 hours or more in the: 'buttermilk', Worcestershire, and Tabasco.
Combine all the breading ingredients, and remove the pieces from the brine, dredging each piece and pressing down for a thorough coating.
Place coated pieces on a greased cookie sheet.
Lightly spray the top of each piece with cooking spray so that the breading is lightly moist.
Bake in 400 degree oven for 45-60 minutes until crispy and golden brown (I like mine extra crispy so sometimes leave it in a bit longer!)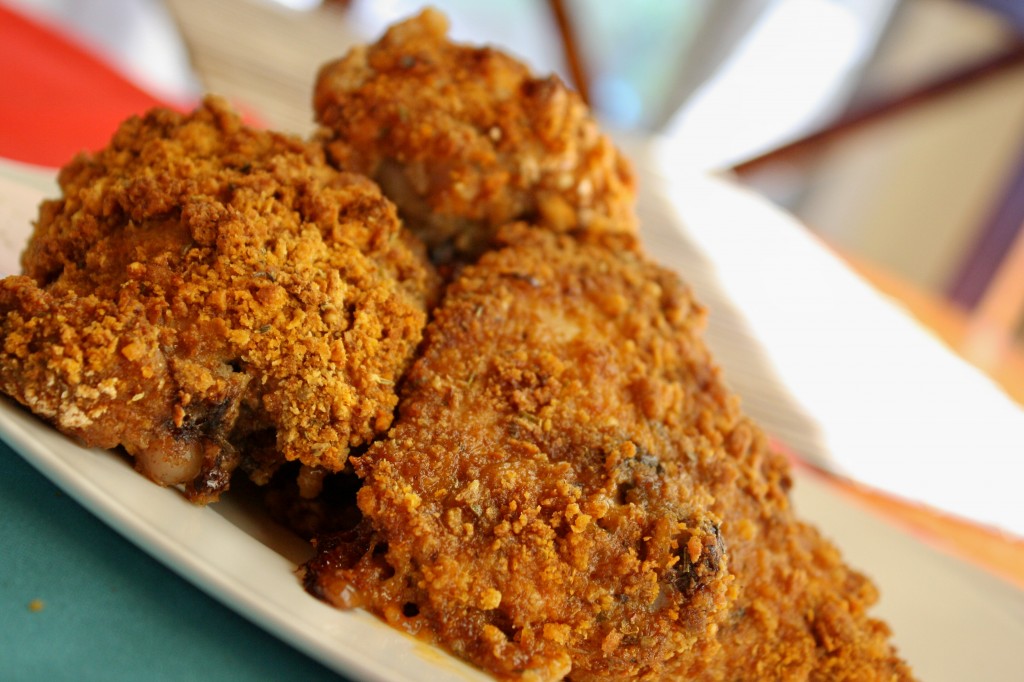 This recipe was shared on Gluten Free Wednesdays, 
Traditional Tuesdays,