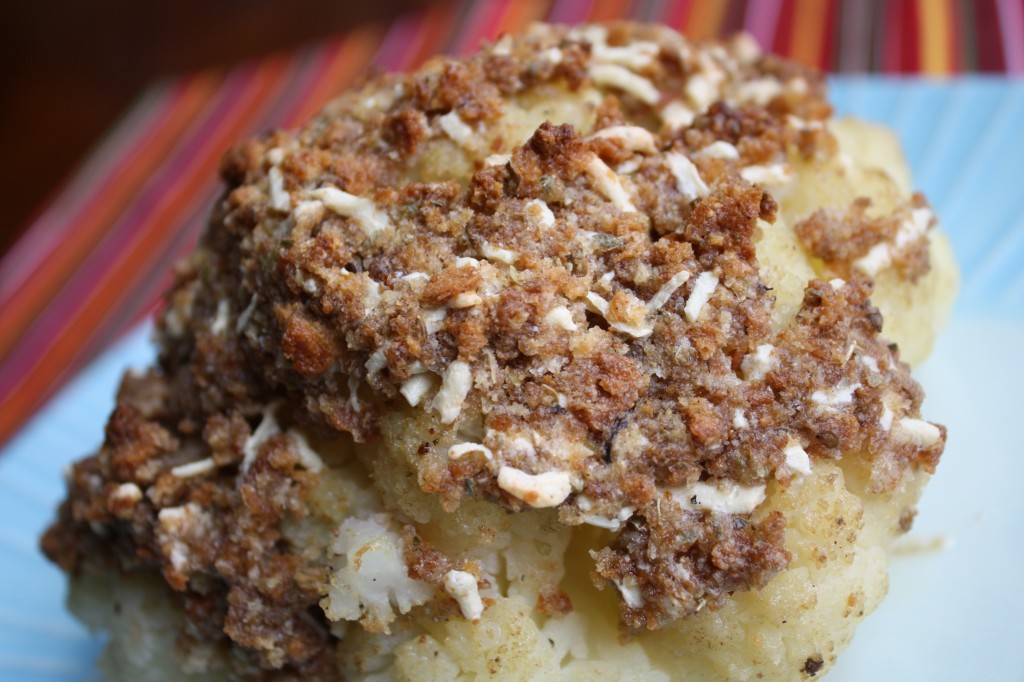 This is one of those recipes that I had to try because it looked so interesting, and it got rave reviews on allrecipies.com. I was not to be disappointed! The cauliflower was tender, sweet, and had just the right amount of crunch with the yummy topping. My girls enjoyed this too…the cauliflower was really very sweet, a fun side to try out when bagged broccoli and salad sound a bit too familiar and boring (speaking from experience of course!)!!
INGREDIENT TIP: Making your own gluten free (or any!) breadcrumbs is EASY! I like to save my stale and end pieces (and lets be honest, some failed gf vegan bread recipes too!) over time in bag in the freezer. When I need some crumbs, I pulse the whole bag, thawed, in my food processor until the texture of fine crumbs is reached. I use them just like this. BUT since there are not dried out, you will have to store these crumbs in the freezer so they do not mold.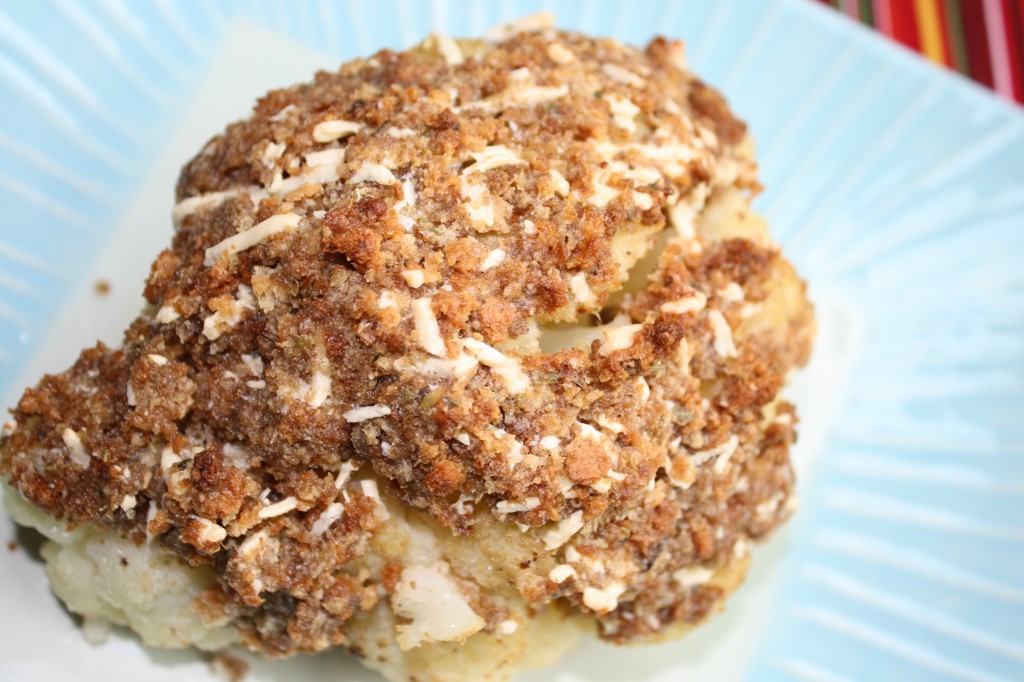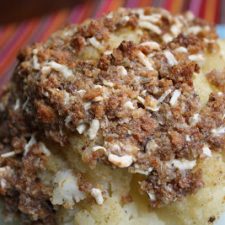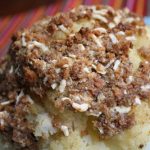 Roasted Whole Cauliflower w/ Breading
Ingredients
1

large head cauliflower

1/2

cup

gluten free bread crumbs

2

tablespoons

Daiya cheese or grated Parmesan cheese

3

tablespoons

margarine or allowed butter

melted

1/8

teaspoon

garlic powder

1/8

teaspoon

salt

1

pinch

red pepper flakes

1

pinch

dried oregano
Instructions
Clean cauliflower, and trim off leaves and any brown spots.

Place the whole head of cauliflower into a large pot, and add one inch of water. Cover, and bring to a boil over medium heat. Cook for about 15 minutes or until tender.

Meanwhile, preheat the oven to 375 degrees.

In a medium bowl, mix together the bread crumbs, cheese, and melted butter. Season with the garlic powder, salt, red pepper flakes, and oregano.

Place the head of cauliflower into a baking dish, and coat with the breadcrumb mixture.

Bake for about 15 minutes in the preheated oven, or until golden brown.