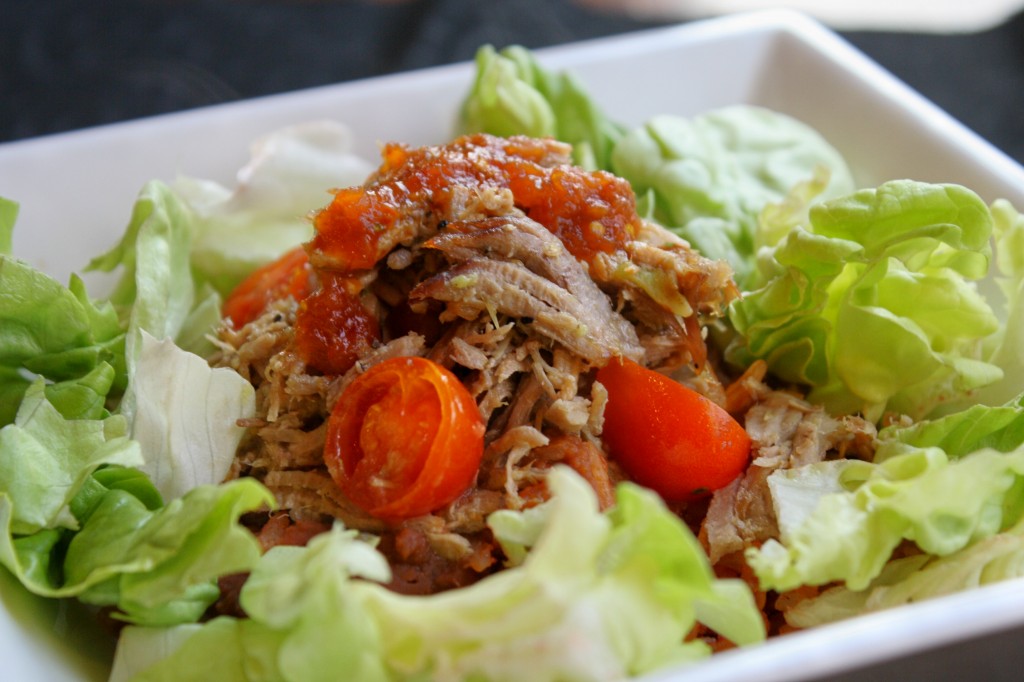 This is seriously, probably the easiest dinner to pull off.  TWO INGREDIENTS and some seasoning? No cutting?  No chopping?  Crock-pot or pressure cooker??  I am IN!  And I hope you are too!
We make this for another filling variety for taco night.  Lean pork shredding apart with fork's touch and a delicate flavor that even my spice averse kids gobble up.
I love taco nights, because it means we get to have taco leftovers the next day…and my kids gobble their lunchbox wraps up in a heart beat.  I have done this recipe on the stove (2-4 hours), and in the crock-pot, around 6….depends on when I get to starting it!  Of course in my beloved pressure cooker, it take only 45-60 minutes!
This meat would go great served on a bed of my beans and rice, as well as a filling to my Chimichangas.  Fresh crunchy salad, diced tomatoes, fresh salsa and avocados….mmmMM GOOD!
PRESSURE COOKER NOTE:  After browning the meat IN THE PRESSURE COOKER, simply add salsa in, bring to full pressure (a slow gentle rock!) and cook for about 30-60 minutes. The time is based on the size of meat chunk (s).  If you have one very large piece, it takes 45-60 minutes, if it is divided into smaller quarters, 30 minutes should suffice.   Bring the pressure down quickly with cool water and then simmer off the majority of the liquid.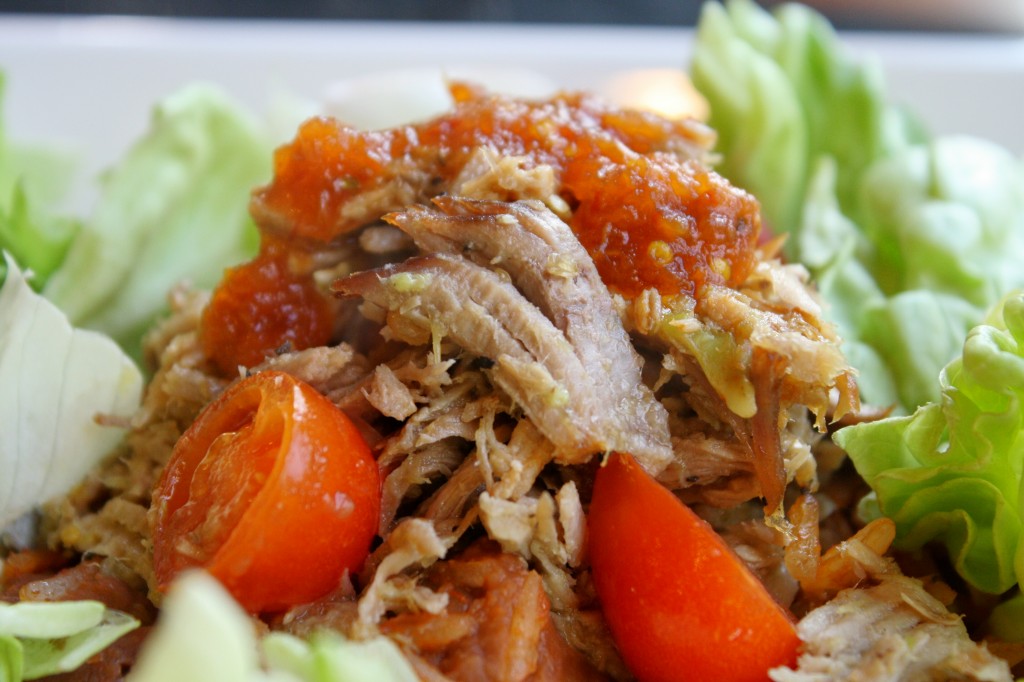 Quick & Easy 2 Ingredient Pulled Pork for Tacos
Prep time:
Cook time:
Total time:
Ingredients
1 tablespoon oil
2-3 pounds pork butt roast (I have used several cuts, whatever is on sale), cut into quarters
12 ounces (or more is OK too) favorite green salsa (really any salsa)!, we use Trader Joe's Salsa Verde
salt and pepper
Instructions
In a large stock pot or saucepan, heat the oil over medium high heat.
Liberally salt and pepper all the roast pieces. Brown the pieces on all sides.
Transfer to a crock-pot and pour the salsa over the top.
Alternately, keep the roast in the stockpot and do the same.
In the crock-pot, cook over low heat about 3-4 hours, until the meat starts to break apart at the touch of a fork. Same process on the stove, just cover and simmer for 2-3 hours until fork tender and shreddable.
Sometimes, I cut the roast into quarters part way through to speed the process up. The long, slow simmering slowly breaks down the tough meat fibers until they are tender. If they aren't tender yet, it just means more simmering!
Serve as a filling for tacos, enchiladas, or by itself is great too!
This post was shared on  Natural Living Monday, Mostly Homemade Monday,  Fat Tuesday, Totally Talented Tuesdays, Tasty Tuesdays,  Hearth & Soul, Gluten Free Wednesdays, Waste Not Want Not, Wildcrafting Wednesday, Real Food Wednesday, Fresh Foods Wednesday,  Full Plate Thursday,  Pennywise Platter, GF Friday,  Real Foods Friday, Fight Back Friday, Simple Meals Friday, Savouring Saturday,
Any of the links in my posts may be affiliate links. If you click on them and make a purchase, I might make a commission. Your support is much appreciated and pays for the cost of running this free resource!