This was a meal born out of laziness.  I needed to go to the grocery store but was short on time, so I had to use what was on hand.  Sometimes, we just get lucky!
Crunchy, flavorful, and kid-pleasing, this meal is easy to throw together!
And have you ever wondered how to keep chicken breasts moist and flavorful?  I know how to: brining is the key!
Serve this delicious chicken with a simple green salad or check out all my 'sides' in the categories, lots of delicious and easy options for busy families.  With the Spring, I have been making ridiculous amounts of Grilled Asparagus!
This general breading technique would work with any meat you would like, I have used chicken thighs, large shrimp, and pork tenderloin with great success.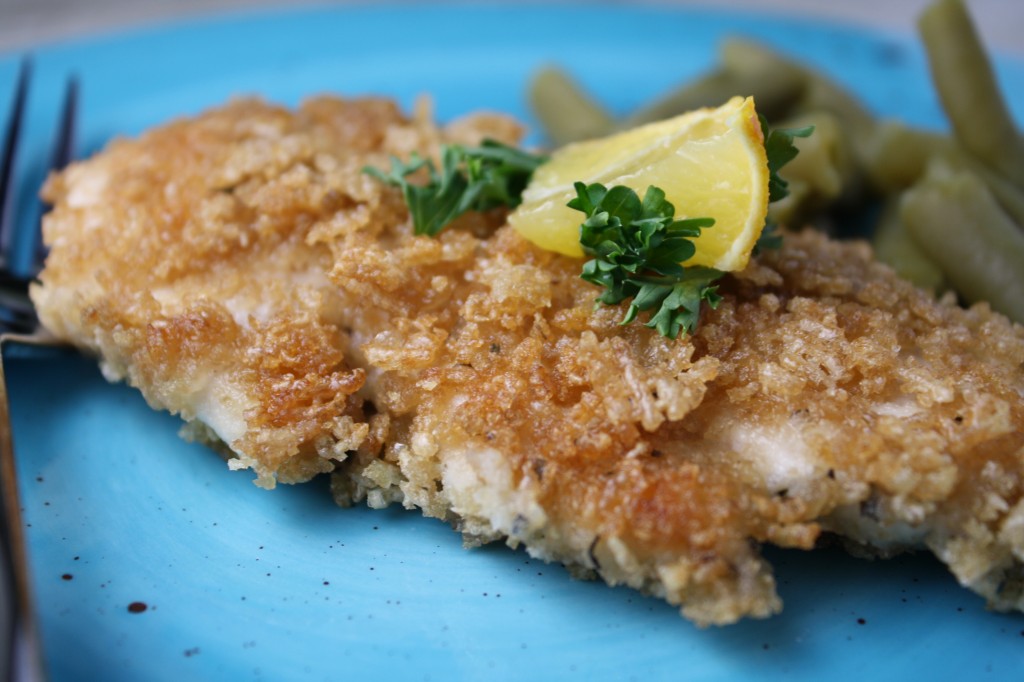 Makes 4 servings

This recipe was shared on Make Your Own Monday, Natural Living Monday, Motivation Monday,Tasteful Tuesday, Hearth & Soul, Fat Tuesday, Slightly Indulgent Tuesday, Traditional Tuesday,GF Wednesday, Wheat-Free Wednesday, Waste Not Want Not, Whole Foods Wednesday, Frugal Days Sustainable Ways, Healthy 2Day Wednesday, Wildcrafting Wednesday, Natural Living Link-Up, Simple Lives Thursday, Thank Your Body,  Tasty Traditions, Pennywise Platter, Wellness Weekend, Fight Back Friday, Whole Foods Friday, GF Fridays, Lunchbox Love, Simple Meals Friday,