This was a meal born out of laziness.  I needed to go to the grocery store but was short on time, so I had to use what was on hand.  Sometimes, we just get lucky!
Crunchy, flavorful, and kid-pleasing, this meal is easy to throw together!
And have you ever wondered how to keep chicken breasts moist and flavorful?  I know how to: brining is the key!
Serve this delicious chicken with a simple green salad or check out all my 'sides' in the categories, lots of delicious and easy options for busy families.  With the Spring, I have been making ridiculous amounts of Grilled Asparagus!
This general breading technique would work with any meat you would like, I have used chicken thighs, large shrimp, and pork tenderloin with great success.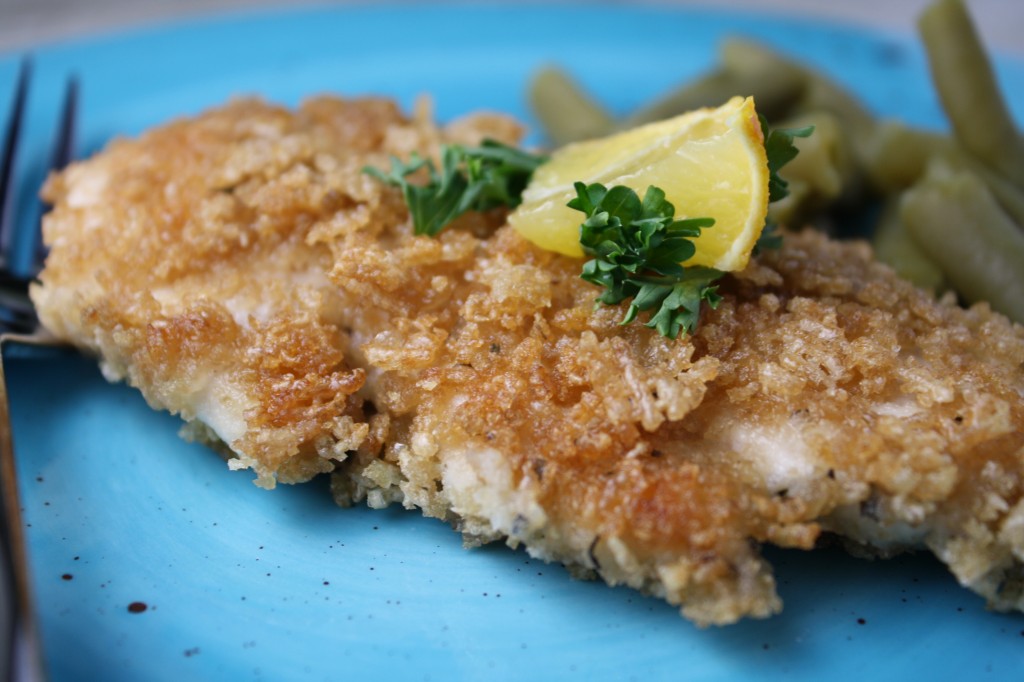 Makes 4 servings

Panko Crusted Chicken, Gluten Free and Egg Free
Prep time:
Cook time:
Total time:
Ingredients
Brine (optional): 1-2 tablespoons salt mixed with about 3 cups water until dissolved
1 ib boneless chicken breasts, pounded to about an inch thick, or butterflied. I have also done this with shrimp, sans brine of course!
3 cups rice chex cereal (this will be your panko. You could sub about a cup of bread crumbs, equally delicious, but totally different in texture!)
½ cup brown rice flour (or other neutral flavored flour)
1 teaspoons garlic powder
½ teaspoon salt
2 teaspoons seasoning of choice (mixtures of oregano, thyme, basil, parsley, paprika...be creative!)
¼ cup UNSWEETENED milk of choice (remember 'plain' varieties often have been sweetened!)
2 tablespoons olive oil (or 1 egg)
Oil or fat of choice for pan frying
Instructions
Pound your chicken breast with a mallet or rolling pin so that they are an even thickness. This ensures cooking the chicken breasts quickly and evenly without drying them out.
Brine your chicken for 30 minutes-2 hours. While totally optional, this makes chicken breasts flavorful and moist. DO NOT OVERBRINE! Unless you like salt licks of course..... (;
Place your rice chex in a ziploc bag. With the bag sealed, gently break the chex up with your fingers. You want some texture: think panko!
In a bowl, mix together the flour and all the seasonings.
In another bowl, whisk the milk and olive oil (this acts like an egg mixture. You could sub an egg or egg whites for the oil if you like).
One by one in an assembly line, dip each chicken piece in the flour, then the milk emulsion, and finally shake it in the 'panko' rice chex bag, pressing on as much of the coating as you can.
Preheat some oil or fat of choice in a pan over medium heat. When the oil is simmering, place your breaded pieces without crowding them into the pan...I have to do this is two batches usually.
Wait for the white of cooked chicken to start creeping up the sides, then flip and brown the other side for another minute or two.
Serve chicken immediately with a squeeze of fresh lemon!
To reheat leftovers, I suggest a quick pan fry to crisp the coating up again.
This recipe was shared on Make Your Own Monday, Natural Living Monday, Motivation Monday,Tasteful Tuesday, Hearth & Soul, Fat Tuesday, Slightly Indulgent Tuesday, Traditional Tuesday,GF Wednesday, Wheat-Free Wednesday, Waste Not Want Not, Whole Foods Wednesday, Frugal Days Sustainable Ways, Healthy 2Day Wednesday, Wildcrafting Wednesday, Natural Living Link-Up, Simple Lives Thursday, Thank Your Body,  Tasty Traditions, Pennywise Platter, Wellness Weekend, Fight Back Friday, Whole Foods Friday, GF Fridays, Lunchbox Love, Simple Meals Friday,
Any of the links in my posts may be affiliate links. If you click on them and make a purchase, I might make a commission. Your support is much appreciated and pays for the cost of running this free resource!