A couple of times in her short life, my daughter had the 'pleasure' of partaking in one this country's nastiest creations: powdered,  fake nacho cheese sauce.  When I tried to explain how it was made and why it was something that was not good for bodies, she seemed totally unconvinced.  "But Mom!!  It is really good!"  Sigh.  I remember how much I too enjoyed those sauces growing up, Eazy-Cheese was one of my favorites (gross!)!!  But now we know more.  And I know better.
I never have lofty hopes when trying to make dairy free cheese sauces.  I have made more than I can shake a stick at.  None of them convince anyone in the family.  But this one did.  I adapted this recipe from a lonely copied recipe that I have had in my 'to try' folder for some time.  There is no book name or author though on the page, so let me know if this looks familiar!
My daughter thinks I make this special hot cheese sauce just for her.  She doesn't know or care that it comes from all wholesome, real -food ingredients!  And no, it does not taste like REAL cheese…it tastes like that hot nacho 'cheese'!  And one day, I can hope, that she too will learn that what food she puts into her body really does matter.
Maybe after the 1000th talk about it.  If I'm lucky!
Real-Food Hot Nacho Cheese Sauce - Dairy & Gluten Free
Prep time:
Cook time:
Total time:
Ingredients
2½ cups water
½ cup raw cashews (next time I might try raw soaked sunflower seeds to make it nut free)
6 tablespoons nutritional yeast (most often in bulk foods sections of well-stocked grocery stores)
2 tablespoons sweet rice flour (or any gf flour really)
2 tablespoons arrowroot starch (or any starch)
2 teaspoons garlic granules or powder
2 teaspoons onion powder
1½ teaspoons smoked paprika (reduce if you don;t like a smoky flavor, but it is a key flavor here!)
1 teaspoon salt
1 teaspoon Hungarian paprika
2 tablespoons allowed butter or butter substitute
1 tablespoon rice vinegar, or lemon juice, or more to taste
Instructions
In a blender, puree all the ingredients through the seasonings until smooth and no gritty texture left from the nuts. I did this for one smoothie cycle in my Blend Tec.
Pour into a small saucepan, and gently heat over medium low heat, whisking frequently.
When the sauce is thick and creamy, remove from the heat, and stir in the butter and rice vinegar. Store in an airtight container.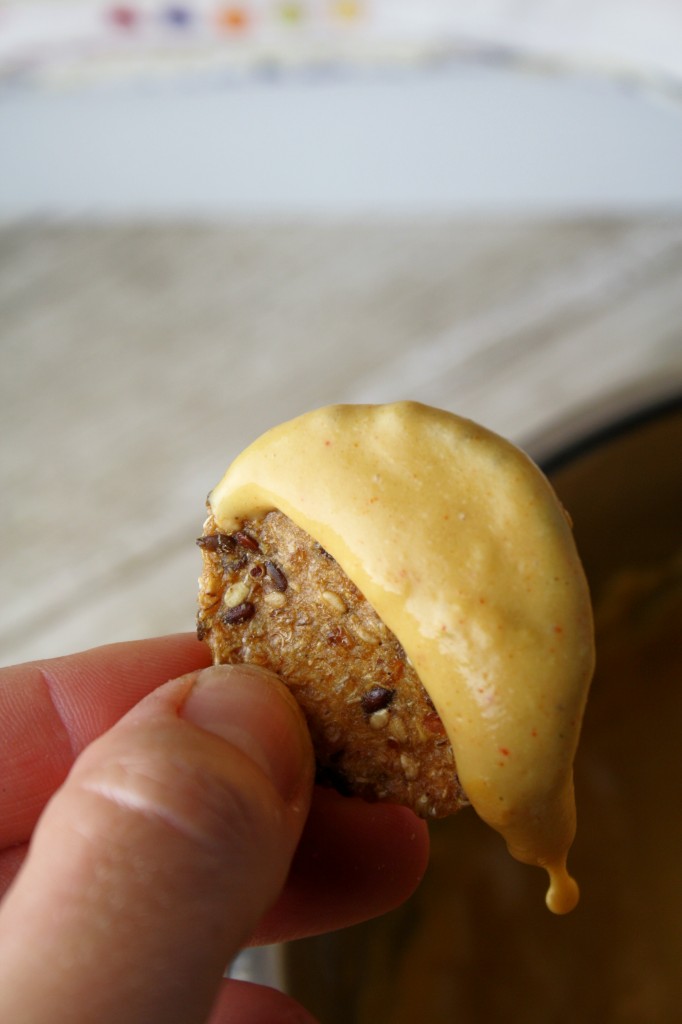 This post was shared on Fat Tuesday, Hearth & Soul, GF Wednesday, Waste Not Want Not,  Real Food Wednesday,  GF Friday, Lets Get Real Friday, Savouring Saturdays,
Any of the links in my posts may be affiliate links. If you click on them and make a purchase, I might make a commission. Your support is much appreciated and pays for the cost of running this free resource!