These gluten free crackers fulfill all your gluten free cracker needs! With no gluten and also vegan, these crispy crackers are made with just a few simple ingredients and are surprisingly easy to whip up! The extra crunchy texture really makes these stand out!
Homemade Gluten Free Crackers?
I had the hardest time with crackers. They are a great snack, but store bought ones, historically are either:
super duper expensive ($8 a box, ARE YOU KIDDING ME??!)
not very tasty
containing something my son can't eat (which seems like practically EVERYTHING some days)
or weird franken-ingredients that I don't really want to feed my family
My first cracker recipe was a huge hit, Gluten Free Dairy Free Cheese Crackers. We still make those….but I don't really want to spend the money on all vegan cheese all the time. It is an every once in awhile recipe now for us.
And since we tolerate dairy again, we enjoy these paleo cheese crackers a ton!
Luckily, compared to 8 years ago when we first went gluten free….there are many more options than there used to be…..but these are STILL a favorite of ours!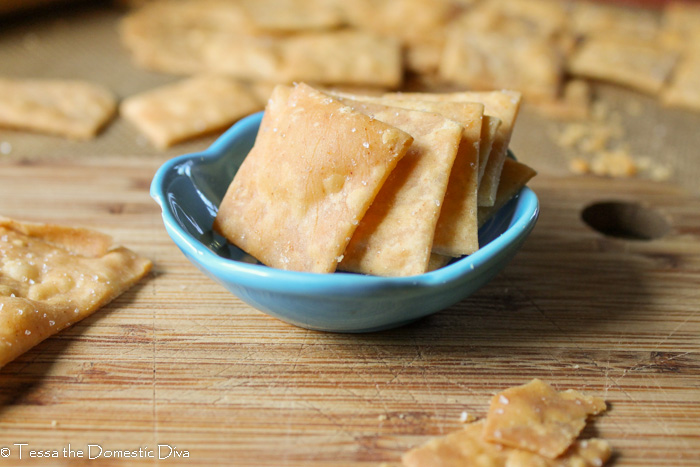 This gluten free cracker recipe uses very few ingredients and the crackers are super crisp and sturdy like a traditional 'Wheat Thin!' Perfect for dipping! My kids love the vegan nacho cheese sauce I make, and I love to use my artichoke tapenade!
And my kids will eat the entire batch in one sitting if I let them, little stinkers.
Bottom line, these are a staple in our house now. You will almost always find a container in the freezer if you visit!
Homemade Gluten Free Cracker Hacks and Tips:
Making crackers is not as hard as you might think. I was so surprised the first time I made them to learn how simple it was! But after making a gazillion batches, I have several tips to ensure your success!
Cold crackers bake up even more crispy. I find it easiest to roll out and cut my crackers, then freeze them for about 10 minutes before baking!
Rather than individually cut and separate each individual cracker, I take them out half way through their baking times and break them apart. Saves a lot of time!
Roll the dough out super thin! To get that perfect cracker texture….you do not want to have super thick dough…it makes for a tough cracker (the recipe photos should give you a good idea!).
To keep the dough from sticking to my rolling pin, I use either another non-stick baking mat, a piece of plastic wrap, or even parchment paper right over the top of the dough. It peels off easily, and makes rolling out a breeze.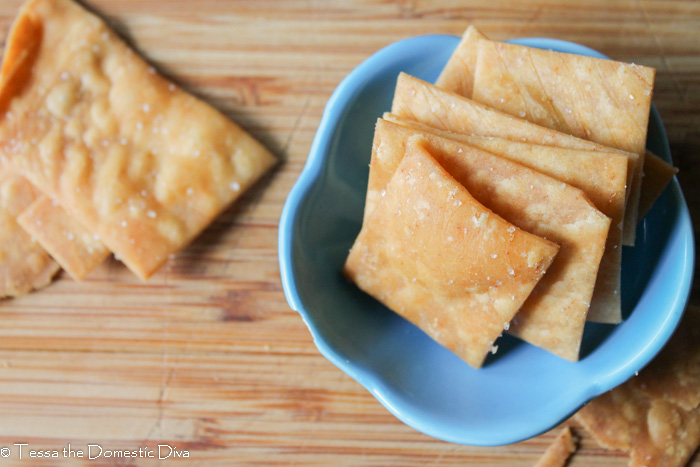 Want Some Additional Easy Gluten Free Snacks?
Did you try these crispy gluten free crackers? Let me know below in the comments what you think!
Gluten Free Vegan Crackers Recipe: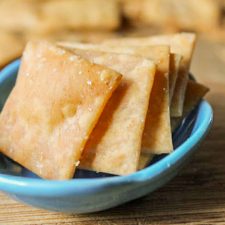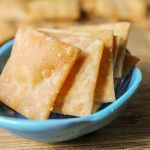 Brown Rice Crisps: Gluten Free & Vegan Crackers
Ingredients
2

cups

brown rice flour

I use Planet Rice Sprouted Brown Rice Flour, which I buy in 25 pound bags from Azure Standard. It is great stuff.

1/2

cup

tapioca flour

1

teaspoon

sea salt

plus more to sprinkle

1

teaspoon

paprika

1/2

teaspoon

guar gum

or xanthan gum

1/2

cup

palm shortening

or allowed butter, or coconut oil

2/3

cup

cold water

1/2

teaspoon

vanilla extract
Instructions
Preheat oven to 400 degrees.

In the bowl of a food processor, pulse the dry ingredients through the guar gum a few times to blend.

Drop the palm shortening in in chunks, and pulse until cut in, but still pea sized chunks of fat visible.

Mix the water and vanilla and pulse in until the dough comes together.

Reach your hands in and gather the dough into your hands...the dough should press together and hole easily. Knead a couple of times to bring it all together, and divide into 4 equal chunks, wrapping each on a piece of plastic wrap or parchment to prevent it drying out.

Start with one chunk, using either parchment paper, or a non-stick baking mat, place the dough on top, cover with plastic wrap, and then roll out SUPER THIN. This is key to the crispy texture. This one chunk of dough should roll out to around the size of the baking mat or cookie sheet. Roll out as evenly as possible...the edges are usually a but thinner, this is OK.

Using a pizza cutter or knife, gently slice the large rectangles into apx 2" squares.

Sprinkle with a touch of sea salt, and bake in the oven for about 10 minutes.

At this point, I pull the crackers out, remove any that are golden and crispy (usually around the edges), and completely break and pull apart the remaining crackers. Place them back in the oven to turn golden and crisp...about 1-4 minutes more...depending on how thin you got them!

Repeat with all remaining dough, storing in an airtight container, in the freezer. These are edible within 5 minutes of being out of the freezer since they are so thin and stay fresh longer this way!
Recipe Notes
Valuable recipe hints are written in the post above!!  Don't miss out on the "crispy gluten free cracker"hacks!
Nutrition Facts
Brown Rice Crisps: Gluten Free & Vegan Crackers
Amount Per Serving
Calories 181
Calories from Fat 72
% Daily Value*
Fat 8g12%
Cholesterol 20mg7%
Sodium 264mg11%
Potassium 80mg2%
Carbohydrates 25g8%
Protein 2g4%
Vitamin A 320IU6%
Calcium 5mg1%
Iron 0.6mg3%
* Percent Daily Values are based on a 2000 calorie diet.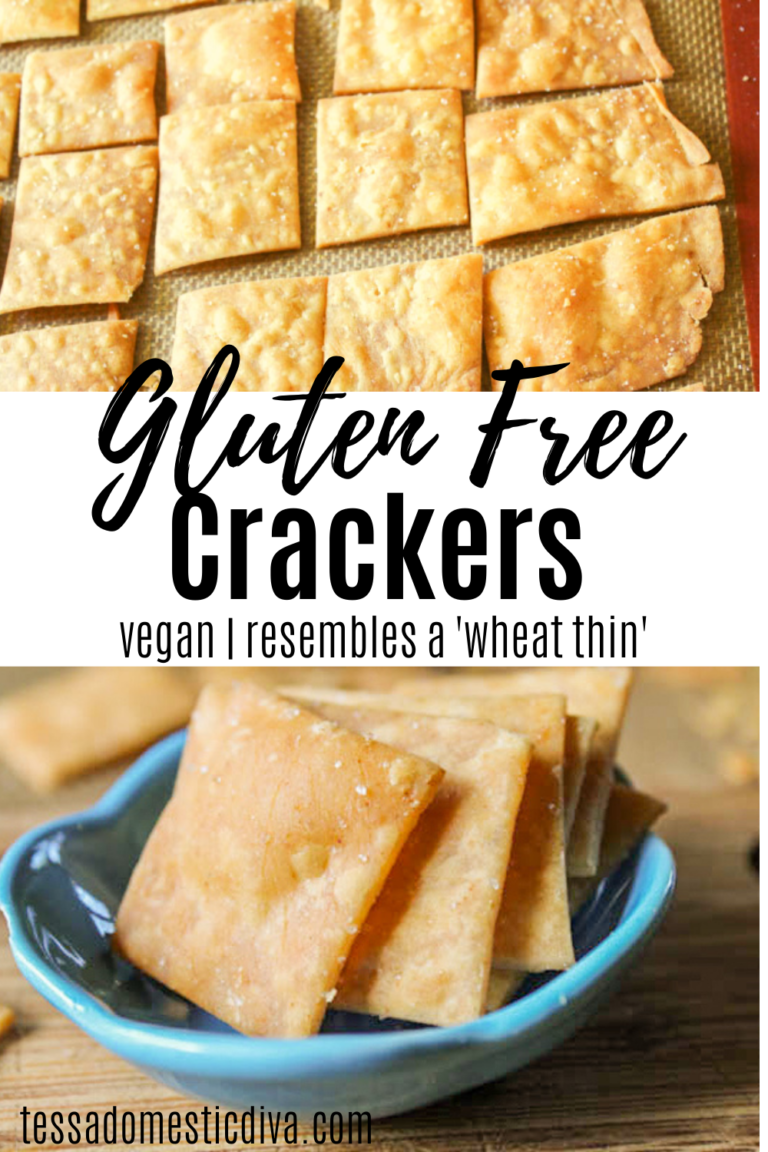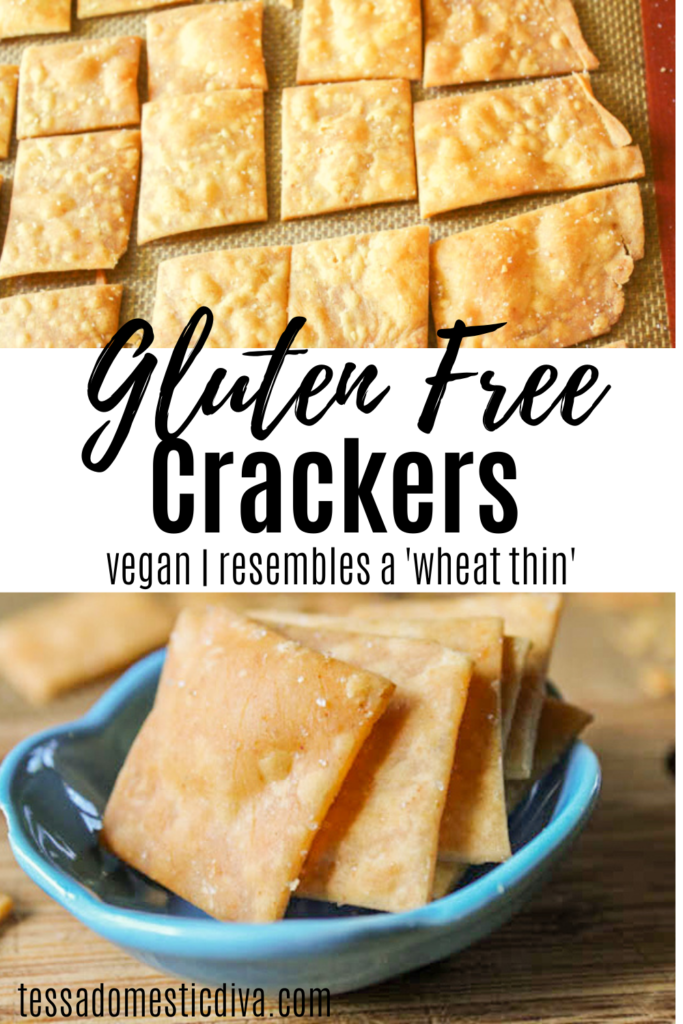 Any of the links in my posts may be affiliate links. If you click on them and make a purchase, I might make a commission. Your support is much appreciated and pays for the cost of running this free resource!