This ice cream was born in a very unlikely time of year.  I certainly am not CRAVING cold treats, living in the chilly northwest assures that!  But I needed to do two things: clear my ice cream maker's bowl out of the freezer for the season, and make my ridiculously picky son a nutritious snack.
And as is sometimes the case: I got lucky.  REALLY lucky.
One taste of this luscious ice cream will send you spinning into dessert heaven and you will wonder how something so darn easy and with a vegetable as a first ingredient could be so darn delicious.  But it is.  And you should make this…now!  Think pumpkin pie a-la-mode!
Here are some mix in ideas that I had: candied pepitas, toasted pecans, cacao nibs, chocolate, dried cranberries, raisins, or maybe some Paleo toffee!
INGREDIENT NOTES:  Lucuma powder is most likely a new ingredient for you. It is made from a South America root that tastes more like a fruit than tuber and is touted as a superfood. In some instances, it adds a decidedly butterscotch flavor to foods.  It really shines in this ice cream, but the ice cream will still be yummy without it.  I have been testing recipes for Ricki's new cookbook, and have used this in some pretty amazing Butterscotch Blondies of hers!!
It is also worth noting that the water content of your pureed pumpkin or squash will effect the creaminess of this.  The more water, the more ice crystals in the ice cream…therefore less creamy (think snow cone).  Try and use the driest puree you can (cooking some of the water out is always an option, simmer over low heat until the volume is reduced!)  In this batch, I used some fresh roasted butternut squash which is generally a much drier squash.  Some cans I open are stiff and dry, while others are more soft and pliable.

I also know some of you will ask, using light coconut milk is totally fine!  But know that in doing so, you are adding more WATER to the mixture, and the end result will not be as creamy (same concept as the squash puree!).  AND if you can do dairy, then some raw cream instead of the coconut milk would work well too!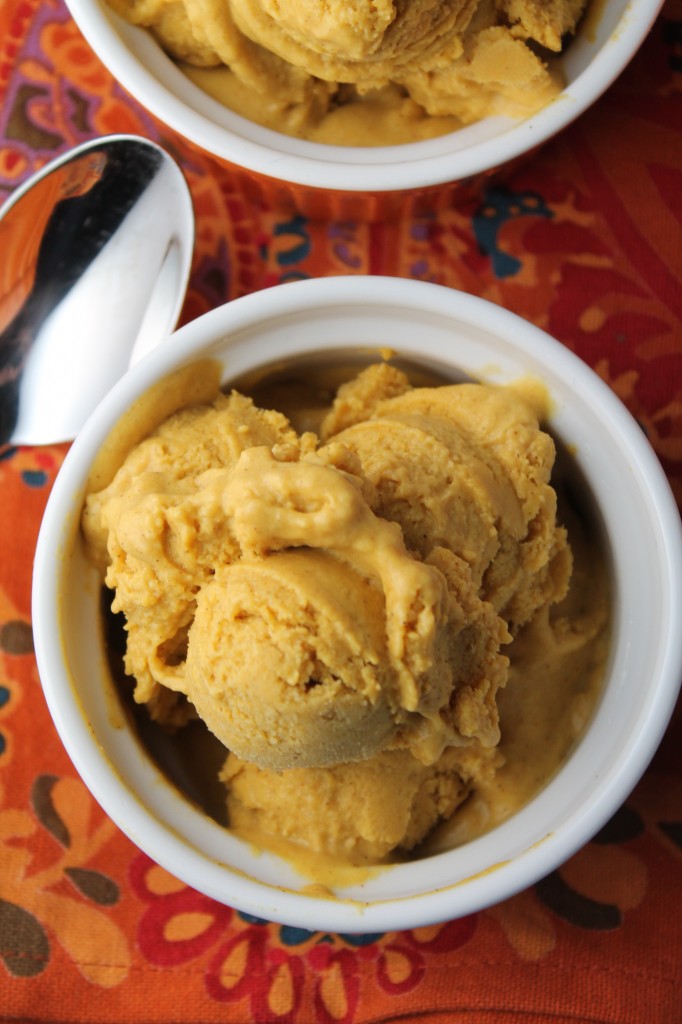 Easy Vegan Pumpkin Ice Cream
Prep time:
Cook time:
Total time:
Ingredients
1½ cups pumpkin, or winter squash puree (I have used Sugar Pie and Butternut)
1 can full fat coconut milk (see notes above)
½ cup palm sugar
2 tablespoons lucuma powder (optional, but this lends an unbelievable butterscotch flavor to the end product!)
2 teaspoons vanilla extract
1½ teaspoons cinnamon
¼ teaspoon liquid vanilla stevia (or 3-4 tablespoons more palm sugar)
Instructions
Place all ingredients in a blender or food processor and whir until smooth.
Incidentally, at this point, it is like a thick creamy pumpkin pudding!
Place into your ice cream maker and follow the manufacturers instructions.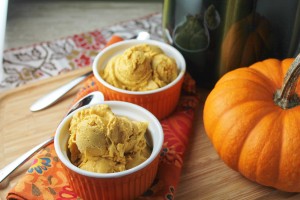 This post was shared with Natural Living Mondays, Mostly Homemade Mondays, Totally Talented Tuesdays, Fat Tuesday, Hearth & Soul, Tasty Tuesdays, GF Wednesday, Real Food Wednesday,  Pennywise Platter, Full Plate Thursday, Foodie Fridays, GF Friday, Real Food Fridays, Let's Get Real Fridays, Gluten Free Holiday Fix,
Any of the links in my posts may be affiliate links. If you click on them and make a purchase, I might make a commission. Your support is much appreciated and pays for the cost of running this free resource!