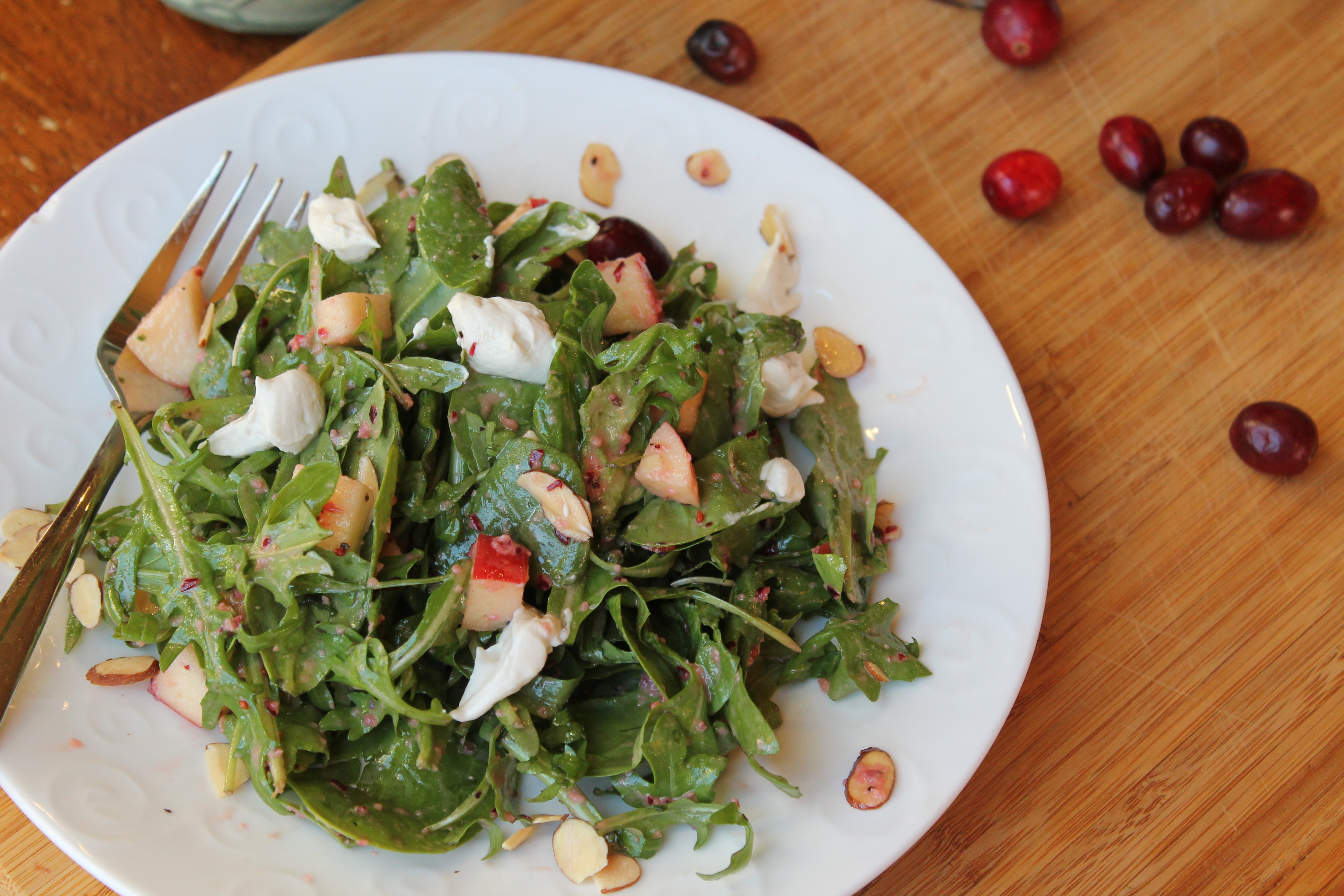 Sweet, tart, crunchy, and creamy.  A salad with all my favorites!  With the new year, we are all tightening our resolve, and my family is  no different.  Salads like these always make it easier to get your greens in, even in the Winter when my ayurvedic tendencies say no!
You'll love the sweet and salty combination, and the creamy 'cheese' makes it all sing.
The dressing is vibrant and pink, and quite festive!
Enjoy, here's to our sugar detox!!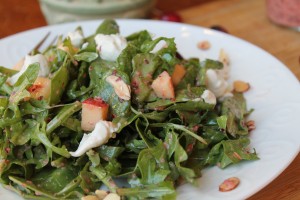 Cranberry Vinaigrette:
1/3 cup extra virgin olive oil
1/4 cup fresh, or thawed frozen cranberries
3 tablespoons vinegar ( I use white wine vinegar)
1 tablespoon dijon mustard
1/2 teaspoon sea salt
1/2 teaspoon pepper
1 small clove garlic, or about a teaspoon of minced
5-10 drops liquid stevia to taste or about a tablespoon honey
Salad:
1 bag or one head fresh mixed greens , I like to add in some arugula!
1/4 cup toasted almond slices
1 sweet/tart apple, like a Honeycrisp, small 1″ dice (dried cranberries would be good too!)
Cashew Creamy Cheese (I left out the gum and coconut oil and reduced the water to 2T), or goat cheese if you can have it
Cranberry Vinaigrette to taste
Method:
Prepare the dressing by blending all ingredients with an immersion blender or blender until smooth.  Add 5 drops stevia to start, and taste before you add more.
Place salad ingredients in a large bowl, minus the cheese.
Toss with desired amount of dressing.
Dollop each plate with individual dollops of cheese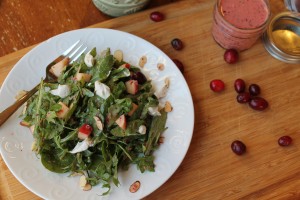 This recipe was shared on Make Your OWn Monday, Mostly Homemade Mondays, Natural Living Mondays,  Tuesday Talent Show, Traditional Tuesdays, Hearth & Soul, GF Wednesday, Waste Not Want Not, Real Food Wednesday, Wildcrafting Wednesday, Thank Your Body Thursday, Tasty Traditions, Simple Lives Thursday, Keep It Real Thursday,Paleo AIP Round Table, Whole Foods Friday, GF Friday, Wellness Weekend,