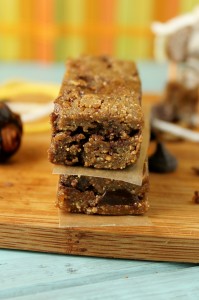 This post is part of May 2013 Go Ahead Honey It's Gluten Free over at Shirley's GFE!  Come visit to see all the recipes under the theme" "When You're Grain Free and Feeling Like a Nut, But Don't Eat Tree Nuts or Peanuts"
Peanut Butter Chocolate Lara Bars were my eldest daughter's very favorite flavor of Lara bars.  And really, who can blame her?!  Peanut butter and chocolate are such a great combination.  When my son's hives pointed to peanuts, we knew we needed to get all peanuts out of the house.
It took a few tries, but my girls love sunflower seed butter as much as they ever loved peanut butter.  We go through one homemade batch a week!  And when we shifted towards a a more Paleo lifestyle, sunflower seeds were already well established and loved in our house.
I am not sure why it took me so long to think of recreating my daughter's favorite Lara bar with sunflower seeds as a base…but life is like that sometimes.  The obvious kind of lurks in the recesses until one day, BAM!  You have an epiphany.
I am happy to report the whole family loved these bars, and my daughter has her favorite flavor back!
Here are couple other raw energy bars that are portable and convenient for on-the-go snacks!
Chocolate Cranberry Lara Bars (they really DO taste like a brownie)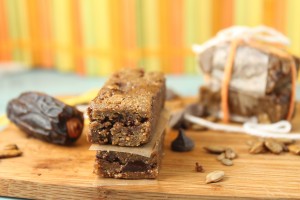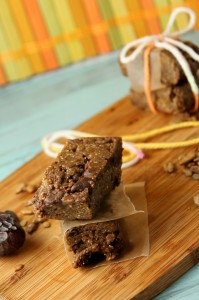 This recipe was shared on Slightly Indulgent Tuesday, Tasteful Tuesday, Fat Tuesday, Hearth & Soul, Traditional Tuesdays, Eco Kids Tuesday, GF Wednesday, Seasonal Celebration Wednesday, Healthy 2Day Wednesday, Real Food Wednesday, Whole Foods Wednesday, Wildcrafting Wednesday, Wheat Free Wednesday, Full Plate Thursday, Thank Your Body Thursday, Tasty Traditions, Simple Lives Thursday, Pennywise Platter, Wellness Weekend, Fight Back Friday, Fresh Bites Friday, Whole Foods Friday. GF Friday, Healthy Vegan Fridays, Simple Meals Friday, Made From Scratch Monday, Allergy Friendly Friday, My Meatless Monday, Make Your Own Monday, Natural Living Monday, Motivation Monday,
Any of the links in my posts may be affiliate links. If you click on them and make a purchase, I might make a commission. Your support is much appreciated and pays for the cost of running this free resource!