A corn free cornbread? With some creativity, it IS possible!! And this one is also gluten free with an egg free option!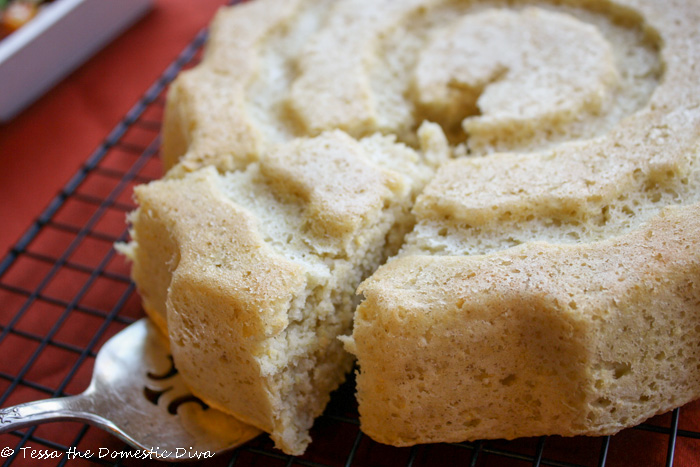 I was making a pot of my Easy Chili and wanted to have some cornbread to go with it.
Of course, that was a bit of problem since corn is on the no list. When I hit Google to look for recipe brainstorms, I came up with almost nothing!
While I am sure my 5 minute search was not exhaustive…it did prove to me one thing: there are NOT a lot of corn-free cornbreads out there…and since it is a bit an oxymoron, it's really no surprise!
Cornbread without corn isn't really cornbread!?
But I love a culinary challenge! So I decided to do my own thing, and this time, it worked out beautifully!
Why should I try corn free cornbread?
Corn is one of those ingredients that eating massive amounts may not be a good idea for you or your family.
We discovered it was likely the Round Up residue on the genetically modified corn that was the real culprit to the adverse reactions.
So being able to use a different grains not only provided variety in our diets, it helps us avoid those traditionally GMO crops: soy, corn, cotton, rapeseed (canola oil), and wheat are the largest US GMO crops.
What is millet?
Millet is a pseudo grain (kind of like quinoa) that is naturally gluten free and delicious.
Most often, you will find the yellow variety in the grocery store. It is inexpensive and nutritious!
Some nutritional highlights:
high in fiber
high in essential nutrients like copper, phosphorous, and manganese, and magnesium.
has 6g of protein per serving
good source of B vitamins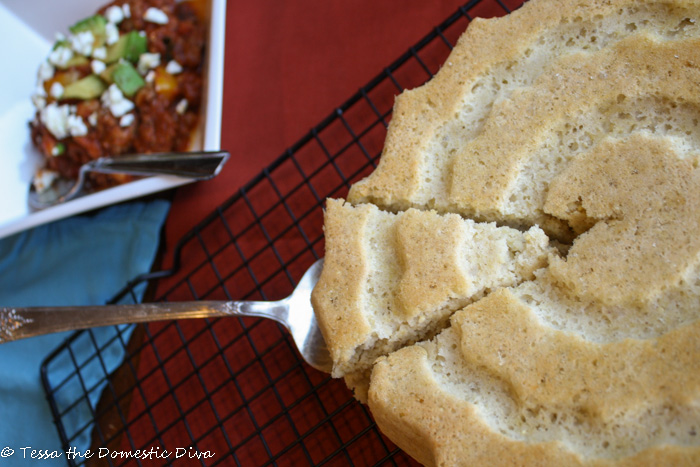 What to serve with corn free cornbread:
In fact, I liked this gluten free cornbread so much, even if we could do corn again, I would choose this recipe. It is just as delicious as any cornbread I've ever made, but it has a nutritional upper-hand with the millet. You may also want to try these gluten free crescent rolls!
To all my corn-free compadres and those looking to expand their wholesome grain exposure: enjoy!
Corn Free Cornbread – Gluten Free Recipe:
If you try this nutritious bread, be sure to come back and leave a comment!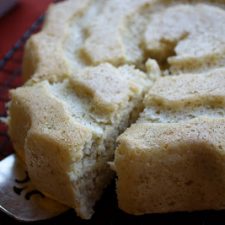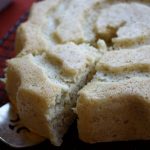 Corn-Free Millet 'Cornbread'
Ingredients
1/2

cup

sorghum flour

or millet flour

1/4

cup

potato starch

or any starch

1/4

cup

sweet rice flour

1/4

cup

sugar

or stevia equivalent

4

teaspoons

baking powder

1

teaspoon

guar gum

¾

teaspoon

salt

¼

cup

allowed butter

coconut oil, or palm shortening

2

eggs

or 2 eggs worth egg replacer, or 1/4 cup hot water w/ 1 tablespoon gelatin

1

cup

any milk

1

cup

coarse ground millet

you make this yourself from whole millet and a spice/coffee grinder or millet grits
Instructions
Preheat the oven to 350 degrees.

Combine all the ingredients through the guar gum and whisk together.

Cut in the coconut oil or palm shortening using a pastry blender until mixture resembles coarse crumbs, much like scones or pie crusts.

Make a well in the center of the ingredients and put the eggs (or egg replacer) and milk in the center. Whisk until well incorporated.

Coarsely grind whole millet in a coffee grinder until it resembles cornmeal. I did this in two batches. You don't want to do it too long to make more of a flour, you want some texture to mimic the corn texture in cornbread.

Whisk in the millet grits . I have also used raw buckwheat groats for a different flavor but similar texture. The mixture will seem thin at first, and then will thicken quickly as the millet absorbs the liquid.

Place batter in a greased 9" pan. I used my Demarle Flower Mold which requires no greasing.

Bake in a 350 degree oven for about 30 minutes until a knife inserted in the center comes out clean.
Nutrition Facts
Corn-Free Millet 'Cornbread'
Amount Per Serving
Calories 259
Calories from Fat 72
% Daily Value*
Fat 8g12%
Cholesterol 56mg19%
Sodium 337mg15%
Potassium 345mg10%
Carbohydrates 41g14%
Protein 5g10%
Vitamin A 235IU5%
Vitamin C 0.2mg0%
Calcium 139mg14%
Iron 1.8mg10%
* Percent Daily Values are based on a 2000 calorie diet.
Any of the links in my posts may be affiliate links. If you click on them and make a purchase, I might make a commission. Your support is much appreciated and pays for the cost of running this free resource!