Instant Pot cube steaks are easy to make and will please the whole family! With tender steaks slathered in a rich gravy, this is comfort food at its' finest! Gluten free with keto and paleo options, this is a 30 minute meal! And while the Instant Pot will certainly make this quicker, I originally wrote this for the oven, so no worries if you do not have a pressure cooker.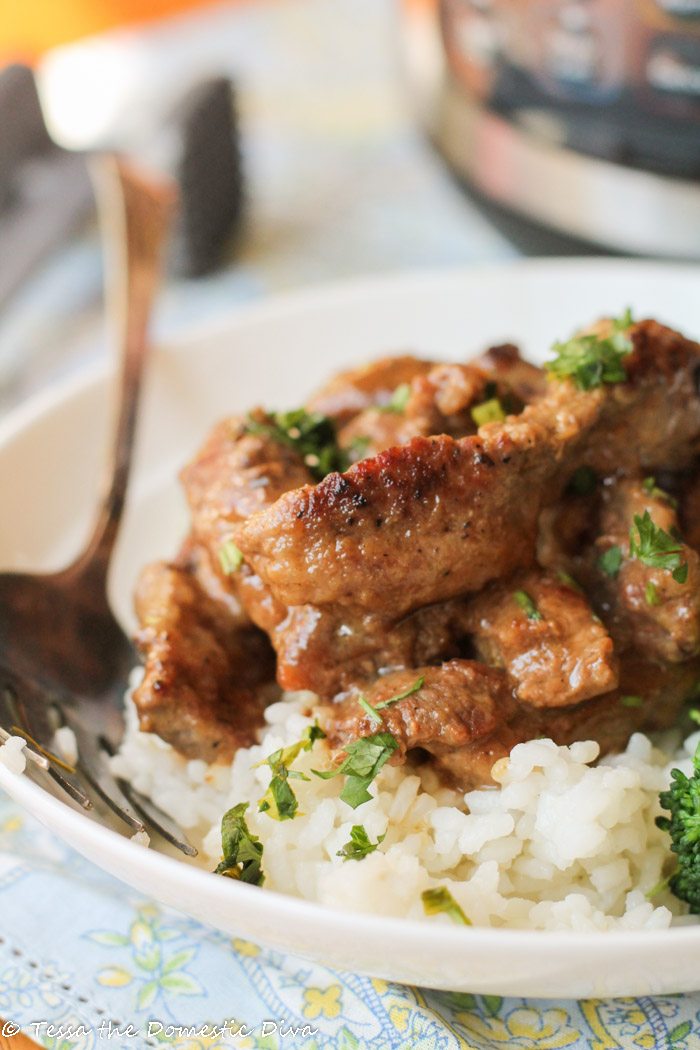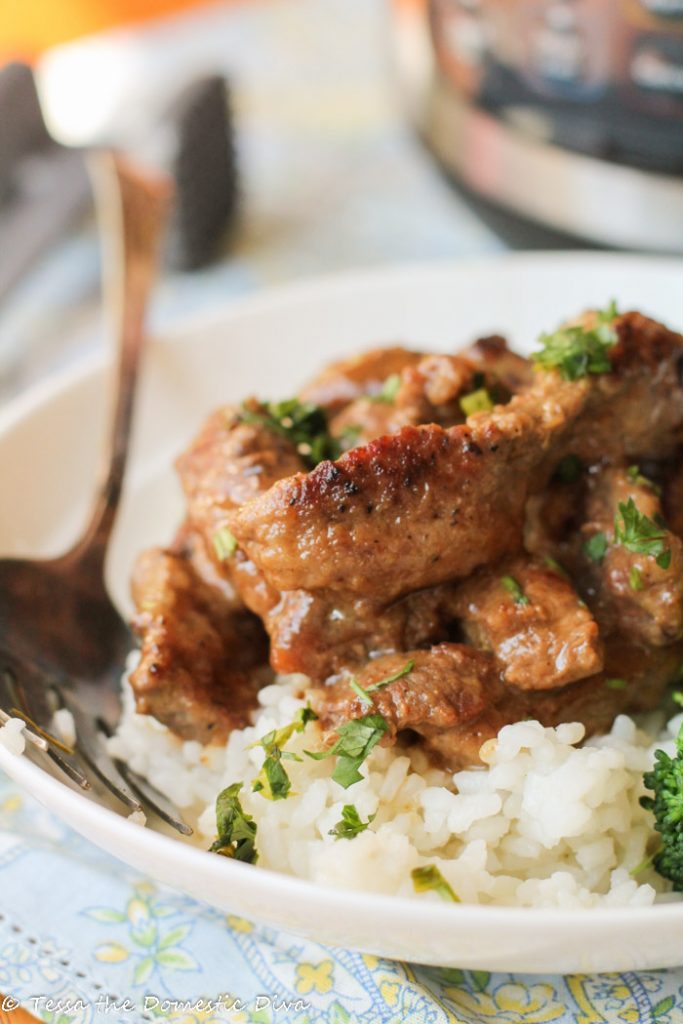 Gluten free cube steaks in gravy. Easily paleo, keto, and Whole30 compliant, and all done in the speed and convenience of your Instant Pot!
While we have many standby foods in our family, I love to hunt out new and interesting recipes, weekly. I anxiously await the results of a new recipe with baited breath…it's almost like Christmas for me….every time!!
Eons ago I stumbled across a recipe for cube steaks in the oven. It was total comfort food, and I knew I had to make the recipe work for our current dietary needs. I tweaked proportions, and of course made it gluten free, and then worked with it to make it in the Instant Pot in a fraction of the time!! I have since made these gluten free cube steaks low-carb too!
The result? One very easy and very delicious dinner. A family favorite!
Tender meat, savory gravy, almost no effort? What's not to love?!

What are cube steaks?
Using tougher, leaner cuts of meat (read: cheaper!), cube steaks are sliced into thin steaks, then tenderized with a meat mallet.
Usually it is a round steak cut tenderized.
My butcher never has cube steaks on hand, so I either bring home round steaks and pound them out with my own meat mallet, OR ask them to do it for me!
It almost looks like hamburger when you are done!
Can I use a different cut of meat for this Instant Pot cube steak?
Absolutely! Cube steaks can sometimes be more difficult to find, so I have experimented with additional cuts of meat! I have only tested these in my Instant Pot, NOT the oven method. I am not sure the steaks would tenderize in the oven method since they are larger.
London broil. but into 3″ chunks works awesome.
Stew meat (usually cut from a chuck roast) will work too.
Top round (after all, cube steaks are generally made from these!)
You could also try this cozy Mexican birria de res stew with any of these tougher cuts!

Serving suggestions for gluten free cube steaks:

Are there paleo, Whole30, and keto cube steak variations?
Paleo/Whole30– Use any grain free flour to thicken, I like cassava flour (not low carb).
Keto/Low Carb – Leave the flours out entirely and you will have a thinner, but still delicious gravy! Just toss the steaks with the seasonings and a couple tablespoons of starch for the coating.
Keto/Low Carb Option 2 – Tapioca starch (or any starch) is an acceptable replacement to use at the very end to thicken the gravy should you choose, 2 teaspoons mixed with 2 tablespoons water and whisked into the liquid at the end of cooking time. Alternately for strict keto, use 1 teaspoon xanthan or guar gum whisked into the sauce to thicken.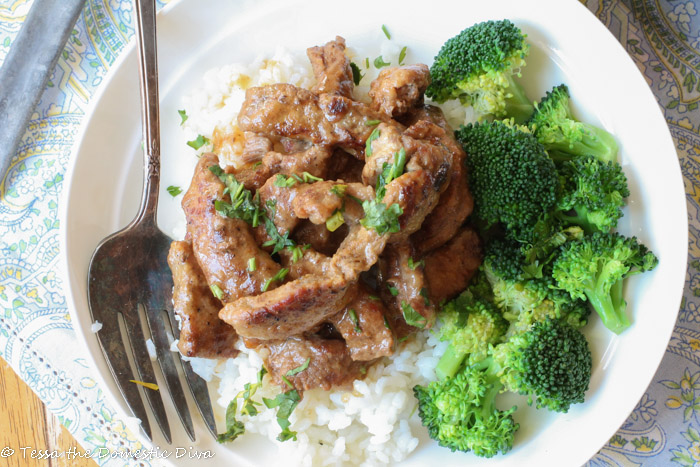 Want some additional Instant Pot recipes? Here are a couple to try:
Instant Pot Cube Steaks Recipe:
If you make this recipe, please leave a comment below and let me know how YOU made yours!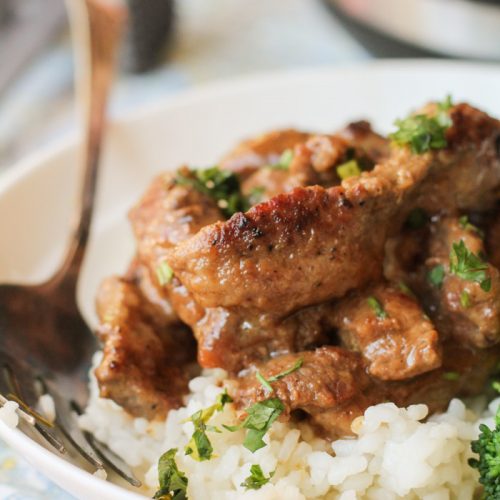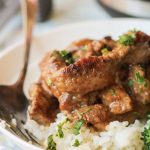 Cube Steaks w/ Gravy
Tender cubes of lean steak slathered in a creamy gravy!
Total Time
1
hour
10
minutes
Ingredients
1/4

cup

brown rice flour

may replace with cassava flour, arrowroot

1/4

cup

rice flour

1

teaspoon

cracked black pepper

1

teaspoon

sea salt

to taste

2

teaspoon

garlic powder

1

pound

beef cube steaks

can be whole or cut into bite size pieces as preferred

2

tablespoons

avocado oil

1

cups

beef broth

or more if you like extra gravy
Instructions
OVEN DIRECTIONS
Preheat the oven to 350 degrees. (

directions follow)

Preheat a pan to medium high for browning the steaks.

Mix the flours and seasonings together.

Press the cube steaks into the flour mixture, firmly, thoroughly coating each side. Reserve remaining coating.

Add the oil to the preheated pan, swirling to evenly distribute. Brown the coated steaks, a couple of minutes per side until golden brown.

Place the steaks in a oven-safe pan, I used both a pie plate and a small rectangle pan with success. In these pictures, I thought to use one of my Flexipans by Demarle...my husband was quite happy at clean up time...just wiped it out with some soapy water!

Whisk 3 tablespoons coating mixture into the beef broth and pour over the steaks.

Bake for 1 to 1 1/2 hours until the steaks are tender and the gravy is thick.
INSTANT POT DIRECTIONS
Use the sauté button (on high setting) to brown the coated steaks, I use a pan too so as not to crowd the pan and save time.

Pour in the beef broth. Lock lid. Set to 'manual' high pressure for 15 minutes. Quick release pressure, remove lid.

Remove the steaks and set aside Set to 'saute' feature.

Whisk 2 tablespoons of the remaining flour coating mixture, or 1 tablespoon starch for low carb into 3 tablespoons water or cold broth. Whisk into the simmering liquid, and stir util thickened.

Serve!!
Nutrition Facts
Cube Steaks w/ Gravy
Amount Per Serving
Calories 356
Calories from Fat 180
% Daily Value*
Fat 20g31%
Cholesterol 81mg27%
Sodium 985mg43%
Potassium 465mg13%
Carbohydrates 16g5%
Protein 25g50%
Calcium 31mg3%
Iron 2.3mg13%
* Percent Daily Values are based on a 2000 calorie diet.