A classic Christmas cookie, these gluten free thumbprint cookies will sparkle on your holiday tray this year!  Buttery, dense morsels filled with any favorite jam, the walnut coating is totally optional but oh so delicious!
Thumbprint cookies have always been one of my most favorite Christmas cookies.  That always seemed bizarre.  I was never really into nuts, especially walnuts, and jelly I could take or leave in most instances.
But somehow…when these few ingredients come together, the cookies created take on a magical flavor.
A rich, buttery cookie off-set by the toasted nuts and some homemade jam.
It was high time I perfected a new allergy-friendly version of this recipe!  And let me tell you…these are a Christmas treat in this house…otherwise I would eat WAY to many of these delectable morsels!
Thumbprints are also very flexible…if you would like to leave the nuts out, or change them to pecans or brazil nuts…go for it.  Not much for jelly?  How about some dark chocolate chips nestled in that cute little indentation?  We like to do a variety of jams in different colors for a festive look.
INGREDIENT NOTE ON BUTTER:
When doing the vegan version, I have used Earth Balance Soy Free Cubes in this (which incidentally is NOT the same as the spread which has more oil to make it spreadable and would change the texture big time in these…so don't swap!).
While this is not my preferred fat…with a son who thus far cannot even tolerate casein free grass-fed ghee, this is the fat I need to use to achieve the buttery flavor traditional to thumbprints.  If you would like to use solid coconut oil or palm shortening, or can tolerate butter or ghee, those can be used here.  The flavor will not be traditional with coconut oil or palm shortening, but they will still be tasty.
Some grass fed Kerrygold is a great option for those who CAN tolerate dairy.
FILLING TIP:
Have any leftover cranberry sauce?  Makes a yummy filling!
Any melted chocolate mixed with a touch of coconut oil to keep it softer….for the chocoholic in your life (poured in AFTER you bake)!
Trader Joe's carries some excellent organic,  reduced sugar jellies we love, and they also have organic jelly sweetened entirely with apple juice if can sugar is a no for you.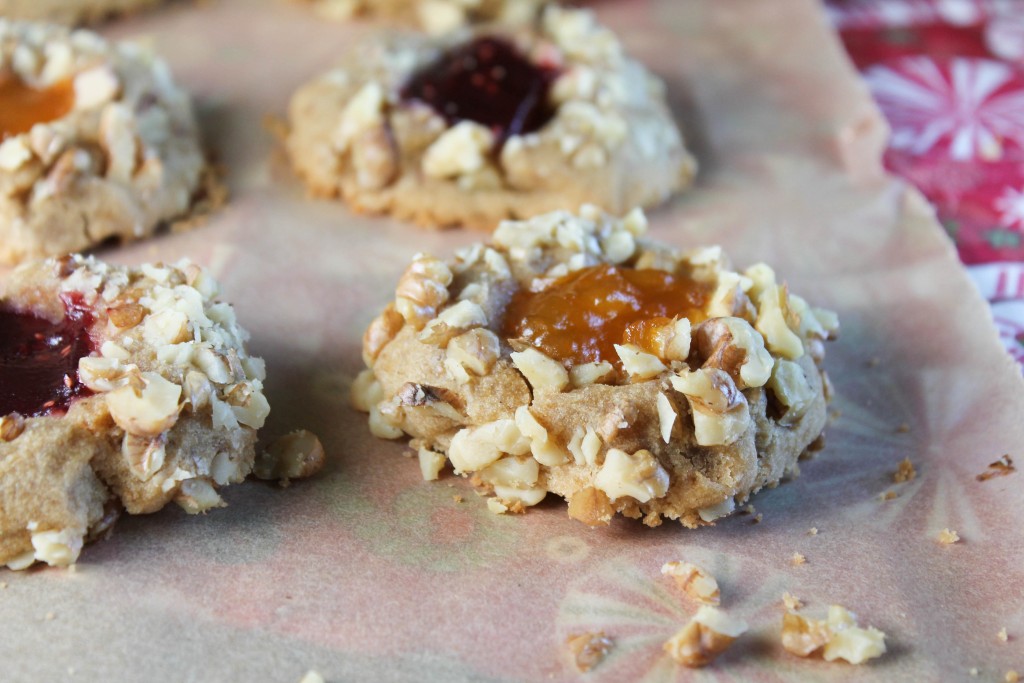 Here are some more healthy (ish) gluten free holiday cookies you could try!

Gluten Free Thumbprint Cookies Recipe: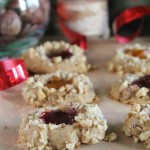 Gluten Free & Thumbprint Cookies
Ingredients
1

cup

Earth Balance Soy Free Butter Cubes

or any allowed butter, palm shortening, or coconut oil (see notes above)

1/2

cup

palm sugar

or brown sugar

1/4

cup

applesauce

unsweetened, or 1 egg yolk

1/8

teaspoon

stevia

could use an additional 1/4 cup granulated sugar, or leave out entirely

2

teaspoons

vanilla extract

1/2

teaspoon

sea salt

1

cup

brown rice flour

1/2

cup

tapioca flour

or cassava

1/2

cup

millet flour

or sorghum

1/2

cup

rice flour

or sweet rice flour

1/2

teaspoon

guar gum

or xantham gum
Nutty Coating:
1

cup

finely diced walnuts

1

reserved egg white,

or omit for egg free
Instructions
Preheat your oven to 350 degrees.

In a mixing bowl, beat the the butter and sugar for about 2 minutes until fluffy.

Turn the mixer down to low, and add in the applesauce (or egg yolk), stevia, and vanilla. Beat well, mixture will appear almost curdled from the applesauce, that is OK.

With mixer still running on low, sprinkle in the remaining dry ingredients one at a time. Hold off on the jelly and nuts at this point! Dough will be stiff.

Grab about a tablespoon of dough and roll into balls.

If you are using nuts, now is the time to roll the balls into the finely chopped walnuts. With no egg, you roll firmly to gently press the nuts slightly into the ball, OR roll in the whipped egg white first, then roll in the nuts.

Place on a cookie sheet and press your thumb in the center to make an indentation for fillings.

Use about a 1/2 teaspoon-1 teaspoon of jam per cookie. No exact science here, just fill your holes up...but don't overfill...the jam will spill out while it bakes and it does not look as pretty.

Bake for about 10 minutes. Cookies should still be soft, but firm up perfectly as they cool.
Any of the links in my posts may be affiliate links. If you click on them and make a purchase, I might make a commission. Your support is much appreciated and pays for the cost of running this free resource!