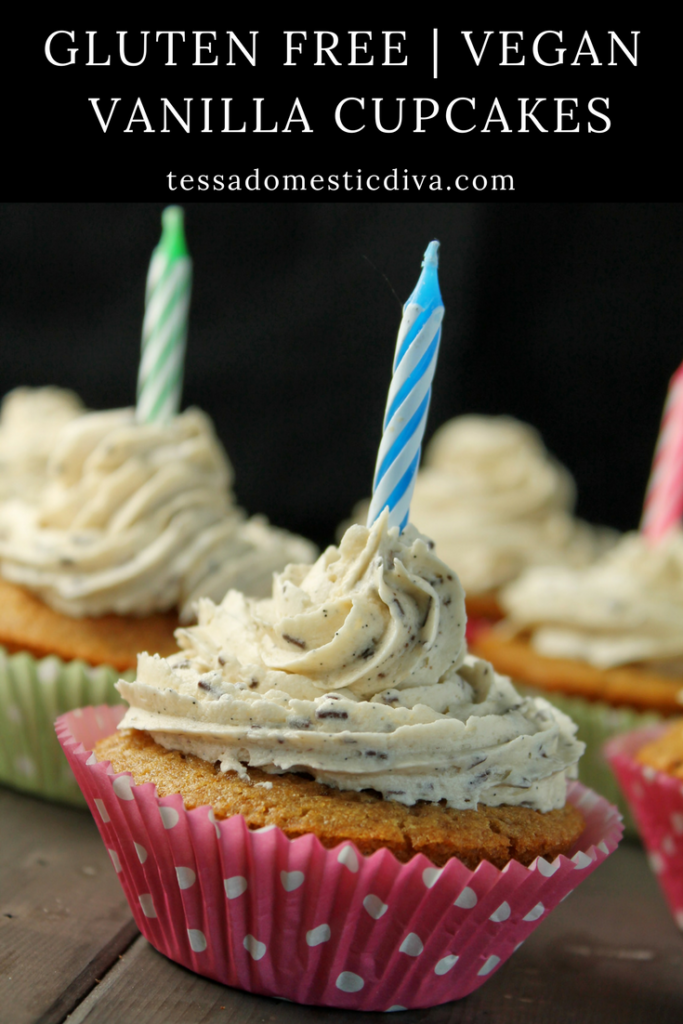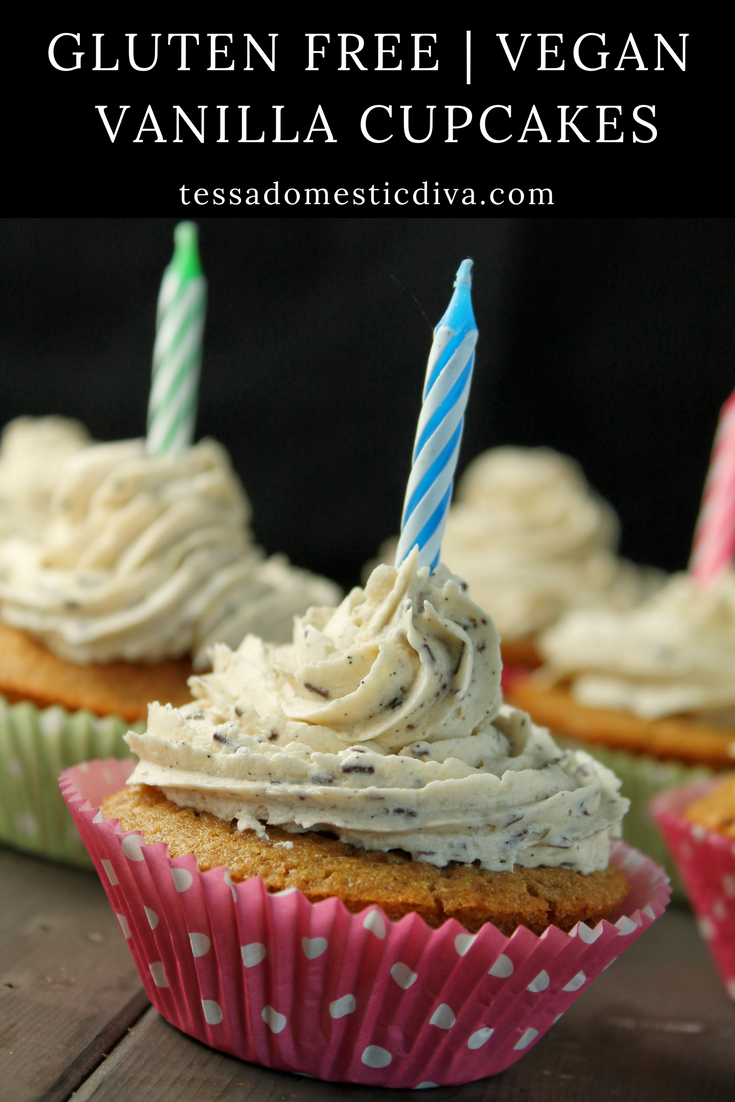 When I have desperate families ask me for help…most often, especially in the very beginning of food elimination….they are looking for some very basic recipes to replace their kid's favorites.  Chicken nuggets, bread, pancakes, and birthday cupcakes and cakes!!
I have more cookies and pancakes than I can shake a stick at already on here…but I shockingly have very few options in the cupcake/cake department.  I was overdue with this recipe!
I have another vanilla cake recipe that I love, but it has eggs, and I knew I wanted one free of the most allergens I could muster, and eggs are a common one.
Besides…my son still can't have eggs either!!
Here is a basic vanilla cupcake with a wonderful moist crumb.  No real fancy ingredients, and worthy of any allergen-full cake out there.
You have  a couple of options with ingredients here.
Flours:  You can easily sub one of the flours if you don't have one of them on hand.  You will need to keep a starch for best texture, and every flour you change will effect the end flavor and texture a bit.
Fat: My three favorites are melted coconut oil, ghee, or light olive oil.  They each have their own flavor, but all work well!
Sweeteners: Since we don' use refined sugars much anymore, we have adapted our taste-buds to using less.  These were plenty sweet for us, especially with the frosting, but you could add up and additional 1/4 cup if you like.  You can use all cane sugar, or all coconut sugar, or part xylitol or stevia.  It is really up to you, let me know if you need help tweaking!
So make your little sweeties happy with a normal vanilla birthday treat!
Moist Gluten Free & Vegan Vanilla Cupcakes
Instructions
Preheat oven to 350 degrees, and prepare 10 muffin tins (liners or grease, up to you!)

In a mixing bowl, whisk together all the dry ingredients (the first 8).

In a liquid measuring cup, measure out the remaining ingredients and whisk together. If you are using coconut oil, be sure your ingredients are room temp so as not to harden the oil up!

Mix the dry and wet ingredients together to fully incorporate.

Pour the batter into the prepared muffin tins, about 2/3 fulls.

Bake for about 18-22 minutes, until the tops are just set.

Remove from the oven, cool completely and frost!
FROSTING TIME!!
Vegan frostings are very easy.  This one is a very traditional frosting..I am not going for a health food here!  Just fluffy, allergen free goodness!
Moist Gluten Free & Vegan Vanilla Birthday Cupcakes
Ingredients
1

cup

favorite vegan butter or replace up to half with palm shortening

1

pound

scant 4 cups of powdered sugar. Most powdered sugar contains cornstarch

2

teaspoons

vanilla extract

1

vanilla bean

scraped (optional)

1/4

teaspoon

sea salt

1-2

tablespoons

non dairy milk
Instructions
In a mixer, beat the butter for a minute or two at high speed to start some fluffiness.

Beat in the vanillas and powdered sugar.

Add in some non-dairy milk a teaspoon at a time to achieve your desired frosting texture.  I usually add about a tablespoon, sometimes a touch more.

Beat for a minute or two at high speed, or up to 10 minutes to get lots of extra fluff!
Any of the links in my posts may be affiliate links. If you click on them and make a purchase, I might make a commission. Your support is much appreciated and pays for the cost of running this free resource!