A Paleo friendly cookbook loaded with amazing Paleo Latin American recipes!  Even better, the vast majority  (90%) are ALSO AIP protocol as written, or easily adapted to be so.    And most are Whole 30 compliant too!!  Amanda Torres from The Curious Coconut is the perfect author of this cookbook, with lots of AIP experience in her own healing journey!

What Is in Latin American Paleo Cooking:
A beautiful cookbook with 80 recipes written with her Puerton Rican mother-in-law, Amanda Torres has crafted a luscious recipe book!  Together, they created a wonderful, traditional set of recipes from Puerto Rico, Cuba, Colombia, Venezuela, Peru, El Salvador, Argentinia, Brazil, and the Dominican Republic.
Cookbook Contents:
The chapter names will give you a great idea of what is inside!
Platos de la Familia (Family Dinners); Rapido y Facil (Quick and Easy); Comida Fiesta! (Party Food!); Accompanantes (Sides); Lo Esencials (The Essentials – sauces, cooking bases, and more); Un Poco Dulce (A Little Sweet – desserts!)
Special Ingredients?
The vast majority of recipes are items you can find in any well-stocked Paleo kitchen or grocery store!  Some of the tropical roots in a few recipes may be new to you, but Asian and Latin markets often carry these fresh or in the freezer.
Latin American Paleo Cooking Recipes:
How would I know these recipes are amazing?  I have tried over 13 recipes so far, and have been 'wowed' in so many ways!
With some simple ingredients, totally flavorful and family worthy meals some together with magical results.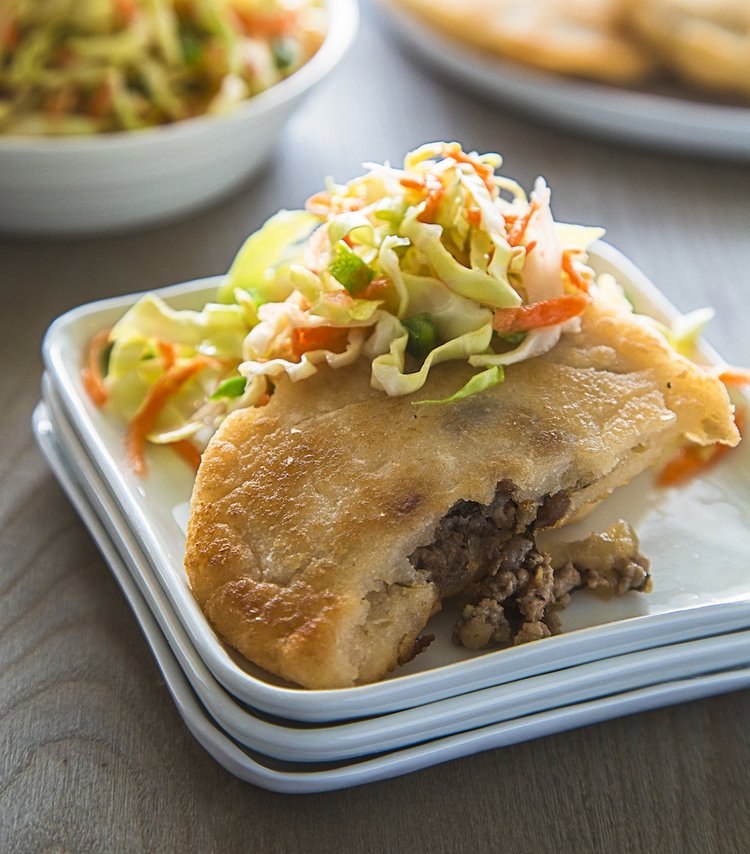 Some of my favorites so far include:
the "Pollo a la Plancha," which takes minutes to prep and produces a beautifully flavored chicken breast to eat as is or with a taco night!  I have made it multiple times already and just love it! I also used thighs no problem, if that's your jam.
Guatemalan "Pupusas" are next on my list…totally addicting!!  My family LOVES pupusas, but I try to avoid them with all the corn (likely GMO).  Totally delicious topped with the cabbage "curtido,' recipe on the book!
Another favorite is the "Puerco al Horno".  Again with simple ingredient and ridiculous results!!    A pork roast never tasted better!
There is a beautiful "sofrito" recipe that quickly whips up in your blender with NO cooking.  Once frozen into cubes (I used my mini muffin pan), they are ready to go to season all variety of dishes!  I use it all the time for one of my new favorite preparations of cauliflower rice: 'arroz amarillo de coliflor'….addicting!
Piñon is another dish where the flavors married SO perfectly with such simple ingredients!  Perfectly seasoned ground beef nestled among some tender sauteed plantains….dreamy!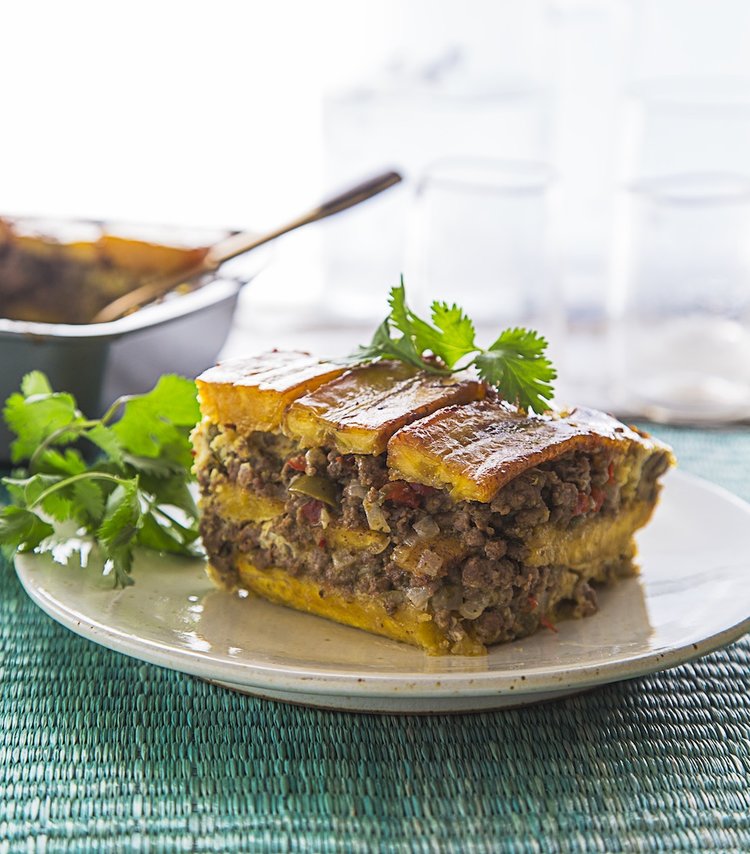 The recipes are easy to execute…and one of the most helpful features: Amanda includes serving suggestions for almost everything.  So even if you are not familiar with Latin cuisines, she lets you know good parings!  I have LOVED the combos she puts together and how the flavors and textures marry together!!!
There are SO many more recipes I eager to try, The meat filled pastellitoss are next!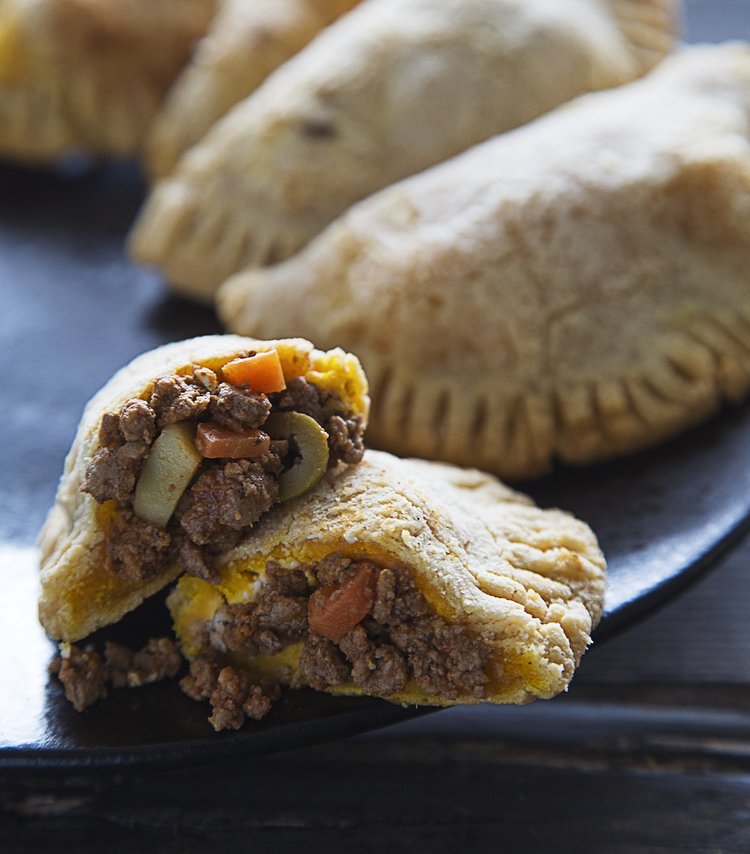 Whatever you do, get your hands on a copy of this wonderful cookbook for your kitchen!  I am SO picky about which cookbooks I keep, and this one has become a valuable contributor to my family's eating repertoire!
Tostones | Patocones Recipe from Latin American Paleo Cooking:
Amanda has graciously offered to share a recipe with my readers….you will love these fried green plantains and wonder where they have been all your life!!    I dip them in some homemade mayo  with a bit of clean ketchup!  While not necessary, this tostone press comes in handy!  I sometime use my tortilla press too!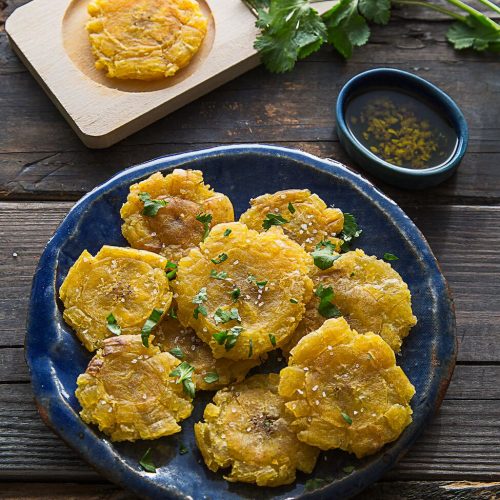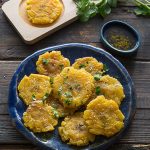 Tostones-Patacones
Green plantains that are fried, smashed and fried again are called tostones in some parts of Latin America and patacones in others. To make preparing these crispy bits of starchy deliciousness much easier, I recommend spending a few dollars on what is called a tostone press, which you can order online or pick up at your local Latin American grocery store. You can also use a sturdy glass or jar or even a flat meat mallet, too. Tostones can go well with just about any main dish or can be eaten as an appetizer or snack—think of them as hearty chips. Reprinted with permission from Latin American Paleo Cooking by Amanda Torres with Milagros Torres, Page Street Publishing Co. 2017. Photo credit: Toni Zernik
Ingredients
2

green plantains

4-6

tablespoons

fat of choice

coconut oil, lard, or avocado oil)

coarse sea salt

1-2

tablespoons

fresh cilantro, for garnish
Instructions
Slice the tips off the plantains with a knife, then cut 1 or 2 slits in the skin down the length of the plantain. If the peel does not lift off easily you can loosen it by soaking the plantains in a bowl of water with about 1 tablespoon (6 g) of salt for 10 to 15 minutes.

Slice the peeled plantain crosswise into disks . to 1 inch (2 to 2.5 cm) wide.

In a large skillet, heat your fat of choice over medium heat until shimmering, 3 to 5 minutes.

Carefully add the disks to the heated fat, cooking on each side for 2 to 4 minutes, or until they have turned a darker, more golden color. Do not allow to brown.

Remove the disks from the oil and flatten, using a tostone press (recommended) or a sturdy glass/jar or flat meat mallet. If using a tostone press, place the disk in the recessed circle and then clamp down the lid on top.

Return the flattened plantain disks to the hot oil and fry for an additional 2 to 3 minutes on each side, or until crispy and browned. You will likely need to work in batches to fry the flattened disks. Add extra cooking fat as needed, because these will absorb quite a bit of fat as they cook.

Top with a sprinkling of coarse sea salt and a garnish of cilantro and serve immediately; tostones do not reheat well. Serve with your favorite main dish.

AIP compliant: No adjustments necessary!
Nutrition Facts
Tostones-Patacones
Amount Per Serving
Calories 279
Calories from Fat 135
% Daily Value*
Fat 15g23%
Cholesterol 40mg13%
Sodium 138mg6%
Potassium 595mg17%
Carbohydrates 38g13%
Protein 1g2%
Vitamin A 1810IU36%
Vitamin C 21.9mg27%
Calcium 8mg1%
Iron 0.7mg4%
* Percent Daily Values are based on a 2000 calorie diet.
Any of the links in my posts may be affiliate links. If you click on them and make a purchase, I might make a commission. Your support is much appreciated and pays for the cost of running this free resource!